Take a look at our 2nd floor bathroom design plans and mood board to see our colorful vision for the space.
Our 2nd floor main bathroom is on its way to being completed!
There is only one main bathroom on the second floor. Our plan is to have all four of the kids share it. At least for now, anyway. We always have a backup on the main floor if it doesn't work for all of the kids to share.
A Little History on Our Home
Our home (which was built in the late 1800s) had an oriental theme when we purchased it. However, it was run down and dated. (If you want to see more pictures of our home and hear about our remodeling journey, check out this post.)
This bathroom was no exception.
The last time this bathroom had been remodeled was probably in the 1980s and it needed a major renovation to work for our family.
2nd Floor Main Floor Bathroom Before
One of the features this house had was a really deep round tub.
I had to look it up, but it is actually a Japanese soaking tub. And though it sounds like a nice idea, I wasn't sure how to use it to bathe my 1 1/2 year old. (My head was filled with how ridiculous I would look hanging head first in the tub trying to reach my baby to wash him.)
I know it's hard to see with these terrible pictures, but everything was pink and brown and in need of a drastic change.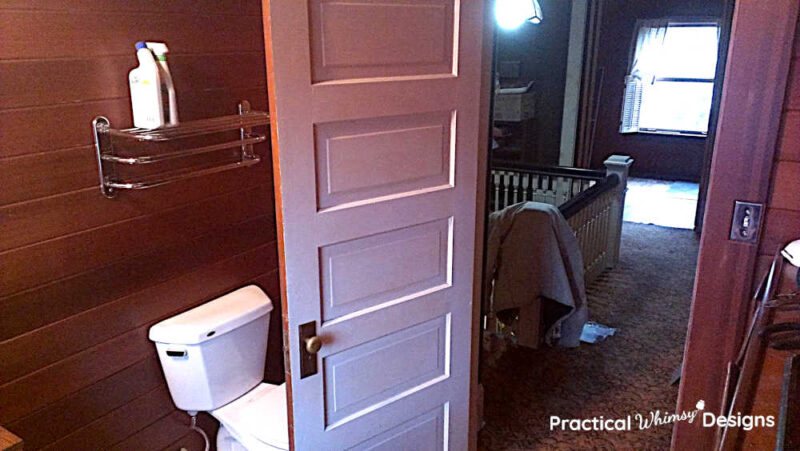 Main 2nd Floor Bathroom Design Plans and Remodeling
We had originally thought we were going to move into our house and slowly remodel each room.
This bathroom was supposed to be the first thing we remodeled before we moved in. We gutted it and put new drywall in.
And then a pipe burst in our house (read more about that here) and we had to adjust those plans.
This second floor bathroom sat for several years with just drywall on the walls as we worked to repair the water damage and focused on other areas of our home.
Until now.
We are finally at the point where we are working on the upstairs rooms. The primary bedroom suite is done and the boys' bedroom is finished.
You can check out the rooms we have finished upstairs by clicking on the links below.
The boys are settled into their room and our daughter is in a temporary room upstairs until we finish her room.
So, it was time to design their bathroom.
I wanted to try something new and keep the walls and flooring a neutral white. This was especially important because the only window faces the north side of the home and we needed extra light in the space. I brought color in with the sink base, mirror, and accessories.
2nd Floor Main Bathroom Mood Board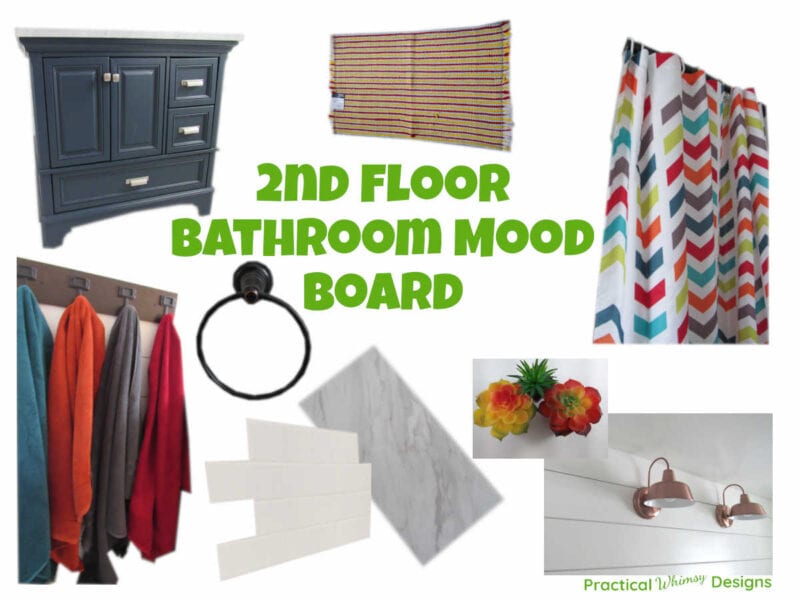 I am excited to see how it turns out as I pull everything together for this bright and fun bathroom.
This post contains some affiliate links for your convenience (which means if you click a link and make a purchase I will earn a small commission at no extra cost to you). Please see my disclaimer page for more information.
To shop the products I purchased, click on the pictures below. If I couldn't find the original because I found it on clearance, I tried to find something similar.

Want to remember this for later? Save it to your favorite design board on Pinterest.
Want More Great Ideas? You Might Like These..