Need a few more flower and vegetable pots, but don't want to spend the big bucks to get them? All you need is spray paint to create a beautiful 5 gallon bucket planter.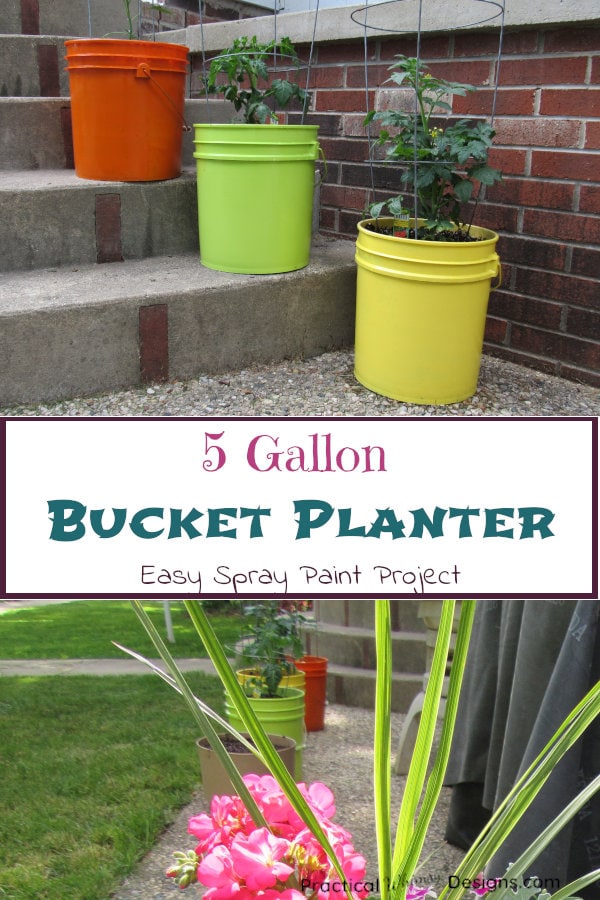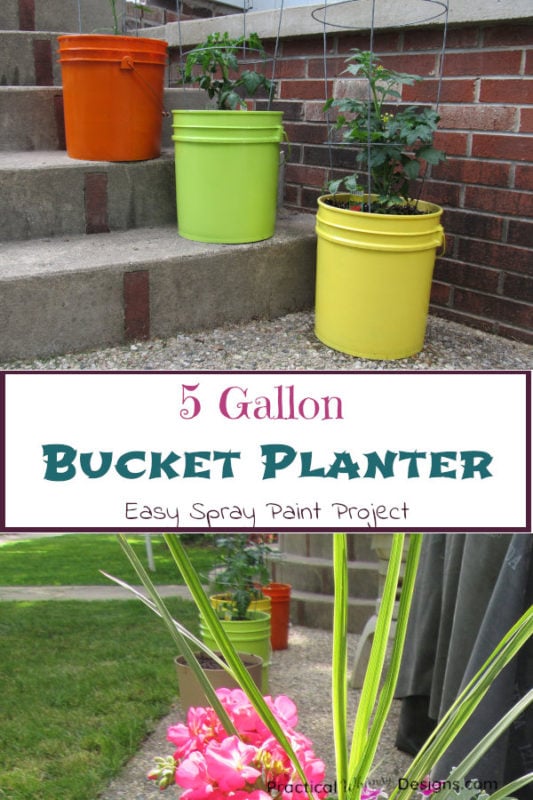 I don't know about you, but we have a lot of them.
Since we are remodeling our house there seems to be an abundance of empty 5-gallon buckets laying around. And since we don't have much of my garden space set up outside yet, I found myself in need of a few containers to plant my garden in.
Empty buckets + need for planters = use buckets for planters
But these buckets are not very pretty. I had to come up with a way of decorating plastic buckets to make them worthy of my front patio.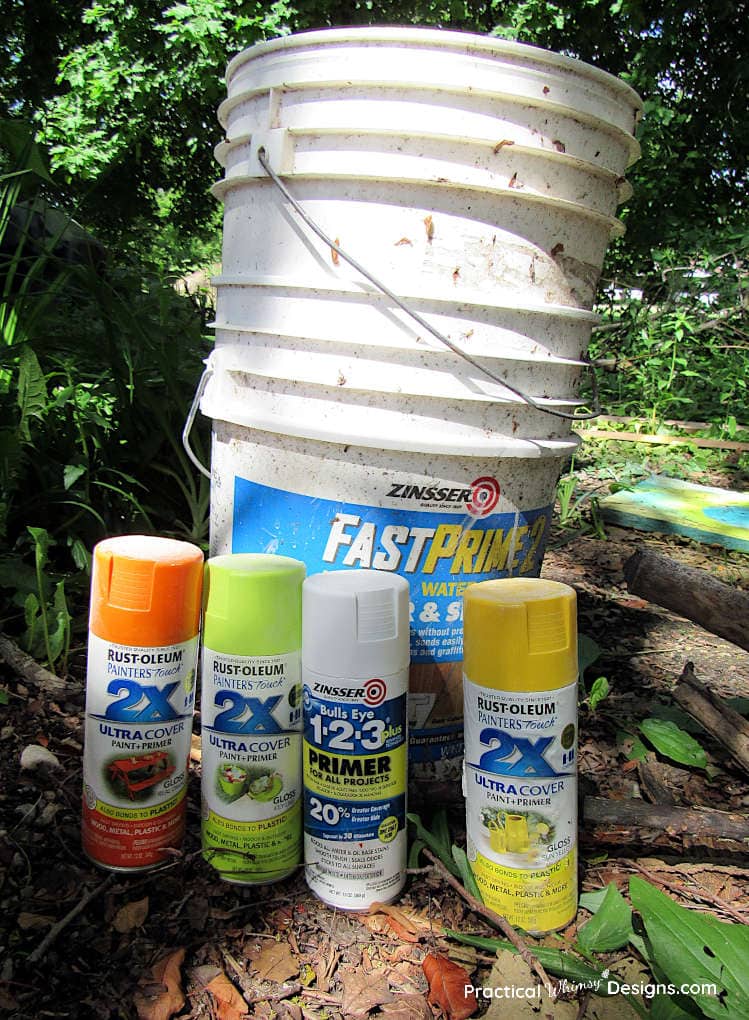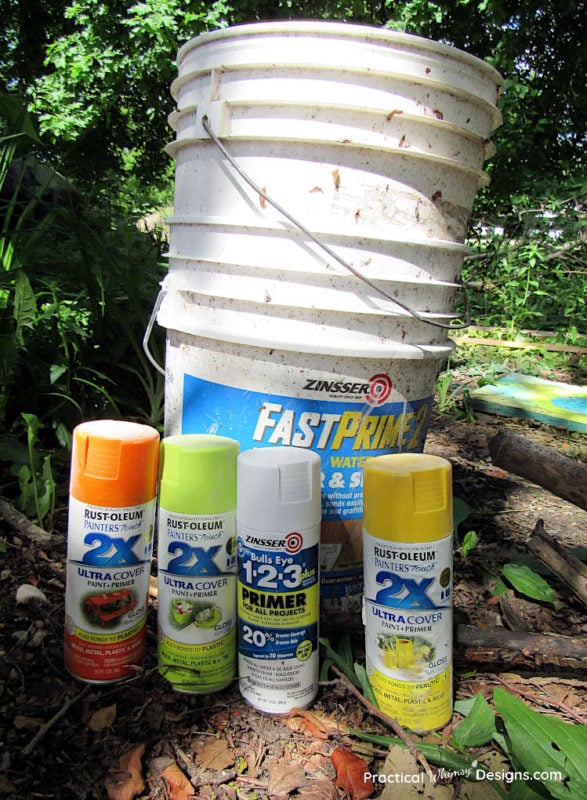 My solution: Fun spray paint colors.
Even if you don't have a bunch of empty 5-gallon buckets, they are super inexpensive to buy. They are so much cheaper than buying flower pots. If you need a few extra planters, this could be a great solution for you too.
This post contains some affiliate links for your convenience (which means if you click a link and make a purchase I will earn a small commission at no extra cost to you). Please see my disclaimer page for more information.
Materials You Need:
How to Decorate a 5 Gallon Bucket Planter
Step 1: Clean it
The first thing you want to do is make sure your bucket is clean. Now, if you bought one, this step shouldn't be that hard. But if you are re-purposing one, you may need to spend a little time cleaning your bucket with soap and water.
Step 2: Prime it
After you let your bucket dry, spray primer on it. Make sure the primer adheres well to plastic. This will give your spray paint something to attach to.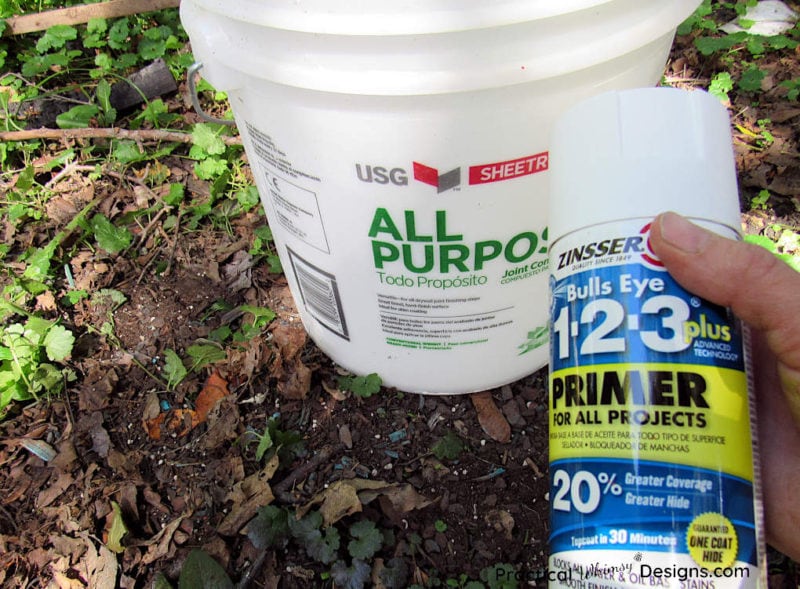 Also, try not to get the primer too far inside the bucket. The primer will flake off into your dirt, which is probably not what you are going for.
Step 3: Paint it
After you have primed the bucket, you are ready to paint it. Use spray paint in fun colors for decorating your plastic buckets. I chose to use solid and bright colors to give a pop of color to my front patio. However, feel free to be creative.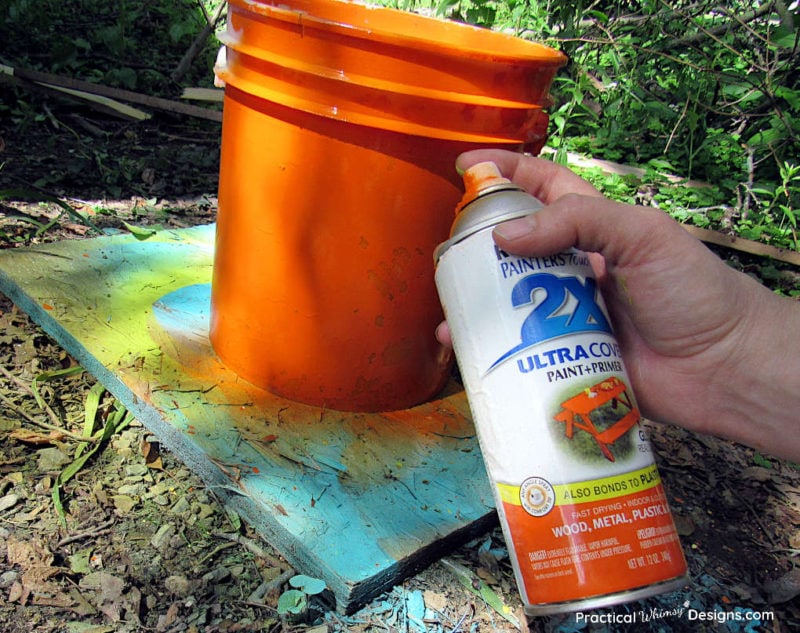 Use several thin coats to prevent the paint from running and give it an even coat.
Again, try not to get the paint too far inside the bucket as it will flake off into your dirt over time.
Note: You will want to either drill or nail a few holes in the bottoms of your buckets to allow for drainage. Otherwise the roots of your plants will rot.
My 5 Gallon Bucket Planter Decorating Mistakes
I have two confessions to make! I didn't follow these steps the first time I spray painted my buckets.
I did not use primer the first time. The buckets actually lasted 4-5 years without looking too horrible, but the paint slowly started to flake off and by the time I repainted them 5 years later they were looking pretty sad. I would definitely recommend using a primer or some other form of adherent to give the paint something to stick to.
I was not very careful with the inside of my bucket. I got a little carried away the first time I painted and I got quite a bit of the paint inside my bucket. This paint later chipped off into my soil which was not the look I was going for and is probably not so great if you are planting vegetables in your buckets. So make sure you don't get paint inside your 5 gallon bucket planter.
Results of My Spray Painting Frenzy
And here are the updated, newly sprayed, 5 gallon bucket planters in all of their bright and cheery glory. They make me feel happy just looking at them.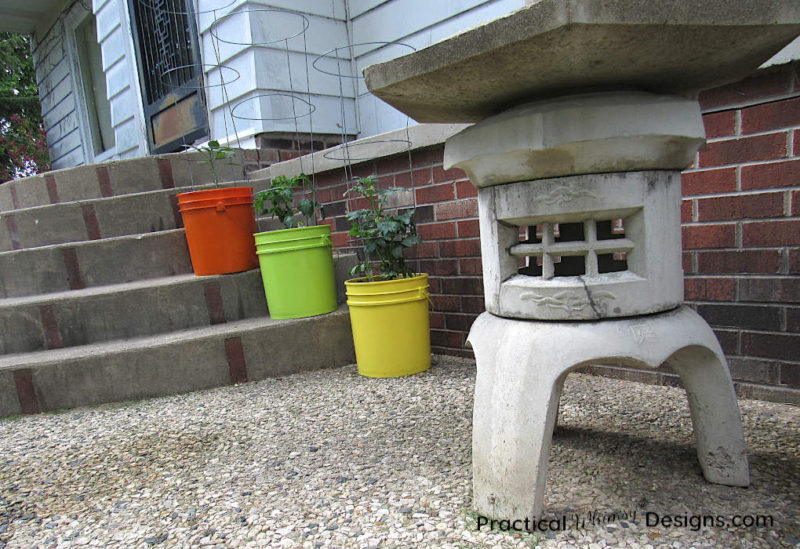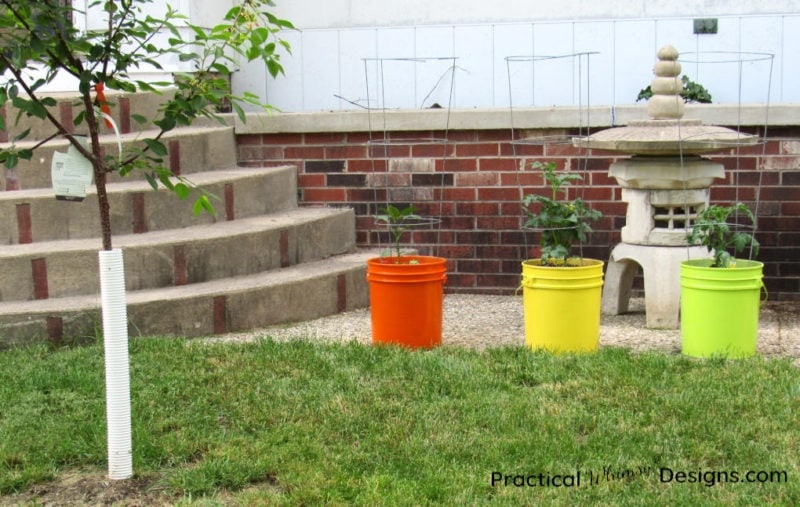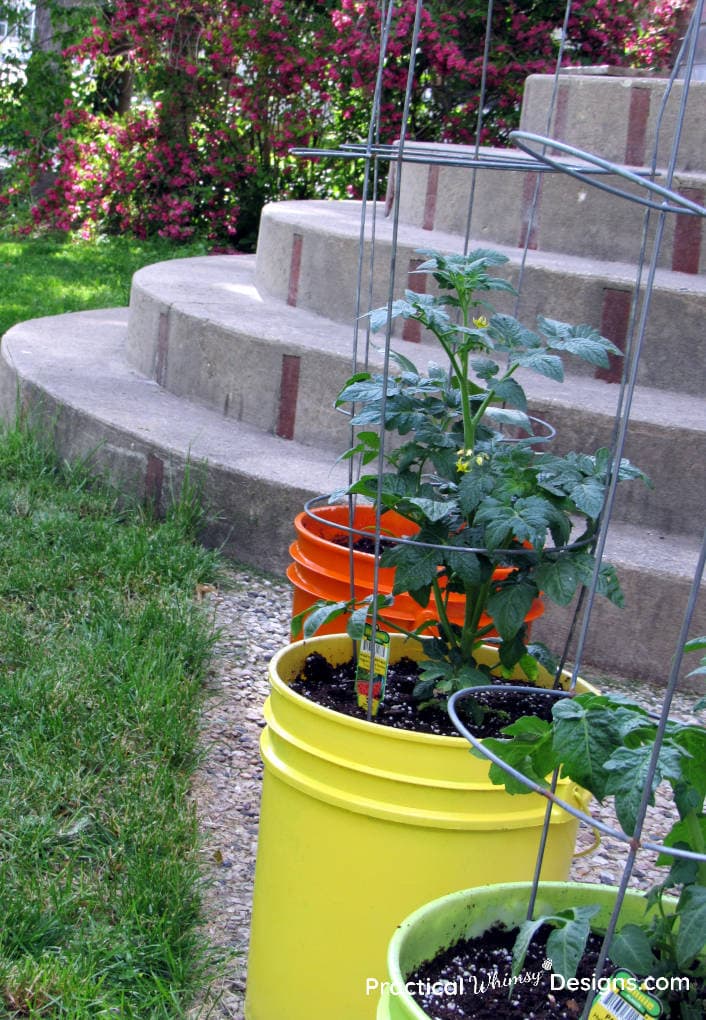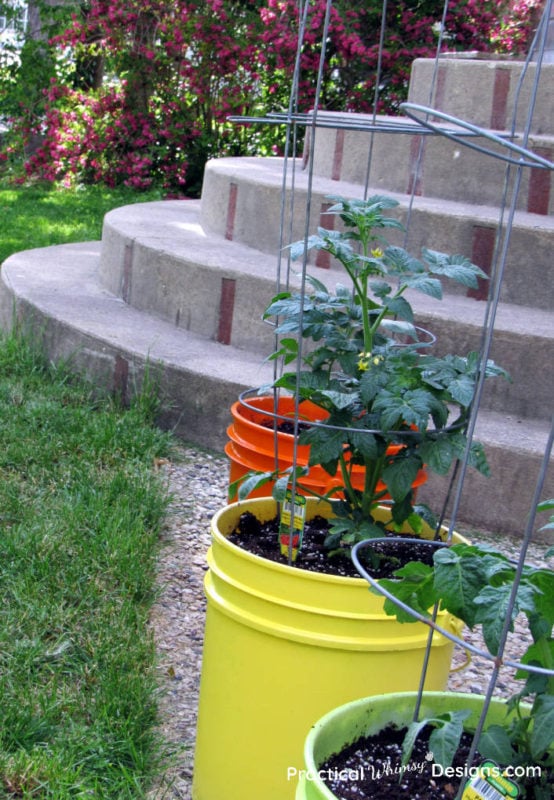 Other Planter Ideas
You can use this same technique to spray paint plastic pots that have faded over time. I used spray paint on this painted pot that had a foam base. I wish I would have thought to take a picture before I sprayed paint on it, but I was in a spray paint frenzy and didn't pause long enough to snap a shot. So you will just have to picture in your head the dark orange foam peeking through layers of warn peach paint. It was not a very pretty pot anymore.
I had even been considering throwing it out, but thought I would try a coat of spray paint first. It turned out beautifully and I'm so glad I gave it another chance!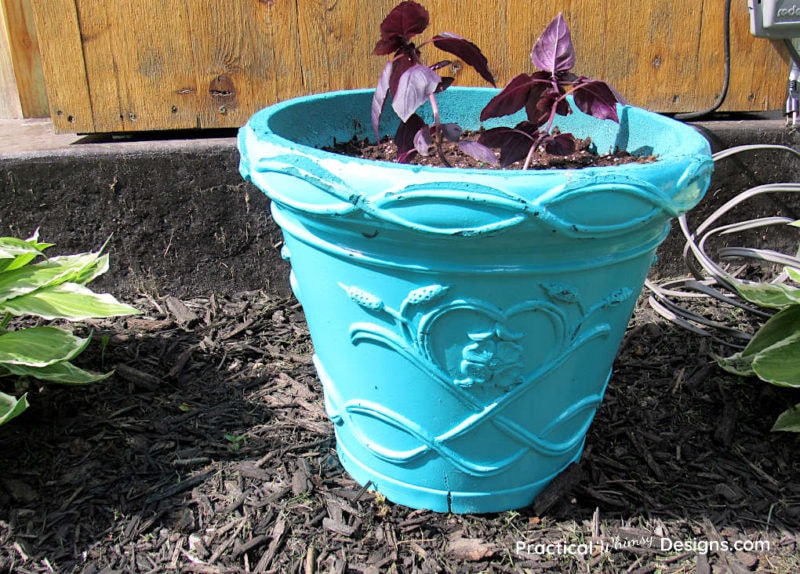 I hope that you will give your pots and buckets a second life and use this fun technique to create beauty on your porch or deck this summer.
If you have some sad looking outdoor furniture check out this post on refinishing your outdoor patio furniture with spray paint. Or for another spray paint project, check out how to paint ceramic to look like brushed bronze.
Want to remember this project for later? Save it to your favorite DIY Pinterest Board.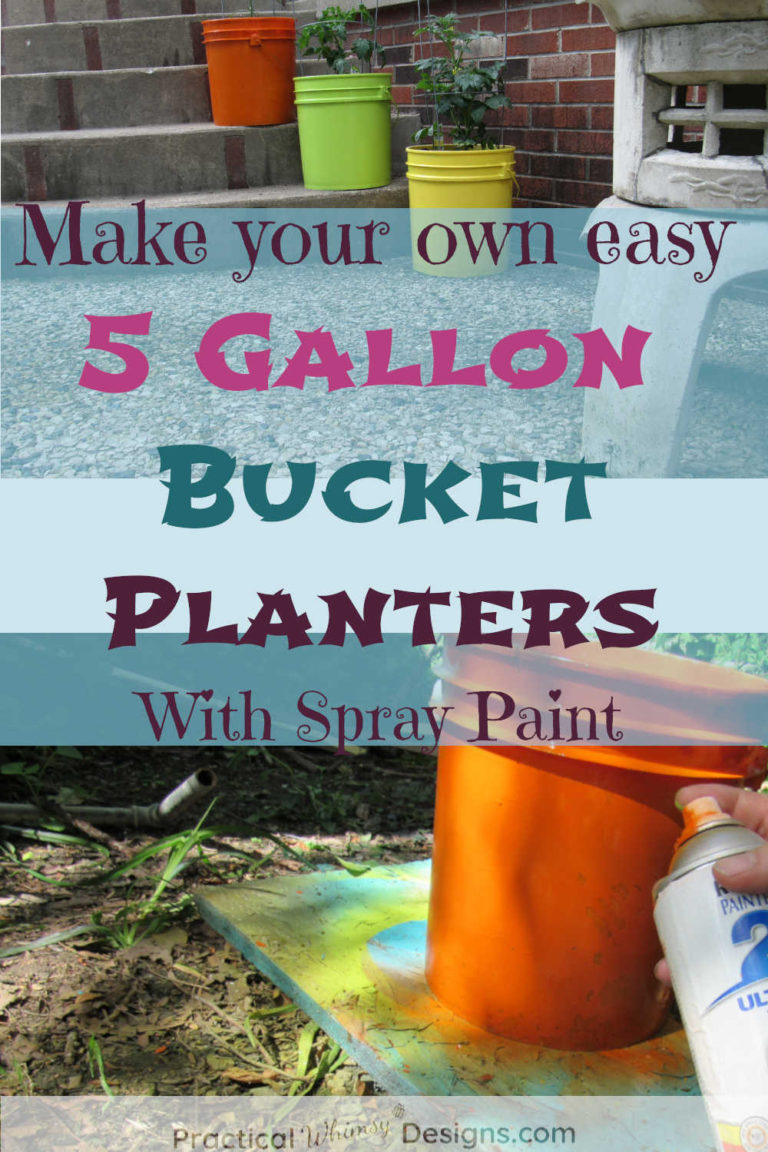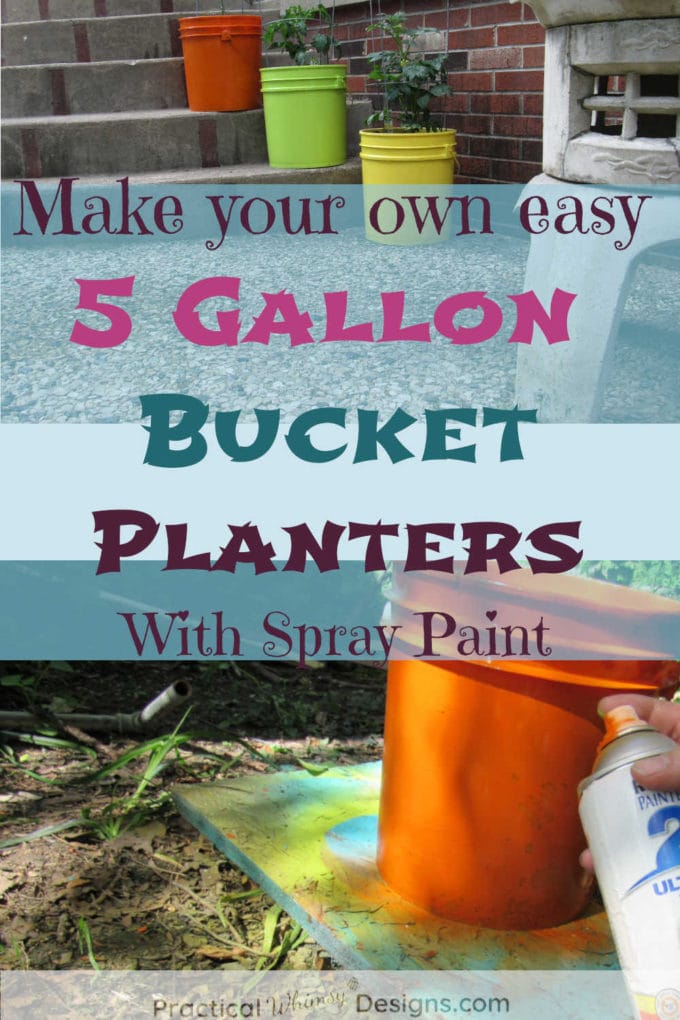 Click on the Images Below for More Ideas……