Buying fall decorations doesn't have to break the bank. Check out these sources for affordable fall wreaths for under $35.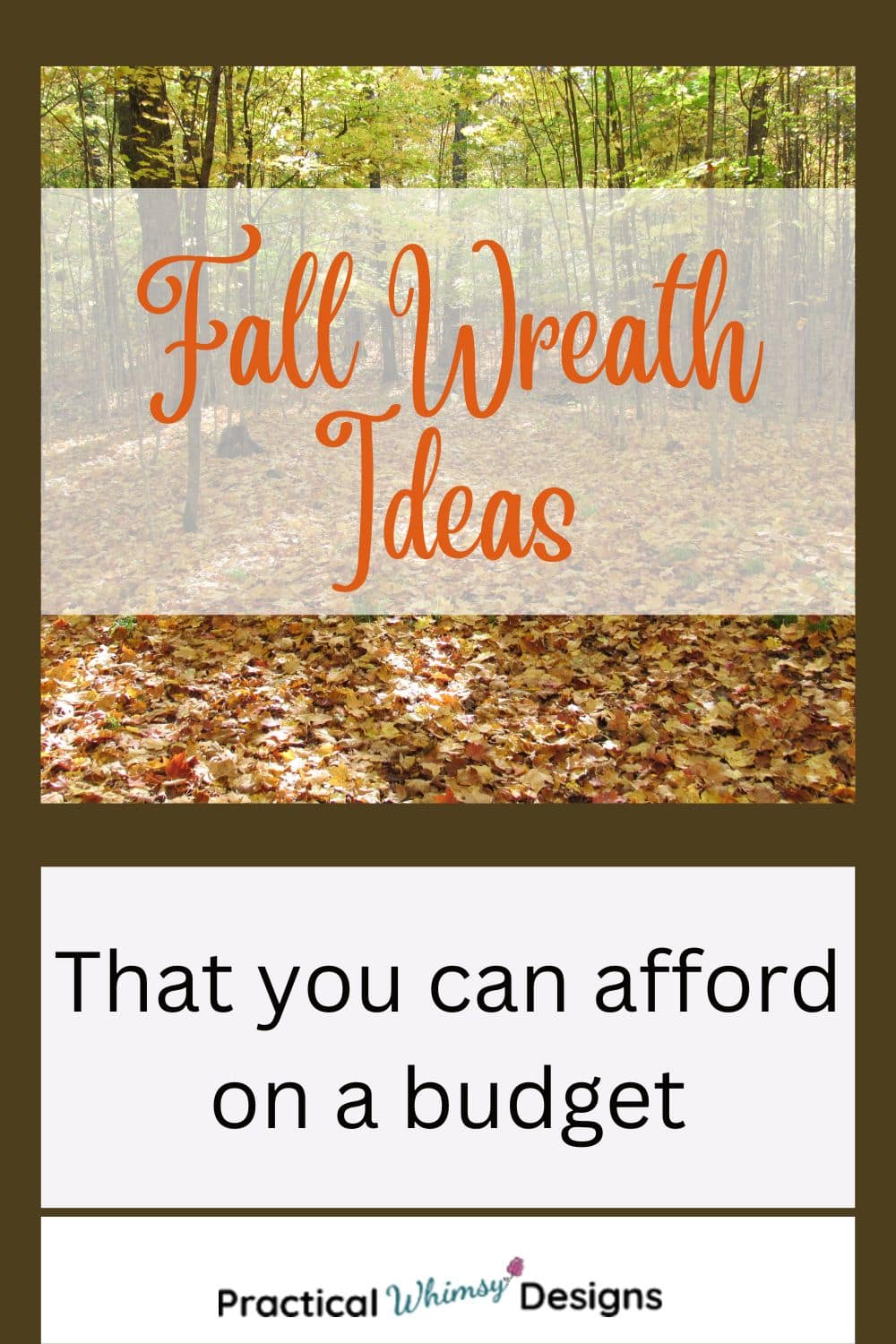 Fall decorating is in full force in September and October in our household. The cooler weather beckons us to welcome the new season with warm lights, fall colors, and fall foliage.
And there is something about fall decorating that requires a good fall wreath. Every time I see autumn wreaths hanging on a door, or incorporated into fall decor in a home, I feel welcomed somehow. Like the circle of that fall wreath is giving me a nice hug and saying come on over!
They are such an elegant yet simple way to decorate your home for the autumn season.
However, fall wreaths can be expensive to buy.
I know there are many fabulous tutorials for a DIY fall wreath out there for less money with supplies from your local craft store, and I did make a smaller wreath for my indoor decorations with supplies from Dollar Tree.
However, the first day of fall comes quickly and sometimes decorating for fall is enough work in and of itself.
If you find yourself wishing wreaths were cheaper and can't fit making a DIY version in before fall, I have pulled together a few affordable wreaths that won't cost a ton of money.
I hope that this listing of a few favorite fall wreaths I found while browsing online, will help you in your decorating this season.
This post contains some affiliate links for your convenience (which means if you click a link and make a purchase I will earn a small commission at no extra cost to you). Please see my disclaimer page for more information.
Best Sources for Affordable Fall Wreaths
~ Click on a Photo of Any Wreath for More Information ~
Walmart has some beautiful fall wreaths at an affordable price. In fact, I was able to find quite a few options. Beautiful decor can be found in some unexpected places so don't overlook these wreaths.

I love the two different options for 'hello' wreaths. They are sure to go with multiple fall decor styles.

These wreaths showcase autumn leaves and white pumpkins for a stunning fall look.

Love the look of silk leaves and pine cones, fall burlap wreaths, or floral wreaths? Take a look at these fun options.
Target also has a lot of beautiful options. There is such a variety of fall wreaths, so it is not hard to find something to match almost any decorating style.

Love a fall leaf wreath? Take a look at the many options available.

Or celebrate the feel of harvest time with hops or a fun mix of autumn leaves and faux berries.
Amazon can be a great resource for finding items that are hard to find in local stores. I find myself using them a lot for decorating. They also have a number of beautiful wreaths for sale that are under $35.

I love all of the floral options on Amazon.

They also have simple fall harvest wreaths.
Where to Use Fall Wreaths in Home Decorating
You can use fall wreaths in so many places in your home. Make sure to think outside of the box, when planning your fall wreath buying.
Of course, there is the traditional front door decor. Adding a wreath to your front porch is sure to welcome your friends and neighbors to your home this fall. Play around with the size of your door wreaths to create a different look for your home.
Fall wreaths can be a beautiful staple for your indoor decor as well.
Prop them on a shelf or mantel, or hang them over a window with fall ribbons for a festive look.
You also can use fall wreaths as part of a centerpiece for your dining table.
There are so many fun fall wreath ideas for decorating your home. Make sure to brainstorm for outdoor and indoor use in your fall decor this season.
Making the Best Decision
Hopefully these fall wreaths will inspire you to add one to your seasonal decor this year. Now comes the tricky part, picking the best one. However, with so many beautiful fall wreath options I'm sure artificial wreaths will turn into your favorite way to decorate for fall as well.
Want to come back to this idea? Save it to your favorite decor board on Pinterest.
Want More Great Ideas? You Might Like These..