Need gift ideas for the creative girl in your life? Check out this gift guide for the best gift ideas for creative girls ages 10-12.
If you have a tween girl or need gift ideas for the young girls on your list, take a look at these great gift ideas for creative girls.
This list is made up of many of the unique gifts my daughter has received throughout the last couple of years or some of the gifts on her wish list.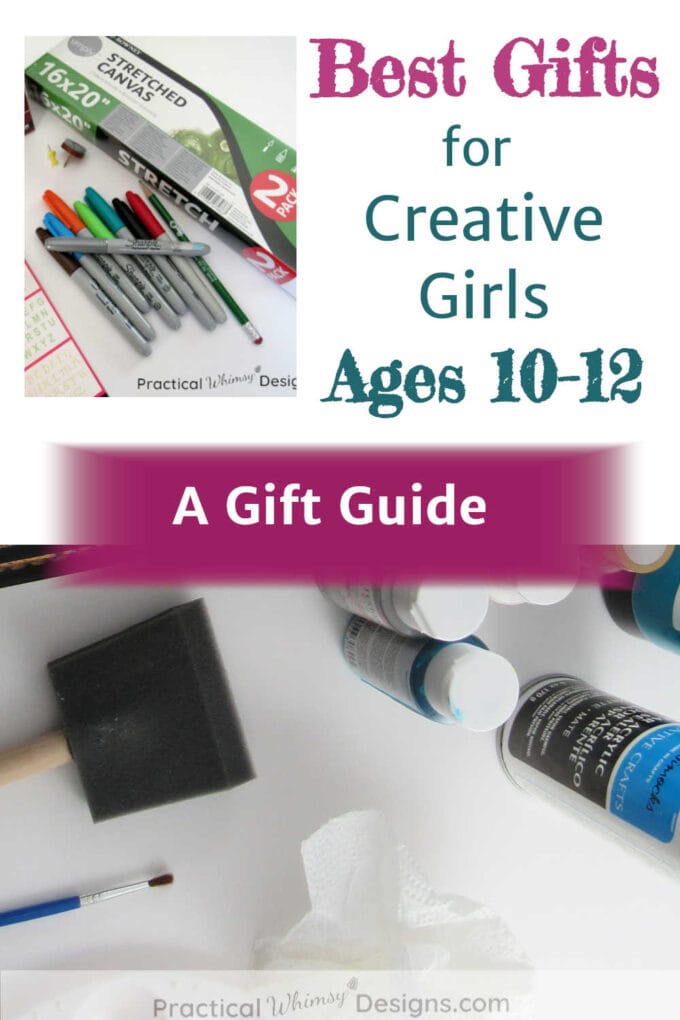 This post contains some affiliate links for your convenience (which means if you click a link and make a purchase I will earn a small commission at no extra cost to you). Please see my disclaimer page for more information.
If your pre-teen or teenage girl is interested in rocks a rock polisher is a fun gift idea. She can turn ugly old rocks into polished and beautiful specimens and use them as jewelry or add them to her rock collection. The kit comes with some clasps and necklaces, or get supplies to make your own unique jewelry.
Just be prepared to wait about a month as her rocks tumble around, though the anticipation can be part of the fun of the rock polisher.

Above is a great kit for beginners. However, for more polished rocks buy this rock polisher grit kit refill with extra ceramic pellets and polishing foam to go along with the rock polisher.

Rock Art
Have a child that likes both art and rocks? Why not gift them a rock art craft kit?
Supplies are plentiful. All you need is a few paint markers, a book for some ideas, and natures resources (aka. rocks).

There are many water bottle decorating kits available for kids. This may be a little young for 12-year-old girls, but depending on their personality and likes, a decorate-your-own water bottle can be a cool gift.

Adult Coloring Books and Supplies
By the time my daughter was a ten-year-old she had already moved past the traditional kids coloring book. Now the cool things are adult coloring books and color by numbers.
She loves this Animal Color Quest color by number. The Prisma colored pencils are a little pricey but have the richest and most vibrant colors for your blooming artist.

Transfer Books
These fun books allow one to decorate the pages with transfer stickers. Rub the stickers with a pencil and transfer them to a spot of ones choosing on the page. Then color the rest of the picture.

Encourage creativity by buying your artist different colors of gel pens and pencils. Combining both of these on a coloring page can create a beautiful piece of art.

Sticker by Number Books
I didn't even know these existed until a year ago, but they are so much fun. Instead of coloring, you put stickers on prearranged locations to create a fun mosaic sticker picture.
It's a great way to pass the time when you just want to relax and you get to create something beautiful while doing it.

Diamond Art
Try diamond painting for a fun way to create art for her room. Even young kids can follow the easy steps to create amazing and dazzling works of DIY art for their bedroom.
It is a great way to practice fine motor skills and create trendy pieces of art that allow them to express themselves. And it provides hours of entertainment as she carefully adds each diamond to create a beautiful piece of decor. There are so many different options available for almost any interest.

Light Up Tracing Pad or Drawing Books
Give your aspiring artist practice by gifting a light up tracing pad or drawing books, depending on their level of artistic skill.

Fun Lighting
Sometimes, all one needs to feel artistically inspired is some fun lighting. Buy this beautiful star light as a thoughtful gift.
Or add a fiber optic night light for some color changing fun.
Creating a fun atmosphere in her bedroom may be just what your artist needs to come up with new ideas to create.

Fun Books
Have a creative book worm like me? Check out my daughter's favorite books below for any of the young readers on your list. Of course Harry Potter is a good book series and a favorite as well.

Hidden picture books can be a great item to have along on a trip. These books are a fun activity to pass the time on long car rides.

Games
Hoping to gift a fun game for the next family game night? Take a look at these card games and board games that kids of all ages are sure to enjoy.

Gifts Ideas for Creative Girls
Hopefully these gift ideas will inspire you to find the perfect gift for the young lady in your life. Whether you need a gift idea for a birthday or celebration or are looking for a Christmas gift, this list of the best gifts for tween and teenage girls will hopefully get you started. There are so many fun options out there, but sometimes it is nice to find new ideas and new inspiration.
Happy shopping!
Need more great gift ideas? Check out the gift guides below.
Want to remember these ideas? Save this post to your favorite board on Pinterest.
Hey! Before you head out, I would love for you to become a subscriber and gain access to my free printables, including some great ones for the holidays. Sign up for our newsletter below.
The form you have selected does not exist.