Need gift ideas for the creative girl in your life? Check out this gift guide for the best gift ideas for creative girls ages 10-12.
For some reason it always seems easy to get gifts for my daughter. There are so many fun things for girls. She has always been my creative child and loves creating, topped only by her love of reading.
Here are a few of the best gift ideas for creative girls based on the gifts she has received over the years as well as a few ideas for ones she may be getting in the near future.
This post contains some affiliate links for your convenience (which means if you click a link and make a purchase I will earn a small commission at no extra cost to you). Please see my disclaimer page for more information.
My daughter received this rock polisher for her birthday. She was fascinated by the fact that we were able to turn ugly old rocks into polished and beautiful specimens.
Just be prepared to wait about a month as your rocks tumble around, though I think the anticipation was part of the fun of the rock polisher.
After your rocks are polished, turn them into jewelry. The kit comes with some clasps and necklaces, or get supplies to make your own unique jewelry.

Rock Art
My daughter likes art and she likes rocks. If you have a child in your life that enjoys both of these things, why not gift them a rock art kit?
Supplies are plentiful. All you need is a few paint markers, a book for some ideas, and natures resources (aka. rocks).

Adult Coloring Books and Supplies
My daughter has already moved on from regular kid coloring books. Somehow, time keeps slipping by.
Now the cool things are adult coloring books and color by number.
She loves this Animal Color Quest color by number. The prisma colored pencils are a little pricey but have the richest and best color for your blooming artist.

Transfer Books
These fun books allow you to decorate your pages with transfer stickers. Rub the stickers with a pencil and transfer them to a spot of your choosing on the page. Then color the rest of the picture.

My daughter and I like to use a mix of colored pencils and gel pens to add a fun dimension to our coloring.

Sticker by Number Books
I didn't even know these existed until a year ago, but they are so fun. Instead of coloring, you put stickers on prearranged locations to create a fun mosaic sticker picture.
It's a great way to pass the time when you just want to relax and you get to create something beautiful while doing it.

Diamond Art
I just found diamond art this year and love it. It is kind of like combining sticker by number and color by number, but with sparkly jewels. Of course, when my daughter saw the one I had, she wanted one too.
There are so many options out there, but I chose to get her butterfly pictures this Christmas. Shhh! Don't tell.
This is a great DIY art project for any girl's room.

Light Up Tracing Pad or Drawing Books
Give your aspiring artist practice by gifting a light up tracing pad or drawing books, depending on their level of artistic skill.

Fun Lighting
Sometimes, all you need to feel artistically inspired is some fun lighting. My daughter has a star light that lights up the room and she loves to fall asleep to its glow.
Creating a fun atmosphere in her bedroom may be just what your artist needs to feel creative.

Fun Books
Have a creative book worm like me? Check out my daughter's favorite book series below. It is a fun fantasy full of adventure and action.

She also loves to pass time on trips seeking out the hidden pictures in these books.

Gifts Ideas for Creative Girls
Hopefully these gift ideas will inspire you to find the perfect gift for the creative girl in your life. There are so many fun options out there, but sometimes it is fun to find new ideas and new inspiration.
Happy shopping!
Want to remember these ideas? Save this post to your favorite board on Pinterest.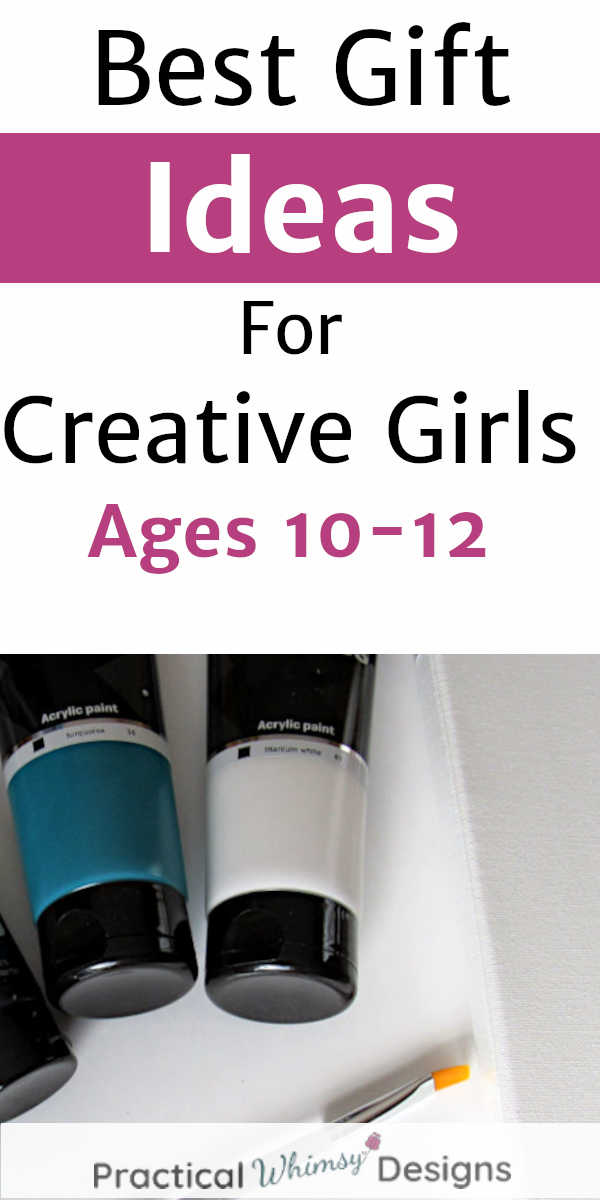 Hey! Before you head out, I would love for you to become a subscriber and gain access to my free printables, including some great ones for the holidays. Sign up for our newsletter below.