Need Christmas Family Room decorating ideas? Check out these creative crafts for easy Christmas decorating.
Every year I love to share our home decorated for Christmas.
I do this for a couple of reason. One reason is because I think homes decorated for Christmas are just so cheerful. They make me happy and I hope to share that joy with someone else.
Secondly, I want to document how I change out my decor each year to show you that it is possible to get a different look from your decorations.
You don't have to buy completely new decor each year to create a different feel in your home.
Christmas Family Room 2022
So, without further ado, here is our family room decorated for Christmas.
The Christmas Tree
Of course, the heart of the decorations is the Christmas tree. Most of the time my family wins out and we decorate with colored lights. (Though I do still like the look of the winter wonderland tree from a few years ago where I used white lights.)
One of our family traditions is gifting each of our kids an ornament every Christmas. As you can imagine, they have collected quite a few over the years. This year their decorations filled our tree and I contributed the red ribbon and a couple of bulbs. The rest of the ornaments belong to each of my kids.
The Wall Gallery
We have had a wall gallery up for a while in our family room next to our tv. Usually it has a love theme (I made a DIY upcycled love sign using my Cricut as part of the gallery.)
This year, I took everything down for Christmas and added my silent night printables that I matted with a gift box for a simple look.
This post contains some affiliate links for your convenience (which means if you click a link and make a purchase I will earn a small commission at no extra cost to you). Please see my disclaimer page for more information.
I then put a grapevine wreath up as part of my gallery and decorated it with a few random flowers I had lying around.
I tied red, green, and gold ornaments with clear fish line to a driftwood stick.
Finally, I add a couple of small Christmas signs to complete my gallery.
The Fireplace
This year, the only decoration I made from scratch was the DIY mesh wreath hanging above my fireplace.
I frosted the window with spray snow which transitioned easily into my winter decorating after Christmas.
I also hung the pinecone curtains for a simple DIY Christmas idea.
This year I wanted to create a snowy, woodsy feel with pine branches and natural elements. The DIY birch candlestick I created out of an upcycled couch leg was the perfect addition.
I also was able to use my upcycled wooden caddy for another fun Christmas decor arrangment.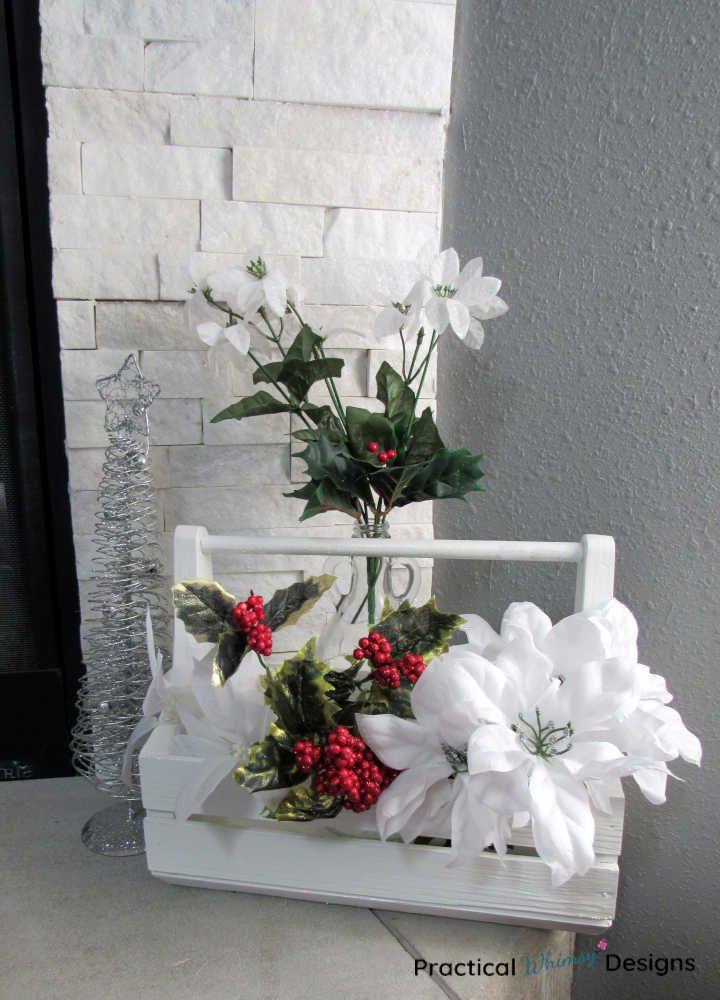 The rest of my decorations were items that I have owned for a very long time and rearranged to make it fit my theme.
Family Room Christmas Decoration Ideas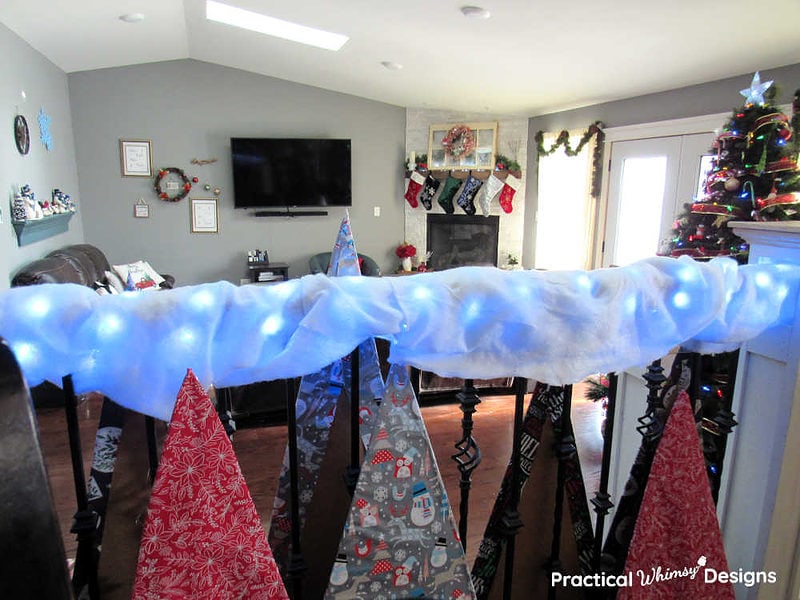 I hope that this festive Christmas decor will help you realize that you can re-use items you have to create a completely different feel to your space.
Don't be afraid to try an old decoration in a new space (like I did with my cardboard Christmas trees along my railing).
Want to see how I used some of these same decorations in previous years? Check out my other Christmas home tours.
Like the look? Here are a few similar items you can shop.
Shop Similar Items

We would love for you to join our newsletter community! As a thank you for signing up for our weekly newsletter, you will gain access to our free printables and resource library, including great art for Christmas. Sign up below.
Want More Great Ideas? You Might Like These..
Want to remember these decorating ideas? Save it to your favorite holiday board on Pinterest.