Every year since I started my blog, I have shared pictures of my home decorated for Christmas. Take a look at my Christmas home tour 2021 version.
I have discovered that decorating for Christmas is one of my new favorite things.
Coming up with new ways to use the decorations I have, making new decor for my space, and rearranging things to fit into new spaces or designs is something that makes my heart happy.
And every year we have been able to add a few more finished spaces to our home.
That means more rooms to decorate.
This year we added the finishing touches to our kitchen remodel so I was finally able to add the kitchen into my Christmas decorating.
I included links to some of the decor I used in my home throughout this post and a gallery at the end. Hopefully you will find them helpful if you are looking for any of the decor I used.
Kitchen Christmas Home Tour 2021
I made these fun and easy cabinet wreaths for a few of my kitchen cabinets to add a little festive cheer.
And I decorated the wooden caddy that I upcycled. There are so many fun uses for it which I detailed in this post.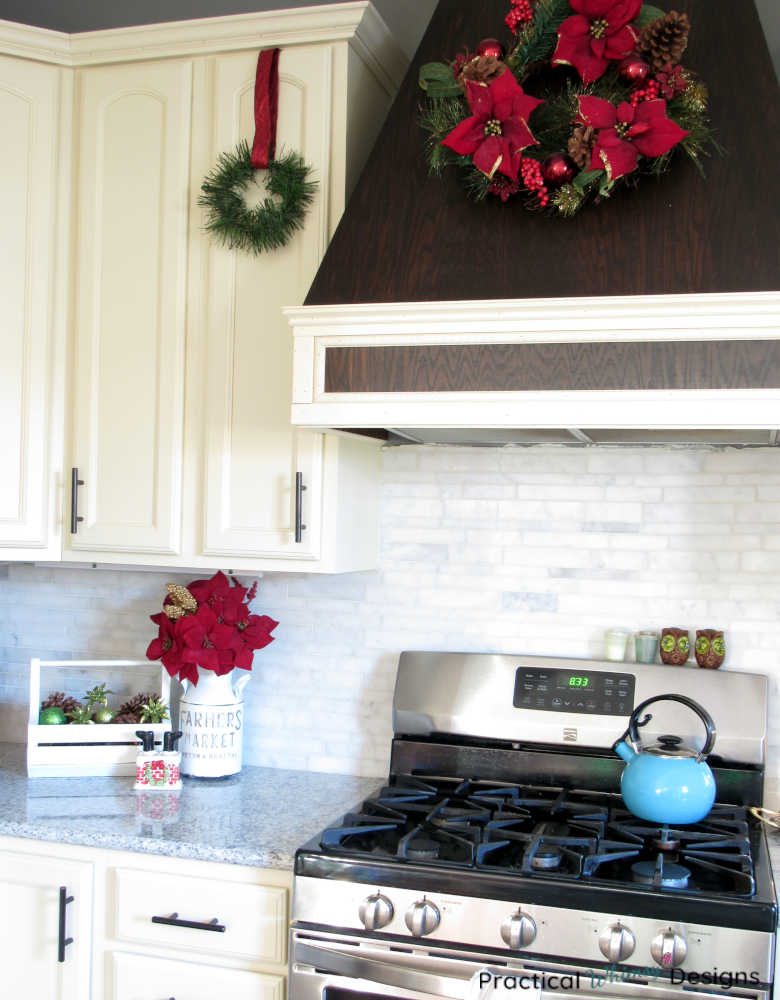 This post contains some affiliate links for your convenience (which means if you click a link and make a purchase I will earn a small commission at no extra cost to you). Please see my disclaimer page for more information.

My dining room is not remodeled yet, but I did make a festive Christmas centerpiece this year to add a little fun to our table.
Family Room Christmas Home Tour 2021
I have been decorating this space now for a few years, ever since we painted and added stacked stone around the fireplace. I love changing the decorations each year and rearranging things to create new themes and ideas.
This year I went with mixed ornaments, maroon ribbon, and gold flowers for my tree. The kids get their own special ornament each year so they love adding their ornaments to the tree.
A few years ago I made these cardboard Christmas trees. This year I used them as a backdrop for my Christmas village again. I also added my snowman lighted canvas onto the ledge above, as a welcoming sign to all who enter my kitchen.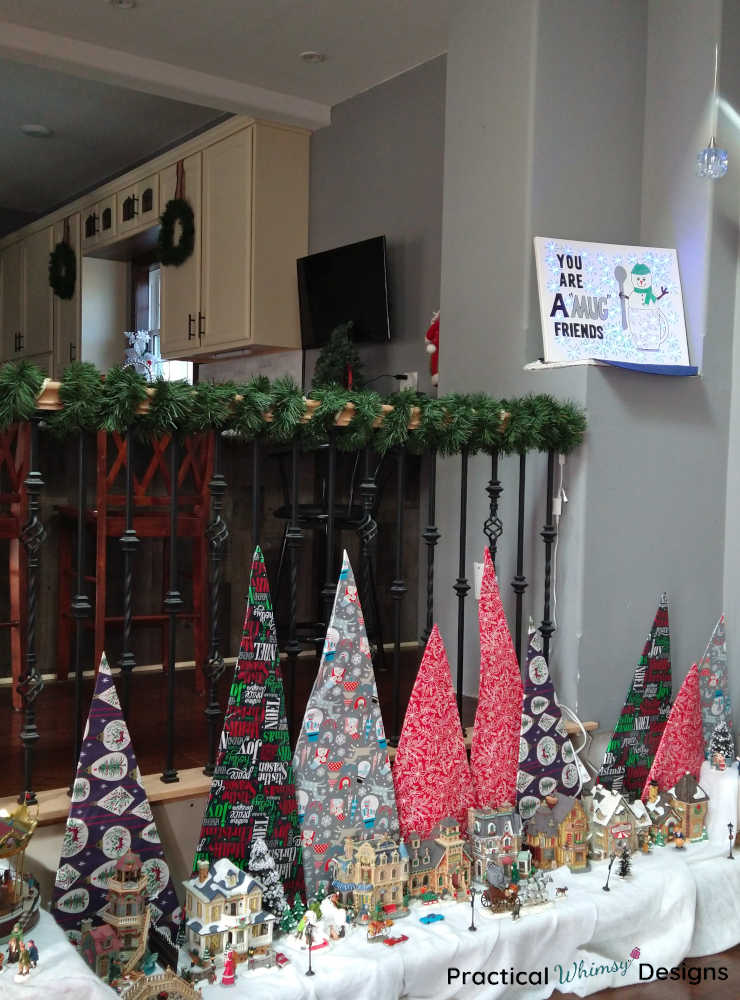 I made these silent night printables for a silent night themed mantel decoration a few years back. This year, I reincorporated them into my wall art. If you like them, they are available for free to my newsletter subscribers in my resource library. Scroll to the bottom of the post to find out how to sign up.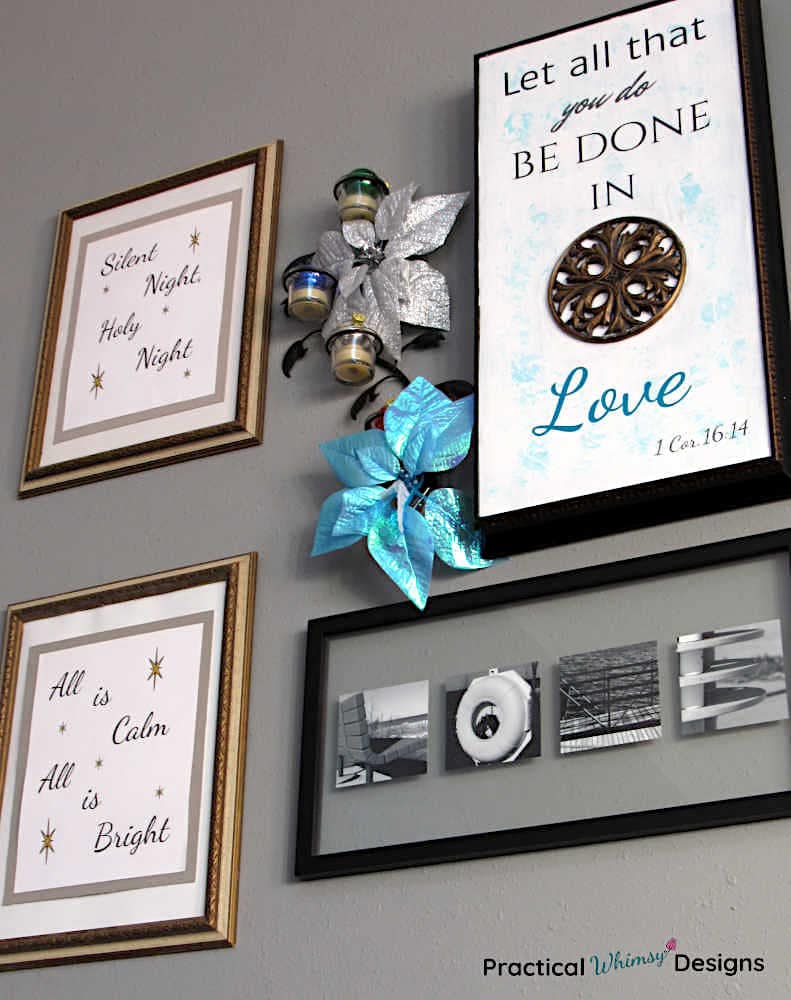 One of my favorite parts of our family room is the fireplace and hearth.
We always hang stockings on the mantel, but I try to change up the look of the fireplace area every year.
I added pinecones to a lot of my decor this year as a unifying factor in my home.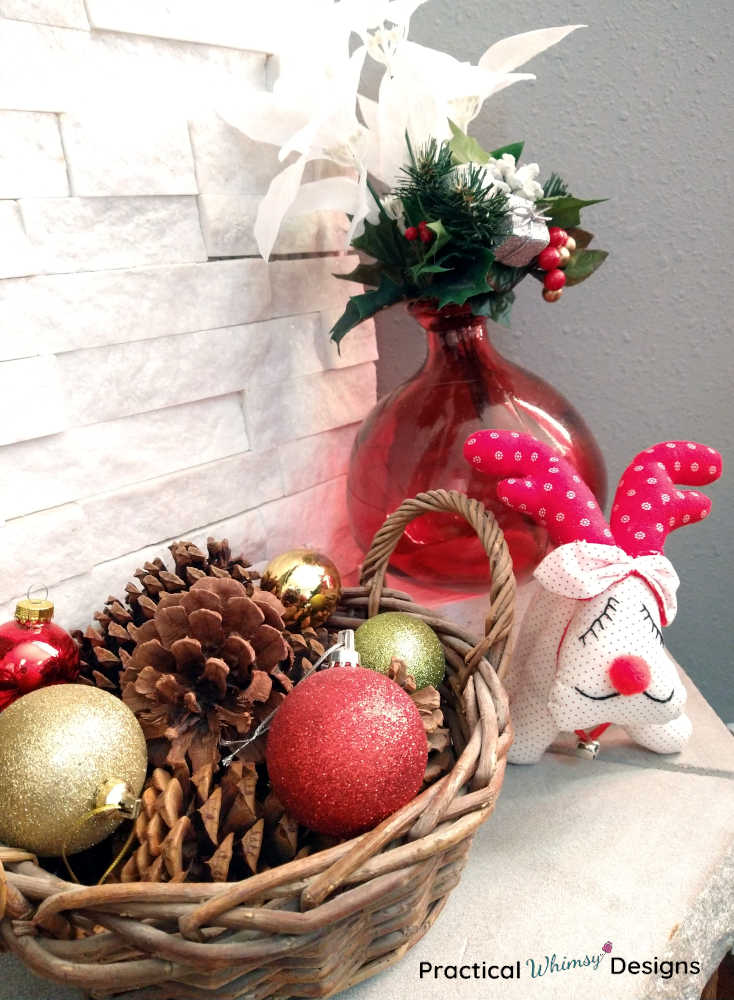 My goal this year was to add a cozy, rustic, old-fashioned feel to my decor. These little wooden incense burners and the oil lamp are family heirlooms, full of memories and tradition.
I also added the red and white curtains next to the fireplace and purchased these cute pillows to change the look of my family room.
Wishing you and your family a merry Christmas!
Shop My Home Tour
Below are image links to items I have in my home. There are also similar items to things I purchased if I couldn't find the original. I hope this helps you with your decorating.

Check out my other Christmas tours to see how I used some of my same decorations in new ways:
We would love for you to join our newsletter community! As a thank you for signing up for our weekly newsletter, you will gain access to our free printables and resource library, including great art for Christmas. Sign up below.
Want to remember this Christmas home tour? Save it to your favorite holiday board on Pinterest.
Want More Great Ideas? You Might Like These..