Don't know what to do with your old, dead hanging plants? Turn that eye sore into a beautiful outdoor DIY Christmas pine basket.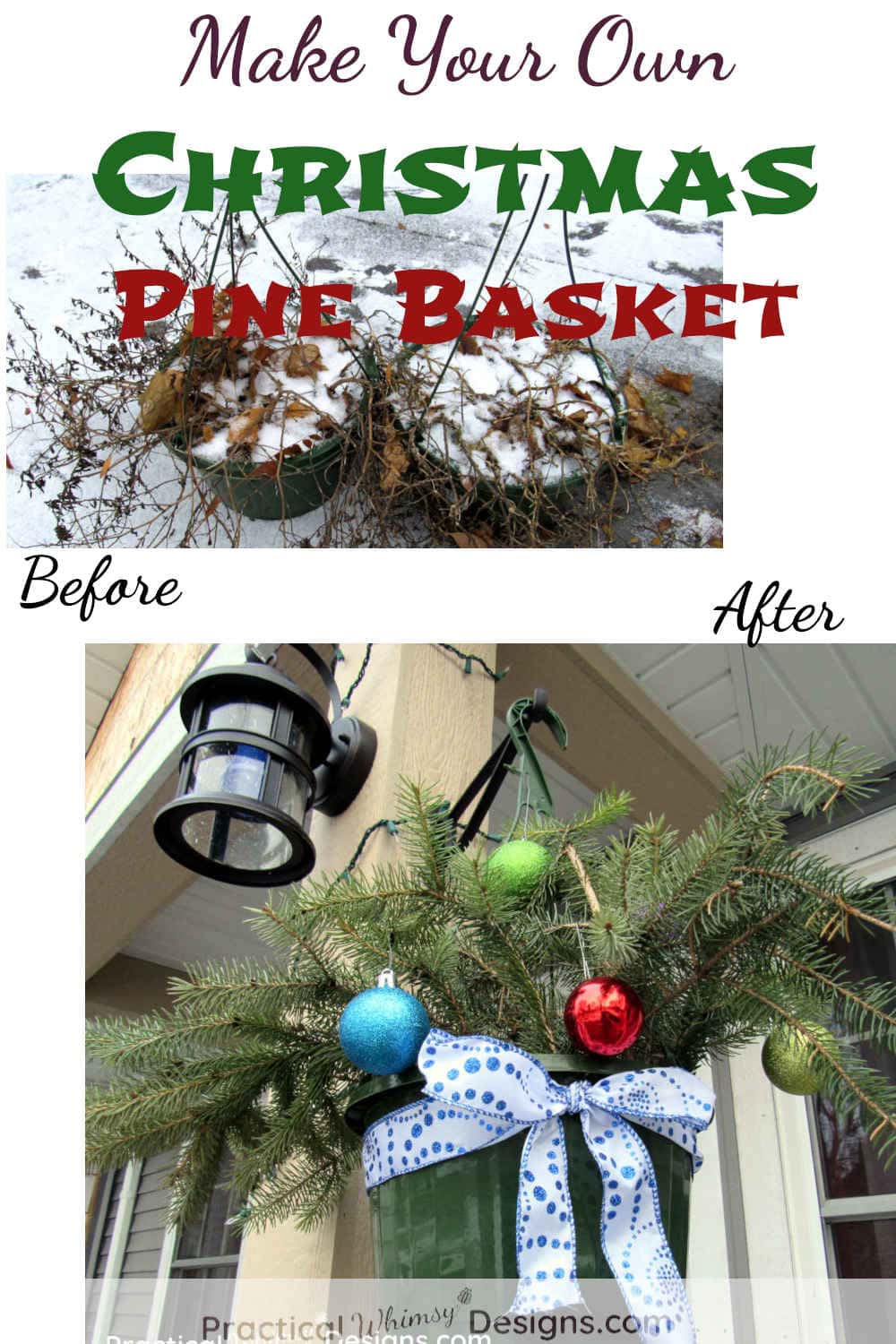 A lot of us have them. They sit, neglected, shriveled…the beauty they brought us in the summer, forgotten.
Yep, I'm talking about your hanging flower baskets. OK. I can't be the only one that forgets to dump these babies once the cold weather hits.
Kind of sad. I know. I know…..
However, here is an easy and cheap way to re-purpose them to add to your Christmas decorating. Now you'll be glad you were lazy and didn't dump the dirt and roots out of your baskets.
The inspiration came for these Christmas pine baskets when I was out shopping. I saw something similar in a store and I loved them. I didn't love the $10 price tag, though. So, why not make them myself and re-purpose these sad flower baskets?
This post contains some affiliate links for your convenience (which means if you click a link and make a purchase I will earn a small commission at no extra cost to you). Please see my disclaimer page for more information.
Materials You Need:
Old hanging basket filled with dirt
Pine boughs (I have a pine tree in my yard so I cut some of these off of the branches. If you don't have these, ask friends and neighbors if they have a bush or tree that needs a tasteful trim. 🙂 Or get some reusable fake boughs like this that can be used again.
Ribbon (I used ribbons sold in the present wrapping area that I had purchased on clearance, though if I had to buy some more I would probably buy these ribbons because I like how they look)
Ornaments like these and Hooks
Steps for making a Christmas Pine Basket
Step 1: Prepare the basket
Get rid of any dead foliage in your basket.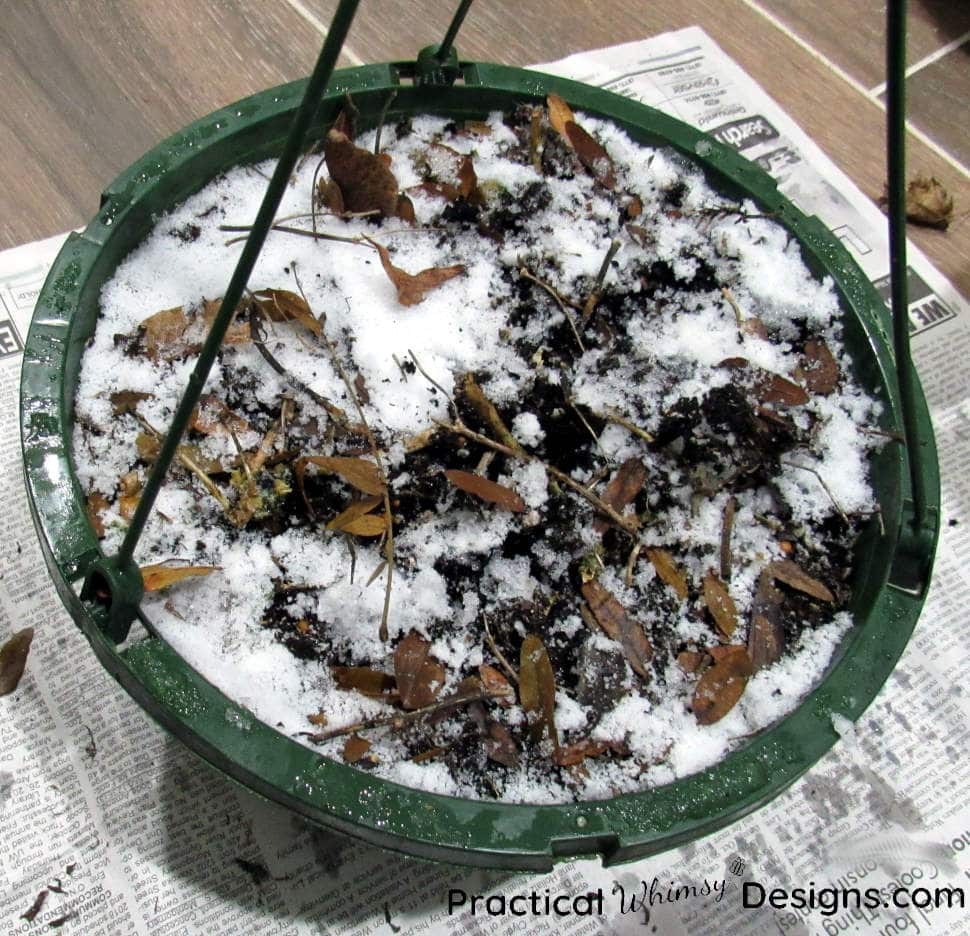 Step 2: Add the pine boughs
Break or cut the pine boughs into small branches.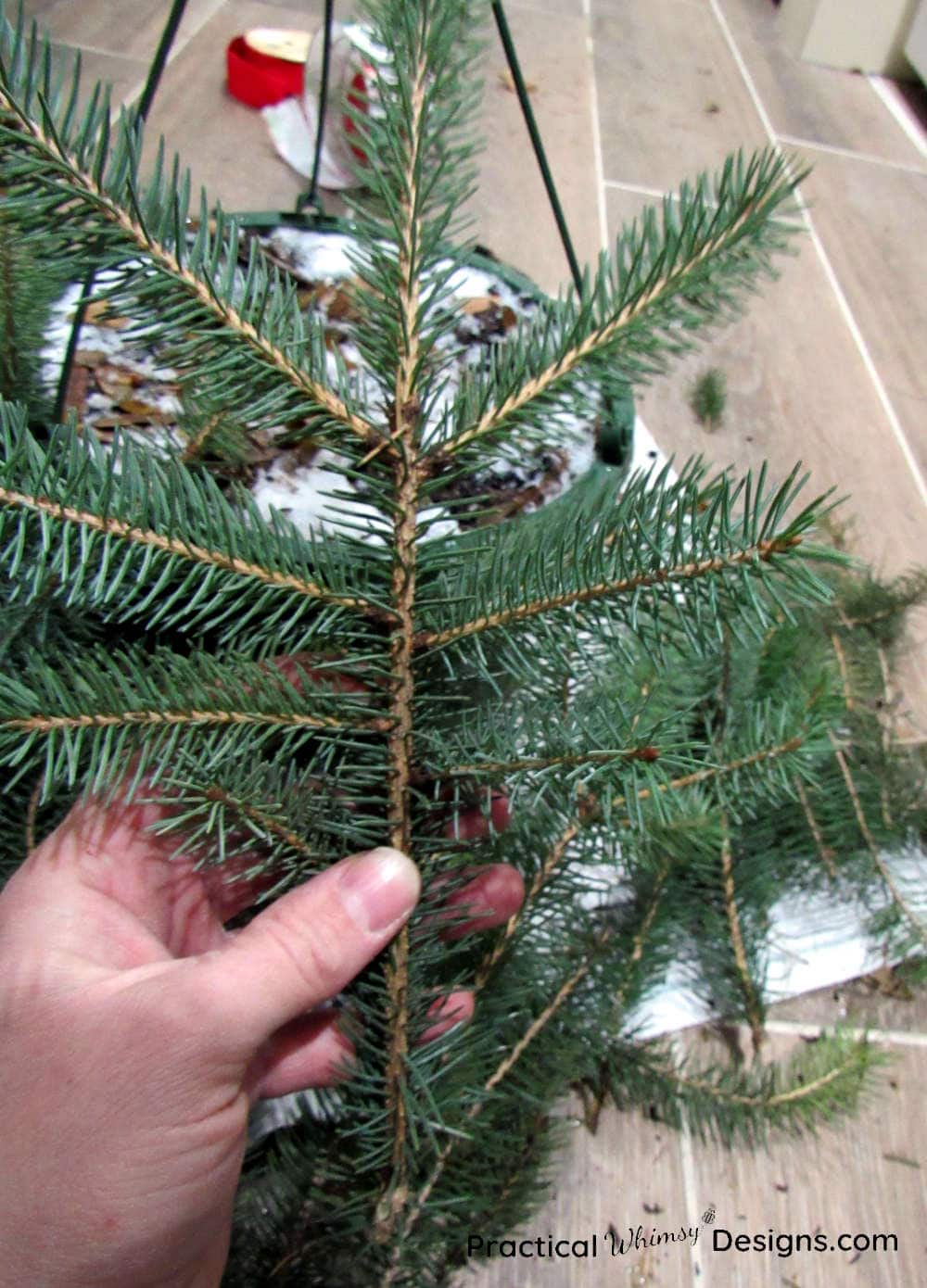 Stuff them into the dirt in the pot until the pot is full. My dirt was a little frozen so the easiest place for me to stick the twigs was around the edge of the dirt in the pot.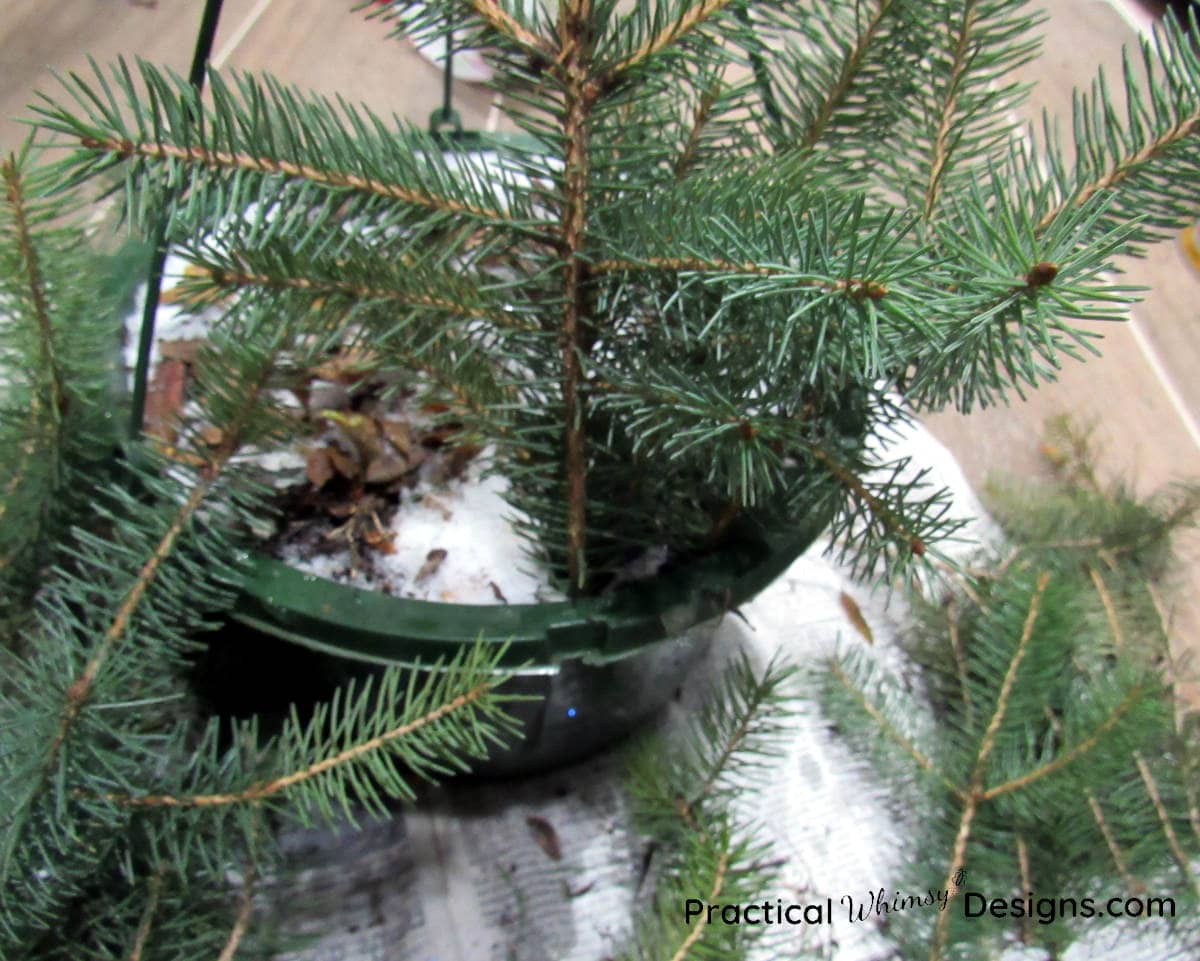 I also laid a few of the smaller pine boughs in the bottom of the pot to add a more full look to my Christmas pine basket.
If you are using artificial pine boughs, stuff them in the dirt, just like you would for a fresh pine bough.
Step 3: Decorate
Cut a Christmas ribbon large enough to tie around the pot and tie a bow on the front.
Optional: I stuck a piece of tape in a couple of spots on the pot to keep the ribbon from sliding down.
Hang small ornaments off of the boughs.
Note: If you run out of ornament hooks like I did, you can use paperclips. Bend the center of the paperclip straight. Then use one of the hooked ends on the ornament and the other on the branch.
Final Step: Hang your DIY Christmas Pine Basket Outside
And here is the result! So much better than those scraggly dead plants that graced my patio.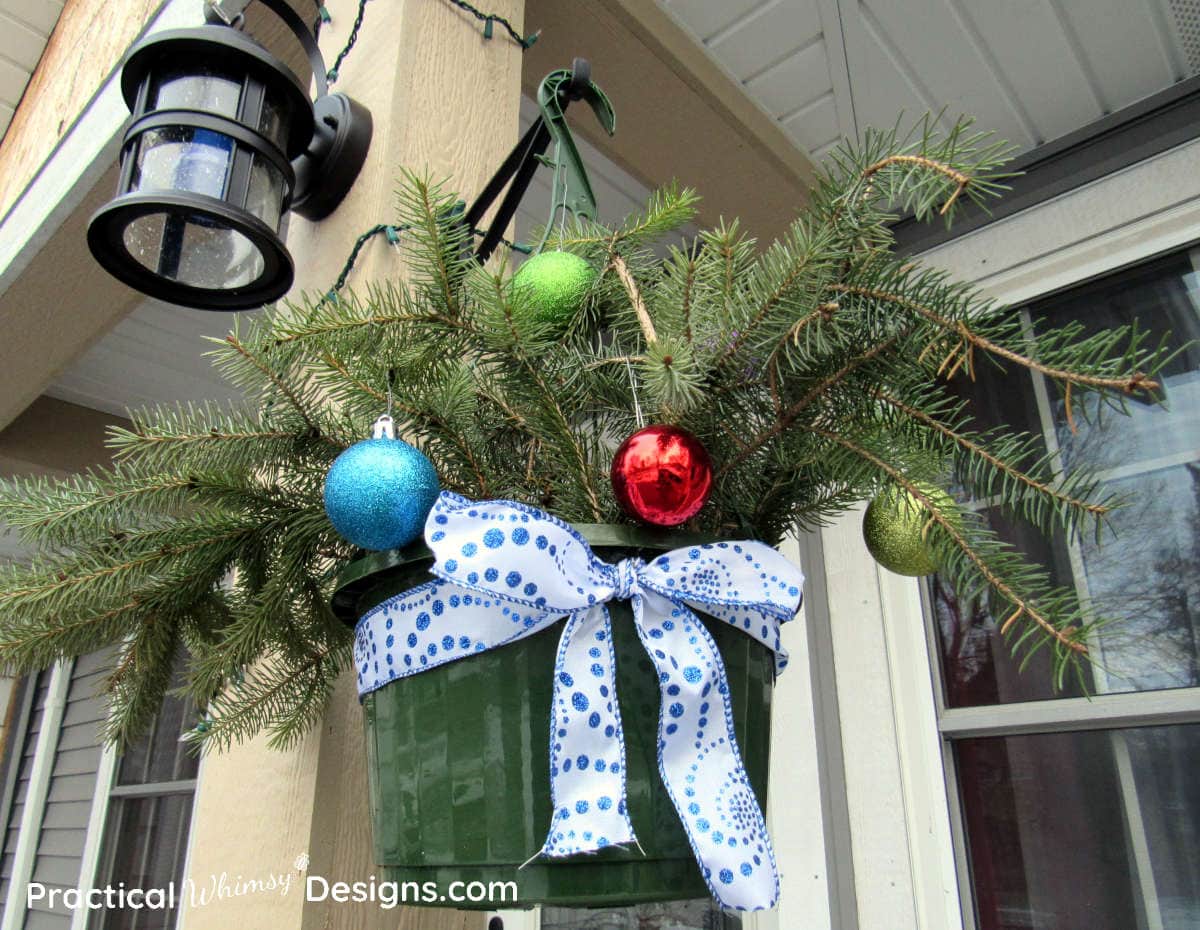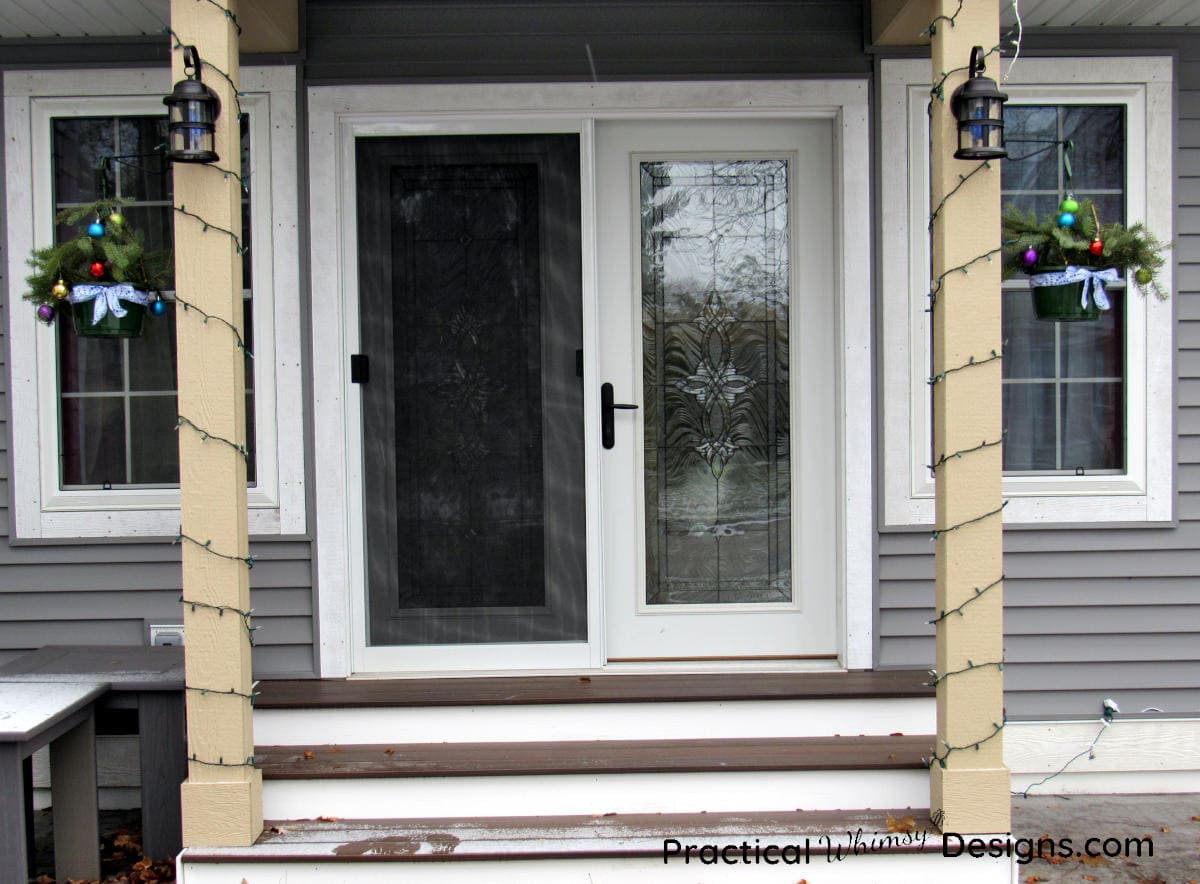 How about you? Are you ready to take your sad flower pots and turn them into fun decorations for Christmas?
If you need a few indoor Christmas decoration ideas, check out this tutorial for a snowman lighted canvas or this tutorial to make simple cardboard Christmas trees.
Want to remember how to make this DIY Christmas pine basket? Save it to your favorite Christmas Project board on Pinterest.
Want More Great Ideas? You Might Like These..