Tired of figuring out how to decorate after Christmas? Learn how to decorate windows with spray snow for a perfect snowy Christmas and winter mantel decor idea.
Constantly coming up with new decorating ideas for each holiday and season can feel daunting. This is especially true after the festive season of Christmas. So much effort is put into Christmas decorations each year that it can feel discouraging to know what to do after the Christmas tree comes down.
Luckily, with a little planning, you can create decorating themes that work for both Christmas and winter.
For example, the winter wonderland theme I used for Christmas decorating in the past, transitioned easily into my winter decorations for the year.
Another great Christmas to winter transition is evergreens and snow frosted windows. Hang an old, snow frosted window on the wall or prop it on the mantel and surround it with evergreens to add a cozy woodsy feel to your home, perfect for the holiday season and winter months.
Luckily, you can easily create removeable snow effects on windows with a can of spray snow designed for indoor use and home decorating.
Hey! Before you go further, I would love for you to connect with me! Please follow me on Facebook, Pinterest, and subscribe to my newsletter to stay informed on my latest posts and news.
How to Decorate Windows with Spray Snow
This post contains some affiliate links for your convenience (which means if you click a link and make a purchase I will earn a small commission at no extra cost to you). Please see my disclaimer page for more information.
Materials You Need:
Steps to Create the Look of Snow on Your Window
Step 1) Clean the window
Make sure that the window is clean and free of any dirt.
Use a paper towel and glass cleaner or soap and water to clean the glass surface of the window.
Dry it thoroughly.
Step 2) Prepare the area
Before you add snow to your window, you will need to protect the area you are working on from over spray.
If you are using an old window for decorating, bring it outside if the weather is mild. If you can't bring it outside, lay a tarp underneath to protect the area around it. Always work in a well ventilated area.
If you are spraying a window inside of your home, protect the window sill by wrapping it in craft paper or an old towel and taping the window edges with painter's tape.
Tape the window grids as well. I only taped the bottom 2/3rds of the window edges because I only needed to spray the bottom portion for the look I wanted.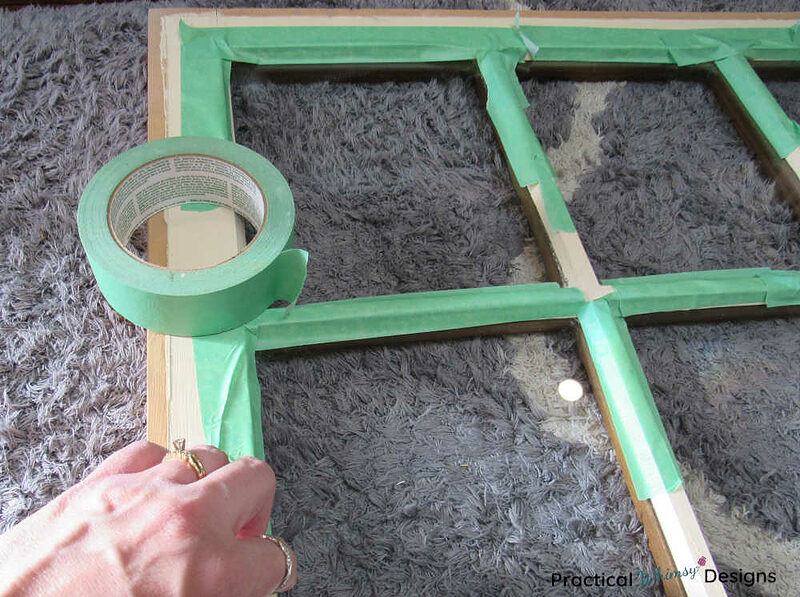 It's important to look at the product information and safety instructions on your spray snow can for further information on how to use the product safely. Also keep in mind that the spray may be harmful to lacquered or painted surfaces and plastic.
Step 3) Spray the windows
Once you have taped the window edges with painter's tape and set up a safe area to spray, shake your can well.
For best results, hold the can 12-18 inches away from the surface you want sprayed.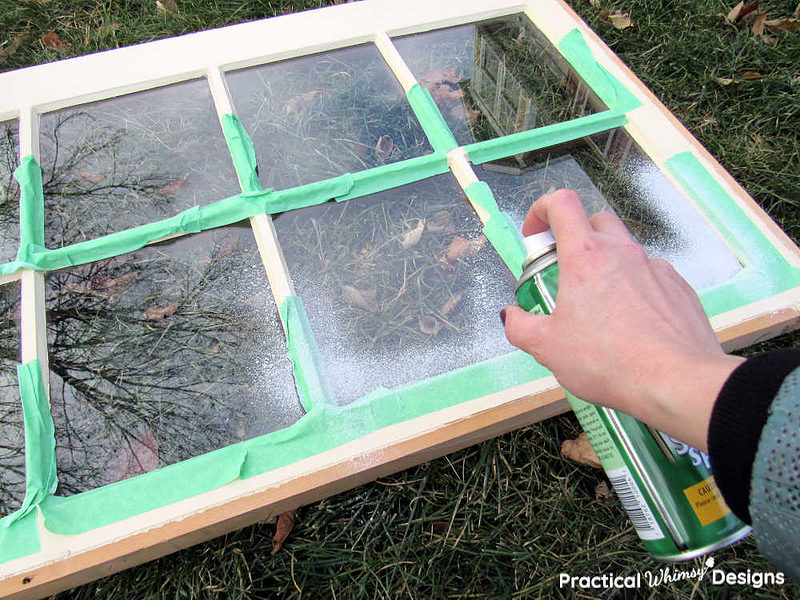 It is better to use multiple thin coats and let it dry in between if you are wanting a thicker layer of spray snow on your windows. If the coats are too thick the product takes a long time to dry.
If you are looking to get a snow coated look, focus your spray at the bottom of the window and about 1/2 of the way up each side. Leave the center and top bare. Some of the overspray will drift onto this center spot, creating a frosted window look.
Since the window I used was a painted window with grids, I sprayed the bottom edges of each of the window pane's flat surfaces to create a look of snow accumulating on the window grids. If you are using a window with multiple panes, make sure that each section is sprayed the same way.
I ended up removing the tape after the first coat and filling in the tape lines with more snow.
If you do this, make sure to wipe off any excess spray with a damp paper towel, so you don't damage the painted finish. Always test a small area before trying it.
Step 4) Let dry and decorate the windows
Let the window dry and then use it in your decorations.
I leaned mine on my mantel and secured it to the stone with clear fishing line wrapped around a screw. Behind it I put fake evergreens and white lights.
During Christmas, I hung this DIY Deco Mesh wreath on the front of the snowy window to give it a Christmas feel. If you want to see my full family room Christmas decorations with the snowy window on the mantel, you can check them out here.
And below is the same mantel decorated for winter.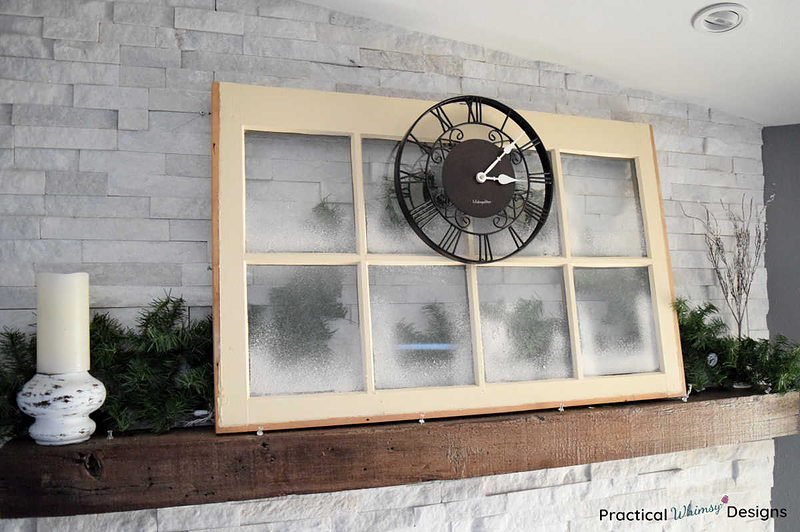 Another Fun Way to Decorate Windows with Spray Snow
Add a stencil design to your snow windows.
Buy a snowflake stencil, hold it against the window, and spray the snow onto the stencil to create white snowflakes on your glass.
Or, if you are super talented, create your own art in the window snow with a paint brush.
Step 5) Clean off your spray snow design
When you are all done with the snowy window look, you can easily remove the spray snow.
Start by rubbing it off with a wet cloth. If you have any spots that are stubborn and won't come off, use a dry cloth and window cleaner to remove the rest of the snow. Spray the cleaner onto the window and let it soak for a couple of minutes. Wipe the snow and cleaner off of the window with the cloth or a squeegee. You can use a vacuum cleaner to suck up any loose particles.
Can You Use Spray Snow Outside?
The spray snow is designed to work inside. If you spray it outside, it may not work correctly as the weather will affect it. It also may not clean up correctly.
Decorating with Snowy Windows in Your Home
Spray snow is a fun way to decorate your windows for winter.
Whether you are using decorative windows and hanging them on a wall or mantel, or sprucing up your kitchen windows with spray on snow flakes, this removeable snow can add a fun wintery feeling to your home.
Want to remember this for later? Save it to your favorite decor board on Pinterest.
Want More Great Ideas? You Might Like These..