Decorative Fall Leaves are a beautiful way to bring the outdoors into your home. Use this tutorial and Fall Leaf Printable to make some of your own.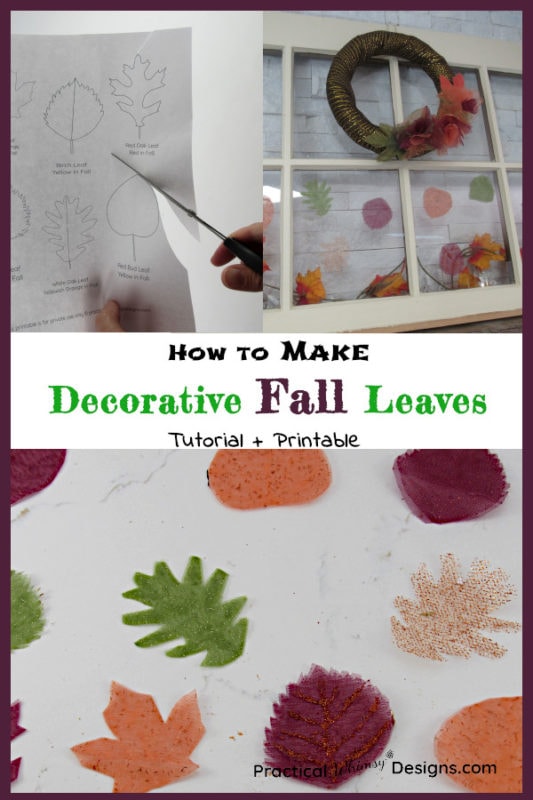 It is here!
I can't believe how every year it seems to come more quickly.
It kind of seems to "Fall" into our lives, abruptly….. Yep, I had to put in a bad pun. It makes life a little more fun. (Ok. You can stop groaning now.)
Fall is here and all of the beautiful colors as the leaves change and get ready to disappear for another winter.
One of the fun things about decorating for each season is the challenge of implementing outdoor beauty into your home. It is hard to think of Fall decor without adding the colors and beauty of Fall leaves.
I was able to find some fun maple leaves this year at the Dollar store, but it is almost impossible to find other varieties. Now, I enjoy a good maple leaf, but I wanted to add the textures and shapes of the other trees I love.
Don't worry. If you have run into the same problem, I have created a simple solution: a free printable with 6 different varieties of leaves. (Yes, I included the maple in case you wanted to make your own.) Now you can make your own decorative fall leaves!
What you will need:
Fabric &/or wire edged decorative ribbon
Scissors
My free leaf printable available in my free resource library. (You can get the password by signing up at the bottom of the page)
opt. Glue and glitter
Steps for Making Decorative Fall Leaves
Step 1: Print and cut out my free fall leaf printable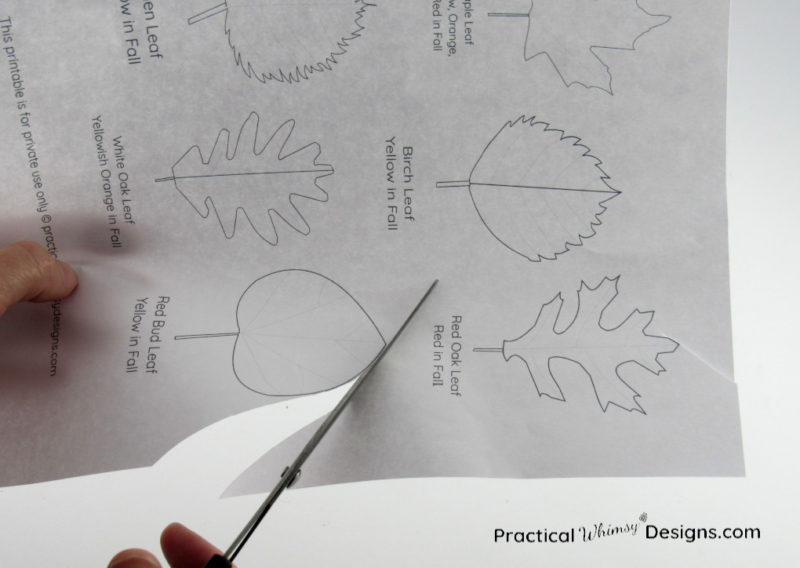 As I said earlier, I wanted a little more variety in my leaf options, so I made my own template for decorative Fall leaves. One of the benefits to being a newsletter subscriber is access to all of my free printables. You can jump over here to print off a leaf printable. (Not an e-mail subscriber yet, but want to be? Scroll down to the bottom of the page to sign up.)
This leaf template also works for a fun color sheet for any of the children in your life. I included the names of each kind of leaf and the colors they turn in Fall in case you use it as an educational tool.
Step 2: Cut out the leaves from your fabric.
Now that you have your paper leaves cut out, you need to magically turn them into fabric. Presto alacazam!
Just kidding. You actually need to grab your scissors and cut them out of the fabric you chose. To make this easier on yourself, you can use fabric pins to hold the fabric to the paper pattern.
For the leaves with jagged edges, I found it easier to cut out the general leaf shape and then come back in with my scissors to cut out the indents.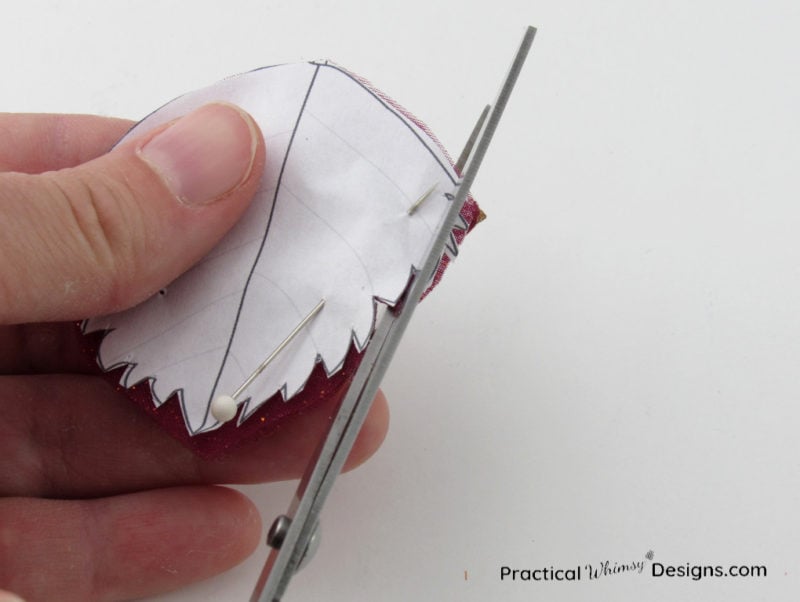 Note: If you are feeling brave, you can layer your fabric so that you cut out more than one leaf at a time. That way it doesn't take you FOREVER to cut out all of your fabric leaves.
Step 3: Optional glue and glitter application
I used wire edged 2.5″ ribbon because I liked the sparkle. Because it is relatively see through, I cut out two layers and glued them together. If you choose to go that route and need to glue two layers of fabric together, here's what I suggest.
On my paper leaf template, I have a light vein pattern. Since I can see through my leaves, I followed this pattern with my glue so that the vein pattern would be apparent on my leaves as the glue dried.
Another fun option is to sprinkle glitter on the glue. Because the glitter glue is then sandwiched between two pieces of fabric, the glitter stays on, but you can still see the fun glow that the glitter adds. (I know my husband will appreciate that. I think he has a vendetta against glitter, but it may just be that the stuff sticks to EVERYTHING! Less glitter all over the house is a plus all around.)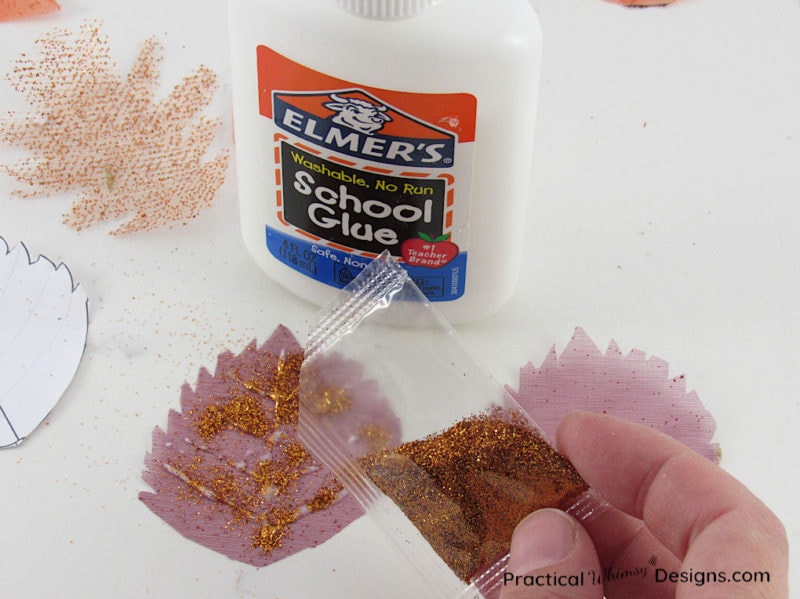 What Now?
Now you have all of these pretty Fall leaves. What in the world should you do with them?!!
3 Fun Ways to Use You Decorative Fall Leaves
1. Use them in your general Fall Decor
Fall leaves are great for putting in a bowl, scattering on a shelf, or sticking to candles, windows, or vases to transform a normal item into a beautiful Fall decoration.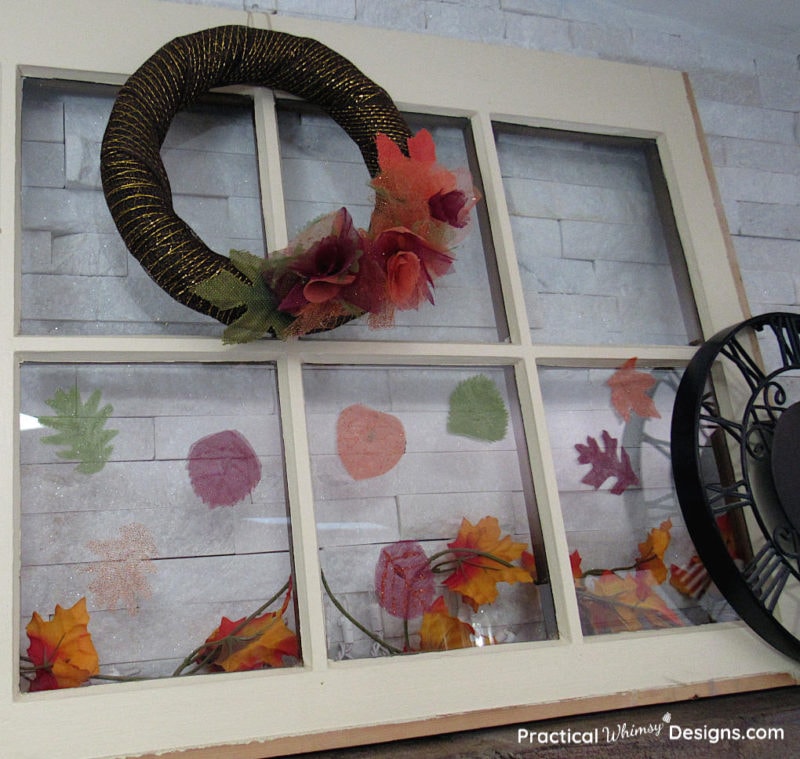 I used the leaves I cut out on the window that decorates our mantel. I put a zot dot on the back and stuck them on. (Remember to always test whatever adhesive you use to make sure you can still remove it without damaging your decoration.) It is best to look for adhesive that is removable.
2. Make Fabric Flowers out of Them
Did you know that you can make fabric flowers out of your leaves?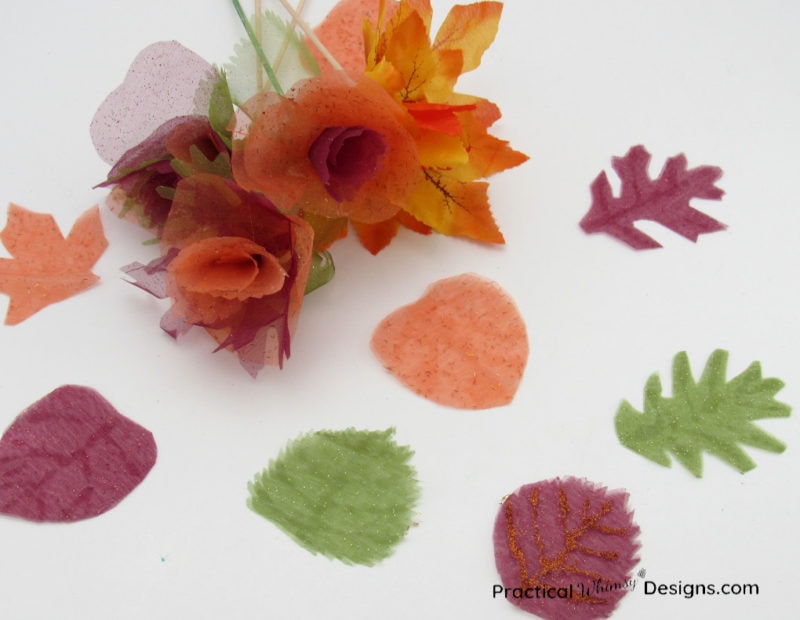 Well, now you do.
Here's a tutorial on how to make fabric flowers out of fall leaves.
3. Use Your Decorative Fall Leaves to Make a Wreath
You know how I said you can make fabric flowers out of Fall leaves? Well, why not use those leaf flowers to make a Simple Fall wreath? Tutorial coming soon.
The form you have selected does not exist.
Decorate with Fall Leaves
Now that you have some beautiful Fall leaves and a few ideas for decorating, go make something beautiful. Don't worry, I will wait right here. I am excited to continue to help inspire you to create and find ways to express yourself!
Happy Fall!
How about you? What other ways have you used Fall leaves in your decorating?