Have a room that needs a subtle touch of color? Use this technique to distress painted furniture to add color without overpowering your room.
Never ending boards!
Trim boards, base boards, boards for casing windows and doors. I am Bored of Boards!!!!
Well, at least that was how I felt this fall when I was working on painting all of the trim for our family room, bathroom, and laundry room.
We are painting the trim in our fixer upper house a cream color to match our kitchen cabinets, so EVERYTHING had to be painted.
After painting the 100th board (ok, I exaggerate …. a little), I was getting a little sick of trim paint.
I craved some color! Some pizzazz! Something other than cream.
Introducing my laundry shelf. It was a perfect opportunity to add some color to my room.
In my laundry room I have pops of blue mixed in with brown, cream, and green.
So, I did what any one who was sick of cream would do.  I went all out and spray painted the shelf over my washer and dryer BRIGHT BLUE!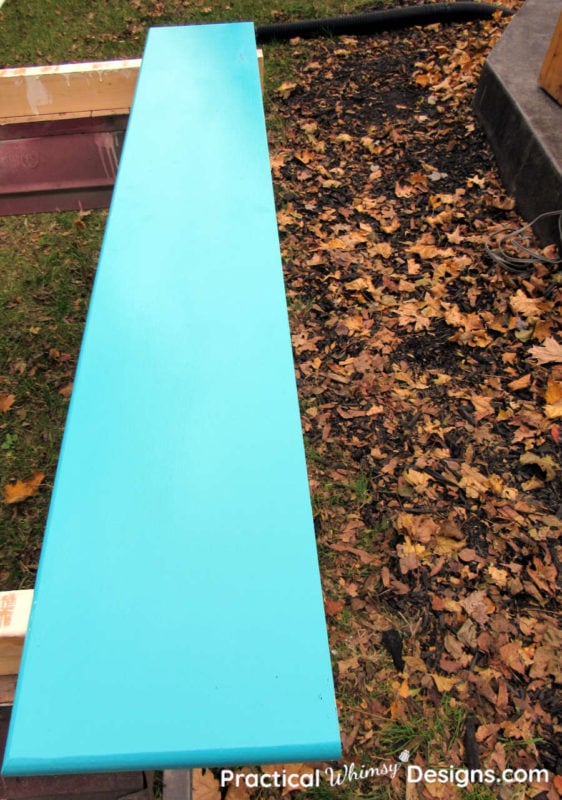 Talk about pizzazz! It was a little Too in your face for my taste!
I had to come up with a way to keep some color without blinding anyone who entered my mud/laundry room.
Our laundry room already has a rustic theme going since we re-used the barn wood we took out of our old pool room. And since I have been loving the look when others distress painted furniture, I decided to give it a try on our laundry shelf.
What you will need:
A board or furniture that you are planning to distress
Paint ( I used spray paint for the color, and cabinet paint for the second layer)
Paint brush
Sand paper (I used 60 grit to sand down to the color. Then I used 150 grit to smooth out the rough spots on the paint)
How to distress painted furniture to add subtle color
Step 1: Spray paint your furniture with the accent color of your choice
I used two coats of spray paint on this shelf. If you choose to use spray paint, make sure to use left and right sweeping motions when you spray your furniture. You don't want your paint to spray on too thickly or it will pool into drip marks and ruin your work. It is better to add multiple thin layers to prevent this from happening.
There is quite a bit of over spray with spray paint, so make sure to set up in an area that is far enough away from vehicles and other surfaces that you don't want painted. Saw horses are a handy way to lay out the items needing painting.
Let dry completely between coats.
Step 2: Paint a light color over your spray paint
Now, I used the cream colored enamel paint that we have been using on our trim. I wanted the shelf to match the rest of the trim in our house. However, you can choose any color that fits your decor.
I used a paint brush to paint two coats on this shelf.
Again, less is more. It is better to use two or more light coats of paint and avoid the paint drips. (I actually had to sand a section that I had made too thick and redo some of it. So I am speaking from experience!)
Let the coats of paint dry in between.
Step 3: Distress your furniture
Use your sand paper to sand the light paint off and reveal the color below. I used 60 grit to sand down to the accent paint. Then I used 150 grit sand paper to smooth out any lumps or rough spots.
Think about the project as you go. How would this piece of furniture show wear if time were to advance in fast-forward? Then get to work sanding those areas to expose the color underneath.
The edges of furniture often show the most wear, so make sure to sand those areas.
The nice thing about distressing a shelf is that there is really no wrong way to do this. Even if you make a mistake, you can put paint on the shelf and try again. So, don't be timid.
I actually went back several times and sanded a few more areas because I wasn't satisfied with the amount of color showing through.
This was a great way to add some color to my laundry room without overpowering everything else.
I love how the color on the shelf peeks through and accents the other decorations I have placed on the shelf, including the Snowman Lighted Canvas Picture I made this year.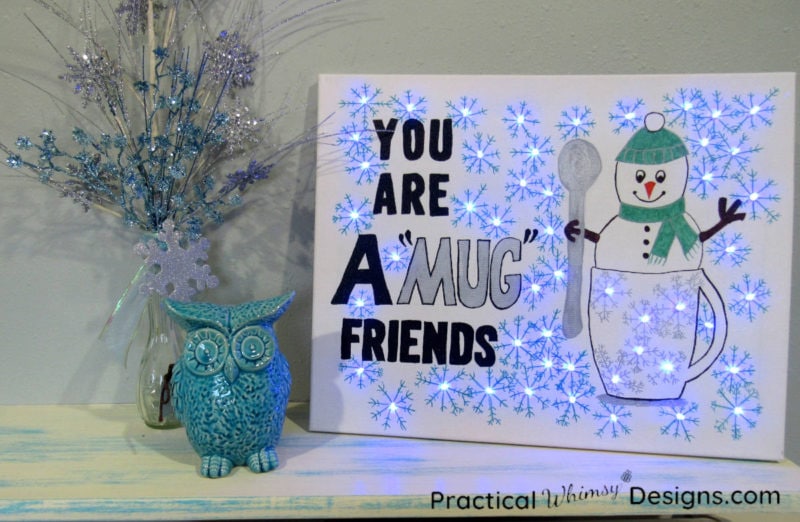 I also used this technique on the frame of the DIY chalkboard message center I made.
What about you? What areas of your house need a subtle hint of color? Can you think of a way to distress painted furniture pieces to add some?