Create easy upcycled farmhouse decor out of old couch feet with this simple tutorial. This DIY farmhouse candlestick is the perfect decoration for your home.
Struggling with finding the perfect paint color for your home? My design guides are available for free to my newsletter subscribers. Grab my Free Paint Guide and FINALLY pick a wall color that you love!
I'm always on the hunt for ways to reuse things.
Even when we are getting rid of something because it is worn out, I try to imagine a new use for it first. Or, if it is outdated, I think of ways to fit it into our design. We did this with our old bedroom set. We turned our queen sleigh bed into a more modern design and installed one of our dressers as a built in in our master closet.
Recently, we threw out the couch we got when we first were married. It was saggy and out of style and definitely ready for couch heaven.
Before we threw it on the curb I, of course, decided to keep a few things. I kept the cushions with plans to use them in our daughter's bedroom on her window seat and I also snagged the wooden feet.
Note: Make sure that you have certain plans to use your items when you keep things. This keeps you from accumulating too much clutter.
I wanted to turn them into cute, DIY farmhouse candlesticks to go with the succulent planter I made for our kitchen.
This is an easy upcycled farmhouse decor tutorial and you don't have to throw out a couch to create fun candlesticks. Look for other fun shapes in old, broken, or outdated furniture. (ex. porch posts, tables, headboards, etc.)
This post contains some affiliate links for your convenience (which means if you click a link and make a purchase I will earn a small commission at no extra cost to you). Please see my disclaimer page for more information.
Materials You Need:
How To Create a DIY Farmhouse Candlestick out of Upcycled Wood
Step 1: Prepare Your Wood
The first step is to get your wood ready for paint.
My couch feet had a metal bolt and plastic bottom that I had to remove. I used a pliers to unscrew the bolt from the wood and hammered the plastic piece off of the bottom of the couch foot to give it a nice flat surface to sit on.
Make sure that you spend the time preparing your piece of wood. Cut it to the height you want and make sure it sits flat.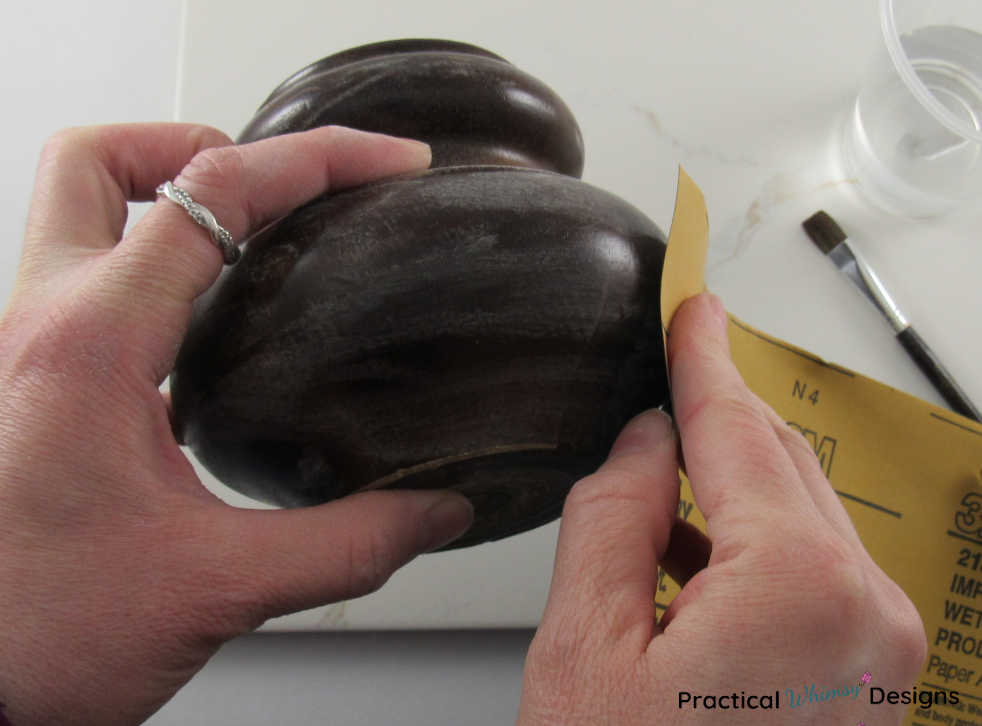 If your wood has a finish, roughen it with sandpaper. I hand sanded the wood just enough to scratch the glossy finish so that my paint would adhere. Since I didn't want the stain removed, I only did a little sanding.
Wipe any dust or dirt off of your wood.
Step 2: Paint the Wood
Paint thin layers of white paint until you have the coverage you desire. You can use different types of paint for this, but I used white acrylic craft paint because it is something that is easy to get and I had some on hand.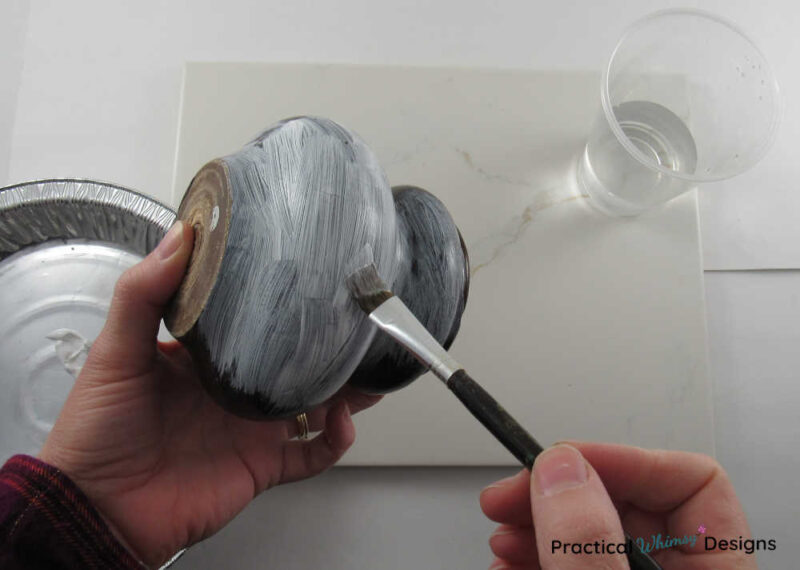 I painted 4 layers of paint on my couch foot and let it dry in between.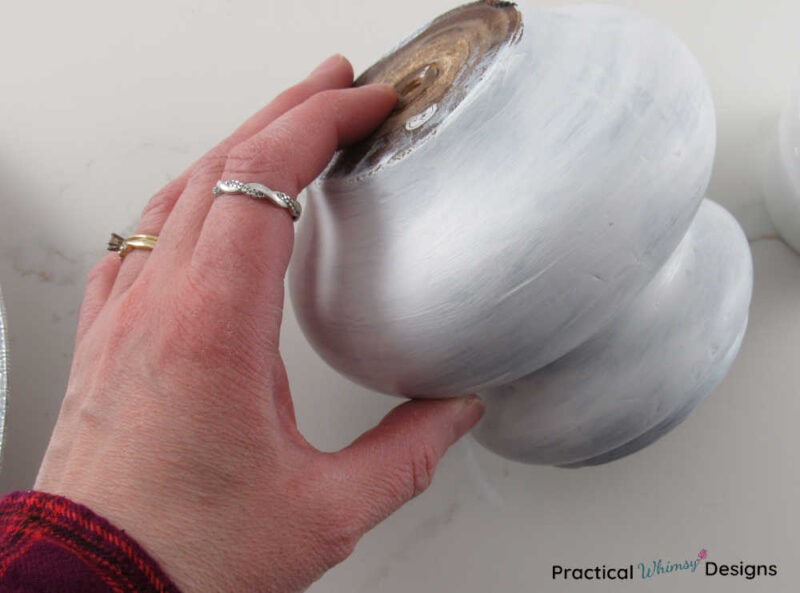 Step 3: Distress Your Wood
Once the paint has dried, use 80 grit sand paper and sand some of the paint off.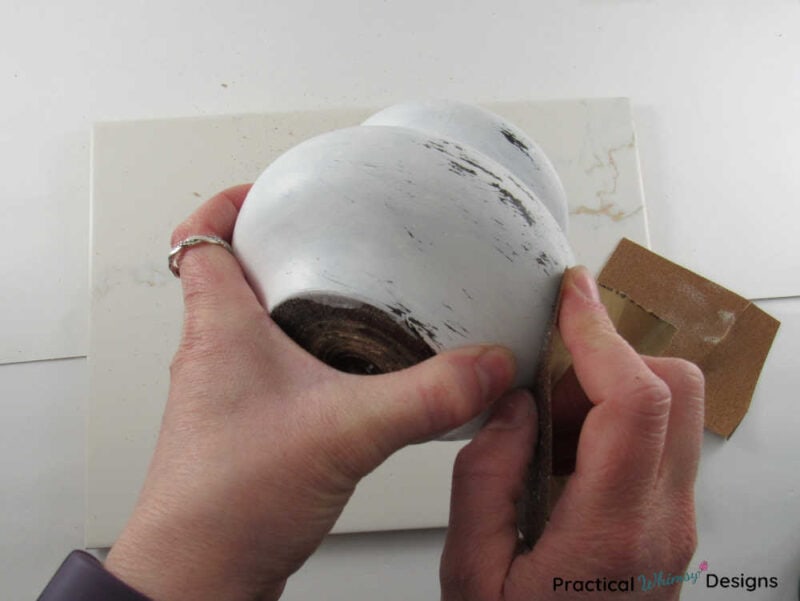 You can sand as little or as much as you want, depending on your taste. Use simple back and forth motions to remove the paint.
I love this technique because it can be used to create so many fun projects like this fun shelf I made for my laundry room. I used a similar technique to create this faux bronze vase. Don't be afraid to try different paints and colors.
DIY Farmhouse Candlestick
And that is it.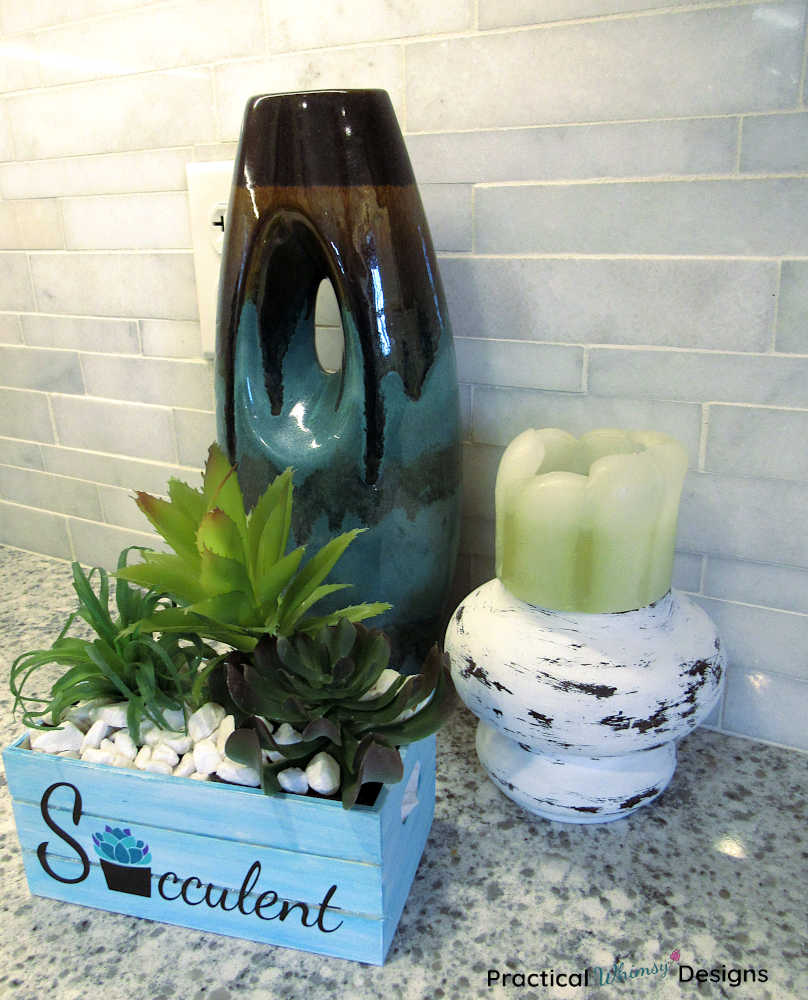 I added this to my kitchen decor. I wanted something that was simple and didn't take up too much counter space and I love how everything ties in together.
This can be a really easy project, depending on if you find wood that is pre-cut to the right size. Even cutting things down to the right size is pretty simple.
I love how this newly minted couch foot looks next to my succulent planter.
My daughter pointed out that it looks like birch bark, so I might just be making another one of these to go with the DIY birch tree painting I did in my main floor bathroom.
What about you? Have you ever upcycled your furniture? Tell me in the comments below.
Want to remember this idea? Save it to your favorite DIY board on Pinterest.
Want More Great Ideas? You Might Like These..