Learn how to make your own DIY mesh wreath with this tutorial. Easily change this deco mesh and ribbon wreath DIY decor for multiple seasons.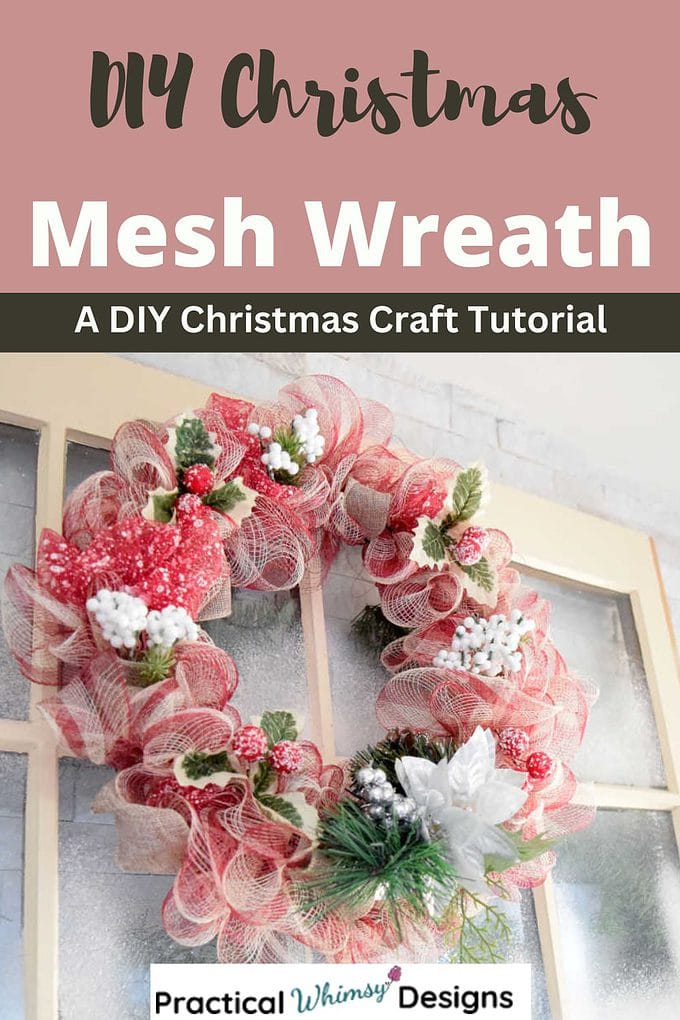 There are so many beautiful wreaths out there. So many different styles and looks of deco wreaths to choose from.
Often they can seem more complicated to make than they really are.
If you have been wanting to try your hand at creating your own mesh wreaths, take a look at this step-by-step tutorial on how to create a 3 colored DIY mesh wreath using the ruffle method.
In this tutorial I am using a red deco mesh, a wide red mesh ribbon and burlap mesh ribbon to create a more neutral wreath base. I chose red deco mesh and tan burlap for my wreath as I plan to use the wreath base for 4 different seasons/ holidays (a fall, Christmas, Valentine's Day, and 4th of July wreath).
However, there are a wide variety of colors to choose from, so once you have this basic technique down, you can create a wreath for any special occasion or season.
Materials You Need:
All of my supplies were purchased at the Dollar Tree, but I have tried to link to similar items so you can source your own. You can buy online at the Dollar Tree, but most of the items require that you purchase them in bulk.
This post contains some affiliate links for your convenience (which means if you click a link and make a purchase I will earn a small commission at no extra cost to you). Please see my disclaimer page for more information.
Wire wreath form from Amazon (I used a 14 inch wreath form.)
Deco mesh: I used two different colors and types:

I used 3 rolls 6in x 5yd (15 yards total in length) red and tan stripped deco mesh from the Dollar Tree. I was unable to find the same ribbon so I linked to a red and white one that I also like on Amazon. Note the red and white deco mesh is 10 yards long so you may only need 2 rolls of deco mesh.
3-5 yds roll of snow deco poly mesh ribbon I used 3 yds, but would have liked a little more.

Burlap ribbon 2in x 9ft (I used a narrower ribbon than my deco mesh. You can always use something wider depending on the look you are going for).
Scissors or wire cutters
Wreath decorations
How to Make a 3 Colored DIY Mesh Wreath
Now, there is some flexibility in how to add the different colors into your deco mesh wreath. I had one main color I used for the majority of the wreath. Then I added the other red ribbon into each segment of the wreath frame once. Finally, I came back through with the burlap ribbon and pulled it up in several places throughout the wreath.
This tutorial is based off of my pattern. However, once you know the steps, you can change the pattern and colors on your own wreath to fit your particular wreath design.
Step 1: Attach the mesh
The first step is to take your main mesh color and fold it in half. Then fold the end of the mesh over so the rough edge is hidden.
Attach this first layer to the back of your metal wreath frame by inserting a piece of floral wire through the ribbon in a U shape and twisting it on to your frame. Trim off any excess wire with a scissors or wire cutters.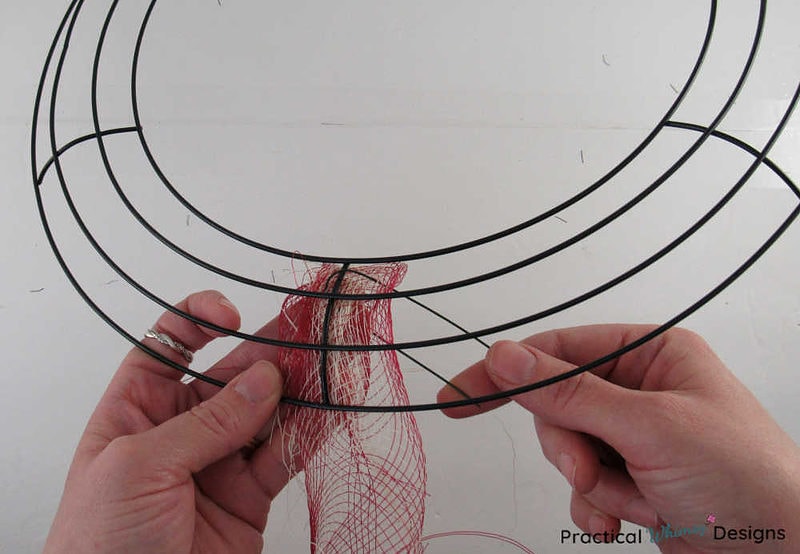 I attached mine to one of the vertical metal pieces on the form, so it wouldn't slide back and forth on the wire frame.
Follow this step for the other colors of deco mesh ribbon or burlap you plan to use. Make sure to attach all three colors in the same place on the back of the wreath frame.
Step 2: Start Creating Your Ruffles
The easiest way to make your wreath ruffles is to work your way from the inside ring to the outside ring.
Take your main deco mesh color and pull a 3-4 inch loop up through the bottom of the inside ring.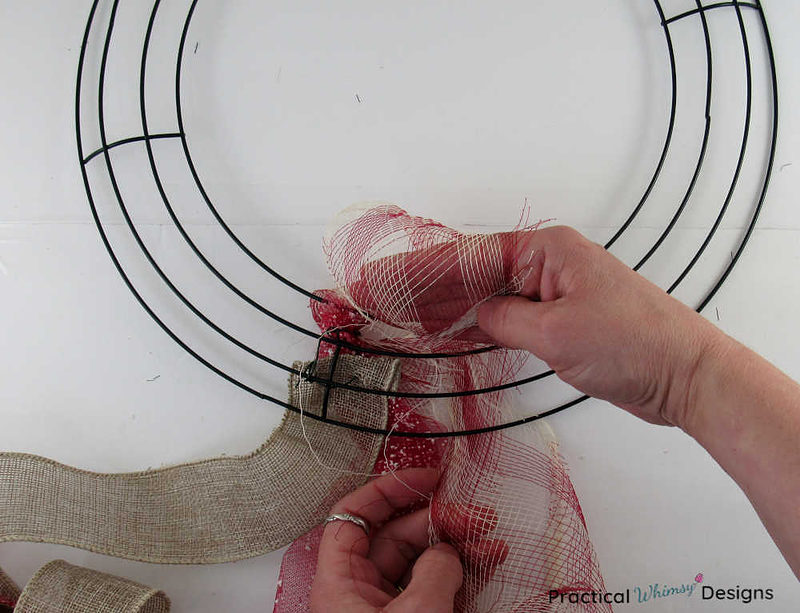 A good way to measure the loop to see if it is tall enough is to see if 3-4 of your fingers can fit inside the loop.
Next, pull a similar loop through the middle ring and then the outside ring. The mesh should look like a piece of Christmas ribbon candy going up through the metal slats of your wreath form.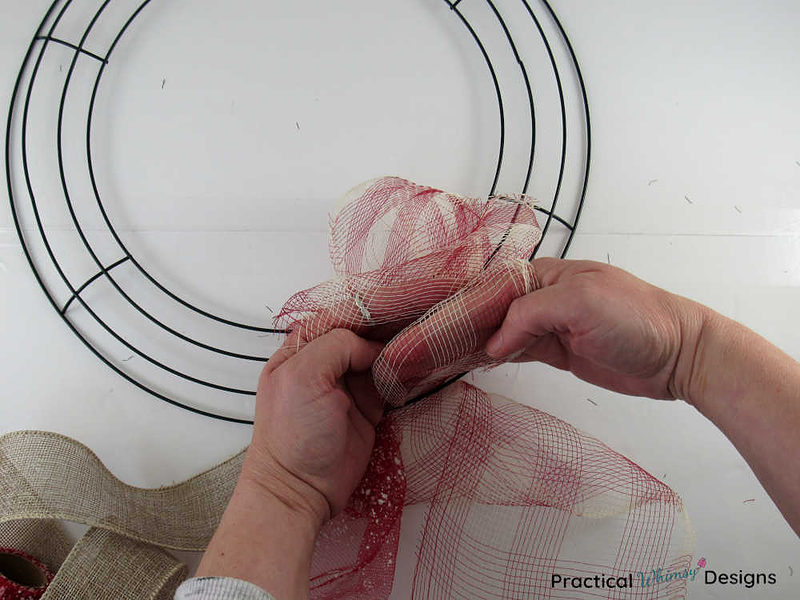 When you have finished your first row, push the mesh loops together (towards the area of the frame you tied the ends of your rolls of mesh to) and bunch the mesh pieces to get the ruffled look.
Now, while holding the bunched mesh loops with one hand, grab the end of the last loop you made between the same thumb and finger to keep it from pulling back through your frame. Twist the mesh next to the pinched end of ribbon 4-5 times with your other hand.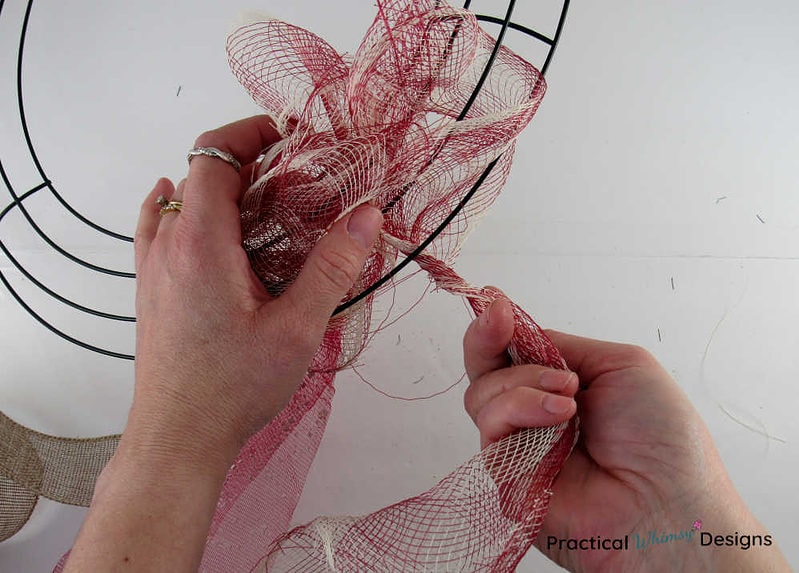 (Note: The one hand holding the bunches of mesh will be on top of the wreath, reaching through the wreath frame to pinch the mesh. The twisting hand will be under the wreath frame.)
Be aware that the twisting of the ribbon will cause your deco mesh roll to get a little twisted. You will have to spend a little time untwisting the roll before starting your next row of ruffles.
Start a second layer of ruffles by tucking loops through the inside ring, middle ring, and outer ring again.
Keep repeating these steps until you have enough rows of ruffles in this one color. I used 5-6 rows because the deco mesh is not as thick as burlap. This gave me a nice amount of bunchy mesh before I added my next color.
Step 3: Add the Second Color to Your DIY Mesh Wreath
Now it's time to add the next color to your wreath.
Find the second ribbon you attached to your wreath frame.
While holding your first bunches of color, twist the second color of ribbon towards the inner ring next to where you ended your last bunch. Pull a loop of your second mesh color in the inside ring, middle ring, and outer ring. Bunch the mesh over, like you did with your first color.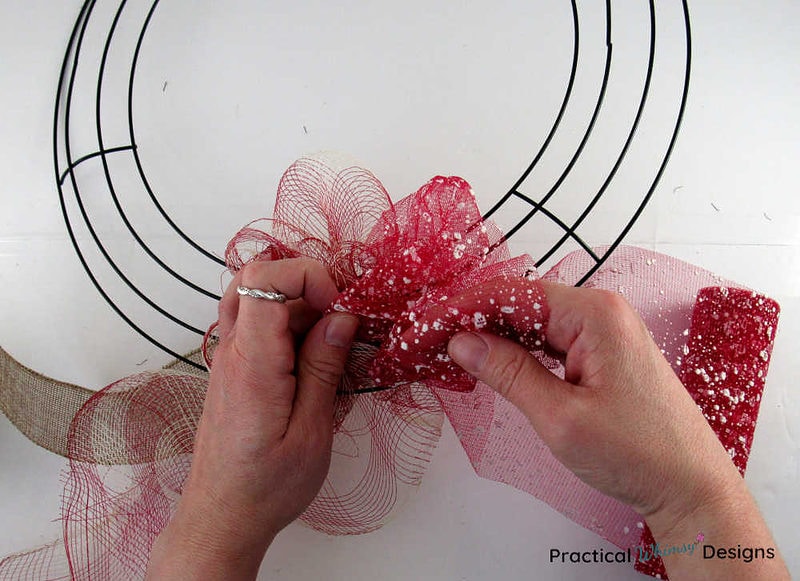 I only chose to add this color once per section on my metal frame since I only had one roll of this color, but you can add as much of the second color as you like.
Once you are happy with the amount of second color, go back to adding more of the first color.
Steps Needed to Make the DIY Mesh Wreath
So, to repeat the steps for making each mesh wreath row:
Pull a 3-4 inch loop up through the inner ring
Pull a 3-4 inch loop up through the middle ring
Then, pull a 3-4 inch loop up through the outer ring
Bunch the loops together
While holding the bunched loops with one hand, reach through the wreath frame and pinch the mesh ribbon end with your finger and thumb to keep it from pulling back through the frame
Twist the mesh 5-6 times
Repeat the first 6 steps
If you run out of any of the colors of mesh ribbon, you will need to attach another piece of the same mesh together. Fold the end of the ribbon to hide the rough edge and attach it to the wire frame with floral wire at whatever point you ran out.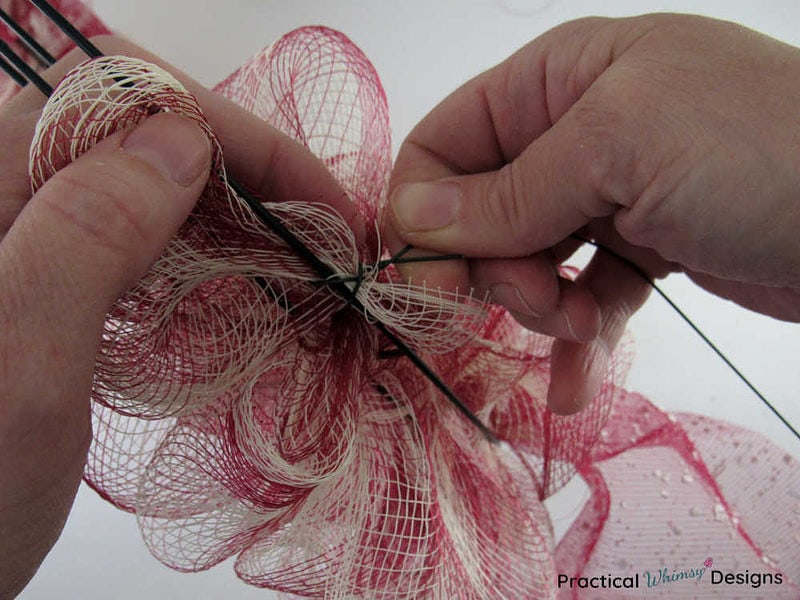 Then grab the end of the new roll of mesh and attach it to the same place on the wire frame with a little bit of floral wire. Trim any excess wire.
Keep filling the empty spaces with deco mesh or ribbon in whatever pattern you want until you fill the entire wreath frame.
Note: Between each section of my wire wreath frame I used 5 rows of one color, 1 row of my accent color, and then 5 rows of my first color again. You can use less if you want a less full wreath, or if you are using a wider deco mesh ribbon. I liked the look of a more full deco mesh wreath. The 11-12 rows in each wire wreath frame segment gave me the look I was going for.
When you have added the last row of mesh, trim the ribbon end, fold under the rough end, and secure it to the wreath frame with more floral wire.
Step 4: Adding the Final Color
I used a burlap ribbon to add a different texture to my diy mesh wreath. To follow this step, start at the spot you attached your third ribbon to.
Pull a loop of burlap (or whatever ribbon color you choose) up through any of the three rings, wherever there seems to be empty spaces.
Give the ribbon a few twists and pull another loop up in another empty area. Keep alternating loops of ribbons through the different rings, making your way around the wreath frame, until you have the last color of ribbon worked throughout your whole wreath.
Attach the end of the last ribbon color to your wreath frame with floral wire.
Now is also a great time to trim any strings sticking out on the ribbon.
And that is it for the main wreath.
Once you have the basic steps you can create a wreath using any popular ribbon color to make a unique wreath of your own.
Note: If you are worried about the wreath ends pulling through the frame, you can apply some clear-drying craft glue to the underside or add more floral wire through out the wreath. I only added floral wreath at the ends of each deco mesh roll.
Step 5: Add the little details
The last step is to decide whether you want to keep the wreath plain or add holiday decor to it.
The nice thing about this wreath is that you can decorate it in so many different ways.
It is easy to insert decorations in the ruffles to change the look for each season.
Four Different Ways to Decorate this DIY Mesh Wreath
DIY Mesh Christmas Wreath
Here is my deco mesh Christmas wreath. I love the festive look of the simple dollar store greenery I added to the wreath.
It goes perfectly on my DIY frosted window over my fireplace mantel.
Valentines Wreath DIY
This wreath is the perfect wreath color for Valentine's day.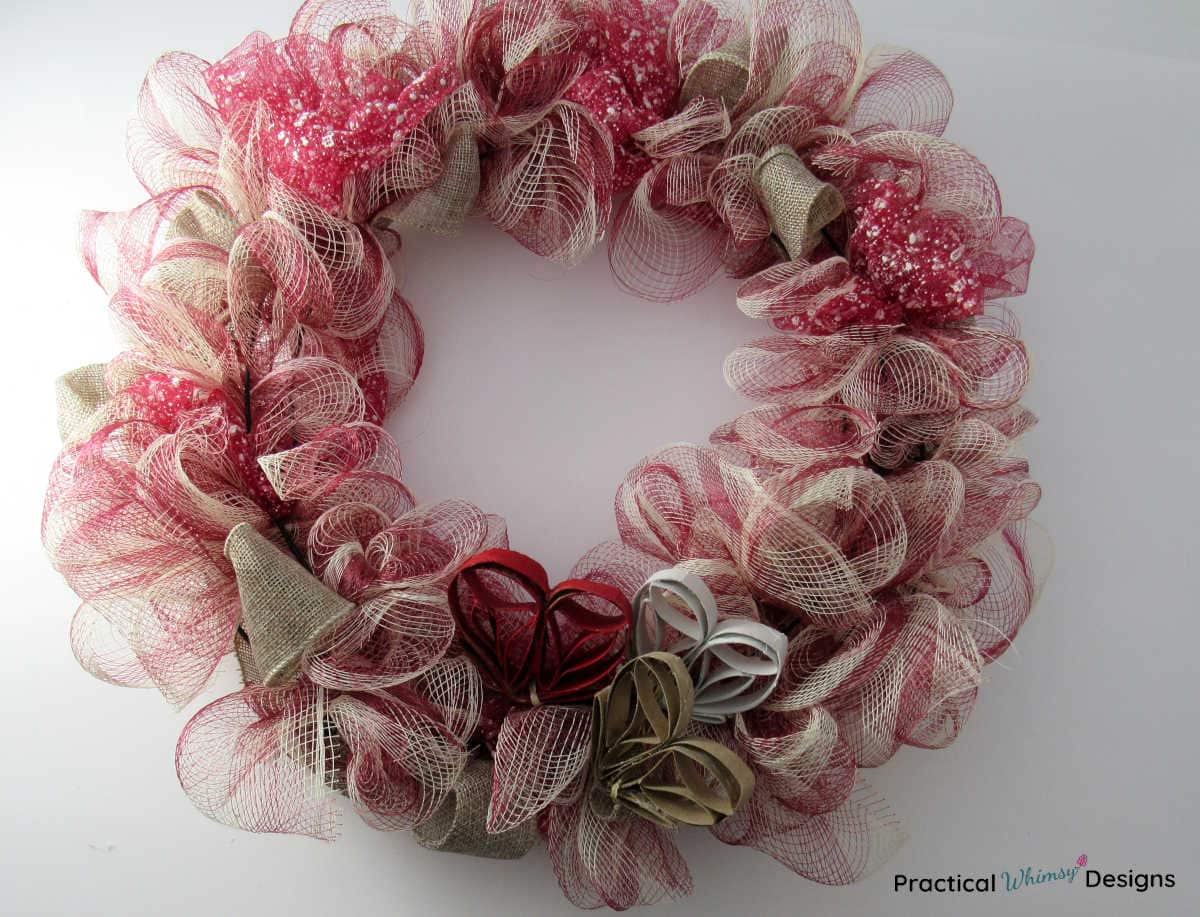 I decorated my wreath with these cute toilet paper roll hearts I made for my DIY Valentines garland.
DIY Fall Deco Mesh Wreath
Add fall leaves and acorns to the pieces of deco mesh to create a beautiful fall look. I will post pictures of my fall deco mesh wreath later.
Looking for a more simple DIY fall deco mesh wreath? Check out this simple DIY fall wreath with DIY fabric flowers.
Fourth of July Deco Mesh Wreath
Add small flags or tie blue ribbons onto your wire frame to create an instant Fourth of July wreath using this same red and brown base.
Can You Use This Technique to Make a DIY Burlap Christmas Wreath?
Yes!
This same technique can be used to make DIY burlap wreaths for any season. Just replace the deco mesh with burlap instead. You can even use deco mesh mixed in with burlap to add more color to your burlap wreath.
Want More Great Ideas? You Might Like These..
We would love for you to join our newsletter community! As a thank you for signing up for our weekly newsletter, you will gain access to our free printables and resource library, including great art for Christmas. Sign up below.
Want to remember this idea? Save it to your favorite Holiday board on Pinterest.