This DIY Mushroom Decor is so easy to make. It only takes 2 items and a little glue to make these cute and whimsical spring decorations.
We recently ate a coconut.
I know…. Isn't that a profound statement to start out this post with? Ha ha!
But, that is the inspiration behind this craft project. After we had opened and consumed the coconut, my husband asked whether I wanted to make anything out of the shells (other than a coconut bra, which was NOT going to happen).
Now, I don't know if this was a nod to my artistic ability or a challenge to see if I really could come up with something to use these hairy little shells for, but regardless:
Challenge accepted!
It took me a couple of days, but when I was walking around the dollar store I saw a few ceramic mushroom decorations. That's when it dawned on me! These coconuts look a lot like the top of a mushroom!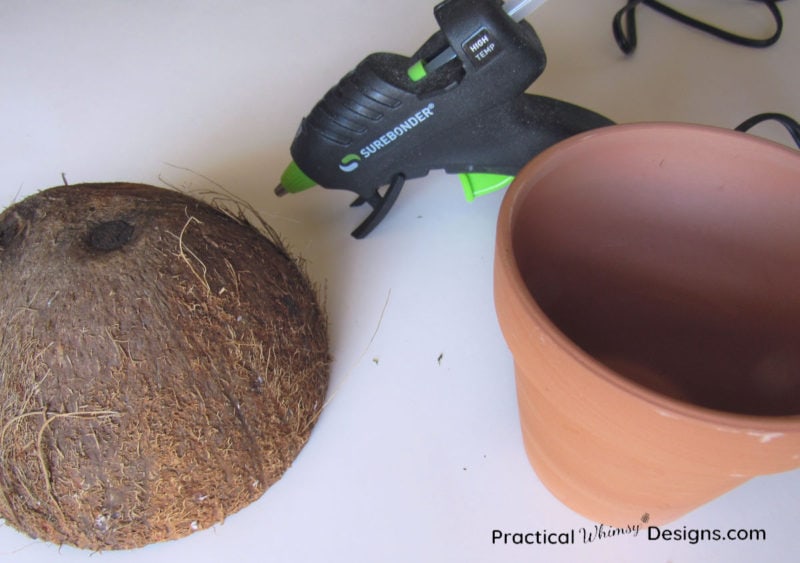 This post contains some affiliate links for your convenience (which means if you click a link and make a purchase I will earn a small commission at no extra cost to you). Please see my disclaimer page for more information.
Materials You Need:
Steps to Make DIY Mushroom Decor
Step 1: Split and Eat the Coconut (opt. step if using a whole coconut)
If you already know how to break a coconut in half, then you can skip this whole section.
However, if you have never purchased or eaten a coconut and need a brief tutorial of how to open a coconut, here it is:
Soak your coconut in water in a bowl or under the tap to help the shell become softer and easier to break. We did this for only a couple of minutes until it was wet.
Locate the 3 raised lines on the side of the coconut. These are the weakest points of the coconut.
Use a hammer or meat tenderizer to tap those 3 lines in the center of the coconut until the coconut breaks in two halves. (Do this over a bowl or you will get coconut milk everywhere!)
Use a butter knife to get behind the coconut meat and peel it out. Or use a paring knife to carefully cut chunks of coconut out of the shell. (Yes, there should be some brown skin on the coconut meat, and yes you can eat it.)
Now you should have 2 coconut shell halves to make your DIY mushroom decor and a tasty snack!
Step 2: Glue the Mushroom Decor
Grab your clay pot and put a line of glue on the rim with your hot glue gun.
Place the coconut shell half on top of the glue.
And….. You're done!
That was it!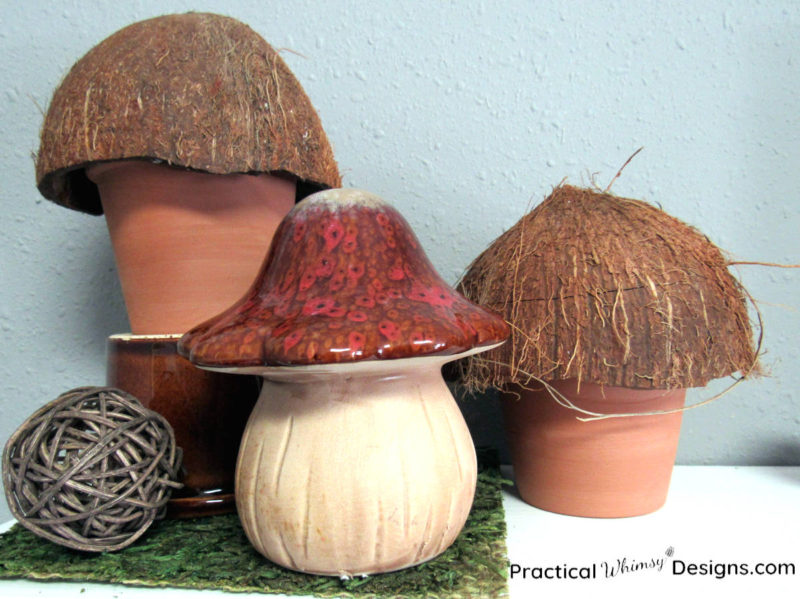 This craft was so easy and I loved how they turned out! They were a fun, cheap, and easy addition to my green, brown, and white spring decor theme.
What do you think? Did I succeed at my husband's challenge to make a fun decoration with the coconut shells?
I hope you think so and make some of these DIY mushroom decorations for yourself.
Want to remember this idea for later? Save it to your favorite DIY board on Pinterest.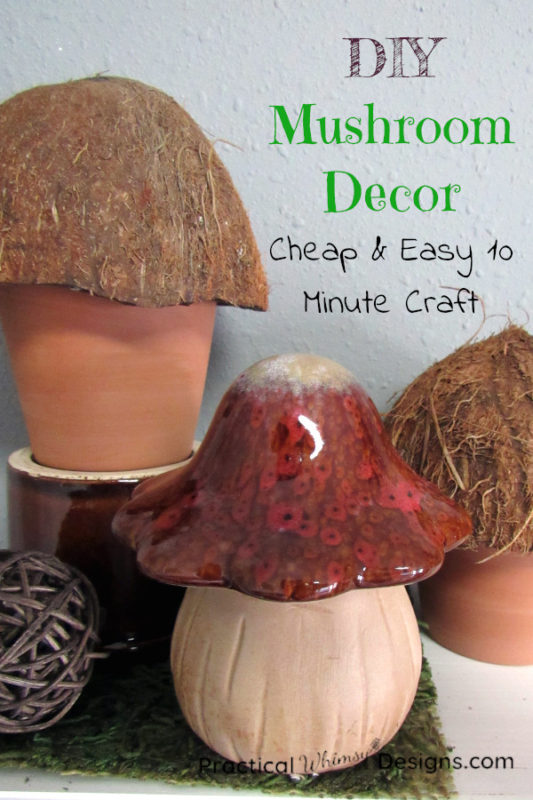 Want More Great Ideas? You Might Like These..