One of the easiest ways to create a holiday feel in your home is with curtains. Try this DIY pinecone curtain idea for a big impact this season.
Changing the look and feel of your home for the holidays doesn't have to be complicated or expensive. In fact, finding ways to make a big impact without purchasing all new decorations is one of the challenges I enjoy the most.
Hanging different curtains in a space is one of those easy and inexpensive decorating ideas that make a huge impact in a room. (Interested in more easy decorations? Check out these 5 easy decorating ideas for Christmas.)
These easy DIY pinecone curtains are a perfect way to change your living room or dining room feel. They also can be incorporated into the whole season's decor for a fun winter decoration.
This post contains some affiliate links for your convenience (which means if you click a link and make a purchase I will earn a small commission at no extra cost to you). Please see my disclaimer page for more information.
Materials You Need:
How To Create a DIY Pinecone Curtain
Step 1: Hang the Curtains
The obvious first step is to switch out your curtains with some white or ivory colored curtains if you don't already use that color in the room. You will need two curtain panels for each window, one for each side.
This is a great time to clean your every day curtains as well. (Make sure to check the washing instructions on your curtains to see how.)
Step 2: Hang the Pine Garland
Find the center of your pine garland piece.
Bend a paper clip into a double sided hook shape.
Hook the pine garland in the center of your curtain rod between the two curtain panels.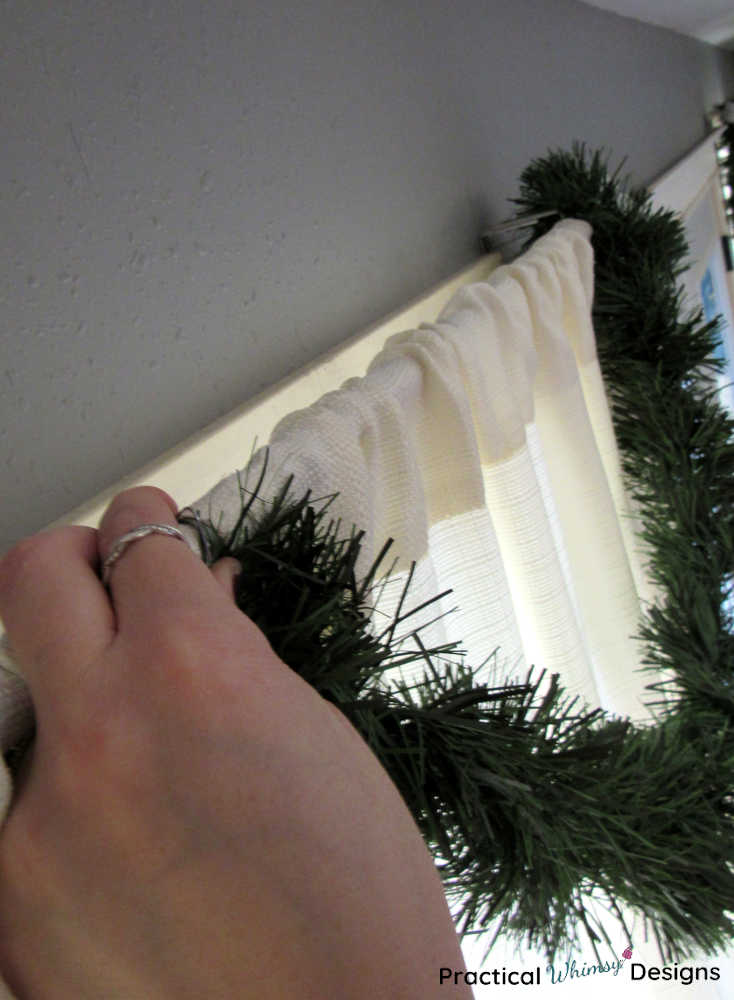 Drape the garland on either side of the curtain and hook it behind the edge of the curtain rod on each side, creating two U shapes on the top of the curtain. The rest of the garland should hang on either side of the outsides of your curtains.
Step back and make sure that the U shapes and the edge pieces of garland are even.
Adjust accordingly.
I used one long strand of pine garland that I cut into 10 foot pieces. This was a good length for the size of my windows.
Step 3: Add the Pinecones
Tie clear fishing line around each pinecone, leaving a little line on the end.
Bend another paper clip into a double sided hook and tie one end of the paper clip onto the fishing line. Try to tie it as close to the pinecone as you can.
Trim any excess line with a scissors.
Hook the other end of the paper clip onto the pine garland.
Hook a pine cone on the left, middle, and right of the curtain.
And you are done.
Easy DIY Pinecone Curtain
It doesn't have to be complicated to change the look of your home for Christmas.
There are so many easy ways to create a festive feel for your home. And once you own a different set of curtains it can become part of your decorating repertoire. These same ivory curtains were used in my winter wonderland themed Christmas in a previous year.
Knowing easy ways to decorate your home can make the holidays feel less stressful. And it's even better when you can leave the curtains up for the whole winter season.
Loving the look of pinecones in your Christmas decor? Try this Christmas pinecone centerpiece to carry the look onto your dining room table.
Want to remember this idea for later? Save it to your favorite Christmas board on Pinterest.
We would love for you to join our newsletter community! As a thank you for signing up for our weekly newsletter, you will gain access to our free printables and resource library, including great art for Christmas. Sign up below.
Want More Great Ideas? You Might Like These..