Make this easy dust bunny costume with an old t-shirt, quilting batting, and a little paint. This is an easy, no-sew DIY costume.
It's that time of year again.
The time of panic, when a parent realizes that there are only a couple of weeks left. A couple of weeks before your kids need to be equipped to wander the streets… at night… in all kinds of weather, disguised and on a quest for houses with porch lights on.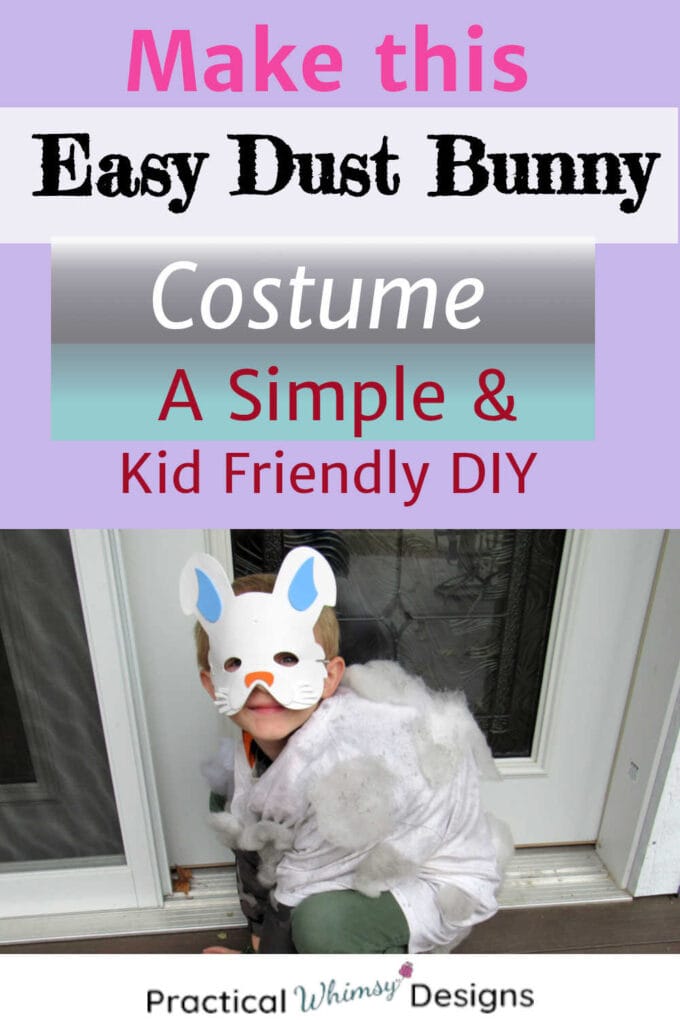 You got it! It's Trick-or-Treat time! Though I think the real trick is trying to come up with the perfect costume that will keep your kids warm.
Every year I try to find Halloween costumes that meet these criteria:
They need to be warm or large enough to fit over warm clothes
They need to be inexpensive (the kids only wear them a couple of times)
Bonus points go to costumes that are original
It is often hard to find a costume that I can purchase that fits all of these items. Luckily this DIY option is an easy and quick last minute Halloween costume that fits all of the above criteria and can be tailored to fit many different sizes.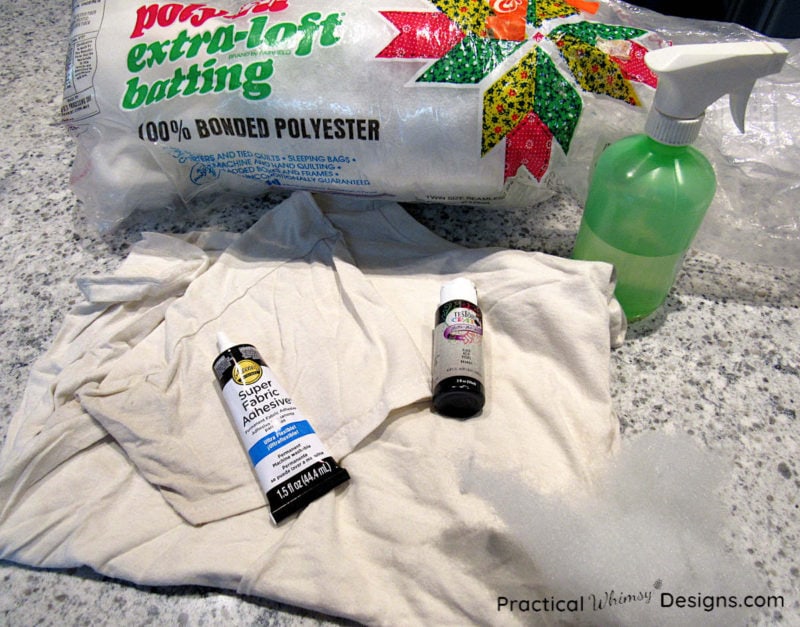 This post contains some affiliate links for your convenience (which means if you click a link and make a purchase I will earn a small commission at no extra cost to you). Please see my disclaimer page for more information.
Materials You Need:
2 Simple Steps to Make this Easy Dust Bunny Costume
Step 1: Glue the Shirt
Lay out newspaper or work in an area that you don't mind getting dirty. You will be spraying watered down paint for this project.
Lay the t-shirt flat and insert a piece of flat newspaper inside the shirt. This will keep the glue from bleeding through to the other side.
Glue pieces of poly-fil or quilting batting onto the shirt with fabric glue. If you use quilting batting, pull it apart a little to get a fluffier ball. I tried a little of both, but ended up using more of the quilting batting because it stuck together better. Once the front is done, flip it over and repeat. Allow the glue to dry a little.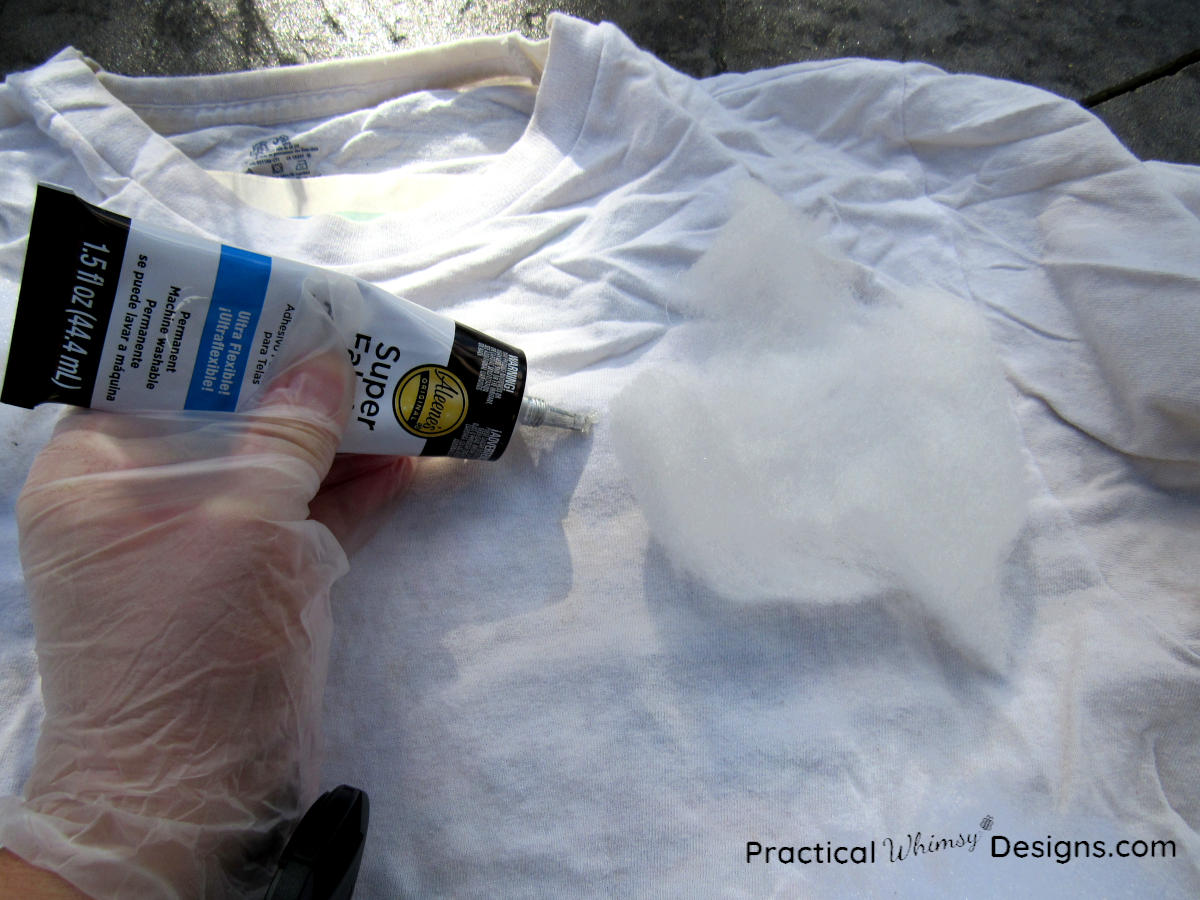 I used a pretty heavy duty glue that I had left over from a different project. Since you will not be able to wash this costume, you won't have to worry about purchasing a washable fabric glue. You can definitely get a cheaper glue.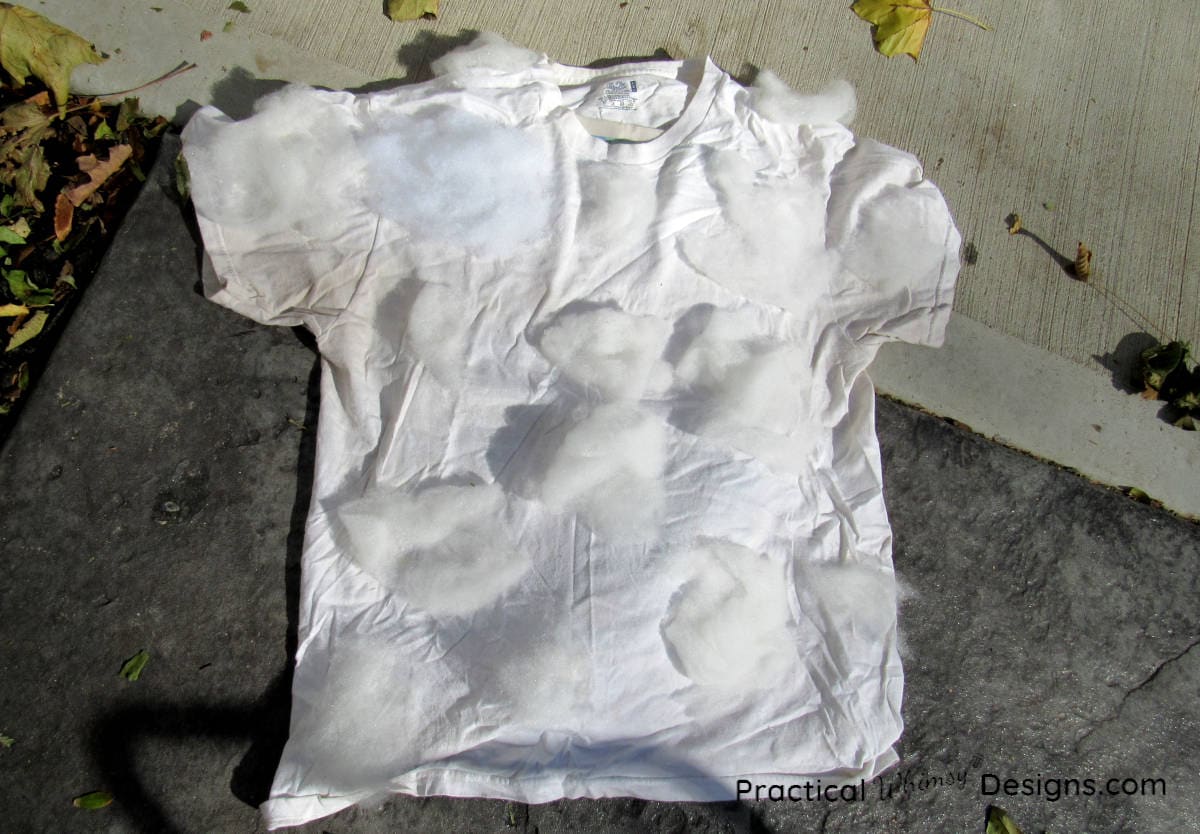 Note: I layered several clumps of fluff towards the bottom to represent a fluffy cotton tail to keep in theme with the dust "bunny" portion of the costume.
Step 2: Paint the Dust
Mix 5 drops of black acrylic paint in about a cup of water in the bottom of the spray bottle. You can play around with the paint to water ratio depending on how dark you want your grey "dust" to be, but that is the ratio I used.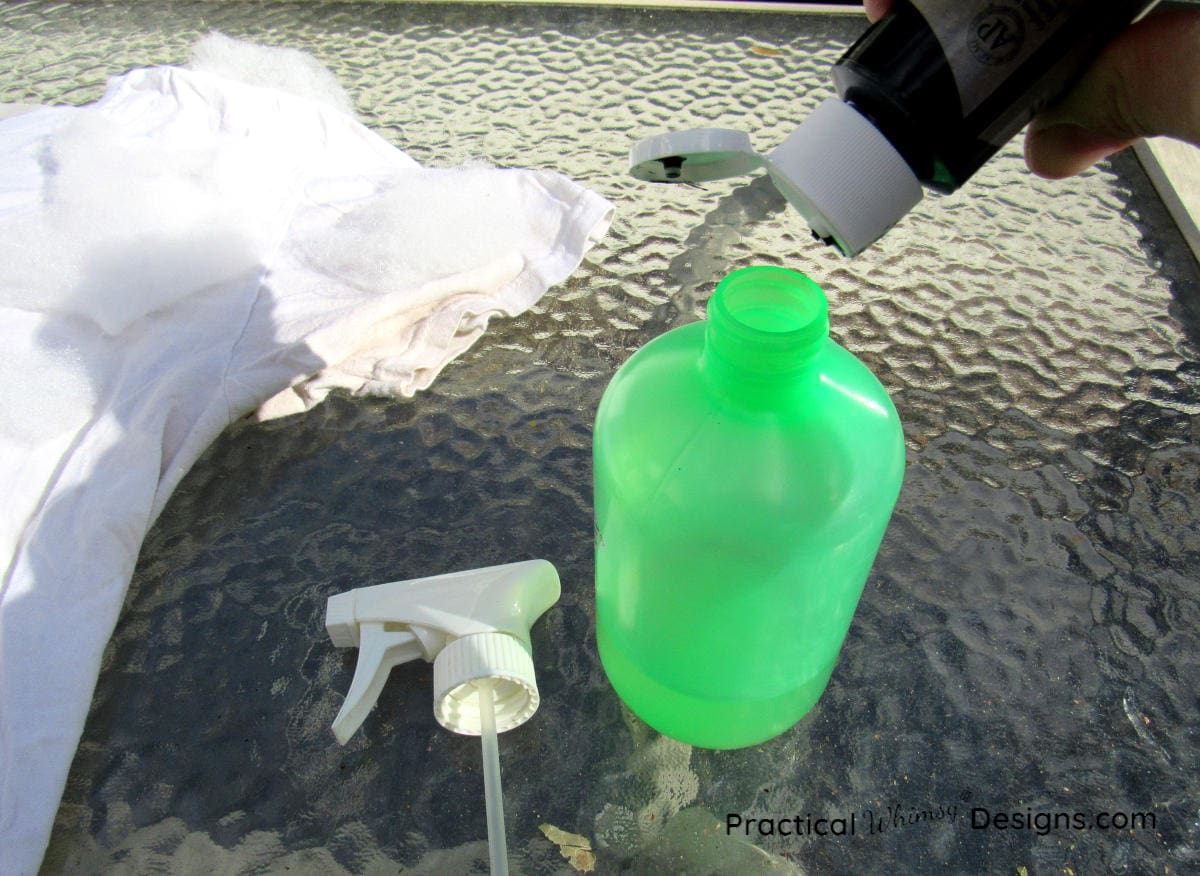 Spray the dust balls on one side of the bunny costume with your watered down paint. Let dry and then flip it over and repeat. It does take a while to dry, so be patient. I ended up bringing it inside and hanging it on a hanger to dry over night in the shower. Just make sure to put something underneath to catch the paint drips.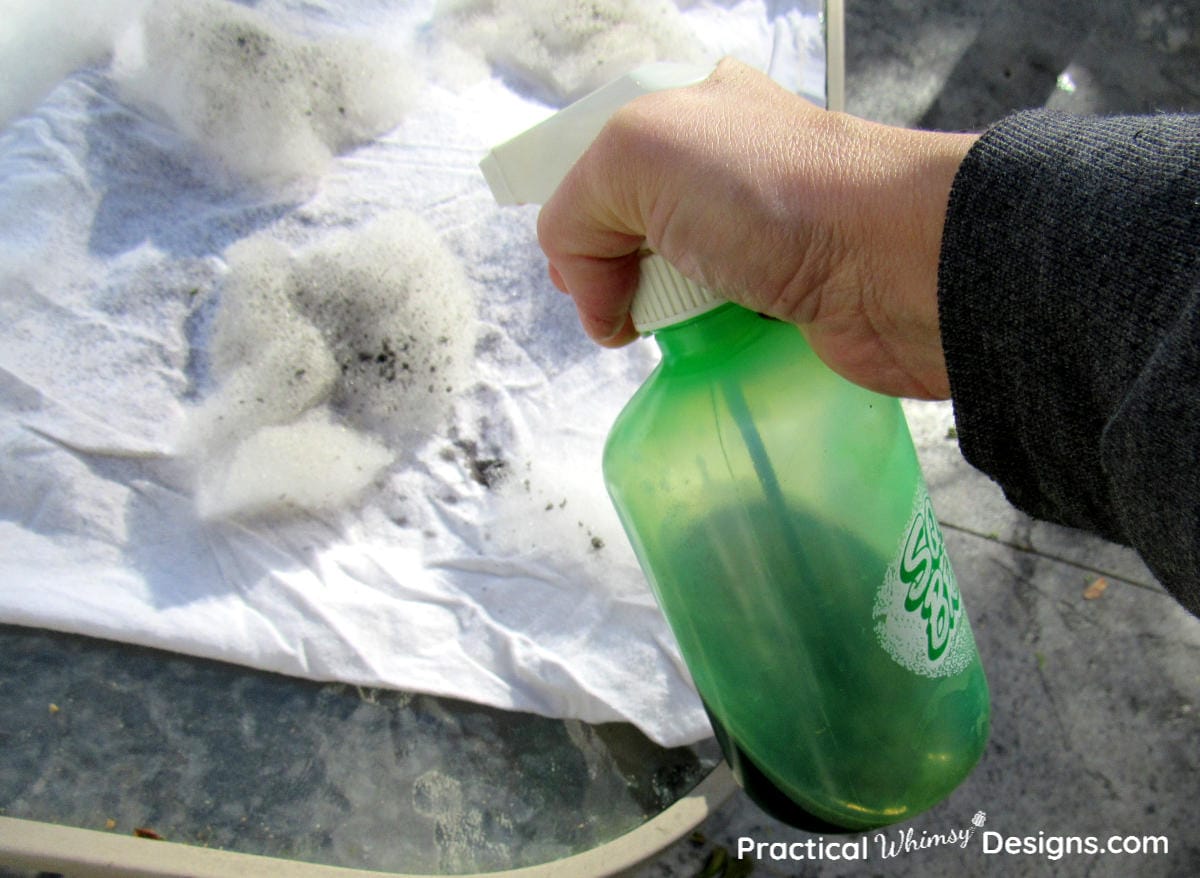 Take the newspaper out before wearing. 🙂
Pair your new costume with bunny ears or a DIY foam bunny mask and there you have it. An easy and fun last minute trick or treat costume.
Easy DIY Dust Bunny Costume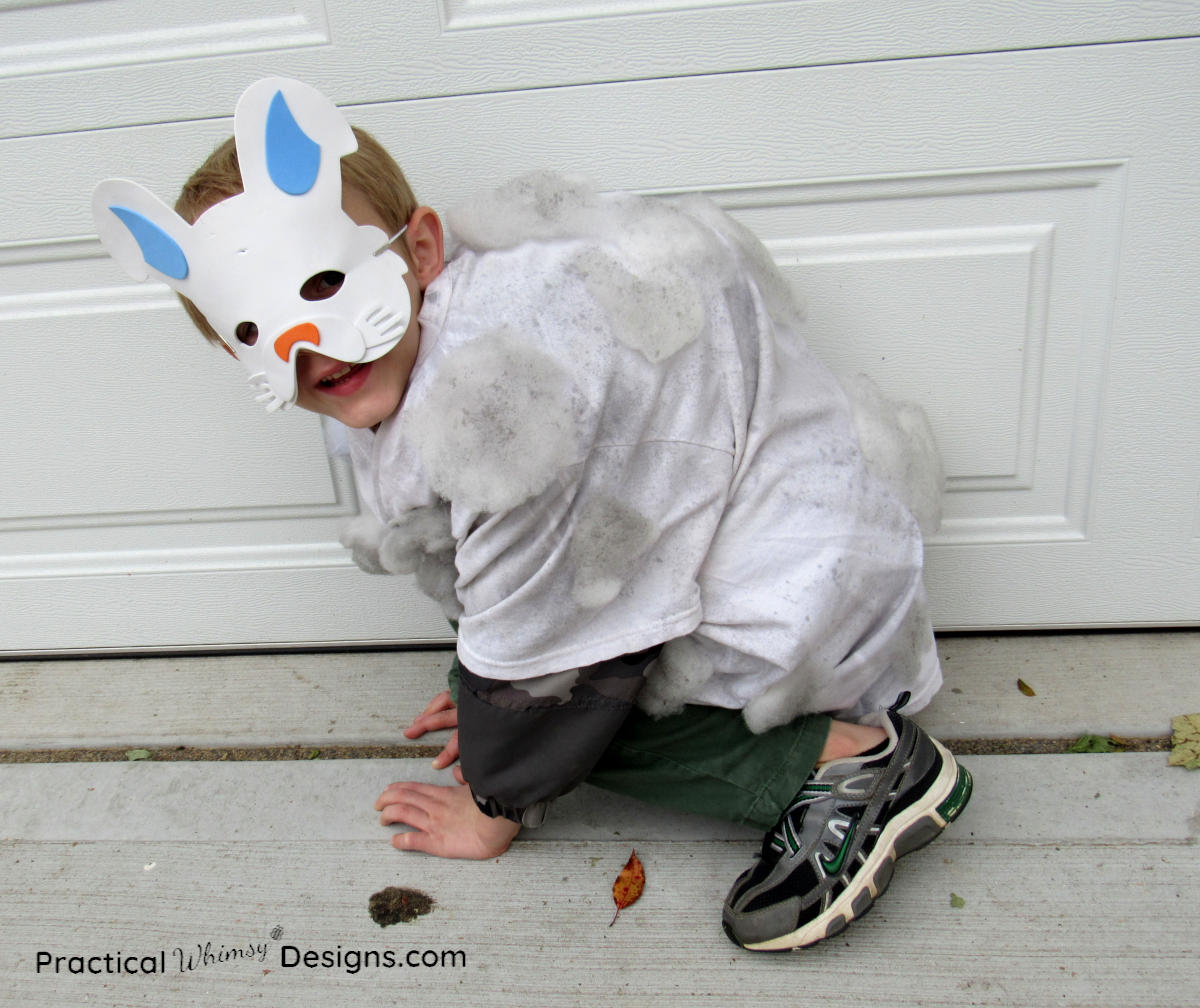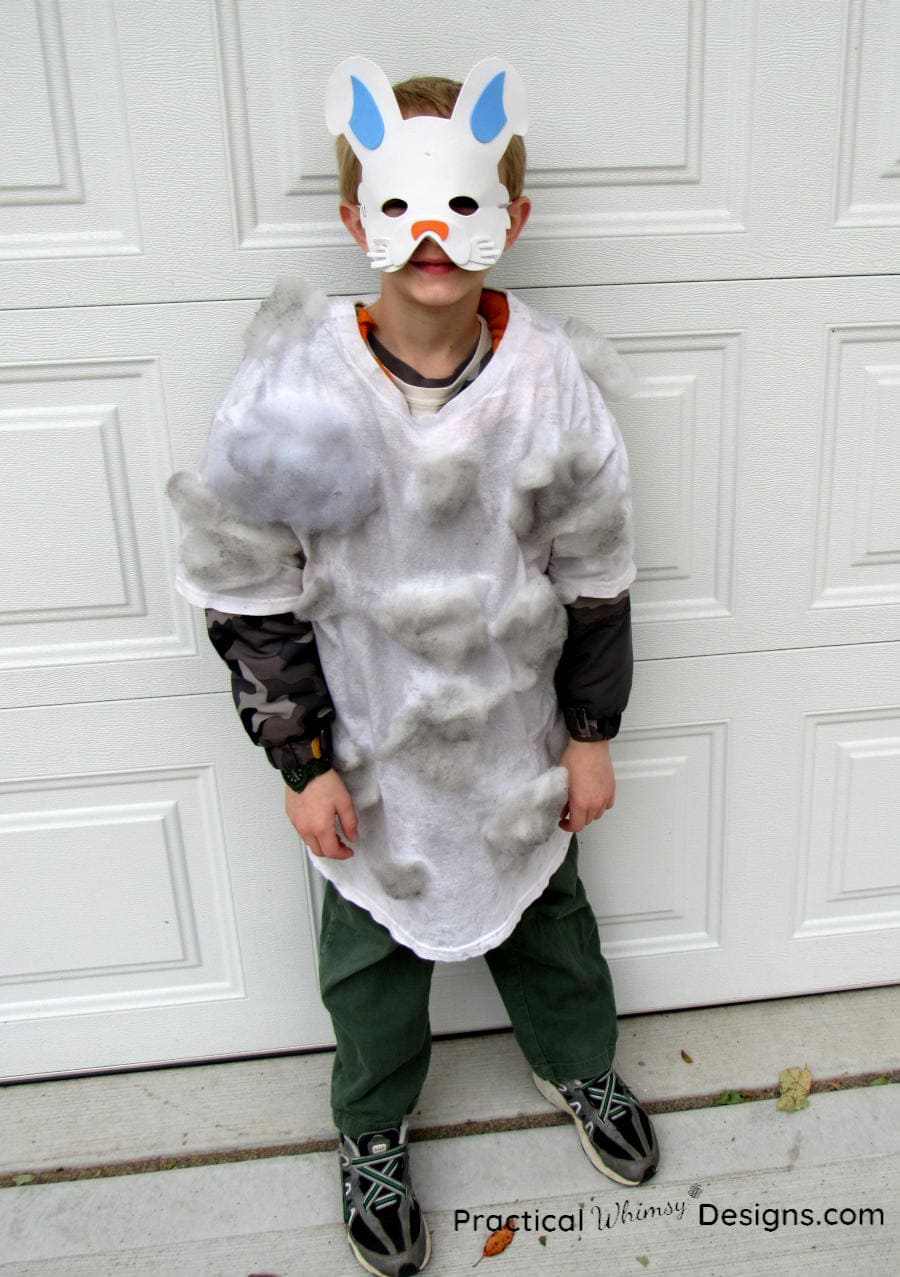 This dust bunny costume was so easy to make and it took less than 30 minutes to assemble (besides drying time).
If you need some more DIY costume ideas, check out the tooth fairy, flying purple people eater, and sock monster costume tutorials on these posts.
I would love to hear from you. What are your favorite easy Halloween costumes?
Want to remember this? Save the Easy Dust Bunny Costume tutorial to your favorite diy board on Pinterest.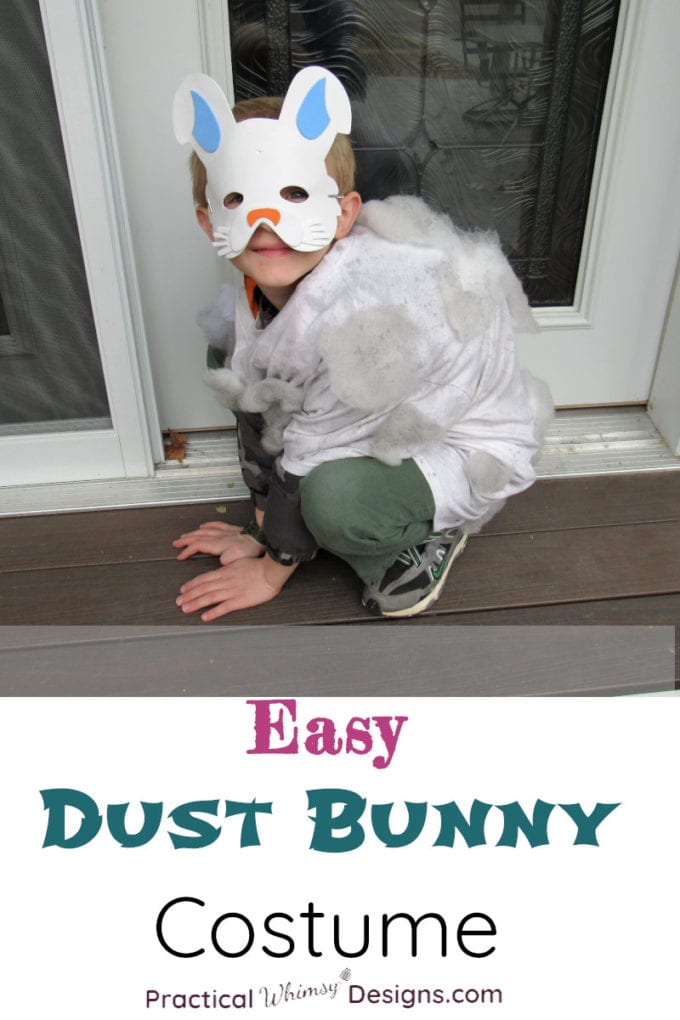 Want More Great Ideas? You Might Like These..