Need to come up with a creative Valentines card that your kids can help make? Create these easy sucker Valentines card flowers for a colorful bouquet.
Flowers.
Romance.
Hearts: broken or whole…
Valentines Day has many complicated connotations associated with it.
But hopefully, like me, your young kids only worry about one thing on this February event.
CANDY.
What kind of candy will they get with their Valentines classroom cards? And what kind of candy or toy will they give to their classmates?
One of my favorite Valentine's Day crafts that we made were these cute Valentines flower cards. The kids were able to help make all of the hearts and they turned out so bright and pretty. We used a blow pop sucker, but you could also use a pencil in the center if you prefer a non-candy Valentine's Day card alternative.
If you are looking for another Valentine's Day card idea, check out my tutorial for DIY scratch art cards! They are a great non-candy alternative too, in case you are trying to avoid so many sweets.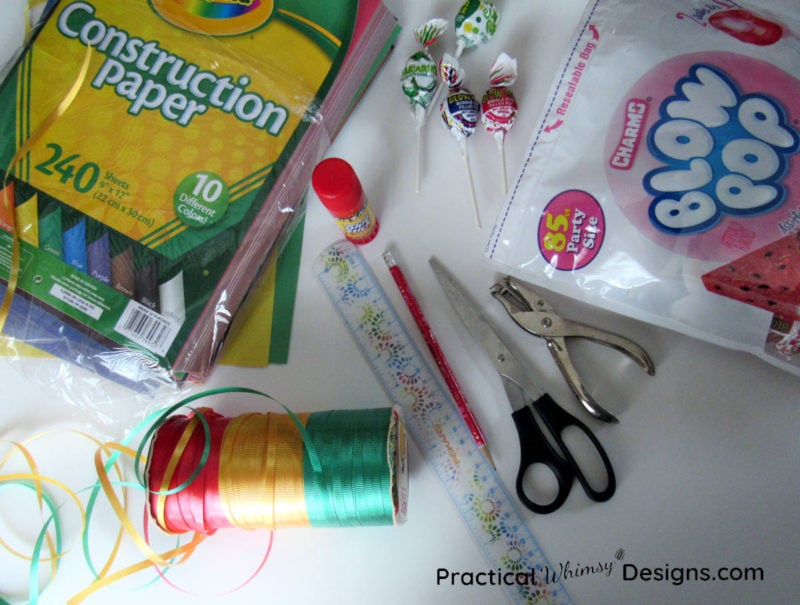 This post contains some affiliate links for your convenience (which means if you click a link and make a purchase I will earn a small commission at no extra cost to you). Please see my disclaimer page for more information.
Materials You Need:
Scissors
Pencil
Ruler
Suckers (I used blow pops , but any sucker will work) or for a non-candy idea, try using a fun pencil in the center. My kids love these scented pencils or these silly pencils could be a fun option too.
Steps for making Valentines Card Flowers
Step 1: Measure and Cut Hearts
Grab the construction paper, ruler, and pencil.
You need 6-8 paper hearts to make each of these Valentines card flowers, so get ready for some cutting fun.
First, measure and cut a 3 inch strip of construction paper. Fold this in half so that it is 1 1/2 inches wide. Draw half hearts on the paper with a pencil. (I was able to get three out of each strip). Cut each half heart out with the scissors.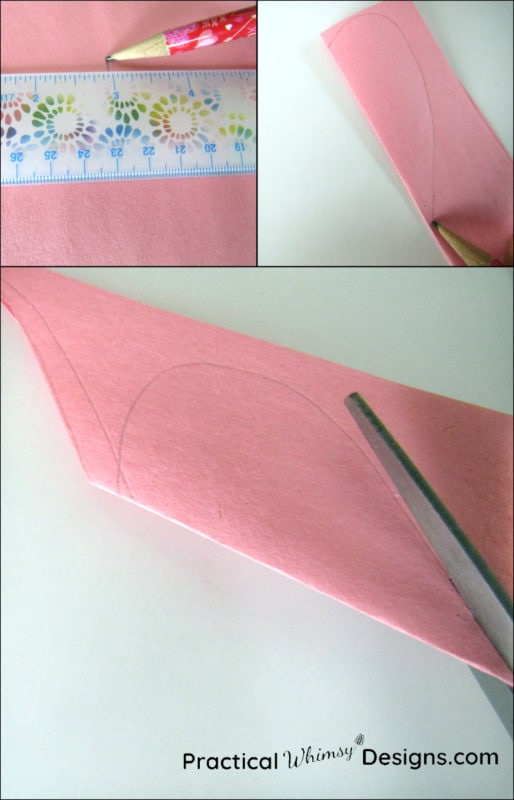 You can use whatever color combinations you want or you can make the flower all one color. It is totally up to you.
As an additional option, you can cut out a yellow circle on a piece of construction paper to be the center of your flower.
Step 2: Punch holes and string hearts onto suckers.
Use a hand held paper punch to punch holes towards the bottom pointed end of your hearts. I stacked up several at a time and punched them all at once.
Start sliding them onto the sucker sticks in whatever color order you prefer.
If you cut out the yellow center circle, punch a hole in the middle of it and slide that piece on first before putting on your heart petals.
Note: If you want your flower petals to be more full, punch two holes with the paper punch at the base and then string the sucker through both holes. The extra fold at the bottom of your heart petal will add volume to your petals.
Step 3: Secure the petals.
Grab a glue stick and use it to glue some of the petals together so that they don't rotate around your sucker stick. Don't get too carried away, because you still want there to be volume to your petals. However, doing a little gluing will keep your hearts in a flower shape, rather than allowing them to rotate together into one heart.
Finally, cut a piece of curling ribbon and tie it around the stick of the sucker. This should prevent the petals from sliding back off the sucker stick. (After all of that work, you don't want to lose all of your petals). If it still seems loose, use a little hot glue to keep it all in place.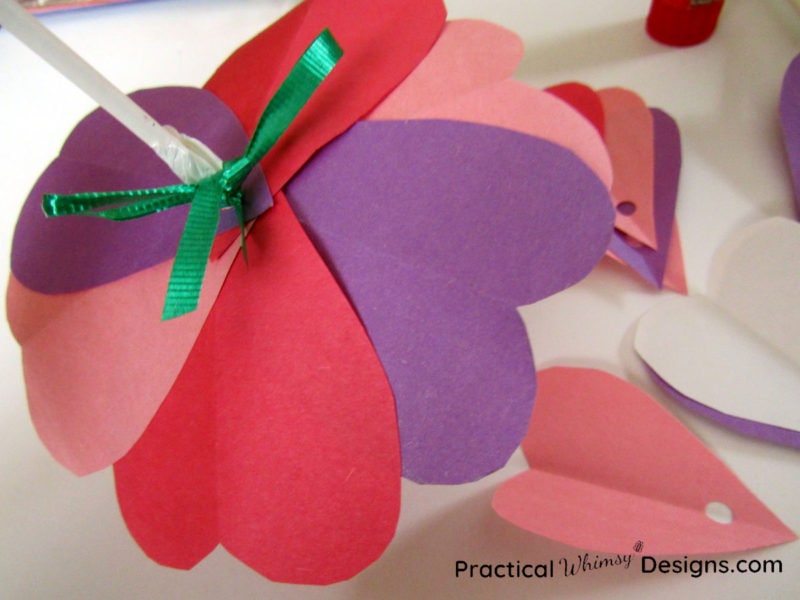 Step 4: Give out your Valentines card flowers to your friends.
Write on the petals or tape a name tag to the stem of the sucker and hand them out.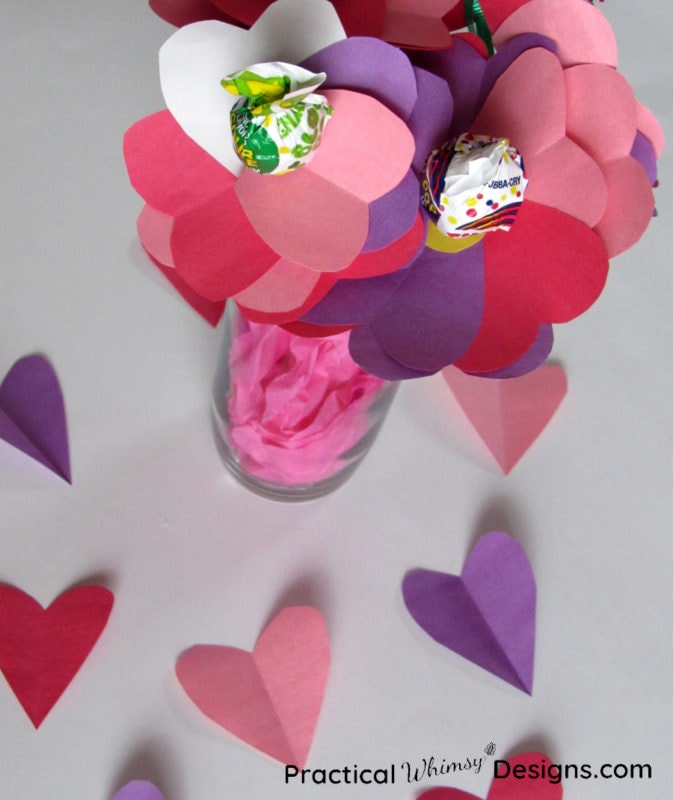 If you are looking for a simple Valentine's Day decoration to display, make a few of these flowers, stick them in a vase at your home or place of business, and give them to any kids who come to visit during the month of February.
Don't be afraid to use color too. I really liked how the rainbow flowers turned out, even though the traditional colors of Valentine's Day seem to be pink, red, purple, and white.
Can you make these Valentine's Day card flowers without candy?
Yes. If you would prefer a non-candy Valentines Day idea, try using a pencil in the center. You will need to make a larger hole by hole punching the heart several times. Make it just large enough to slide the pencil into the hole. A pencil with a topper would work the best. My kids love these scented pencils or these silly pencils would make your flower fun as well.
Want to remember this idea? Save it to your favorite Valentine's Day board on Pinterest.
Want More Great Ideas? You Might Like These..