Create this easy One Eyed One Horned Flying Purple People Eater Costume out of a purple sweatshirt and a few other easy DIYs.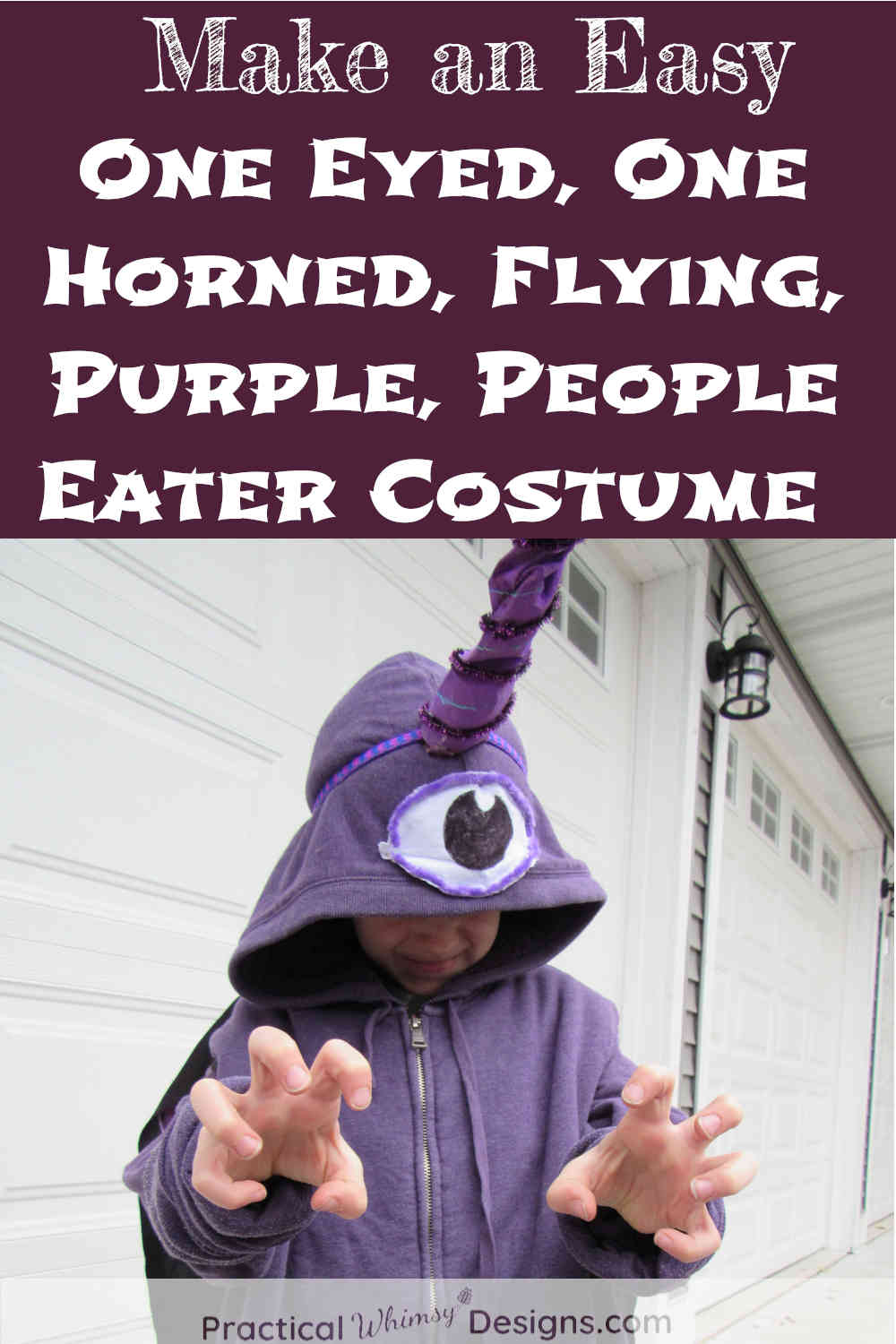 When it comes to Halloween I prefer easy, don't you? Often I'll pick up a costume at a garage sale or the store and call it good. Yet, occasionally it is fun to make the effort to "theme" your kid's costumes.
My favorite Halloween costume theme so far was 'make believe creatures/ monster costumes'. I made a sock monster, tooth fairy, and dust bunny for 3 of my kids.
The last costume that I came up with was one inspired by the One-Eyed, One-Horned, Flyin' Purple People Eater (okay… so I was struggling a little coming up with the last idea……but mr. purple people eater ended up being one of my favorite costumes.)
This post contains some affiliate links for your convenience (which means if you click a link and make a purchase I will earn a small commission at no extra cost to you). Please see my disclaimer page for more information.
Materials You Need:
A hooded purple sweatshirt (I used a women's medium sweatshirt.)
White craft foam or white t-shirt fabric (I used an old white t-shirt)
Safety pins
A long horn (If you need an easy DIY horn tutorial you can jump over to my post on how to make unicorn horns with a paper towel roll)
Wings and/or a black cape (I used a piece of black fabric to cover a pair of butterfly wings since I had some on hand already but if I didn't, I would have bought these wings.)
Steps for making a One-Eyed, One-Horned, Flying Purple People-Eater Costume
Step 1: Make the eye.
The first place to start in your costume design is creating a big eye. Trace a big eye shape on a piece of paper to use as a template. The eye will be attached to the top of the hood on the purple sweatshirt so make sure that it is large enough to stand out.
Use your paper template to trace out an eye on your white t-shirt fabric or white foam.
Cut it out.
Color in a black pupil with the permanent marker.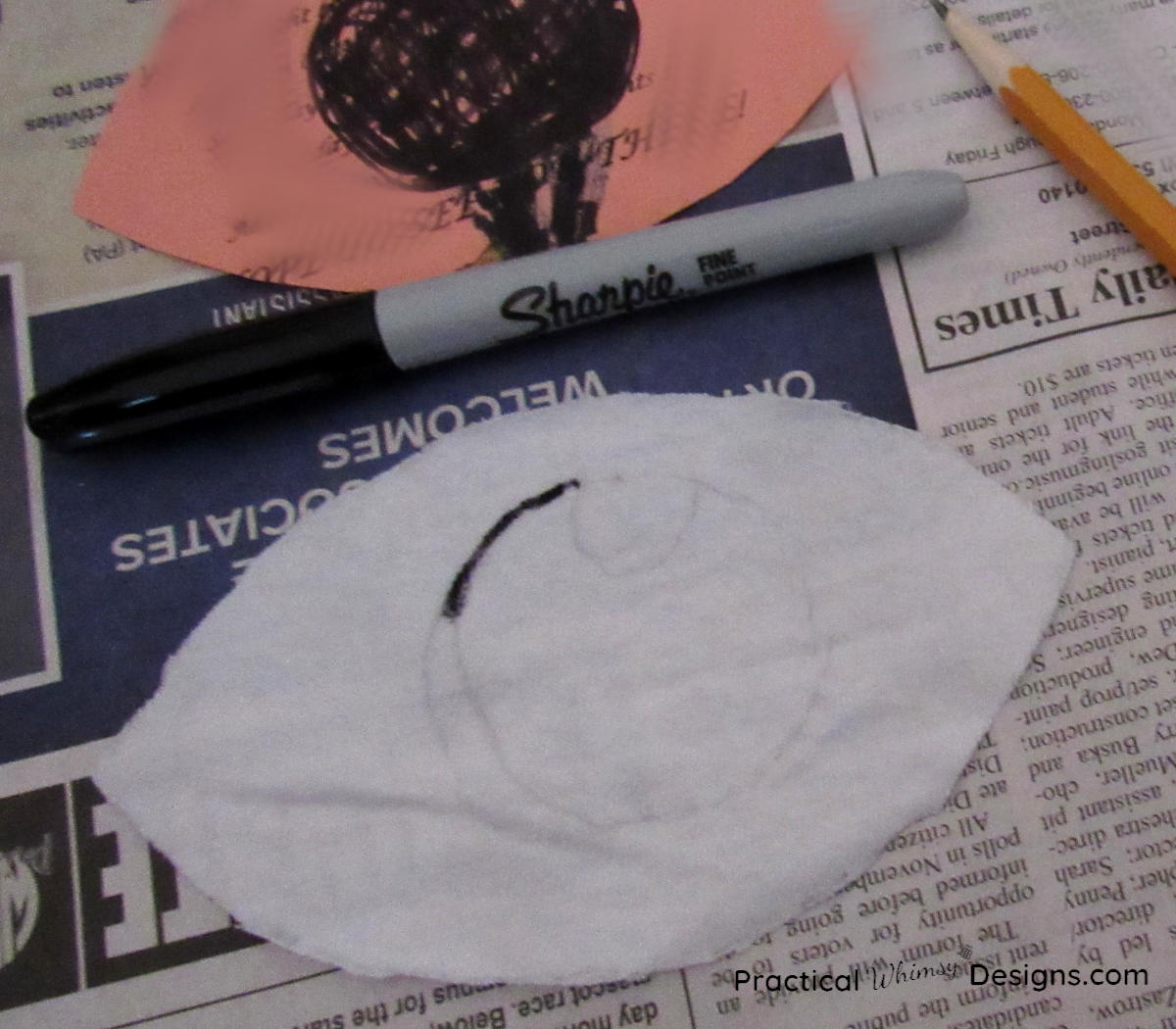 Take a purple pipe cleaner and hot glue it to the top and the bottom of the eye to frame the eye.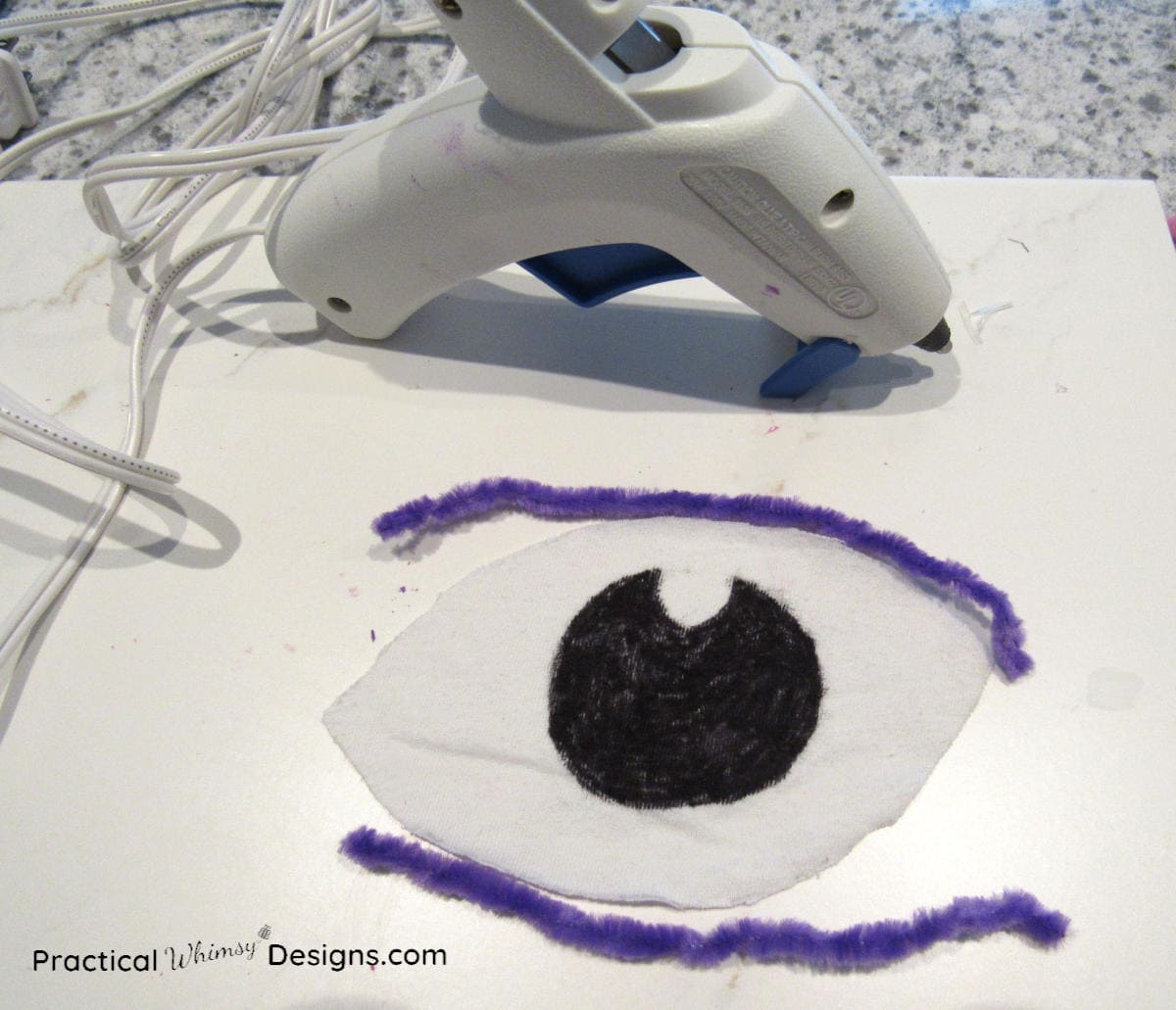 Attach the eye to the top of the hood using safety pins.
Tip: Pin from the inside of the hood so less of the pin shows on the actual eye. Try to pin as close to the pipe cleaners as you can to hide the small amount of pin that might show under the purple fur.
Step 2: Put on Your Flying Purple People Eater Costume
That's it!
Put the purple sweatshirt, wings, and horn on. (Remember, if you need the quick tutorial on how I made a horn for this costume, you can hop over to here.)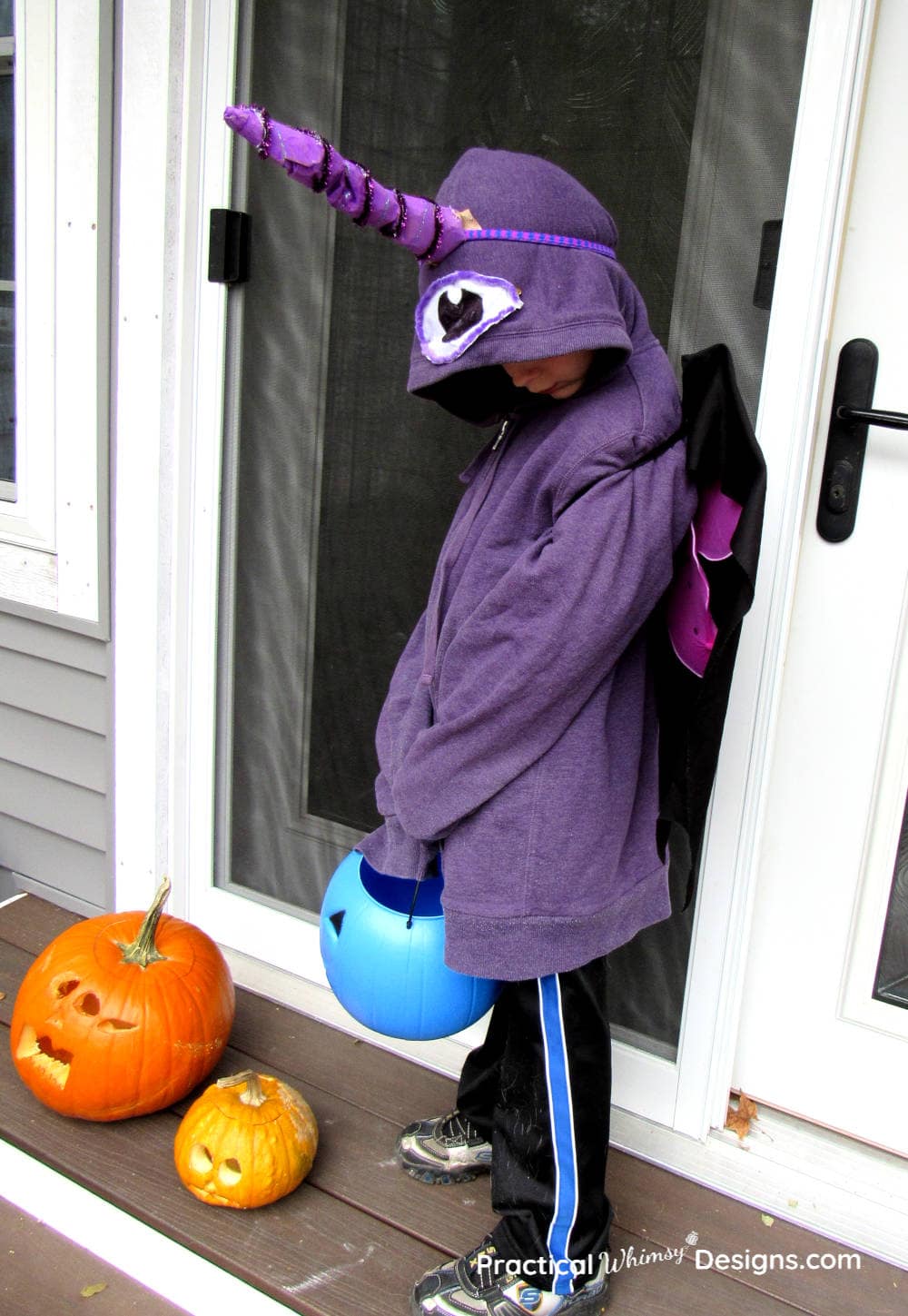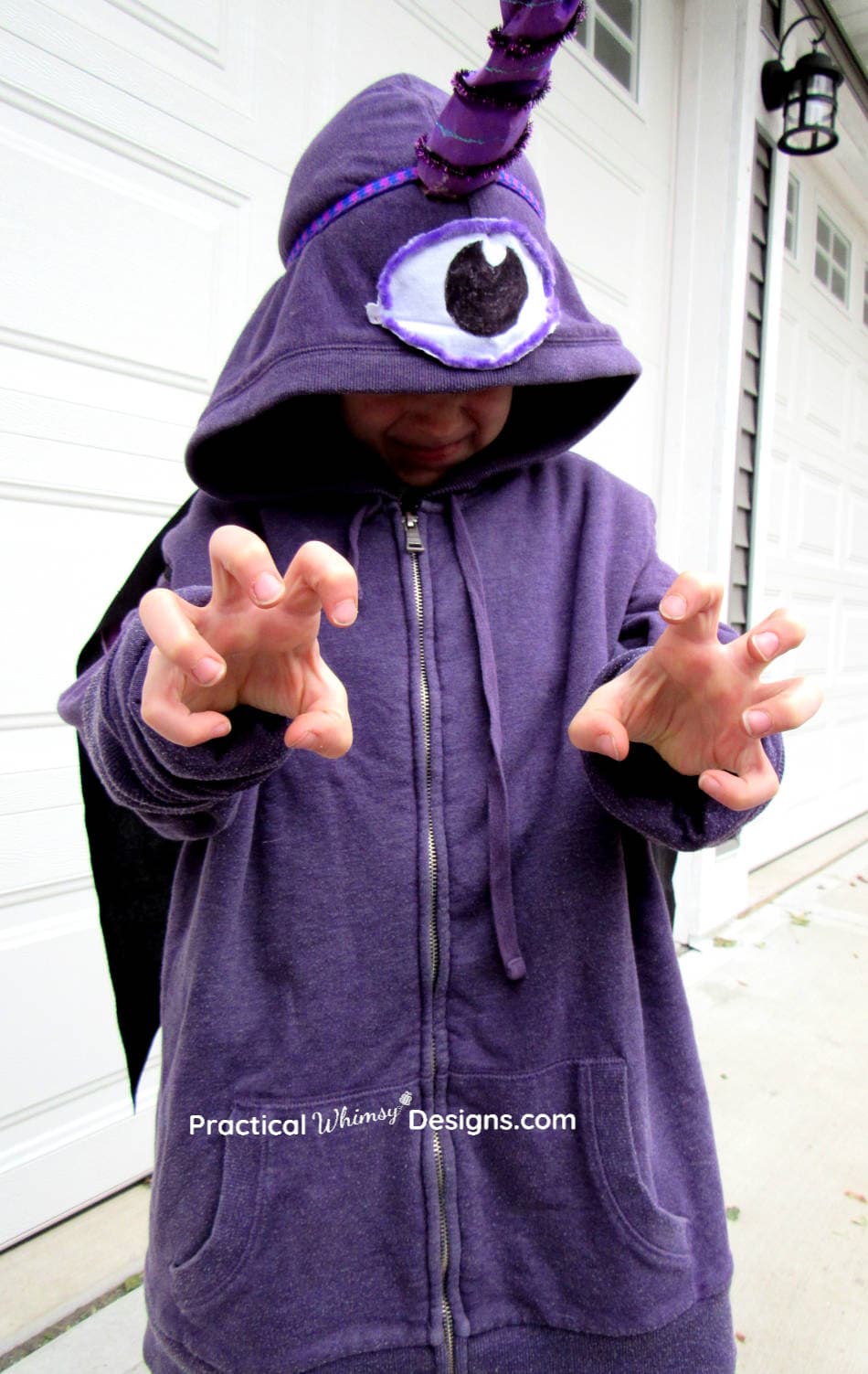 This easy one-eyed, one-horned, flying purple people eater costume was quick to make and used materials that were laying around my house. Hopefully it will be a great addition to your DIY costume repertoire for Halloween.
Want more easy ideas? Check out the tutorials for the Sock Monster Costume, Tooth Fairy Costume, or Dust Bunny Costume.
Looking for a fun Halloween family activity? Make these Boo and Bat pumpkin carvings and learn how to get a free SVG file to create your own stencil.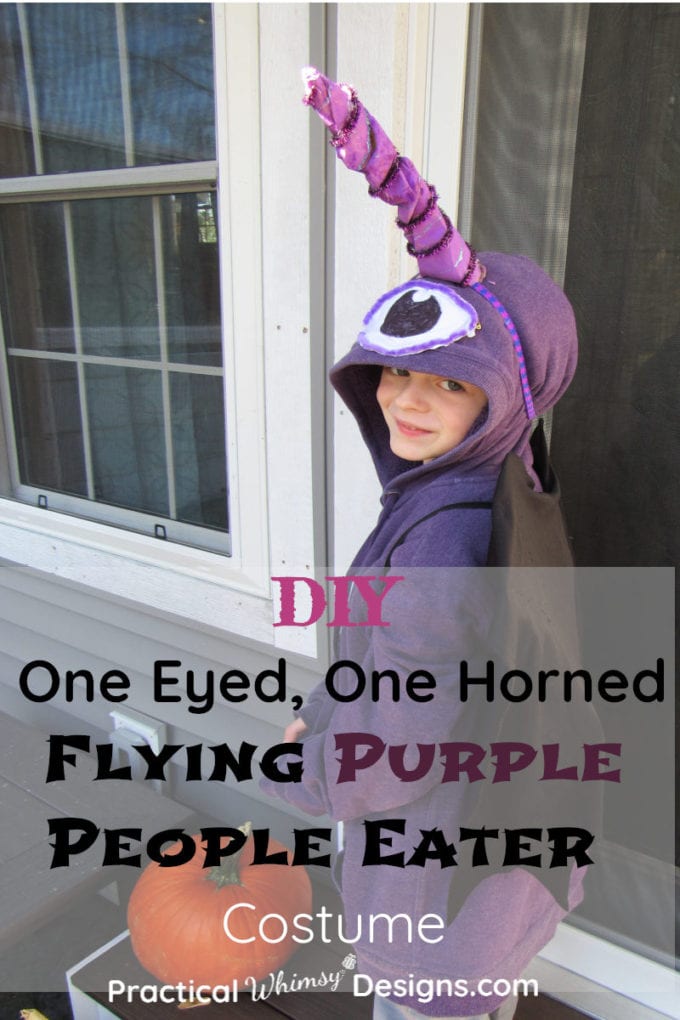 Want More Great Ideas? You Might Like These..