Don't know what to get the crafters in your life? Check out the best gifts for crafters & makers to get a little shopping help this year.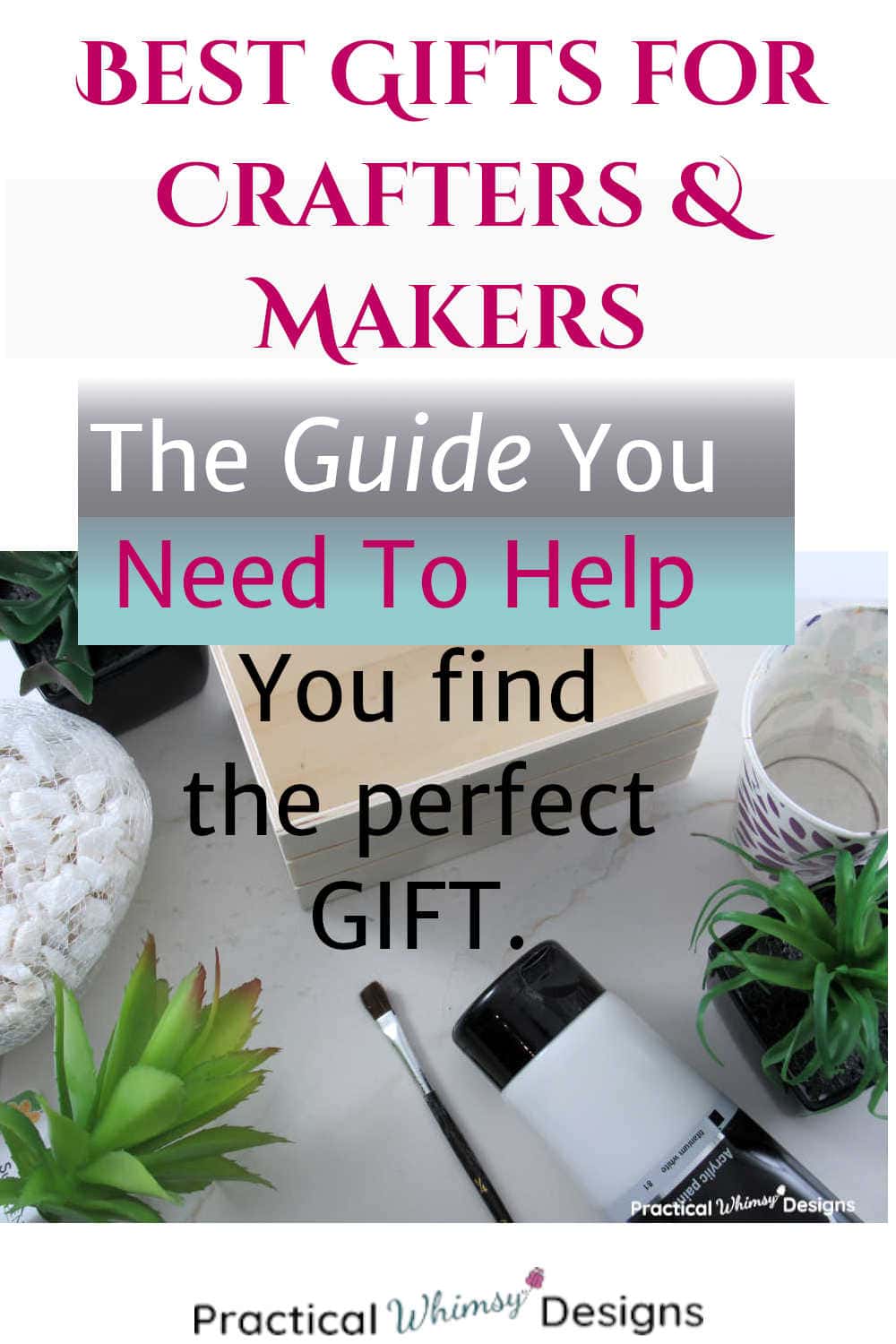 When it comes to the crafty person in your life, the quickest way to their heart is gifting them more craft supplies or tools to make their crafting easier.
Having the supplies to create any kind of craft when the inspiration strikes is a crafters dream.
There are so many options out there for fun crafts. You would think it would be easy to find that perfect one of a-kind gift idea.
But step into any craft store and it can easily become overwhelming to weed through all of the options. Sometimes you just don't know what fun and cool crafts are available and need help finding new ideas.
That is where I come in. Below I have compiled a list of some of the best gifts for your crafty mom, sister, brother or any other crafty people in your life. I have tried to list ideas in a range of skill levels and provide some variety to touch on some of the different areas of crafting that are available.
This post contains some affiliate links for your convenience (which means if you click a link and make a purchase I will earn a small commission at no extra cost to you). Please see my disclaimer page for more information.
Best Gifts for Crafters & Makers
This is the ultimate gift for any crafter and is the most expensive gift I have listed here. If you are looking for a big-ticket item that is sure to wow, a cutting machine is the way to go.
A cutting machine is a tool that allows you to use a computer program to design your own patterns and cut a ton of different products to fit your ideas. (Or use the many pre-made designs available to download and make.) Create beautiful, professional looking DIY projects and handmade gifts with the press of a button.

There are multiple brands of cutting machines. I have a Cricut machine and it is the one I am most familiar with. The Cricut Explore Air is a slightly cheaper version because it can not cut as many materials, but I own and use the Cricut Maker. It cuts 300 types of materials into intricate designs with the touch of a button. Cricut now has the new Cricut Maker 3 which allows you to create longer projects because you can purchase material that doesn't require a mat.
A few of the projects I have made with my machine are fun vinyl lettering on a coffee mug, the stencil for my bedroom wall, a succulent planter vinyl design, and various other home decor items. To check out more circut projects go here.
A cutting machine or cutting machine supplies are always great options for the crafters in your life. Having different colors of vinyl and cardstock around is always a plus when creativity strikes.
Along with the cutting machines, a heat press is another great option. It allows you to add heat transfer vinyl to fabric. Click on the pictures below to get more details on each product.

Even if you own a cutting machine, having a good cutting mat is super helpful for those quick craft projects. Make sure to get a self healing mat like this to protect the surface you are crafting on.
Wood burning is a beautiful way to customize your home or create unique homemade gifts for your friends. Gifting one of these tools might just be what your crafter needs to get inspired to create.

Rock Art Kit
Rock art can be a fun way to create without needing to buy a crazy amount of supplies. Rocks are everywhere, so materials are plentiful. Just grab a book for some creative ideas to get started and stock up on a few acrylic or oil paint markers for a cheap and fun creative outlet. Click on the pictures for more details.

Diamond Paintings
I recently discovered the concept of diamond painting, which is kind of like color by number, but with a canvas and sparkly jewels. I love these two paintings with trees and am currently working on one of them for my home. However, there are a ton of options out there for almost any interest and decorating style.

It is a fun way to create an easy DIY gift for someone, or DIY art for your home and it has the added benefit of being a relaxing craft you can do while hanging out with others. Sometimes the best gifts for crafters are ones that allow them to take a break.
Adult Coloring Books
Yes, even makers and crafters need a brain break. Sometimes it is nice to have most of the creative work done for you. I recently received an adult color by number, meaning it has tiny little intricate details to color and needs more dexterity than a children's book.
I absolutely love it!
It is a great way to unwind and destress. These make great gift ideas for the crafty mama who might just need a little time to relax her brain after a busy day.
This is the color quest color by number I have, and my daughter has the animal color quest. I have also seen the cityscapes color quest books and they are all very good quality.
I also received these colored pencils to go along with my color by number.
This brand of colored pencils is a little expensive, but they have the deepest and most beautiful and vibrant color. If you are looking for an extra special gift for the crafter who loves to draw and color, these pencils are amazing!

Another great coloring book for adults are these rub-down transfer books. I own this transfer book and I love to color them with a mix of pencils and gel pens.
Create beautiful paper flowers with this quilling kit. This fun paper craft is a great way to make unique gifts as well as beautiful home decor.

Beads and Buttons
There are so many things to do with beads and buttons. Sometimes a new book full of ideas or new supplies can be just the thing to get that crafter in your life excited to create.


Candle & Soap Making
Help the crafty ladies in your life create beautiful projects with this candle making diy kit. Or get them a book to teach them how to create homemade soap. They can create their own spa day with scents they will love.

Items that Celebrate Crafting
These items are perfect for celebrating the fun of crafting. For those crafters in your life who need a way to display their crafting pride, their favorite gifts this year might just be that t-shirt or those funny mugs that tell others how much crafting means to them.

Craft Storage
Every crafter can always use more storage to keep everything organized and easy to reach. Making sure their craft room is ready when they have a little bit of extra time to craft will help your crafter get in touch with their creative side. Craft storage is always a great gift option.

Best Gifts for Crafters
Whether you are looking for a gift for the best mom on mother's day or the perfect Christmas present I hope this list of best gifts for crafters and makers will help you find the perfect gift idea for that crafty person in your life.
Looking for more gift guides? Check out these other ideas.
Want to remember this idea? Save it to your favorite board on Pinterest.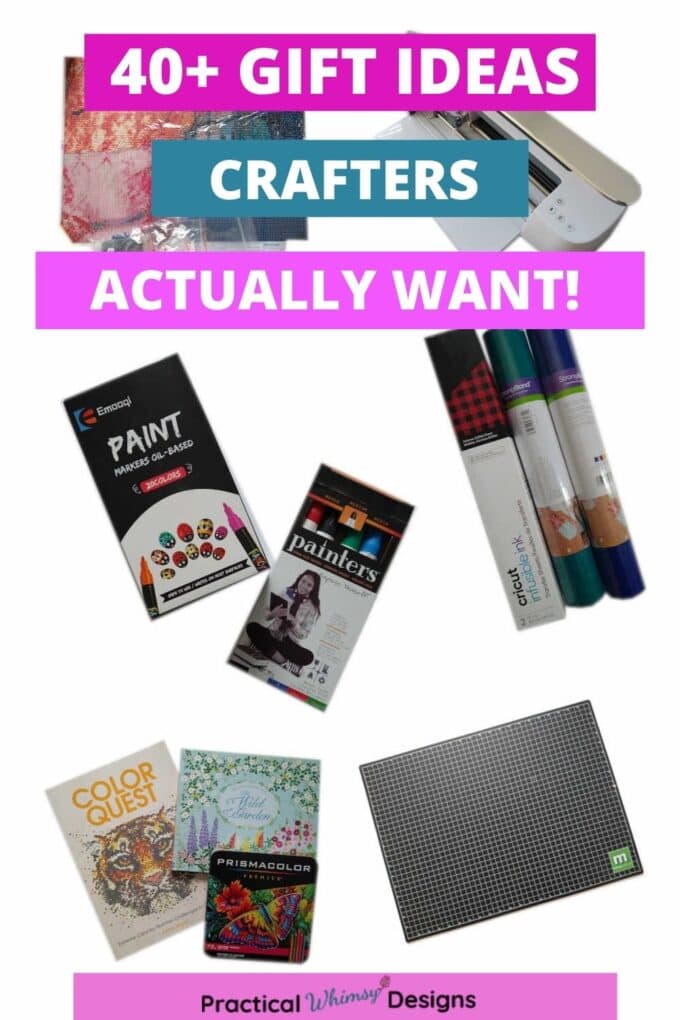 Hey! Before you head out, I would love for you to become a subscriber and gain access to my free printables, including some great ones for the holidays. Sign up for our newsletter below.
The form you have selected does not exist.