Create a romantic atmosphere with this heart decorative jar luminary. It's an easy 3D paper heart decoration for your table or room.
Struggling with finding the perfect paint color for your home? My design guides are available for free to my newsletter subscribers. Grab my Free Paint Guide and FINALLY pick a wall color that you love!
I love making simple crafts out of things that would normally get thrown out. For example, turning coconut shells into mushroom decorations or creating a 3D heart canvas out of toilet paper rolls.
These glass jars were headed to the recycle bin, but I decided to upcycle them instead into these pretty heart luminary jars perfect for Valentine's day.
It is easy to create a heart decorative jar luminary with these simple steps.
This post contains some affiliate links for your convenience (which means if you click a link and make a purchase I will earn a small commission at no extra cost to you). Please see my disclaimer page for more information.
Materials You Need:
Scrapbook paper (I used a 12×12 piece, though you could use an 8.5×11. I couldn't find the same kind that I used, but I love the patterns on this scrapbook paper.)
White Vinyl (It doesn't matter if it is permanent or removeable.)
A wide mouth quart sized glass jar. You can use mason jars if you want as well.
Hot glue gun or glue stick
Scissors
A way to cut your paper and vinyl (I used the Cricut Maker machine, but you can cut by hand using the PDF provided or use another cutting machine.)
Light grip or standard grip mat for Cricut
How To Create a Heart Decorative Jar Luminary
Step 1: Download the files from my free Resource Library (learn how at the end of this post). They are available in either SVG or PDF.
If you need help uploading your SVG file to Cricut Design Space check out the tutorial I made here. The file should be the correct size to create a 3 inch heart after folding on Cricut Design Space, but if it does need to be resized the tutorial teaches you how to do this as well.
Here is what the SVG looks like on Cricut Design Space.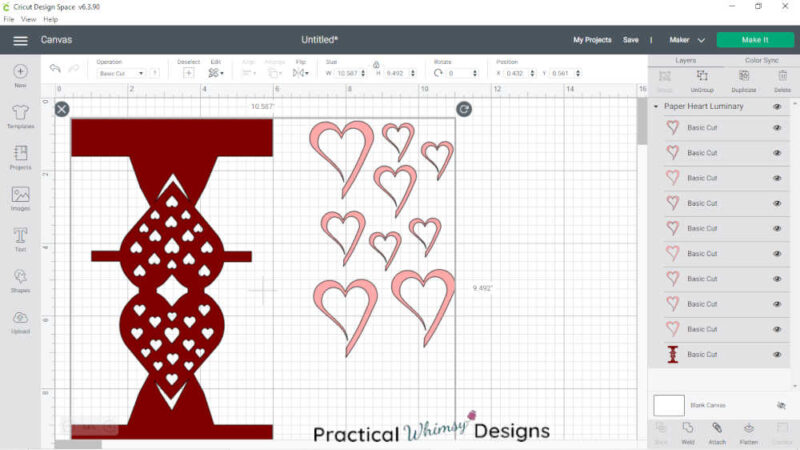 Step 2: Cut out the Heart Luminary
Click the 'Make It' button on the top right. The heart luminary should be separated onto two mats. I used scrapbook paper for the red heart and white vinyl for the pink hearts.
You can click on the hearts and drag them with your mouse to move them around to make better use of your vinyl and paper. I moved all of the hearts closer together so that I could cut out the best piece of vinyl for the hearts with less waste.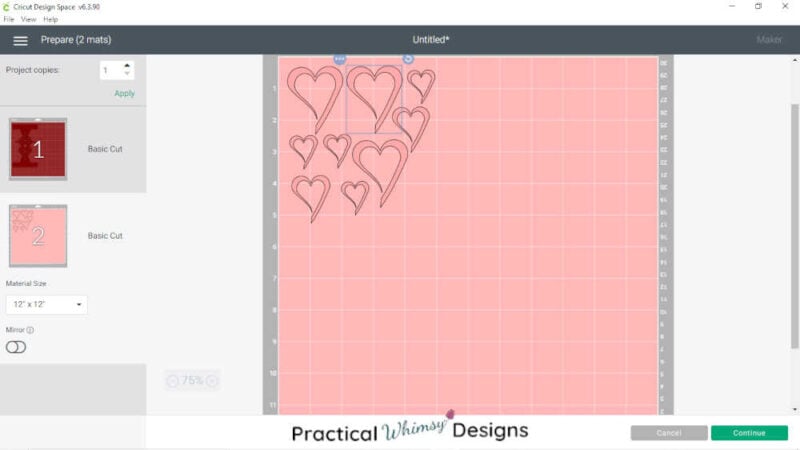 Once the layers are the way you want them, click continue on the bottom right corner.
For the first layer I used: Copy Paper 20lb setting – Light grip mat – Fine point blade
Make sure to switch the materials between cutting for the second layer by clicking on '1. Base Material set to:' on the center of the screen and switching it to vinyl.
Step 3: Assemble the 3D Paper Heart
Fold the heart in half so that the two sides of the heart are even.
Connect both sides of the bottom tabs together with a hot glue gun or glue stick to form a circle. Make sure the circle is small enough to fit in the lid of your jar, yet large enough for the 3D heart to stand on its own.
Glue the small side tabs to the inside of the other heart to add support to your heart.
The 3D heart should now be able to stand on its own in the lid of your glass jar.
Step 4: Stick on the Vinyl Hearts to Create Your Decorative Jar Luminary
Clean off the outside of your jar with isopropyl alcohol to make sure there are no grease marks or other residue. This will help your vinyl stick better.
Carefully cut an outline around each heart so that you can apply each heart decal individually.
Weed the extra vinyl off of your hearts with a weeding tool. You should be left with just the heart outline on your backing.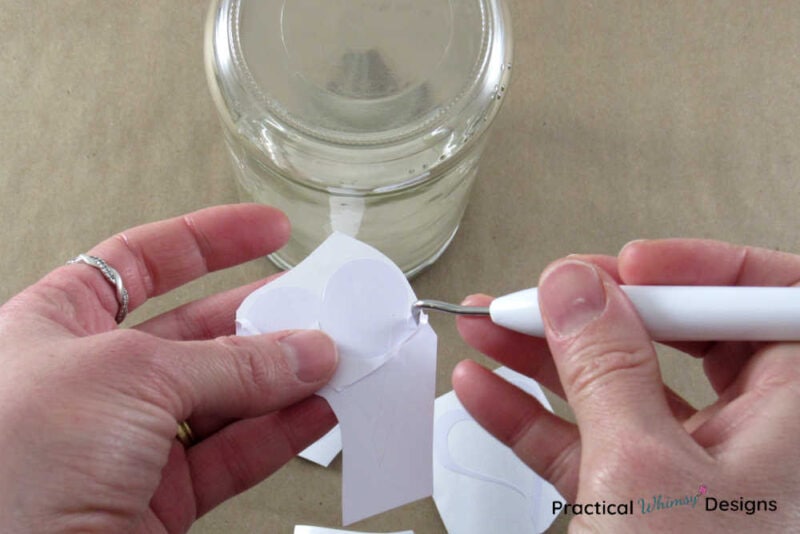 Use the transfer tape to transfer the vinyl onto your jar. Smooth it onto the heart, peel it up off of the backing, then smooth it onto the jar.
Carefully lift the transfer tape so that the vinyl stays on the jar.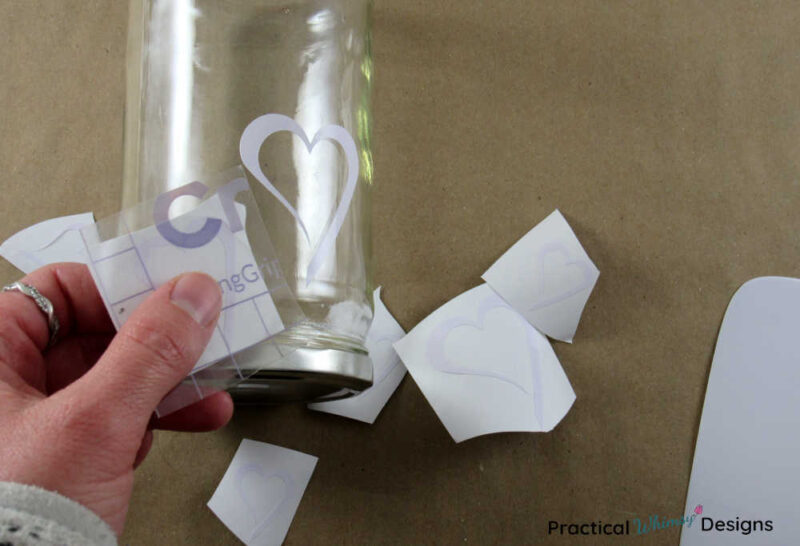 Tip: You can use the transfer tape over and over again for each heart. Cut a piece to fit your largest heart and keep using it until all of your hearts are applied to the jar.
Optional: Use a scraping tool to smooth the vinyl onto the jar and make sure there are no bumps on your hearts.
Step 5: Assemble the Heart Decorative Jar Luminary
Set the paper heart on the lid of your jar.
Place the battery powered tea light or fairy light string in between the two layers of your paper heart.
Screw the jar lid onto the jar.
Note: You could hot glue everything into the jar, but I wanted to be able to access the batteries in the candle so I chose to set them into the lid.
Need the password for this SVG file? It is available to my newsletter subscribers along with all of my other free resources. Sign up for the newsletter below.
Heart Decorative Jar Luminary: Easy 3D Paper Heart Decor
Now all that is left is to display your luminary somewhere.
Put it in your bedroom for mood lighting or use it to illuminate a romantic dinner
Pair it with this 3D heart toilet paper roll art on canvas for a fun Valentine's display.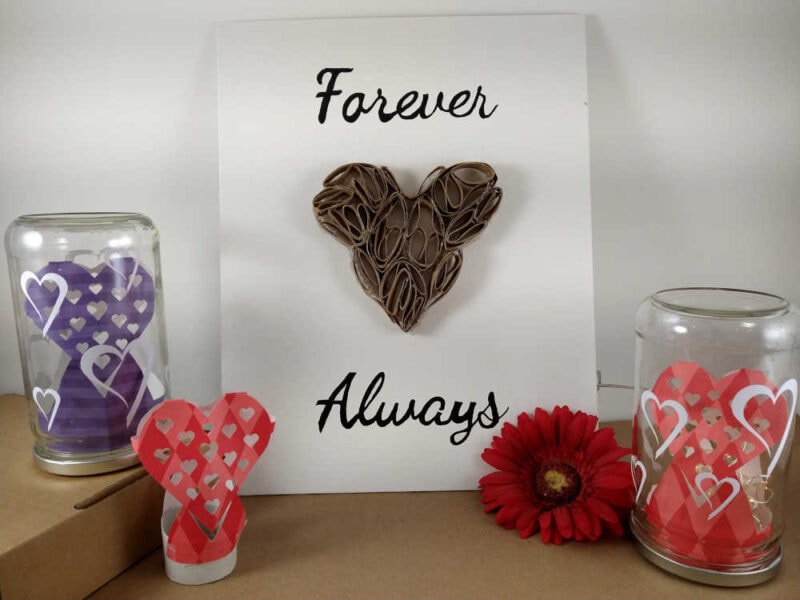 Want to remember this idea for later? Save it to your favorite DIY Decor Board on Pinterest.