Love the look of mini wreaths on your kitchen cabinets this time of year? Learn how to make a cabinet wreath with an upcycled wire hanger.
Somehow we have collected a lot of wire hangers.
When we purchased our fixer upper home a lot of the closets contained wire dry cleaning hangers.
Since we moved into our home, I have been trying to find ways to use up these wire hangers. I love upcycling things and making them into something useful.
The first time I upcycled the hangers, I created fun DIY wire pumpkins for fall. Then I used them to reinforce some fabric storage boxes that needed a facelift.
I recently discovered that they make a great wreath form for a 12 inch wreath. Use these wreaths on your front door, kitchen cabinets, windows, living room wall, etc. for a cheap and easy wreath you can make in 5 minutes.
Or, depending on the look you are going for, use a wire cutter to cut the hanger in half and make mini wreaths for each of your kitchen cabinet doors. They are the perfect size for kitchen cabinet wreaths, especially if you want to hang them on every cabinet door. (Learn what size wreath is best for your kitchen cabinets here.)
It's even better if you have old pine garland that you don't know what to do with (like me!)
This post contains some affiliate links for your convenience (which means if you click a link and make a purchase I will earn a small commission at no extra cost to you). Please see my disclaimer page for more information.
Materials You Need:
Wreath ribbon (Depending on the color scheme you are going with)
Wire cutters, opt.
How to Make a 12 Inch Cabinet Wreath with a Wire Hanger
Step 1: Bend the wire hanger
The first thing you need to do is untwist and open up the wire hanger at the hook.
Next, bend the hanger into a circle, working out the kinks. Twist the open ends back together until you form a wire circle out of your hanger.
Note: This does require a little hand strength. The best way to do this is keep working the wire with your hands, bending and shaping it until you have a nice circle. You may want to wear gloves to protect your hands from the wire.
Attach a piece of painters tape or masking tape around the wire ends so that they don't come undone or scratch the cabinet door.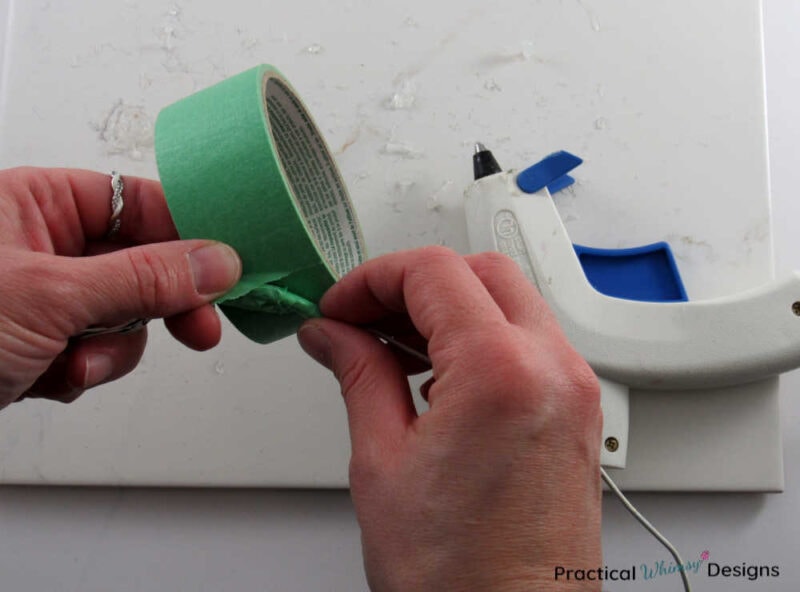 Step 2: Glue on the garland
Starting at the top where you twisted the wire ends, use a hot glue gun to glue the pine garland onto your wire hanger circle. Keep gluing all of the way around the wire, sticking the garland on as you go, until you meet up with the loose end at the top.
Trim any extra garland.
Now, flip the wreath over and check to make sure that all of the pine garland is attached to the wire hanger. Use hot glue to secure any loose spots.
Step 3: Add Ribbon
There are several ways to attach ribbons to your wreaths.
An easy way to do it is to hot glue a chunk of ribbon to the back of the wreath. If you are looking for a more simple front on your wreath, this method works great. This is the method I used on my 12 inch wreaths.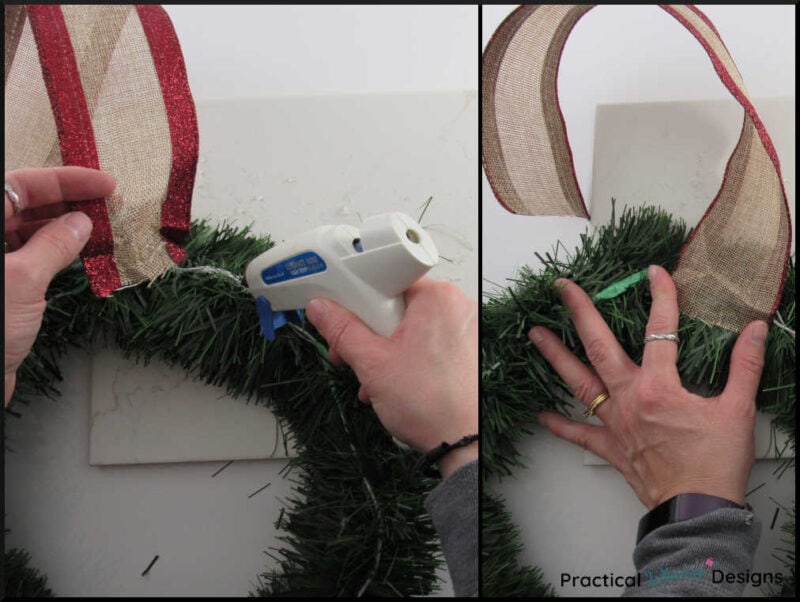 Another option is to wrap ribbon around the top of the wreath to give it a double layered look. This method is nice because it is easy to swap the ribbons out for a different one, depending on your decorating color scheme next year. I used this method with a red ribbon on the small wreaths I made.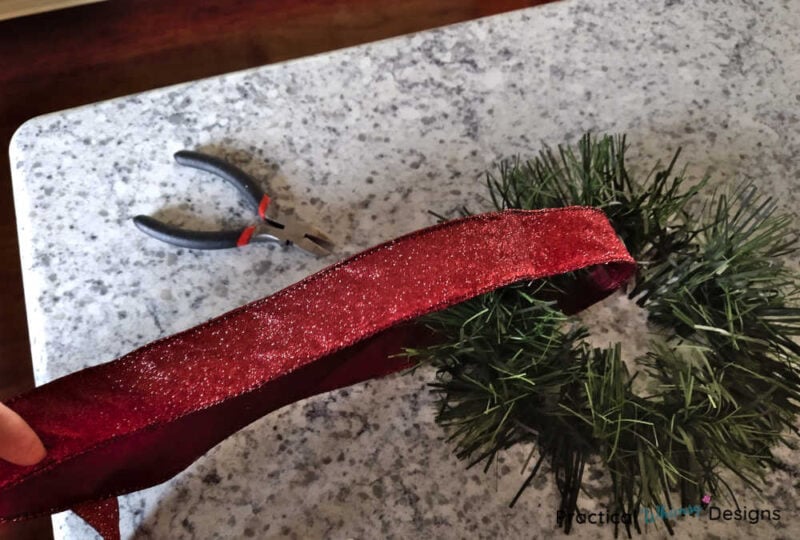 Depending on how fancy you want your wreath to be, you can also hang a bow on top of the ribbon.
The length of ribbon you use will depend on where you want your wreaths to rest on the face of your kitchen cabinets. Cut 1-2 extra inches of ribbon so you can adjust the height as desired.
Step 4: Hang it on your kitchen cabinet
The best way to hang wreaths on kitchen cabinets without damaging them is with a 3m hook or command hook.
Stick the hook in the middle top portion of the inside of your upper cabinets.
Note: Make sure that the hook is facing down so you can hook onto it with your ribbon.
Clip a paper clamp on your ribbon end and hook it onto the command hook. Drape the piece of ribbon over the top of the cabinet and allow the wreath to hang on the face of your cabinet.
To adjust the height of your mini Christmas wreaths, roll the ribbon up and clamp the paper clamp over it. You can roll more ribbon or less, depending on the length of ribbon you want hanging over the top of your cabinet.
How to Make a 6 inch Cabinet Wreath with a Wire Hanger
The steps to make a 6 inch wreath are almost the same.
The biggest difference is that you will cut your wire hanger in half before creating your wreath base.
First, unbend your wire hanger hook.
Pull your wire hanger flat and find the middle of the hanger wire. Cut it in half with a wire cutters.
Create 2 mini circles out of your wire hanger, wrap the two ends together and tape them shut with painters tape.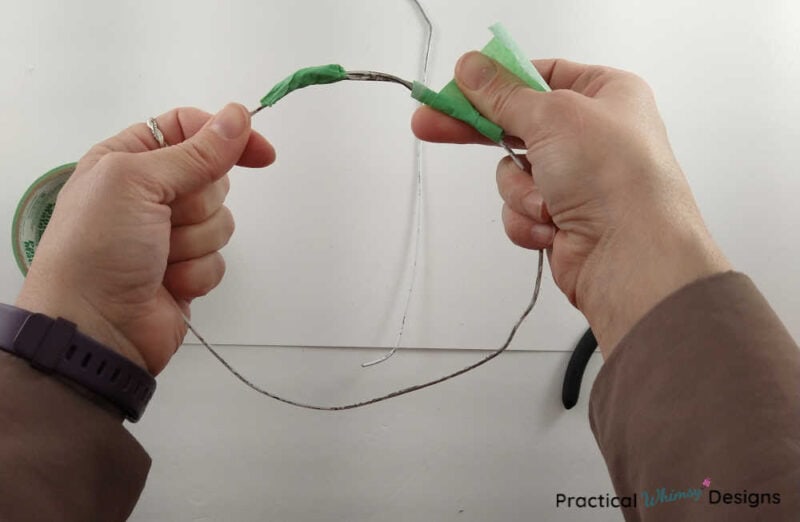 Follow steps 2-4 of the 12 inch wreath to finish adding greenery to your wreath.
Two Types of Cabinet Wreaths
Below is a picture of a 12 inch wreath.
And here is an image of the mini 6 inch wreaths.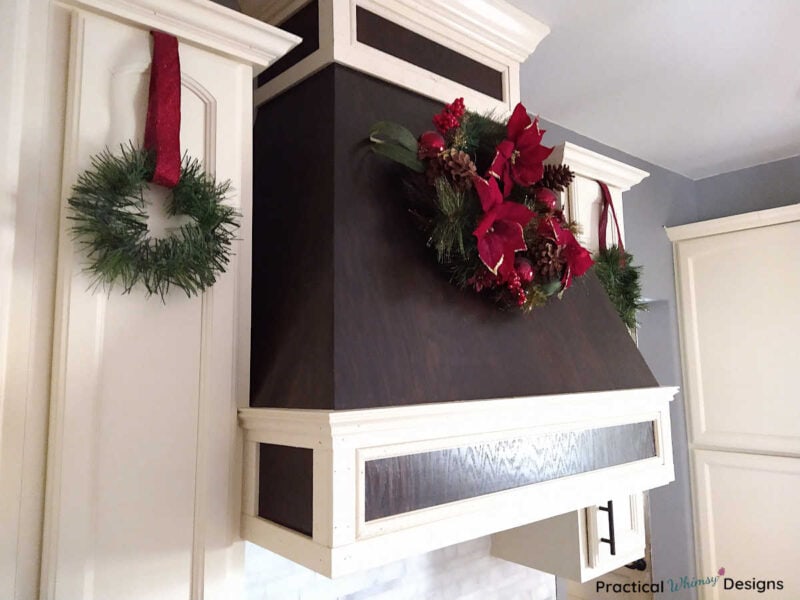 I chose to only make a total of 4 wreaths since I only wanted a few of my cabinets to have wreaths decorating them.
These cute little wreaths will make a beautiful statement in your kitchen this holiday season, no matter how many you make.
Want to remember this idea? Save it to your favorite Holiday board on Pinterest.
Want More Great Ideas? You Might Like These..