It is not hard to learn how to make a fleece blanket. They are such great gifts and can be beautiful additions to your decor as well as being warm and cozy.
If you have had kids you know what a blessing baby showers are for helping get started on providing the essential items to take care of your new little one. We all have that list of items that we are wanting and needing for our babies. However, some of the favorite things I received were not even on my mental 'must-have' list.
One of my favorites? A big fleece blanket. The blanket was so soft and cute and it was large enough for an adult to wrap in and snuggle.
Most of the things that you get for your baby when they are born are used up or grown out of in less than a year, but these big blankets are still favorites in our household.
And they are actually pretty easy to make. I put this blanket together in a couple of hours.
The one I made for this post I made for a baby shower gift, but there are so many pretty designs on fleece now. You really can make a blanket for any number of rooms and create something that matches or accents your decor style.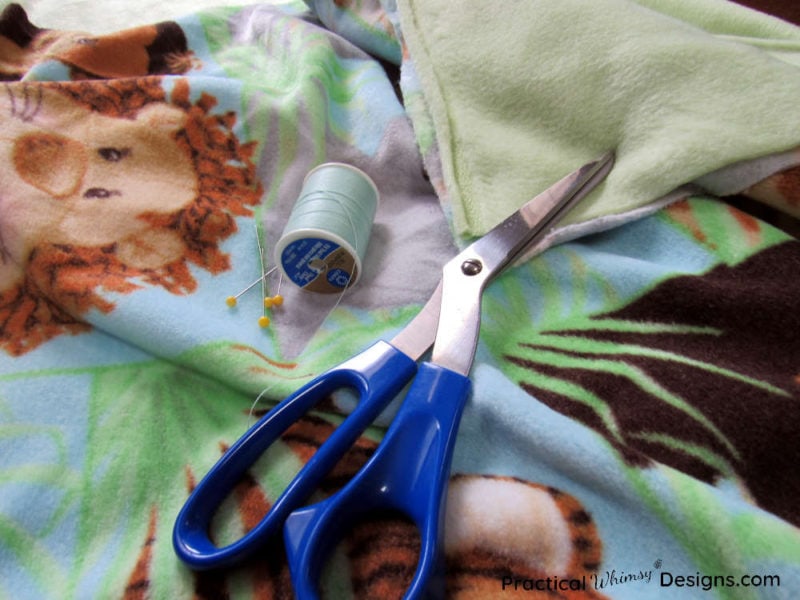 What you will need:
2 pieces of fleece fabric (My pieces were 72″x58″)
Fabric scissors
Pins
Thread (optional)
Something to measure with (optional)
Sewing Machine (optional)
Steps on Howto Make a Fleece Blanket
Step 1: Trim and Lay Out the Fabric
The first step is to make sure all of the edges of your blanket are nice and straight. Trim off any factory edges or edges that are rough and uneven with a fabric scissors.
Once your edges are straight, lay your first piece of fabric on the floor. Then lay the second piece over the top. If there is a difference in brightness or fuzziness (a wrong side) put wrong sides together. Make sure the softest and brightest sides are facing out.
Getting the fabric to lay flat is probably the hardest part. I eventually got my daughter to help me pull the fabric from the other side so we could eliminate the wrinkles on the fabric. So, if you have a partner, have them help you stretch out your fabric. If you don't have an extra set of hands, use something heavy on the opposite side to give you the tension you need to pull out the bumps and get your fabric laying flat. Don't forget that you need to eliminate bumps from both pieces of fabric.
Don't worry too much if your blanket edges don't line up completely. Try to get them close, but don't stress too much. The fringe that we will add to the blanket later will hide any uneven spots.
Step 2: Pin Your DIY Fleece Blanket
Pin the two layers of blankets together, leaving enough room to cut strips along the edge of the blanket.
I pinned my blanket in about 4 inches from the edge.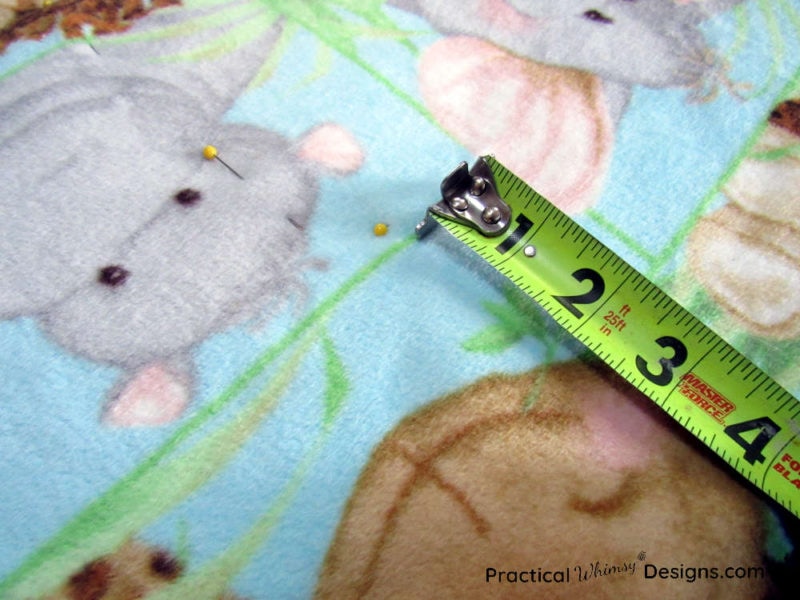 I know! That is not a sewing tape measure. I do have one, but actually liked how easy it was to lock in my 4 inch measure with this construction tape measure. Ba ha ha! I guess it shows the DIY nature of our household.
Step 3: Sew or Tie Your Blanket
There are two methods for putting together your blanket:
The Sew Method
The No Sew Method
I personally like the sew method better for two reasons.
The blanket doesn't shift and bunch up as much. Sewing the edges and center keep the blanket more secure.
The knots that are tied on the edge of the blanket in the no sew method are not nearly as comfortable to snuggle with.
However, I will go over how to do both methods.
How to Make a No Sew Fleece Blanket
Take your fabric scissors and cut both layers of fabric down to the pins you pinned earlier (about 4″-5″ into the fabric). The goal is to make strips of fabric in both layers that you will tie together to hold the edges of your blanket together. I cut my strips about 1/2″ thick. This does not have to be perfect. I didn't measure, I just eyeballed it as I went.
Tie one strip from each layer together in a knot to secure the edge of the blanket. Trim off any uneven pieces.
That is all there is to it. Your no sew fleece blanket is done and ready to snuggle in.
How to Make a Fleece Blanket with a Sewing Machine
This is the method I like to use for my fleece blankets.
Take your two pinned layers of fleece over to a sewing machine and sew along the pins. (This should be about 4-5″ from the edge of the fabric).
Sew all of the way around the blanket with a zigzag stitch. Then do it again, just to make sure that blanket won't come apart.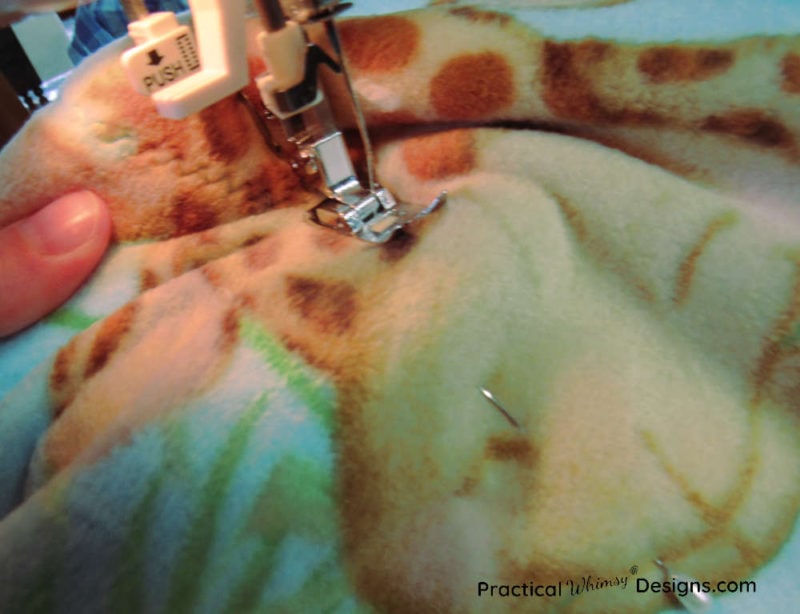 Now, I like to sew something in the center of the blanket to keep the layers from shifting and bunching. If your blanket has a pattern like mine, pick something in the pattern to go around with another zigzag stitch. Go around a second time, just to make sure everything is secure.
Go back through and cut 1/2″ wide strips all the way around the blanket, cutting almost up to the zigzag stitch you just sewed. Don't worry about making these perfectly even. I did not measure the width of my cuts. I just cut approximate 1/2″ strips.
You can choose at this point to tie your strips together, but I like the look and feel of leaving the strips free.
Tip for the Corners:
If you are struggling with cutting nice looking strips around the corners, try this.
Instead of cutting straight strips, cut small triangles out as you work your way around the corners. That way you can evenly transition around to the new edge.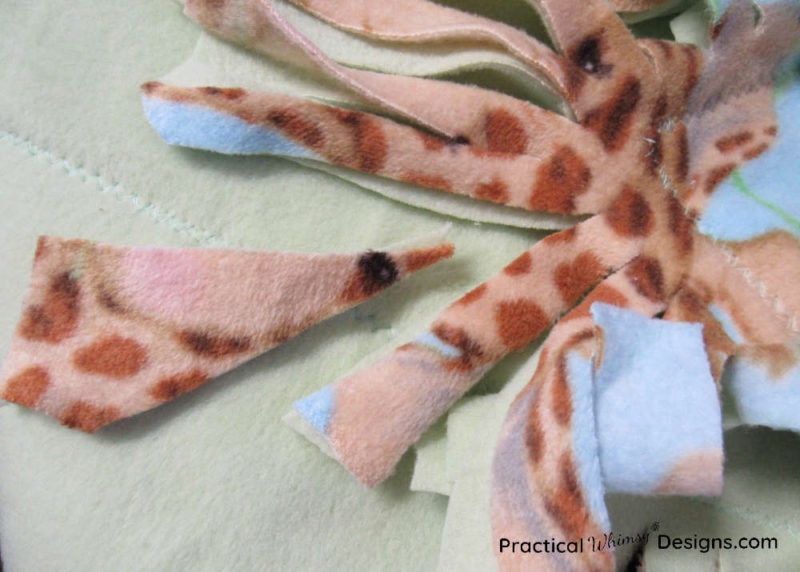 Use Your DIY Fleece Blanket
Your blanket is now ready for you to display, gift, snuggle in…… etc.
I love how amazingly soft these blankets are! Once I can order some fleece, I might just have to make a blanket for myself.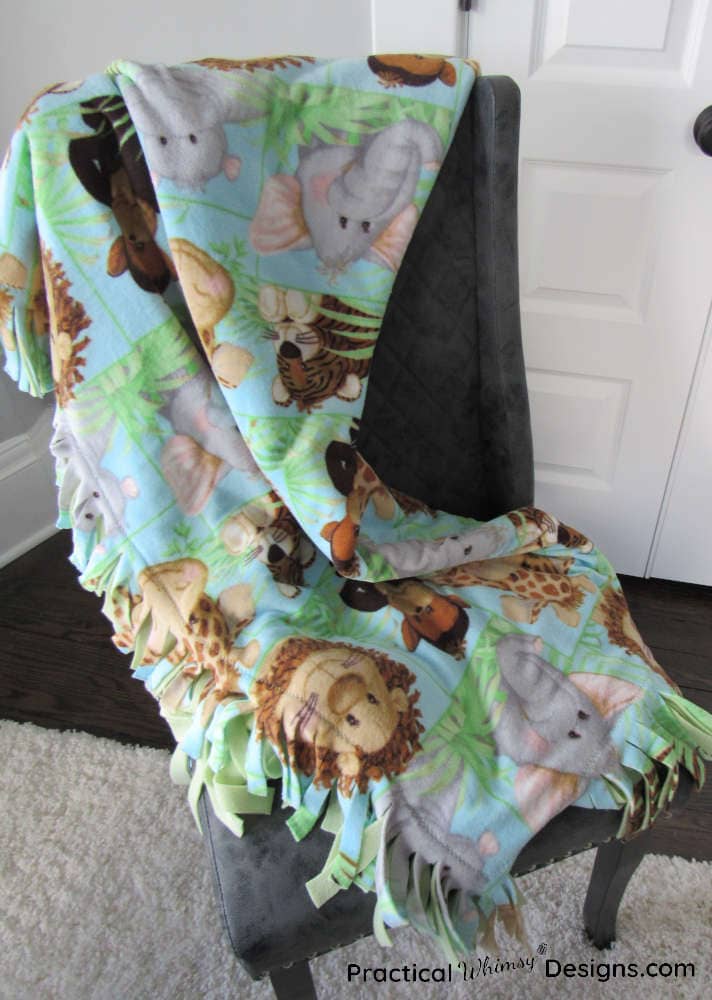 Want to remember this project for later? Save it to your favorite DIY board on Pinterest.
What about you? Are there places in your home that need a good fleece blanket as decor? For those of you who have had baby showers, are there favorite unexpected gifts you were given? Let me know in the comments below.
.