Have your decorative pillows turned flat and lumpy? It is not too difficult to learn how to restuff a pillow and add plumpness back into your comfy decor.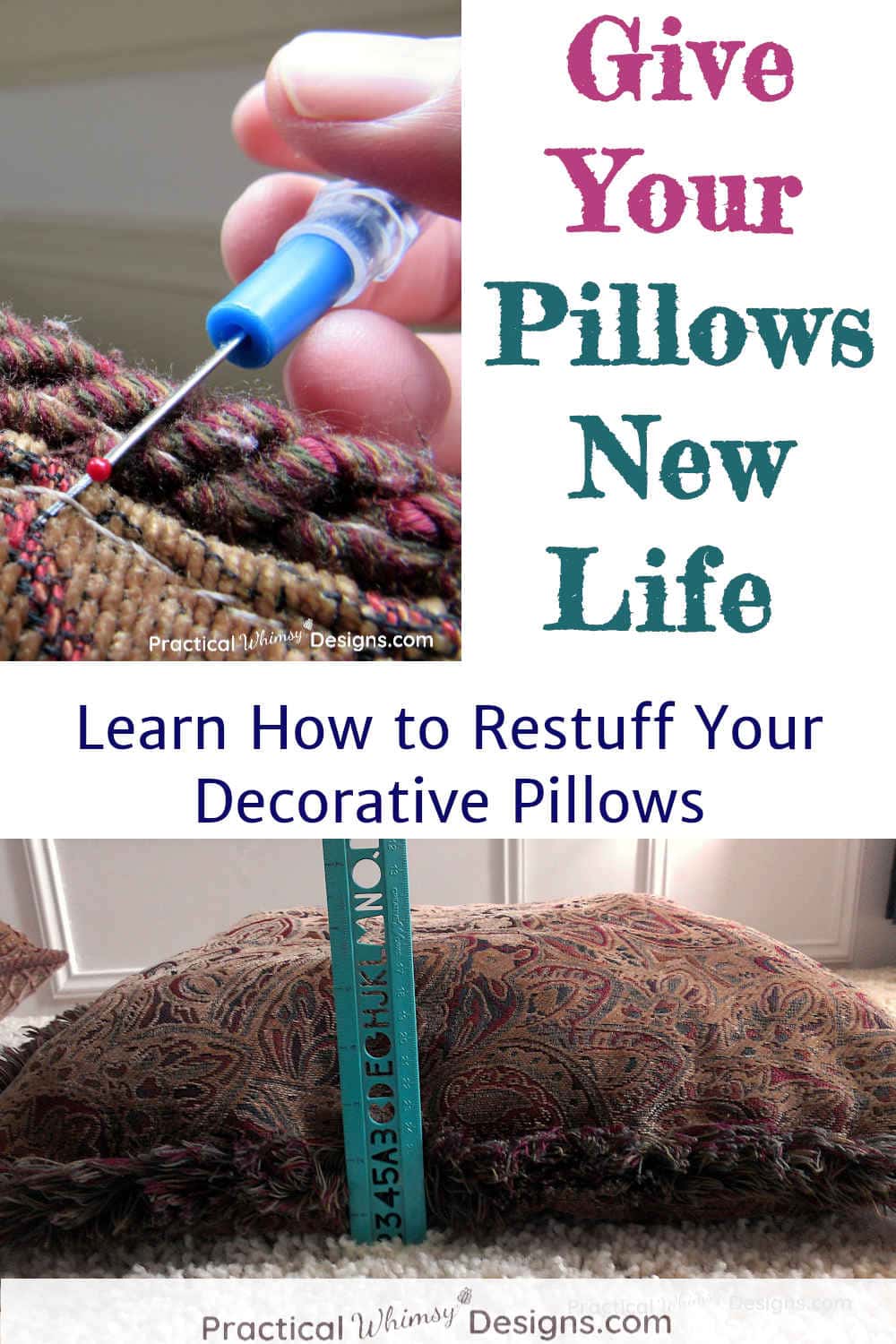 Pirate ships sailing across the open oceans!
Stepping stones to hop across when the living room floor has turned into lava!
Piles of soft seat cushions to snuggle on in a blanket fort.
And, of course, the reason you probably bought them in the first place: Decorations to enhance the look of your couch cushions and furniture or pillows for your head to rest on when you sleep.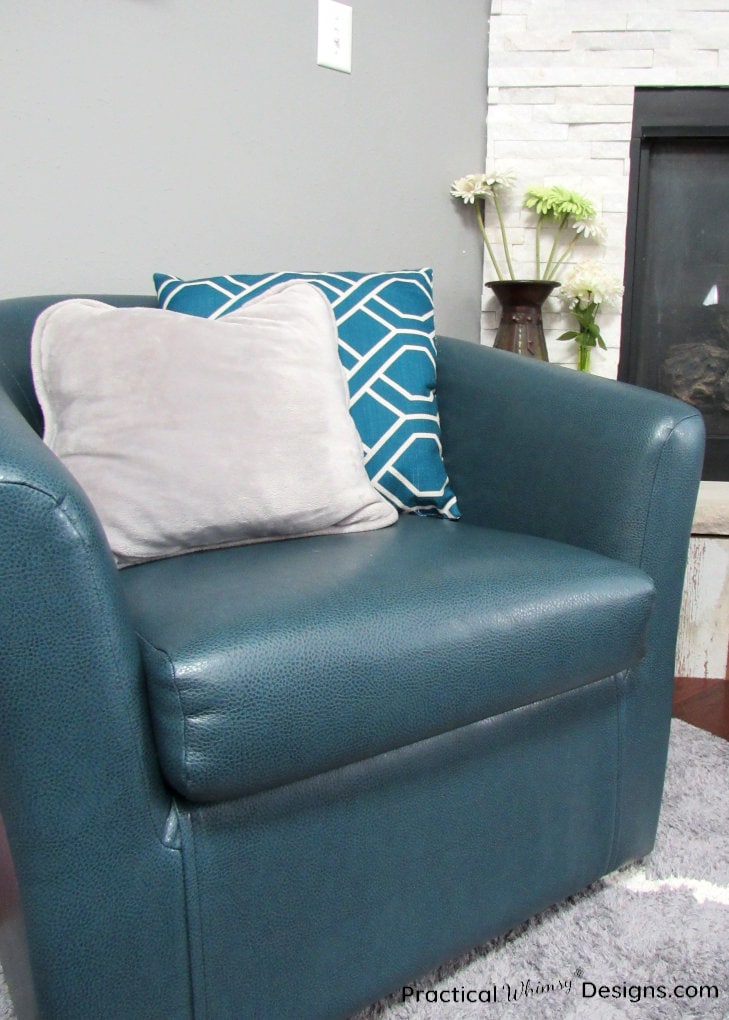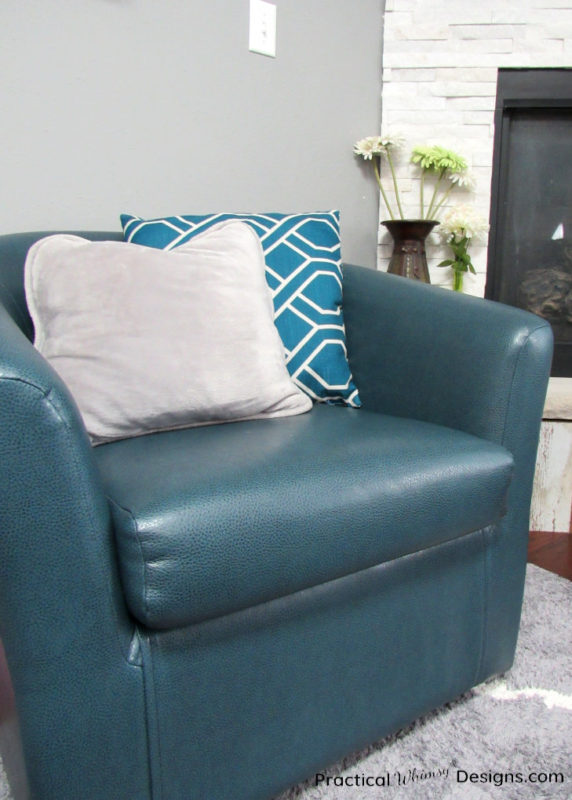 These puffy throw pillows go through a lot of abuse. Not only do we expect them to look fabulous on our furniture, we also sit on them, use them as back cushions, sleep on them, grab them for the occasional pillow fight…(wait, am I the only one?!!)
No wonder after time they turn a little flat and no longer are in the good shape you once bought them in.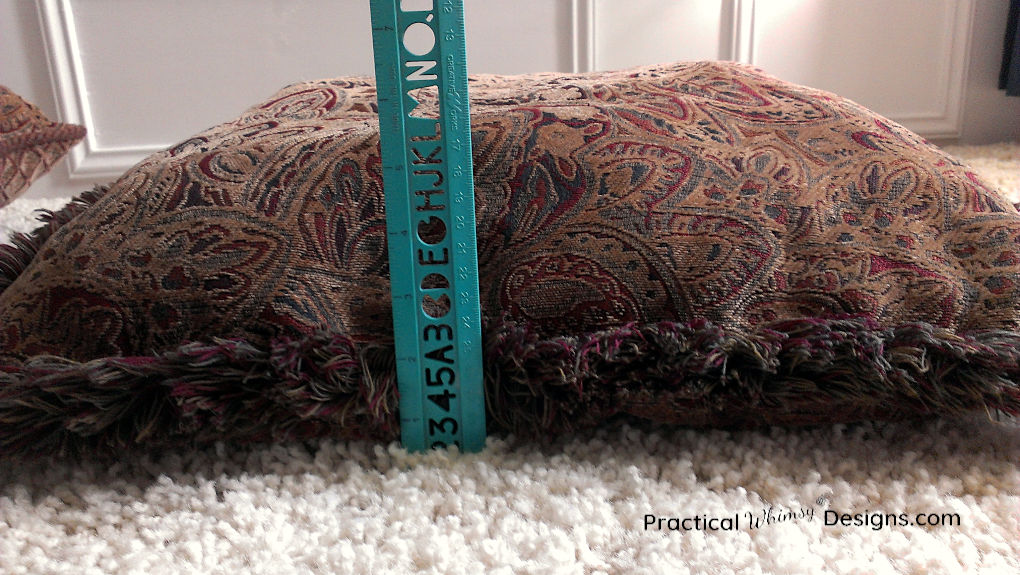 If your old pillow is missing a little of its original fluff, you can easily replace it with this tutorial.
What Type of Pillow is This Tutorial For?
Decorative pillows
Old Bed Pillows
You may also be able to use this tutorial for a pet bed depending on what material is inside.
There are many different products and synthetic or natural materials used to fill pillows. This tutorial is based on pillows that have a polyester fiberfill.
If you have feather pillows you can either replace the feathers with fiberfill or you can purchase feathers and restore your down pillows using this same tutorial.
For memory foam pillows or pillows containing polyurethane foams that have broken down, you would need to replace the piece of foam with new foam. (It might be cheaper at that point to purchase a new pillow).
This post contains some affiliate links for your convenience (which means if you click a link and make a purchase I will earn a small commission at no extra cost to you). Please see my disclaimer page for more information.
Materials You Need:
Scissors
Thread (in the color of your pillow)
Washing machine
Dryer
2-3 clean tennis balls
2 Methods for Giving New Life to Your Old Pillows
Method 1: Washing and Drying the Pillows
Check the tag on your pillow. If it states that you can machine wash your pillow, start by using a washing machine to wash your pillows on a gentle cycle. Then pick the low heat settings on your dryer and toss in 2-3 clean tennis balls with your pillows. The tennis balls help prevent the pillow filling from clumping as it dries.
If it is warm enough and you are not afraid of the fabric fading, lay the pillow in the sun for a natural whitener and a fresh clean smell.
Often a simple wash can restore your flat or lumpy pillow.
Note: Always make sure that you check to see if your pillow is machine washable before using a washing machine. If it isn't, you may ruin your pillow by washing it in a machine.
Method 2: Restuffing your Pillows
If a simple wash is not enough, try this method.
Step 1: Seam rip the seam
On your pillow there should be an area where you can see the stitching. These are the access points where the pillow was sewn after it was originally stuffed.
Use a seam ripper to rip open the seam.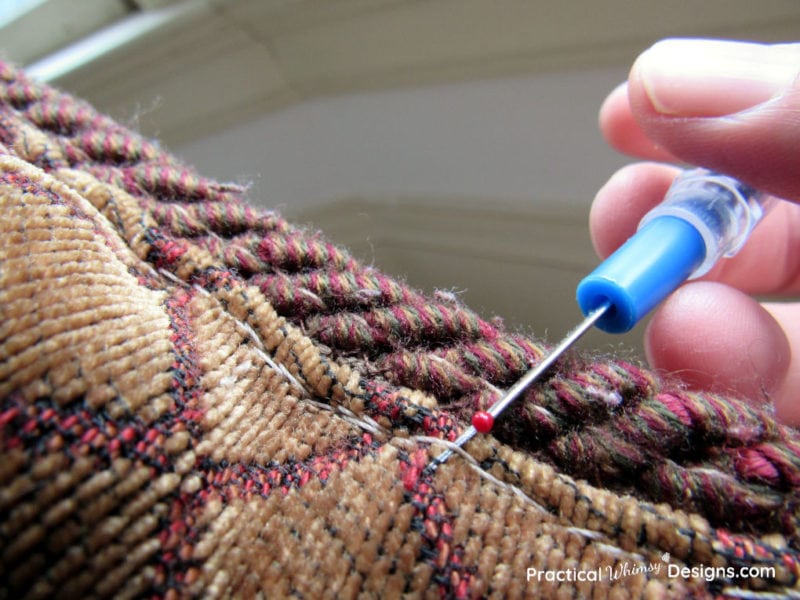 Some pillows have an extra lining around the fluff inside. First check to see if there is a zipper on the inner lining. If not, then use the seam ripper to open the lining as well.
Step 2: Empty the pillow and restuff.
Take all of the old stuffing out.
Note: If your stuffing is not too clumpy you can machine wash it and reinsert it into the pillow. Stick the pillow's filling into an empty machine washable pillow case and tie a knot at the end. Machine wash and dry following method 1's instructions. You will still need to add more stuffing around the old polyester fiberfill and it may not be quite as fluffy as completely adding new stuffing. It is, however, an option if you wish to spend a little less money on new filling.
Once your stuffing is removed, take a rag and mild soap and spot-clean the outside fabric of your pillow. With all of the stuffing removed, the pillow cover will air dry a lot quicker.
If it is summer and you aren't afraid of your fabric fading, stick it in the sun for a quicker dry time and a fresh air smell.
Stuff new polyester fiberfill inside. Make sure that you stuff the filling into the corners and edges to create a tight fit and restore the plump look to your pillows.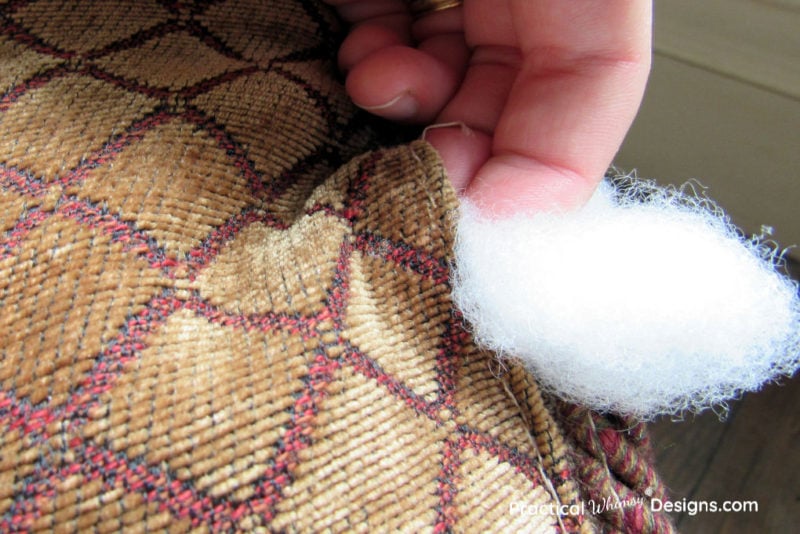 Step 3: Sew the seam closed
Take the needle and thread and hand sew the opening closed. Use the scissors to trim off any excess thread. (Remember, if your pillow has an inner lining, you will need to sew that shut first.)
Results of Re-stuffing Pillows
Though the results may not be as fresh as buying new pillows it is a great way to extend the life of your fluffy decor without spending a ton of money.
Here is the result after I re-stuffed a back pillow that matches one of our couches. I used method 2 to wash and add more polyfil to the pillow.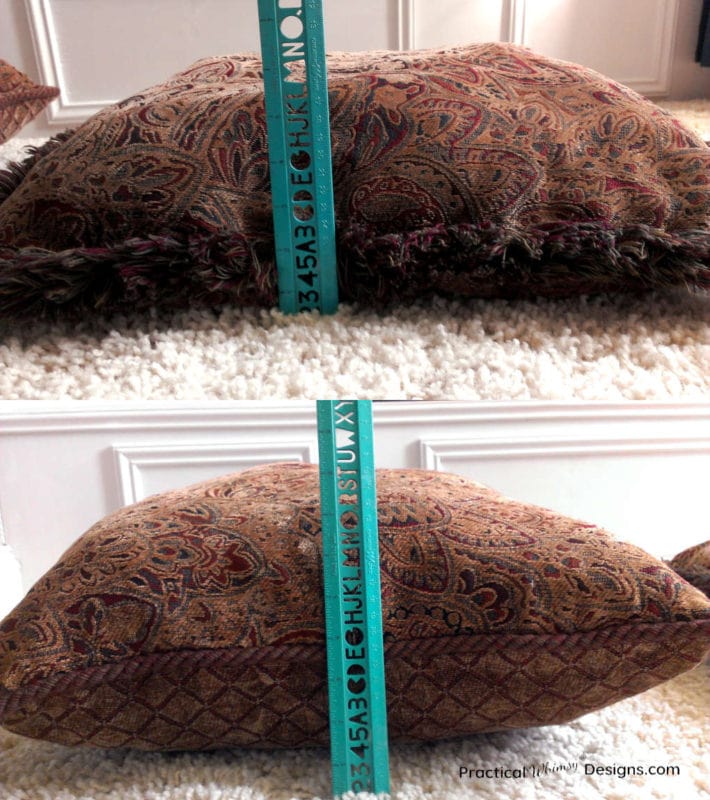 Adding all of the newly stuffed pillows back onto my sofa cushions made it almost look like it did when it was a new couch.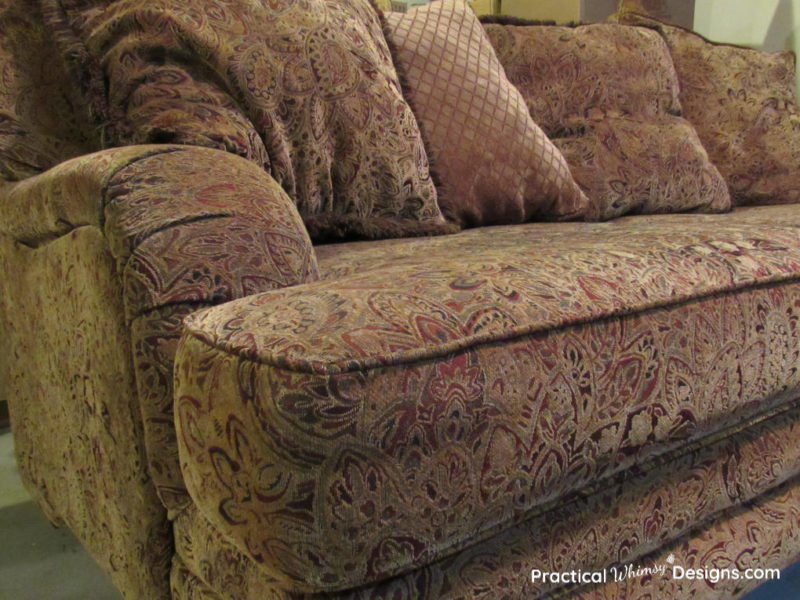 And here are a few decorative pillows that I washed and stuck in the dryer. These were meant to be spot cleaned only, but they were sad enough that I wasn't afraid to try washing them.
Below is a picture of what the white pillows looked like before washing.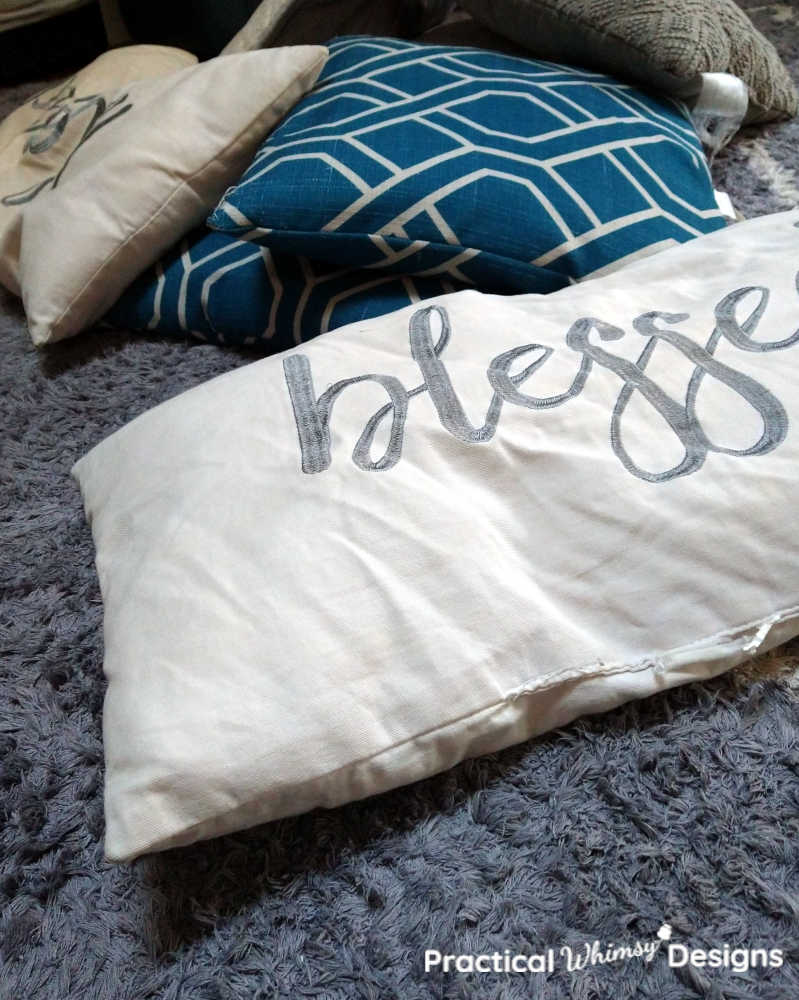 The next picture shows what the pillows look like after I restored them. The front pillow shows how washing and drying a pillow can add a lot of fluff back into it. It is much better than the previous flatness, but I still wanted to restore it a little more.
The pillow in the back shows how fluffy it is after I added a little more polyfil.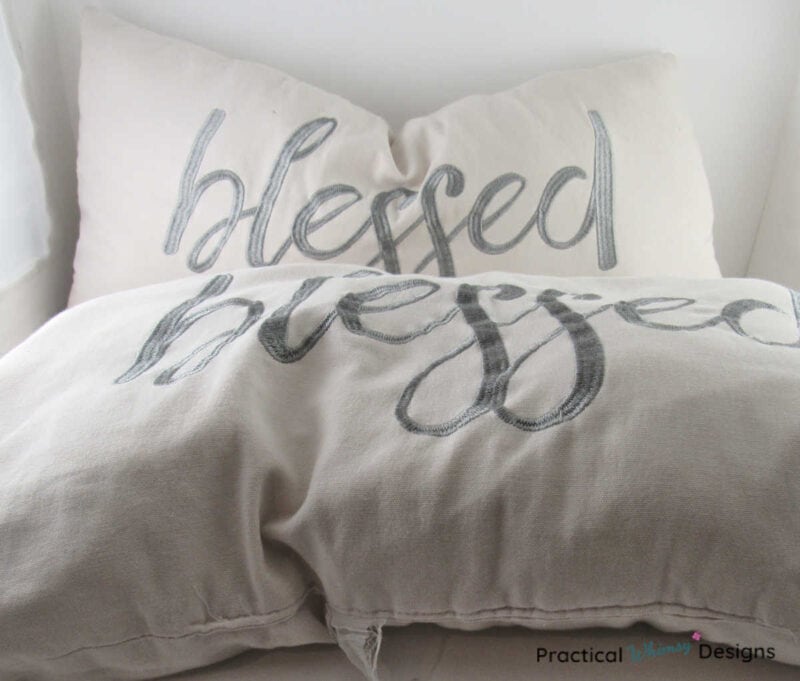 So, no matter what your pillows get used for, you need not fear. You have the power to make them fluffy again. 🙂
I would love to know, what do your decorative pillows get used for (besides decorations of course)?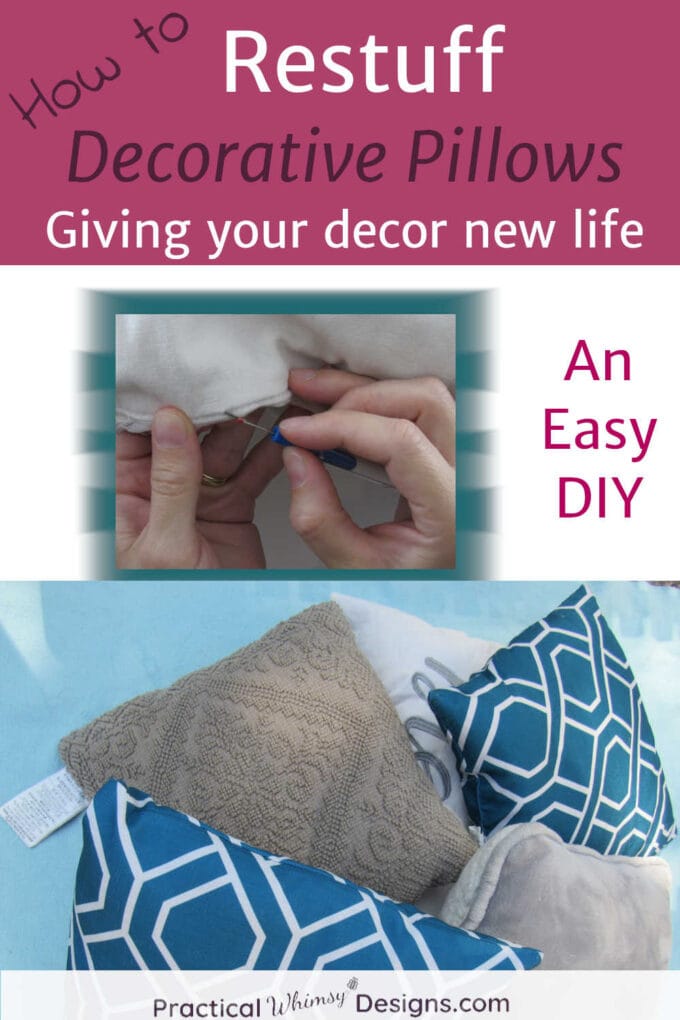 If you love to give second chances to things in your home, take a look at this tutorial on how to repair your fabric storage boxes.
Or, if you enjoy sewing, check out this tutorial on making your own cheap decorative pillows or a super comfortable fleece blanket.
Want to remember this tutorial for later? Save it to your favorite DIY board on Pinterest.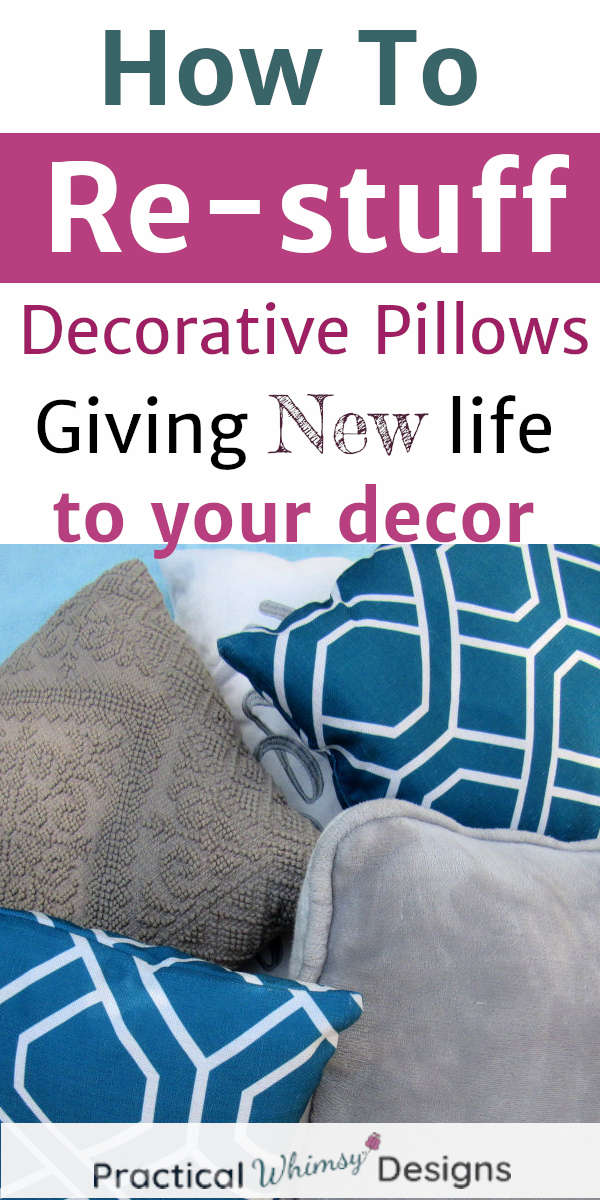 Want More Great Ideas? You Might Like These..