Struggling with finding decorating ideas for your chalkboard art? This tutorial teaches how to stencil chalkboards to make easy, creative art for your home.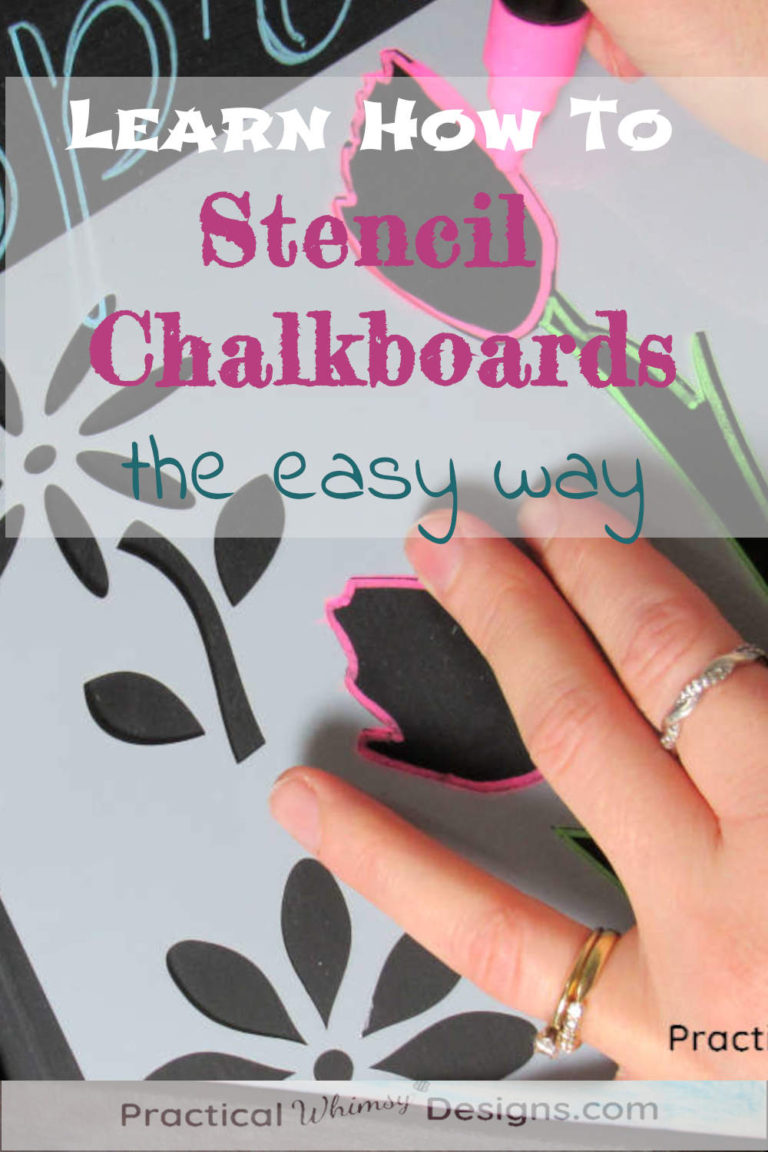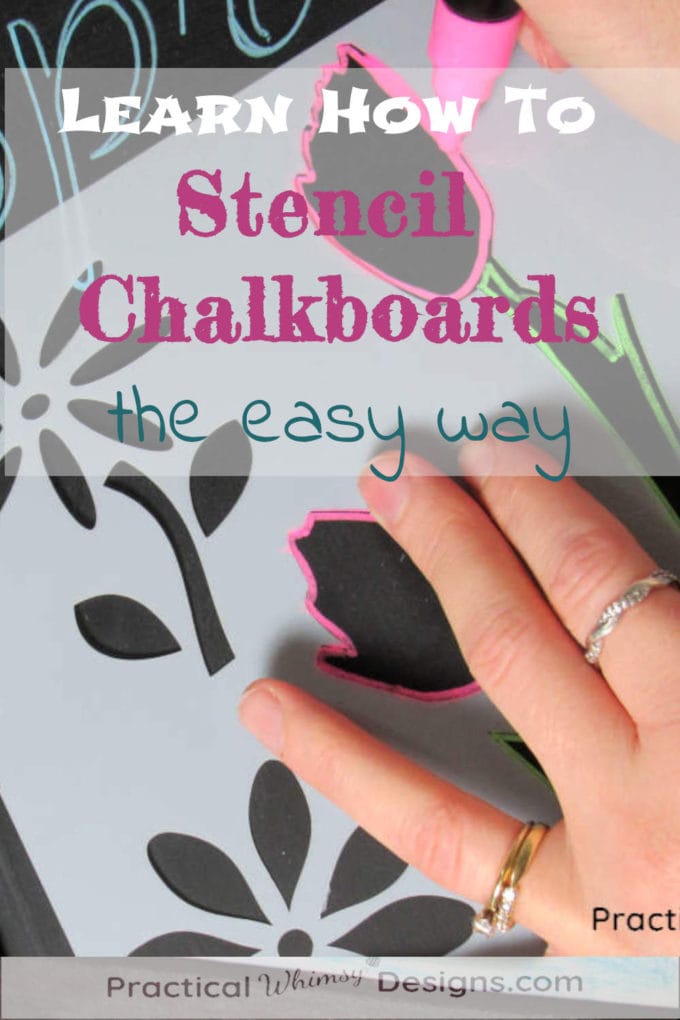 Is it spring yet?
This time of year always seems to taunt us in the Midwest with mixes of cold and warm days, snow and sun. Since I can't control the weather, I did the only thing I could do… the only thing I have control over.
Spring decorating!
That's right! No matter how gloomy it is outside, I can still bring a little spring inside. It lifts my mood and gives me a physical reminder that through all of the mud and rain, green grass and flowers are around the corner.
This year I started decorating my chalkboards first with these fun stencils I made on my Cricut machine. And I, of course, wanted to share them with you. It is so much easier to decorate a chalkboard when you have somewhere to start.
Don't have a chalkboard, you say? Well, you can make a diy chalkboard easily with this tutorial. Or make a faux chalkboard with this tutorial and a glass window or picture frame.
Not sure how to stencil chalkboards?
Here are a couple of pointers to help you use stencils on your chalkboard art.
This post contains some affiliate links for your convenience (which means if you click a link and make a purchase I will earn a small commission at no extra cost to you). Please see my disclaimer page for more information.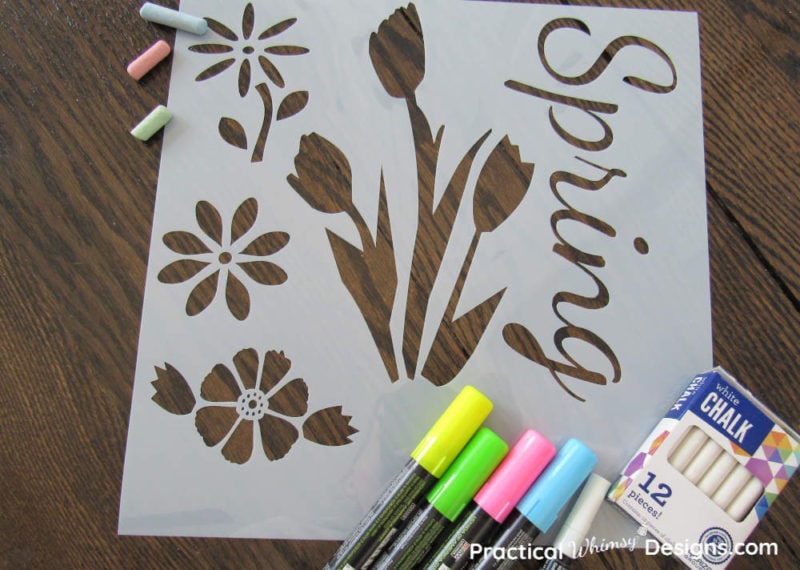 Material you will need:
How to Stencil Chalkboards
Step 1: Outline Your Picture
Grab your stencil and figure out where you want your stencil image on your chalkboard. (I think the best kind of stencil is the plastic or mylar stencils. They can be easily cleaned after each use). Hold the stencil onto the chalkboard with your hand and make an outline with your chalk. I like to use chalk markers for the outlines.
Be careful when you lift the stencil so you don't smear your outlines.
If you do, don't worry, you can use a wet q-tip to clean up any smudges along your stencil line.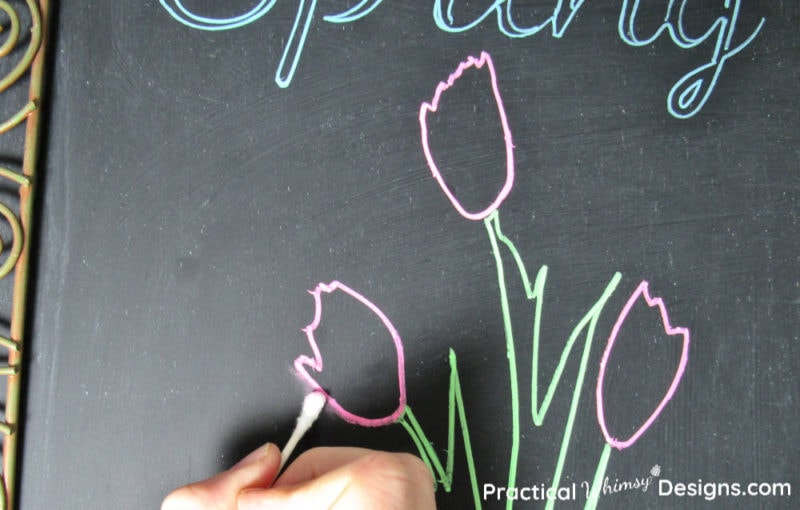 Step 2: Add Details to Your Chalkboard Art
What details you add will depend on what look you are going for and what type of chalkboard you have.
On my faux chalkboard, I used only chalkboard markers (because regular chalk doesn't work on glass). I then added veining on my leaves and accents on some of the flower petals. Other flower petals I colored in completely. And I scribble filled the words so that there were still gaps of black on the text.
On my traditional chalkboard message center, I used the chalk markers as accents and shading. I then used a regular piece of chalk to blend the marker in. This gave me the ability to add highlights and shading to the tulips.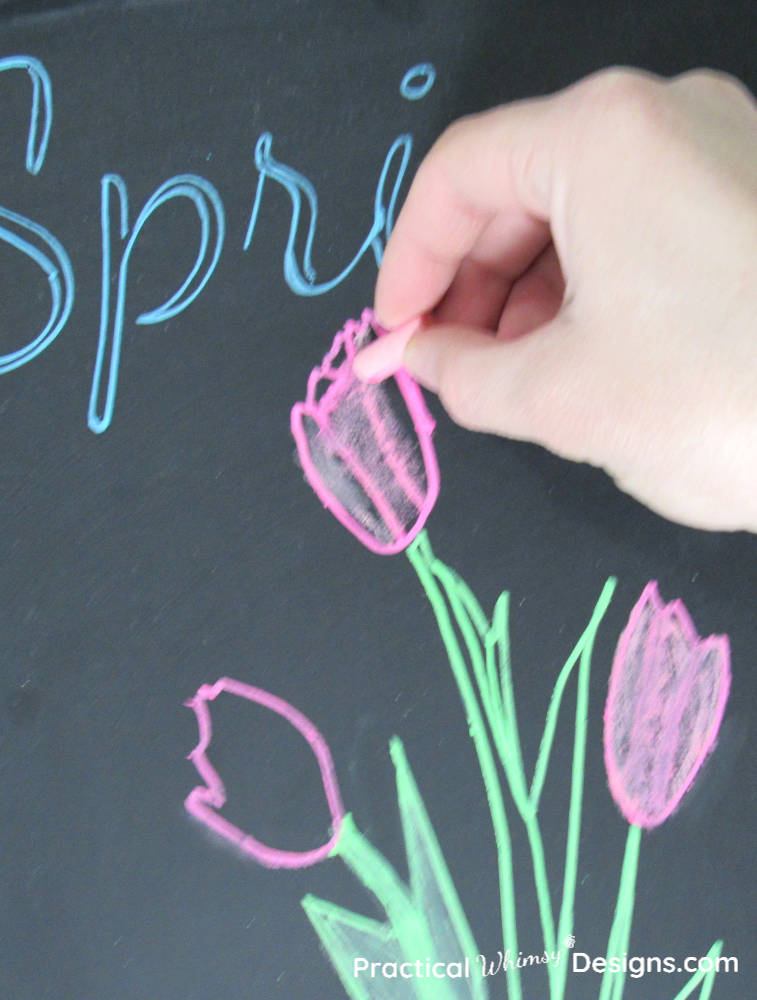 You can also blend the chalk marker with your finger if you feel like it gives you more control. It's a little messy, but sort of satisfying too.
Of course, you could just fill the inner part of your stencil in with chalk, but I like mixing the two types of chalk because it adds more color and depth to the chalk pictures.
Tip: Don't let yourself be trapped by your stencils. Allow them to be a starting place for your art, but add other elements to make your chalkboard creations your own.
How to cut out your own stencil
It is so simple to stencil chalkboards and create beautiful artwork for your home. If you like the spring stencil I used you can get the PDF and SVG files in my free resource library – (sign up at the bottom of this page.)
How to use the PDF
If you don't have a cutting machine, you can print the PDF file on heavy cardstock and use an Xacto knife to cut out the stencil. Or you can print the PDF on paper and trace and cut the stencil pattern onto Mylar (I used 6mil 12×12 sheets). Again, use an Xacto knife to cut out the stencil.
How to Upload the SVG file to Cricut Design Space
If you need help uploading your SVG file to Cricut Design space or need help figuring out how to resize your files to fit your material, check out the tutorial I made here.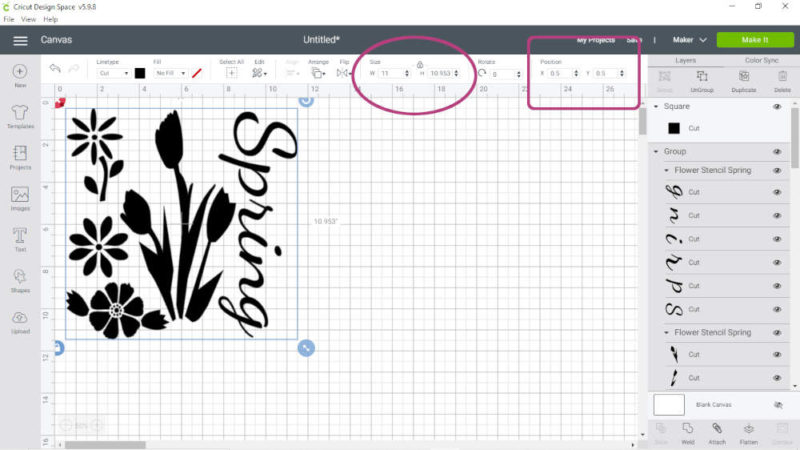 Above is what the file looks like after it is uploaded onto Cricut Design Space with the sizing and positioning I used to fit my stencil on my 12×12 sheet of Mylar. You can always resize the SVG to fit the material you use.
After you are satisfied with your stencil position, click on Select All on the top menu bar and then hit Attach on the bottom of the right menu bar. This will keep your stencil shapes together so that they will be cut out in their original flower patterns.
Select "Make It" on the top right menu bar. You can reposition your stencil pattern to be centered on your material on this page by clicking and dragging it around with your mouse.
Select your material type. Cricut Design space has most material programmed in and all you have to do is select the right material. If you don't see yours listed, you can use the search bar to find it.
I used the Mylar setting – Strong grip mat – Fine point blade.
I did experiment with cutting out the stencil on card stock, but it didn't seem thick enough and since I was using chalk markers I didn't think the stencil would last very long.
Results from my Stencil Chalkboards
Here are the pictures of both my regular chalkboard and my faux chalkboard I have above my mantel. I love the fact that the stencils gave me a frame work for my decorations, but I was still able to add my own creative twist (like the vase on the tulips) to accompany my stencils.
Our chalkboard messenger center.
And here are pictures of the faux chalkboard above our fireplace.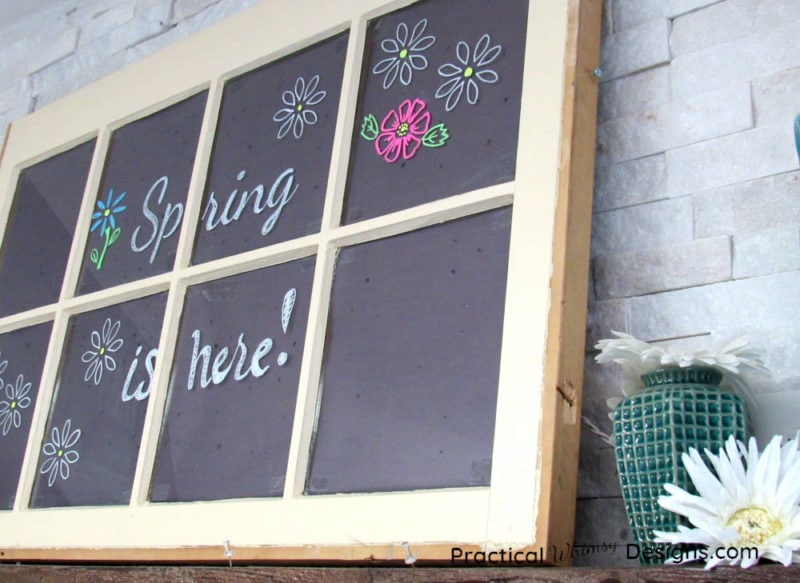 Need the password for my resource library? All of my free resource are available as an exclusive benefit for being a newsletter subscriber. You can sign up below.
The form you have selected does not exist.
Need some more spring decorating inspiration? Try these green, brown, and white spring decorating ideas.
Want to remember this? Save this stencil chalkboard tutorial to your favorite DIY Pinterest board.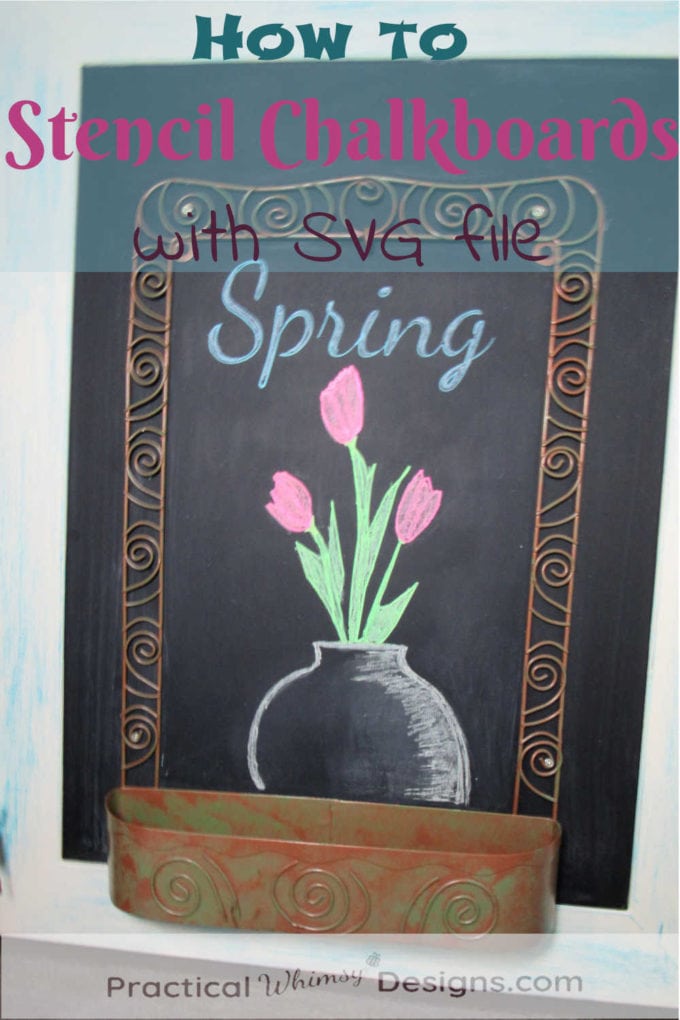 What about you? Have you decorated your chalkboards with stencils before? Do you like chalk markers or chalk better? Have you ever used both on the same picture?