Take a look at our kitchen remodeling progress. We are wrapping up our kitchen upgrade and can't wait to share our latest projects.
Struggling with finding the perfect paint color for your home? My design guides are available for free to my newsletter subscribers. Grab my Free Paint Guide and FINALLY pick a wall color that you love!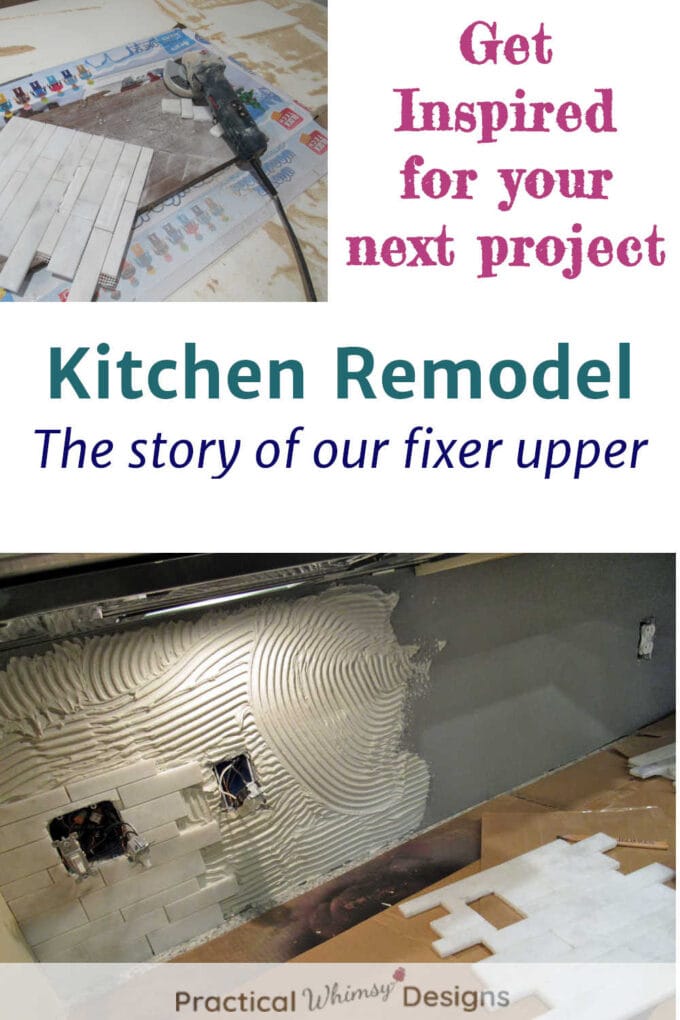 Our kitchen was one of the first spaces in our home that we started remodeling. We purchased our fixer upper home and then shortly afterwards had to deal with water damage when one of the pipes burst.
Below is the picture of our kitchen before any water damage in all of its lemon yellow, Asian themed glory.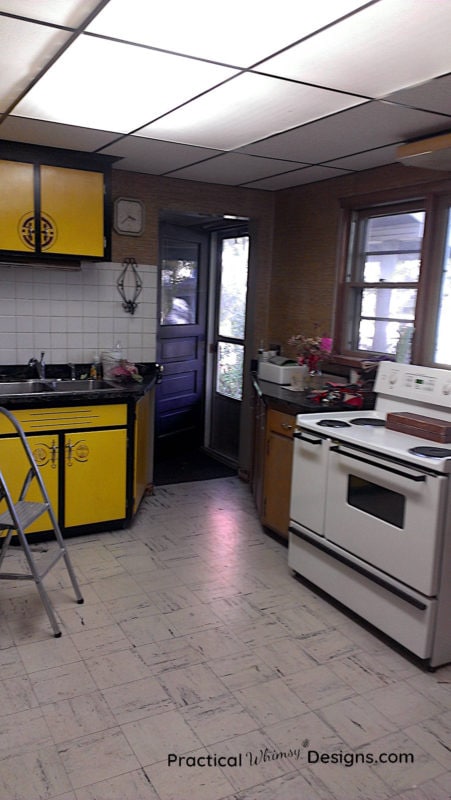 And the next picture shows the water dripping from the ceiling after the pipe burst.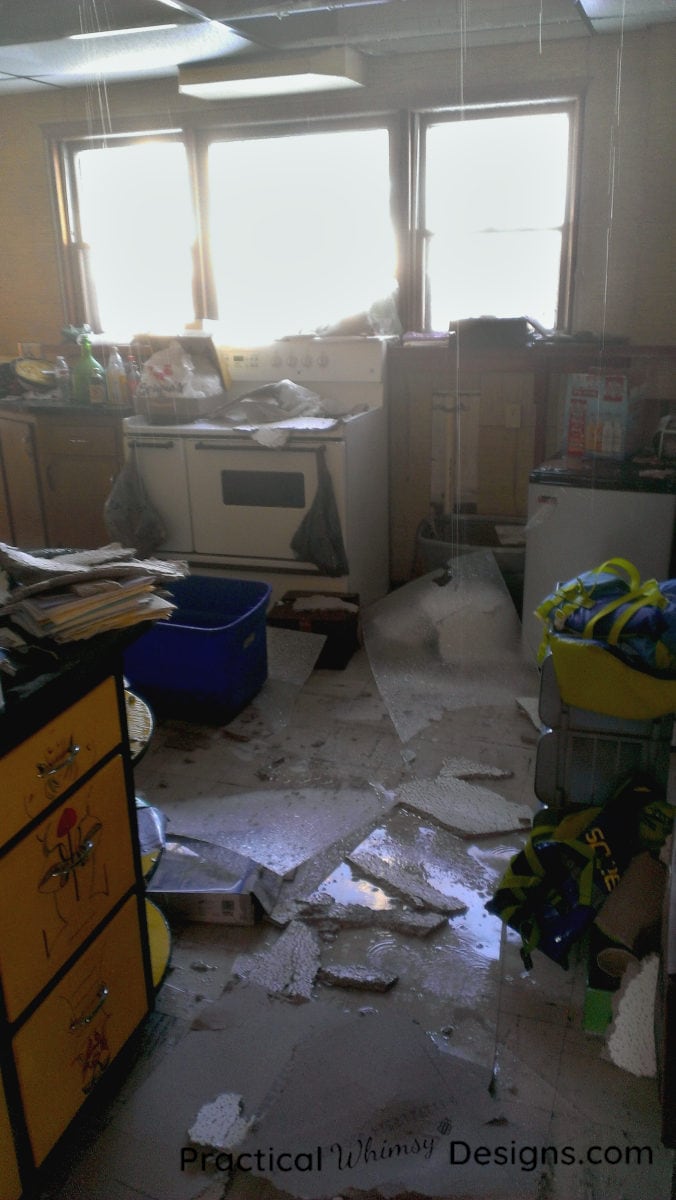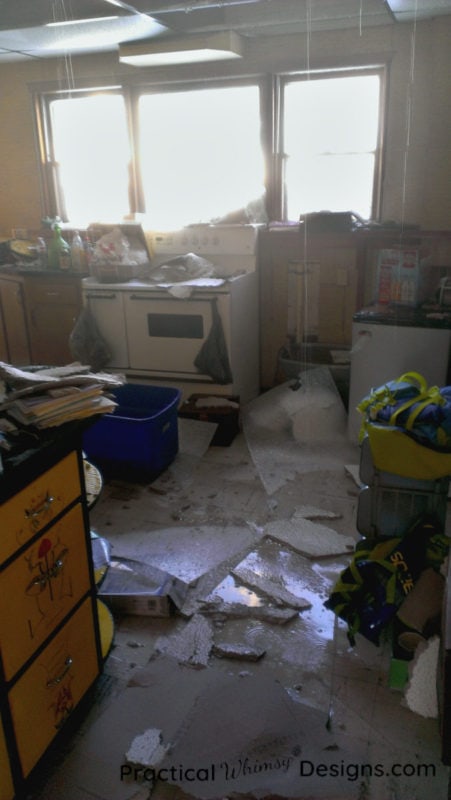 Everything had to be gutted down to the studs to prevent mold from growing.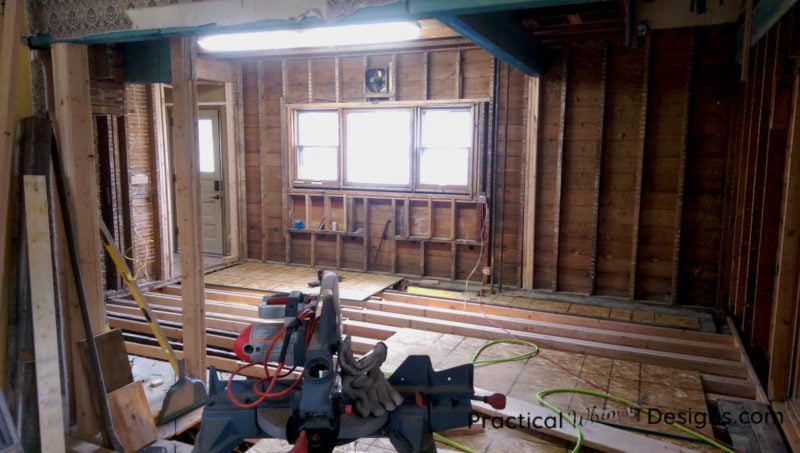 Needless to say, there have been a lot of adventures in this fixer upper home which you can read more about here.
After converting our large, rundown, indoor pool into a 3 car garage and family room we moved on to fixing up the kitchen so we could stop cooking in the temporary 50 degree basement kitchen.
Our Kitchen Remodeling Progress For the First 3 Years
It took about a year and a half before our kitchen was put back together and usable. During that time, my family lived in our small basement and 2 rooms on the main floor of our home.
That was it.
So you had better believe how excited I was to FINALLY have a kitchen upstairs. This allowed us to spread out a little.
One and a half years……. Cooking in the basement…..
It kind of seems crazy, thinking about that chapter of our fixer upper journey. But somehow we made it through to the other side of that adventure.
Kitchen Projects Before we Started Using It
There were a couple of projects that we had to complete before we could move up. Of course, the obvious was installing drywall, painting, and adding the kitchen cabinets and counters, lighting, outlets, etc.
But before that we installed hydronic floor heat and chose engineered hardwood flooring for the kitchen floor. (You can read more about my thoughts on engineered hardwood here.)
We were finally able to get the kitchen 'usable' after about a year and a half. I was so excited to be in a big kitchen again. But there were quite a few things that needed to get done to make the kitchen truly finished. All of the pretty cosmetic things that weren't necessary for the function, but add so much to the overall look.
We had to move on to other areas of our home and we never quite had the time to add the finishing touches….until now.
Kitchen Remodeling Progress After We Moved In
We are finally finishing all of the details of our kitchen and I am so excited to show you! The full kitchen reveal will be coming soon.
But here are a couple of the projects we have worked on to complete our kitchen.
We installed a simple kitchen island back panel.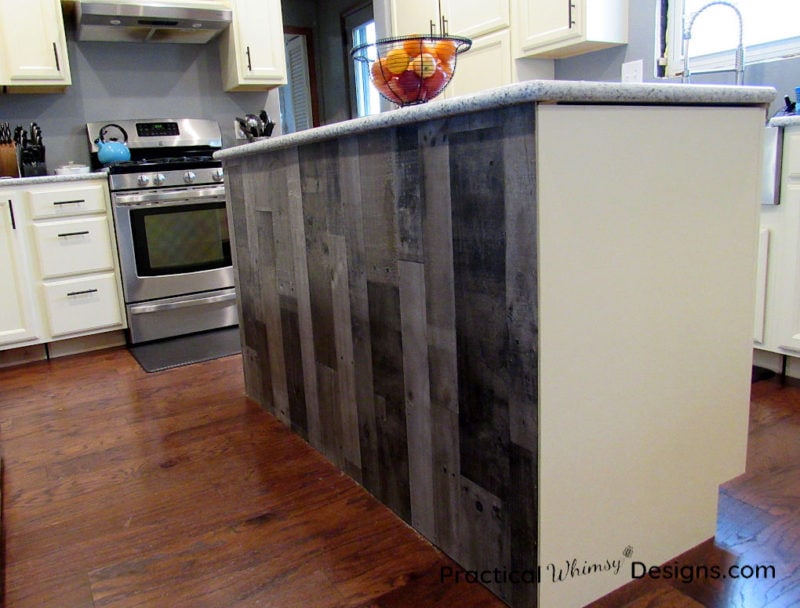 Our latest projects have been building a custom wooden hood vent for over the oven.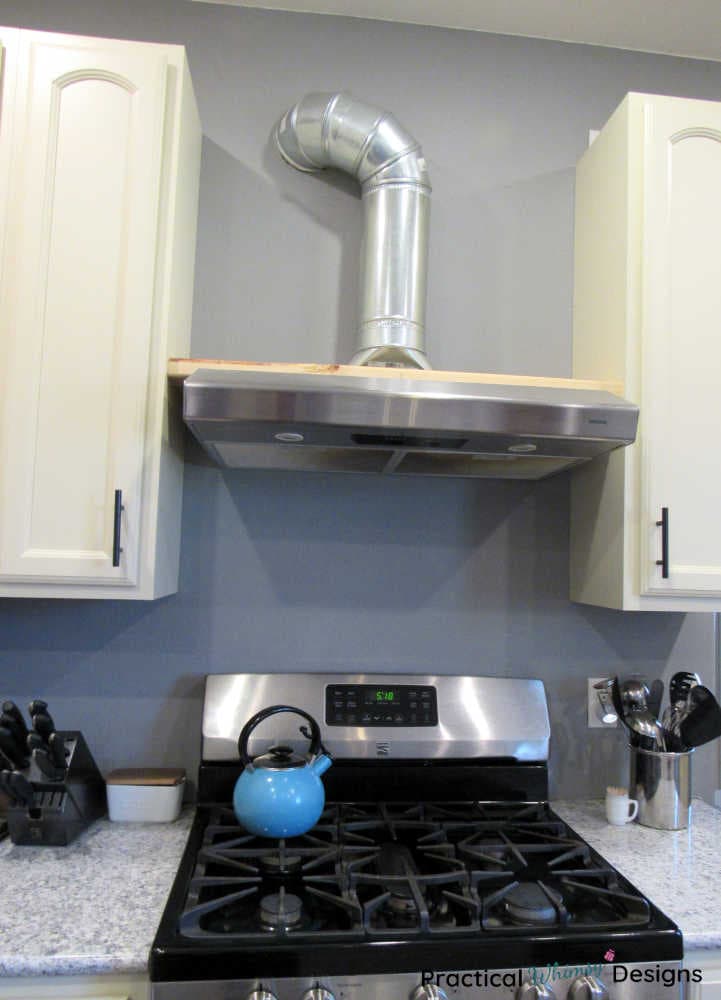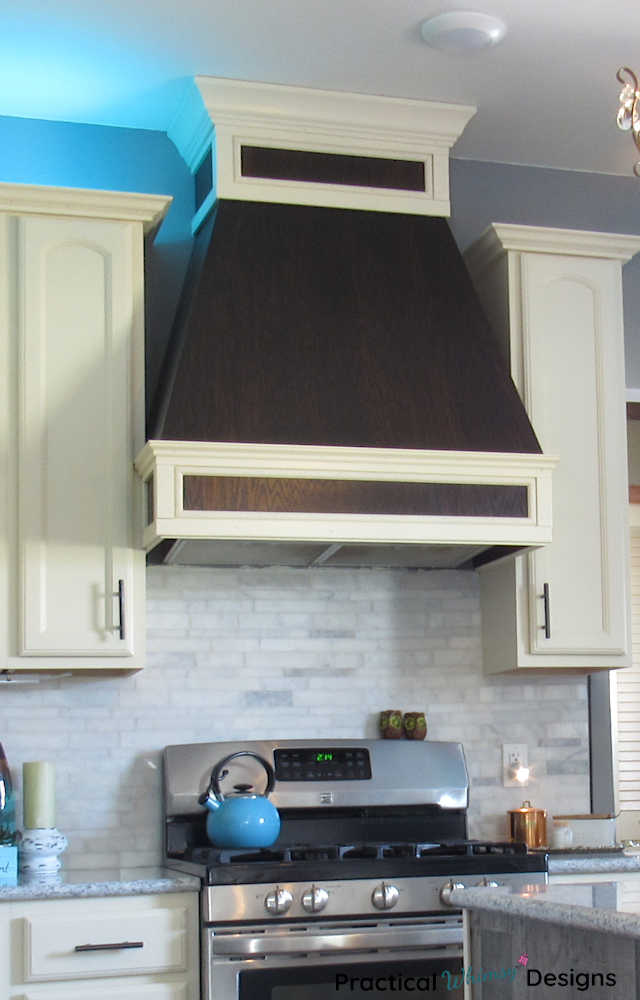 Adding a tile back splash. (For a basic tiling tutorial you can read more here.)
Cleaning out the clutter. I have no idea how this happened to my kitchen in just a couple of years. I kept telling myself that I would keep my counters clean after the kitchen was 'finished'. Well, I am happy to say that I am keeping my counters clean from now on, because that mess was ridiculous.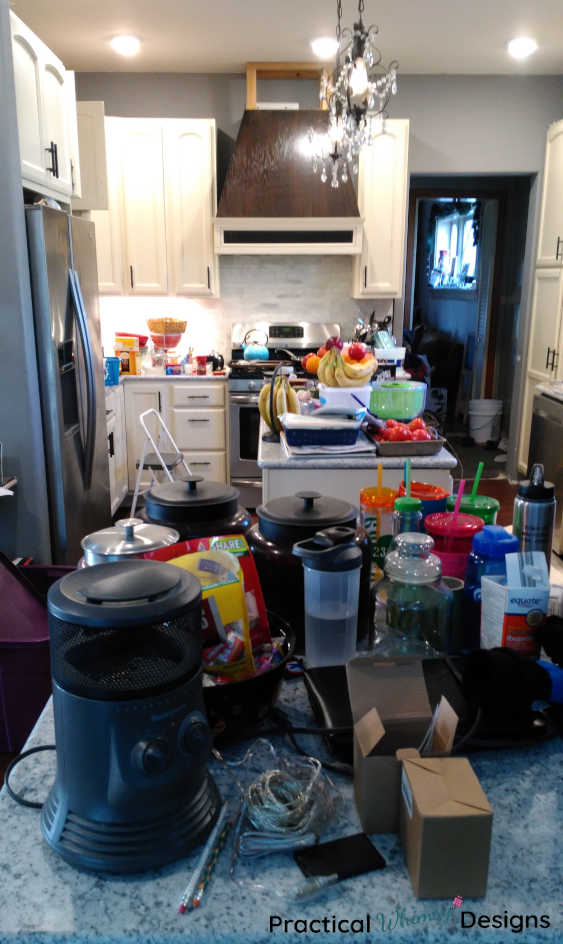 Adding trim around the kitchen window and adding crown molding to the cabinets.
Kitchen Remodeling Progress
If you want to see the full kitchen reveal photos you can check them out here.
Even though there are a few spaces that aren't quite there yet, the overall kitchen is complete and I didn't want to wait to show it to you.
(Ex. The back door area off of the kitchen needs to still be remodeled still, we still haven't touched the dinning room, and there are a few pieces of trim missing here and there.)
This fixer upper journey is quite the adventure and I am excited that I get to share it with you.
Hey! I would love to hear from you. What is one of your craziest remodeling stories? Let me know in the comments below.
Want to remember this post? Save it to your favorite DIY board on Pinterest.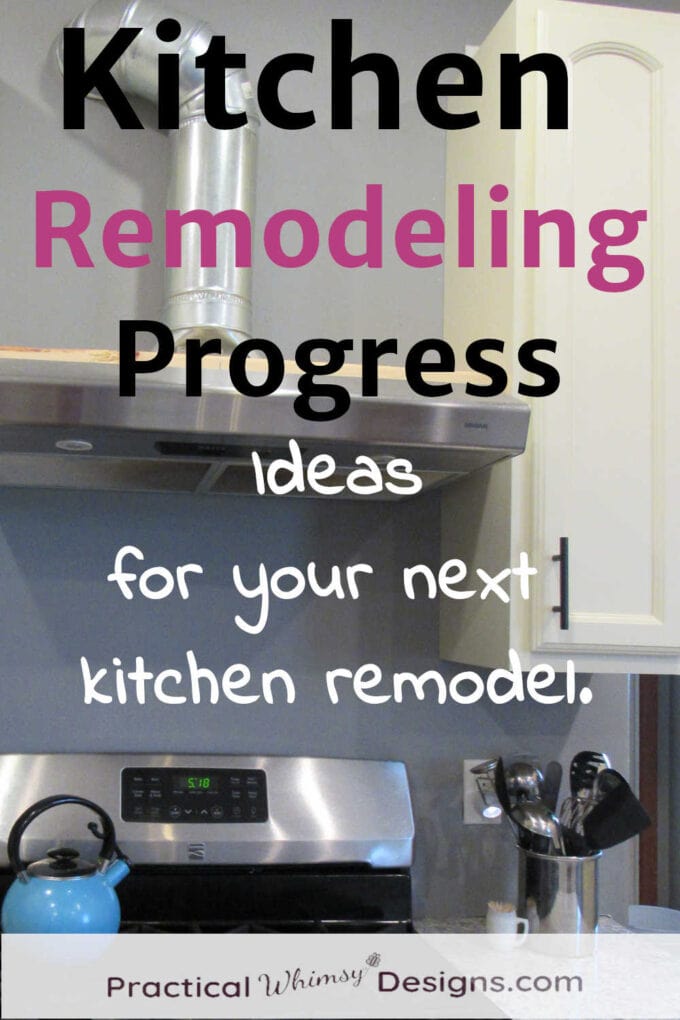 Want More Great Ideas? You Might Like These..