This bathroom was the culprit that caused our remodeling plans to take a drastic change. Check out our master bathroom design plans to turn our lime green dated lavatory into a sophisticated and sleek oasis.
This week I am very excited to show you the plans for our Master Bathroom. We have been working on this space for a while now. It was in desperate need of some help.
Since I am so excited for the transformation that this room will take, I chose to finish this room as part of the spring 2019 One Room Challenge.™ If you are unfamiliar with the One Room Challenge™ (or ORC) it is a challenge where 20 designers transform a room in 5 weeks. Each week they post their progress with their 6th post being the reveal of their finished work.
Along with these 20 designers, hundreds of other bloggers and designers join in as guests and work to complete a room as well.
If you are in need of a little design inspiration you can check out all of the designs at the One Room Challenge™ Blog.
I am looking forward to seeing all of the transformations in the next few weeks and exploring all of the fun designs.
Now, to introduce you to our project.
Is This The Master Bathroom?
There were several quirks about our master bathroom. Before I go over them, I will say that I'm grateful that there is a master bathroom. In the original floor plans that we had found for our house, the area that our bathroom is in now was a back staircase that came out in the kitchen.
The previous owners took that staircase out and added the master bathroom.
However, there were 3 major issues that I had with this master besides the fact that everything was dated and falling apart.
1. Claustrophobic Hallway
Because this bathroom was built in a space that was only big enough for a stairwell it was TINY!
The entrance to get into the bathroom was along the wall of the closet in the Master Bedroom. It was this tiny 2 foot walkway that was closed off until you walked into the bathroom. I think my shoulders could touch either side of the hallway as I walked in. I wish I had taken a better picture of it, but you can see the entrance to the right of the closet in this picture.
Then you can see the studs of the wall after we had opened up the space in this picture. There was NOT a whole lot of room to maneuver.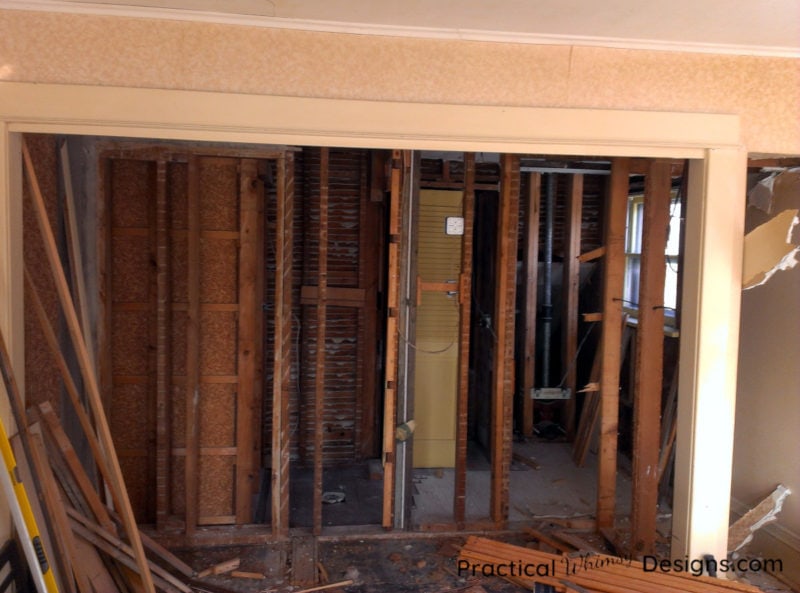 To add to the tiny hallway issue was the problem of the space in the bathroom. My husband and I aren't high maintenance, but there was no way we could both brush our teeth at the same time in this master bathroom.
2. It was lime green and there were frogs EVERYWHERE!
Did you catch that?
Yep! There were frog figurines EVERYWHERE when we first moved in!
On the back of the toilet, stuck to the edge of the mirror, on the window sill, in a display case!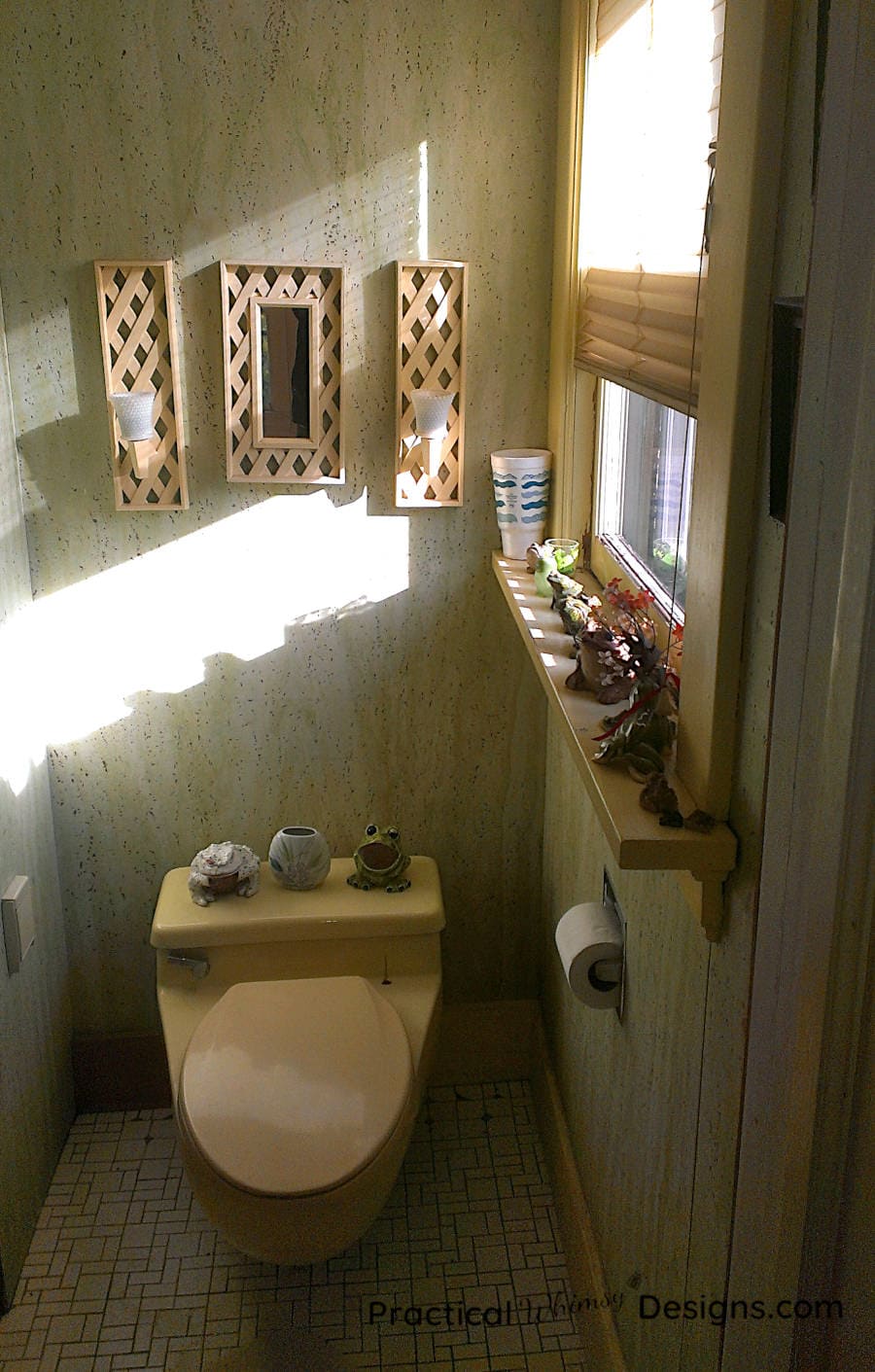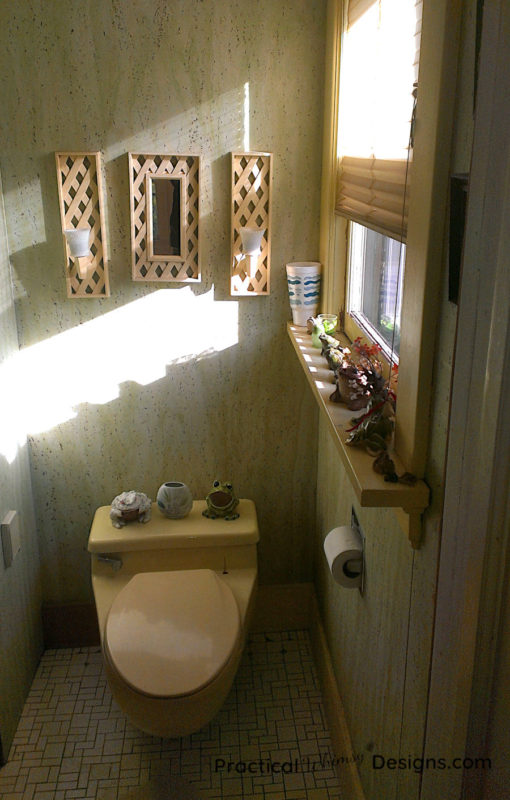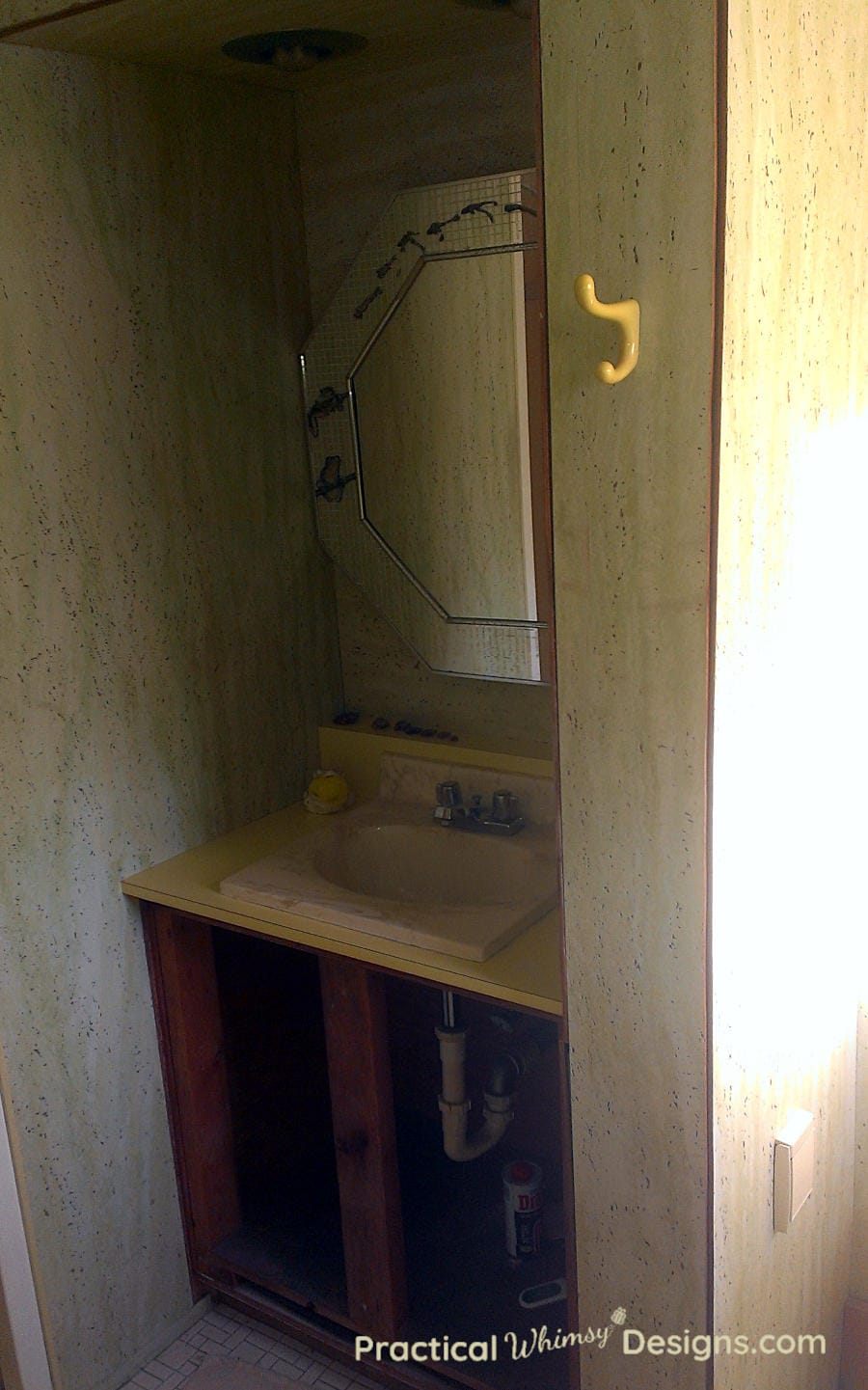 Now… I don't mind frogs, but there is a place for everything and my master bathroom is NOT that place.
Plus, the walls were this weird green and white paneling.
Nothing about this bathroom screamed elegant master. It was definitely not the oasis that I was hoping for.
3. I was afraid the shower would beam me into outer space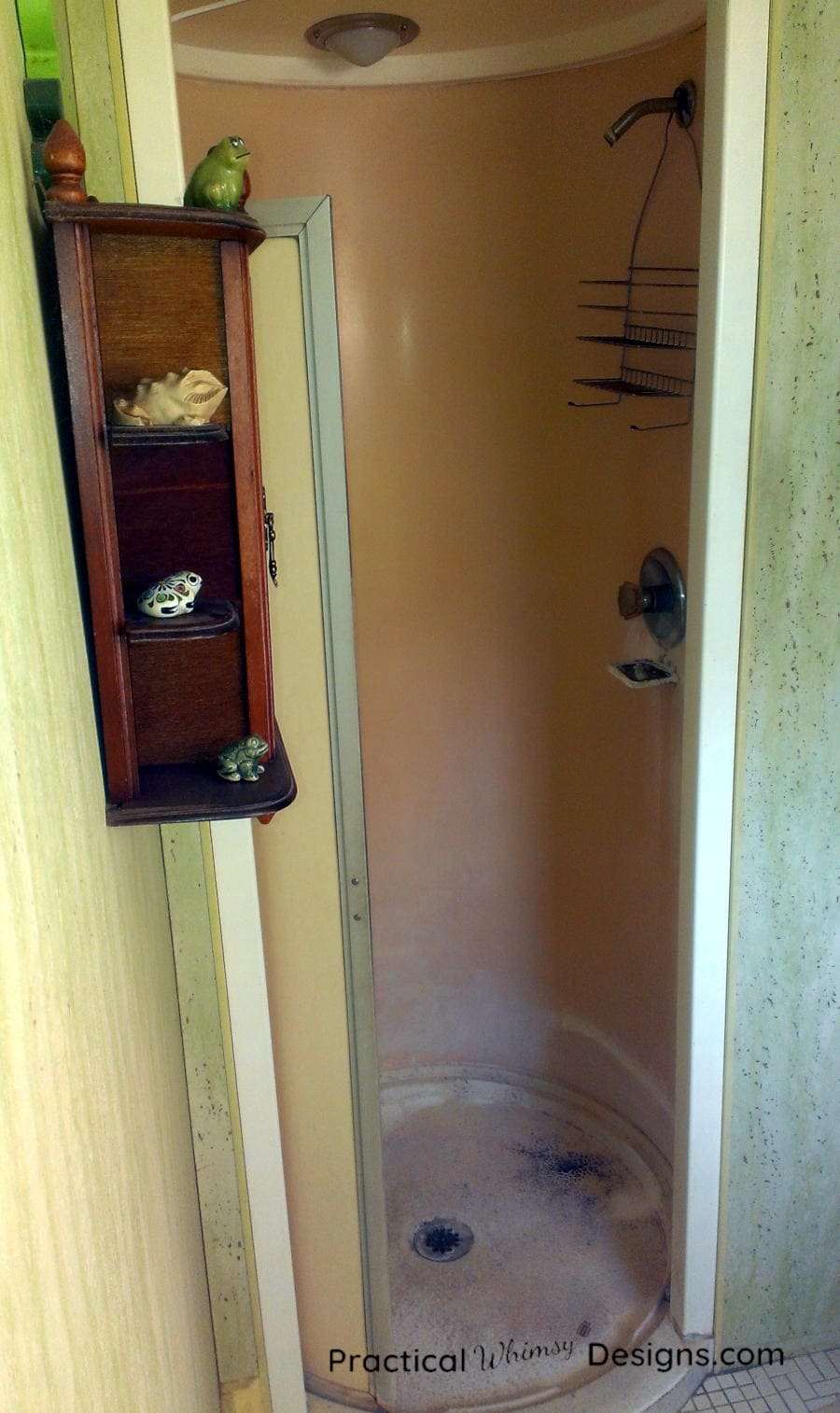 I'm not sure whether this shower is cool or frightening.
I never got to actually take a shower in it thankfully sadly, but I couldn't pass up this photo op for any of you space fans. 'Beam me up Scotty, I got to use the potty'.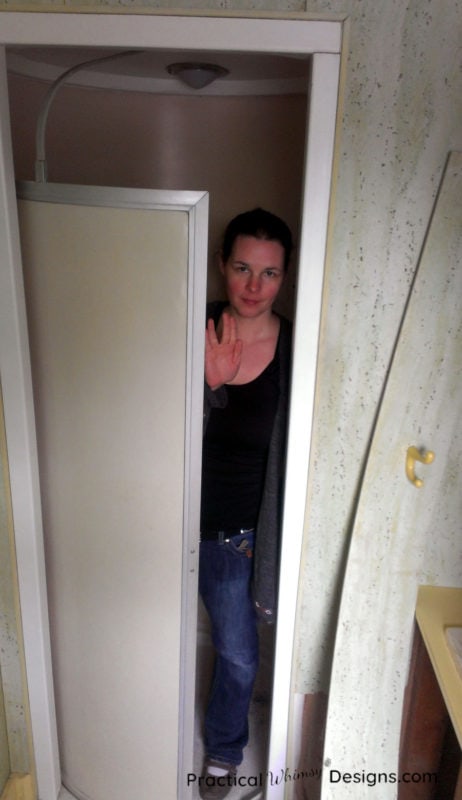 This shower was NOT going to cut it long term.
Change of Plans a.k.a Where the Mess Started
Now, for those who don't know or need a re-cap, we purchased a 100 year old house and have been slowly fixing it up while we live in it.
Shortly before we moved in a pipe burst in the master bathroom causing us to have to gut the kitchen, master bathroom, and kitchen bathroom.
So, it was this bathroom that started us on the remodeling adventure we are on today. It is the culprit that caused us to cook in a temporary kitchen in our 52 degree basement for 1 1/2 years. (Ok. It was only that cold in the winter, but 52 degrees sounds more dramatic when I type it.) It is the reason our family of 6 is still sleeping in the living room together. (We blocked it off from the rest of the house while we are remodeling to keep our kids out of the construction dust.)
I mean, I appreciate a good camping trip now and then, but 3 years in one room is a little too long.
This master bathroom is the reason we are not living upstairs yet, so there is something exciting and fulfilling about finishing this room.
Catching Up On the Progress So Far
There was absolutely no way we would have been able to do all of the things that needed doing on this master bathroom in 5 weeks so we did do a few things ahead.
The burst water pipe took care of all of our demolition. The abatement team had to gut the bathroom to keep any mold from developing after all of the water that leaked into it. It also took care of the shower. There was no choice in the matter. My connection to space was removed with the green and white paneling.
The first thing we did to the bathroom was take out the master closet (we are re-locating the closet) and add it to the master bathroom space. This will be our shower when the bathroom is completed. This allowed us to take down the narrow hallway by angling the entrance into the shower thus providing more space when you walk into the bathroom.
It also gave us the ability to add a second sink area where the old shower sat.
So far we have finished the dry wall and mud and installed a new window.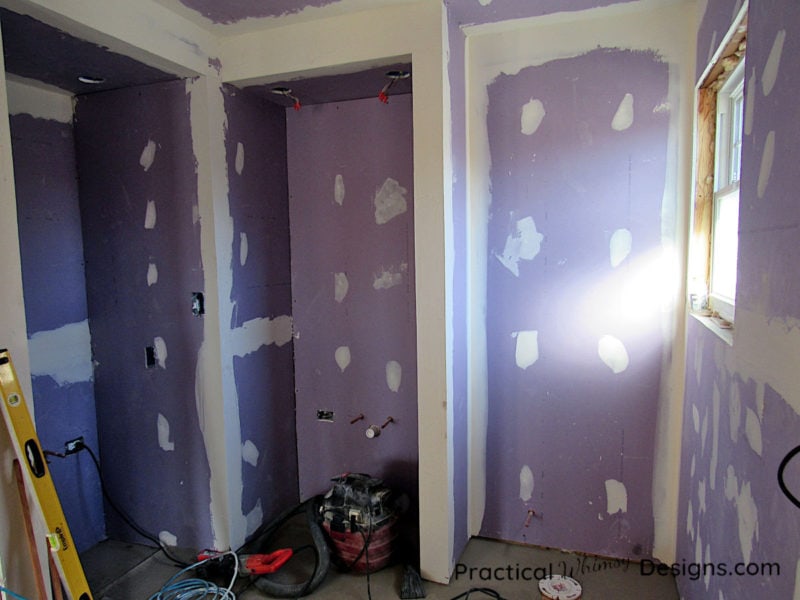 My husband also made a custom shower pan for the master shower.
We have put electric in floor heat on the floor and put leveler over the top to prepare the space for tile.
Ha ha! My hubby didn't know I was going to take this picture of him, otherwise I'm sure he would have smiled enthusiastically.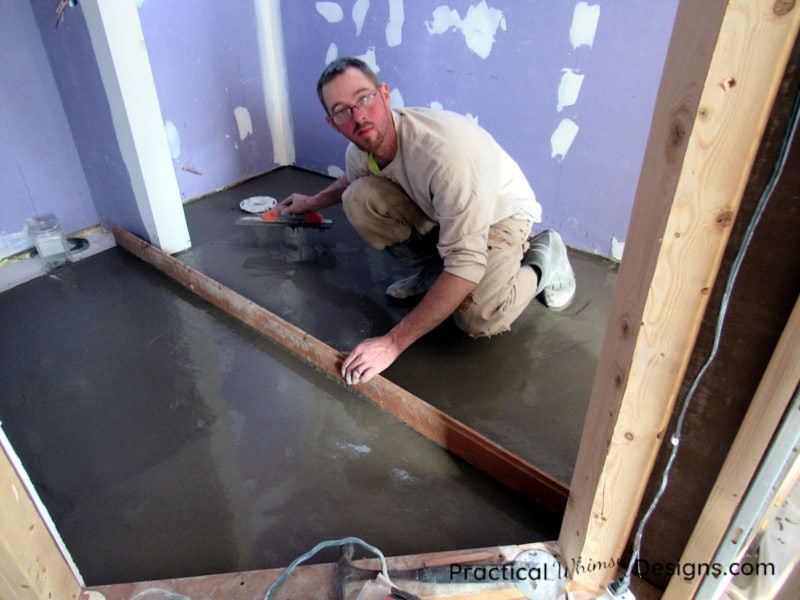 We also have finished the floor tile, which is a good thing because we have a CRAZY amount of tile going into this bathroom.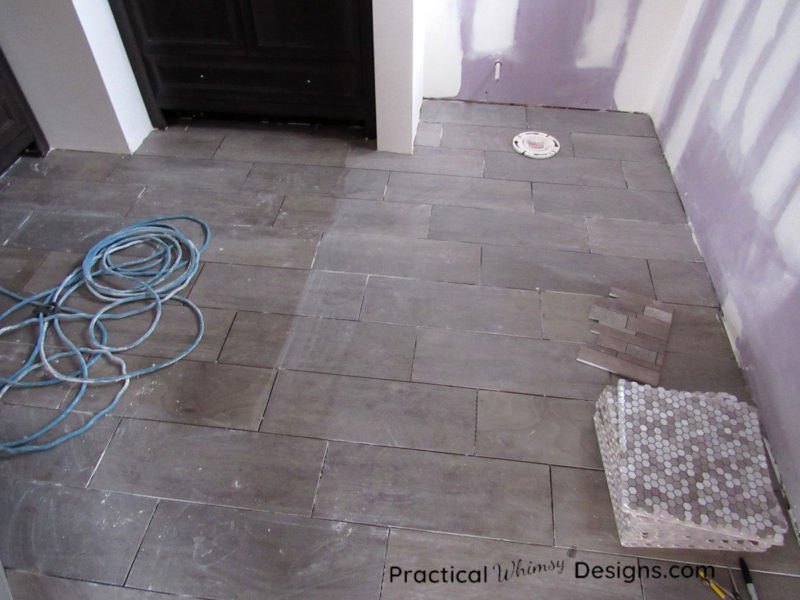 Master Bathroom Design Plans
I wanted to end by posting our mood board again so you can be reminded of our end goal. I am SO glad that the lime green walls and frogs are no longer a part of our design and can't wait to pull together a more elegant and sleek look for our master bathroom.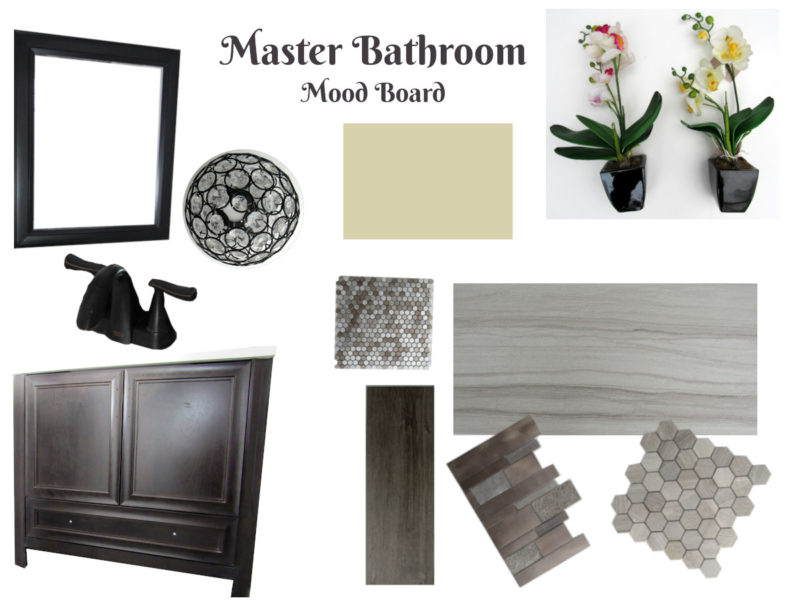 Hopefully the master bathroom design plans have given you an idea of where we are headed. I am so excited to keep working on this space and showing you the updates as we progress through the next 5 weeks! If you want to see our progress, visit week 2 and week 3 of our Master Bathroom renovation.