We made it past the middle mark on our Master Bathroom ORC week 4 renovations! Check out the completed tile, paint, and lights.
Do you know what feels amazing?
Putting in that last piece of tile on our Master Bathroom remodel!
Our room looks a little like a disaster zone, but this is what remodeling looks like. You make a mess to make things better, right?
We are on week 4 of the One Room Challenge and I can't believe how quickly it is going. We have definitely come a long way since the beginning of this bathroom renovation. If you want to see what our master bathroom looked like before our remodel you can check out our master bathroom design plans here.
(Also, to re-cap on what the One Room Challenge is: It's a creative challenge to give bloggers and designers a support system as they complete a room redesign or remodel in 5 weeks. On the 6th week they reveal their completed project. If you want to check out all of the other rooms in the challenge, you can go to the ORC blog and be inspired by all of the remodeling genius taking place.)
Master Bathroom: ORC Week 4 Goals
Our goals this week were to:
Finish tiling
Paint master bathroom ceiling and walls
Install the lighting
I didn't think we were going to get it all done, but we did! I am still doing a mental happy dance now that our tile is done! My husband is beyond relieved to not have to tile for a looong time.
I am so excited about how the shower turned out! I can't wait to show you!!!
………….
But not yet…. It will be a surprise for the big reveal in 2 weeks.
Shining Some Light on the Master Bathroom
One of the things that makes the shower so cool is the lighting inside the shower. My husband was able to hook up the fan, shower lights, and vanity lights this week as well.
When the finishing touches come together, it starts to get me super excited. Can you tell I am pumped about this renovation?
Here is a sneak peak of the lighting….
You didn't think I would show you the finished product and ruin the surprise! What fun would that be?
What in the World Did I Do This Week?
You are probably noticing that my husband seems to be doing all of the work on the bathroom this week and you are totally right. Without him, this bathroom wouldn't have happened.
However, I wasn't just twiddling my thumbs this week.
I got to do the not so glamorous, but still necessary job of sealing the stone on our tile. This protects the stone and keeps it from discoloring.
I also painted the ceiling and walls.
We went with an off white ceiling and grey walls.
Work it.
Work it.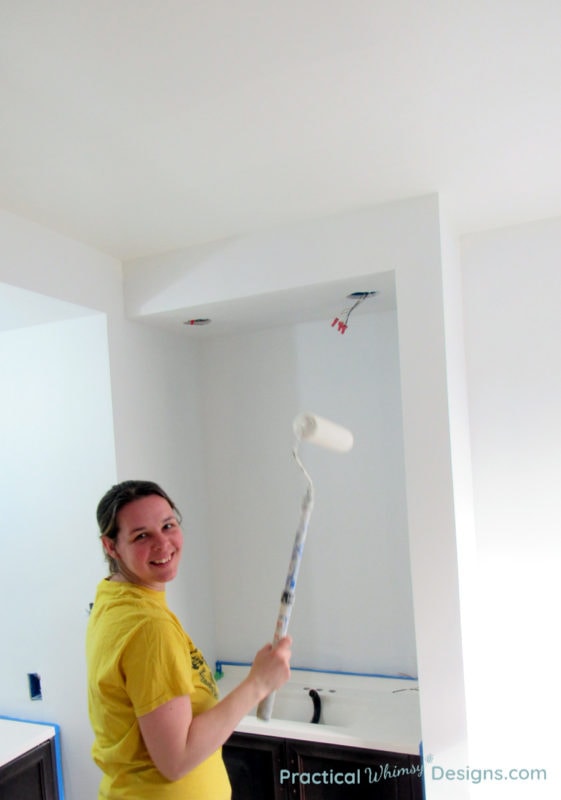 If there was a fashion show for painting, I don't think I would win, but the job is done.
Stay Tuned for Next Weeks' Episode
So, what do we have planned for next week? I am so glad you asked!
We have to start wrapping up our project, but there is still so much to be done.
We need to:
Install the toilet
Hook up all of the plumbing
Grout the tile
Seal the grout
Paint and install the trim
Put on the bathroom door (Yes, privacy might be nice!)
Tune in next week for the final remodel adventures before our big season finale: The Reveal. Can't wait to catch up next week.
If you want to see how we have progressed through our project, check out week 2 and week 3 of the Master Bathroom ORC renovation.