Not sure how to organize LEGO kits? These tips will help give your kids tools to organize Lego sets and keep them organized.
Updated, Original post Jan. 24, 2019.
It seems that a lot of parents have a love-hate relationship with Lego blocks.
Legos are a great way to encourage creativity and can provide hours of fun. They also can double as a middle of the night obstacle course for those unlucky enough to venture across the living room without the lights on.
Finding a good system to organize Lego sets presents another challenge. There are many different methods and clever ways to keep Legos organized.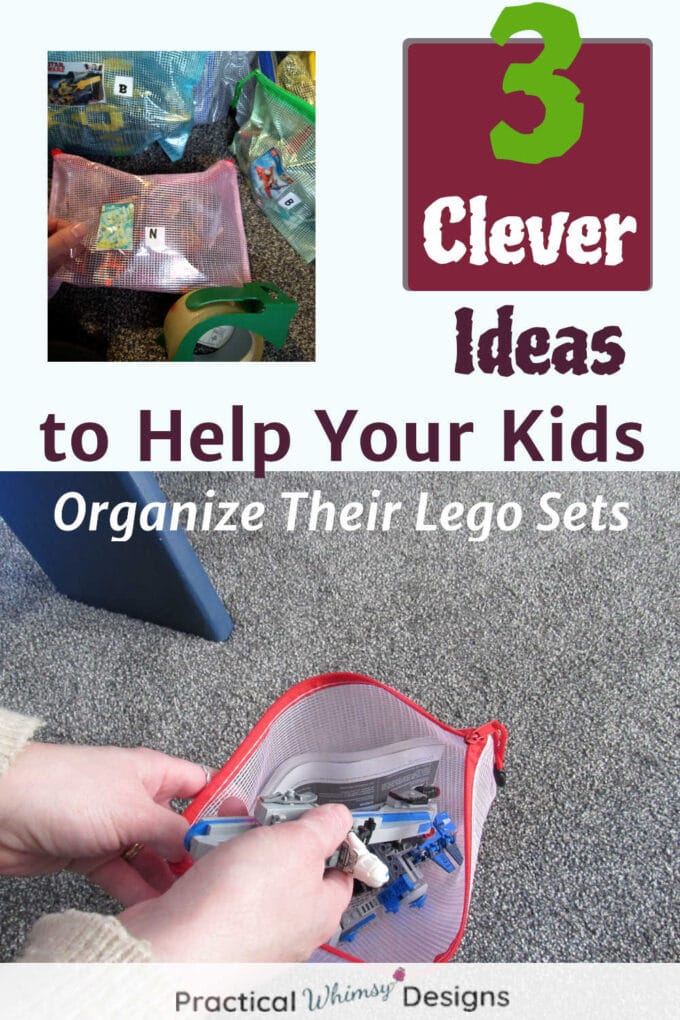 One of the easiest ways is to dump them all together in one big box and let the kids dig through to find the pieces.
However, since my kids enjoy putting together individual sets and since I spend extra money for those Lego sets, I wanted to come up with a Lego organization system that gave my kids a framework to allow them to keep track of their Lego sets on their own without my help.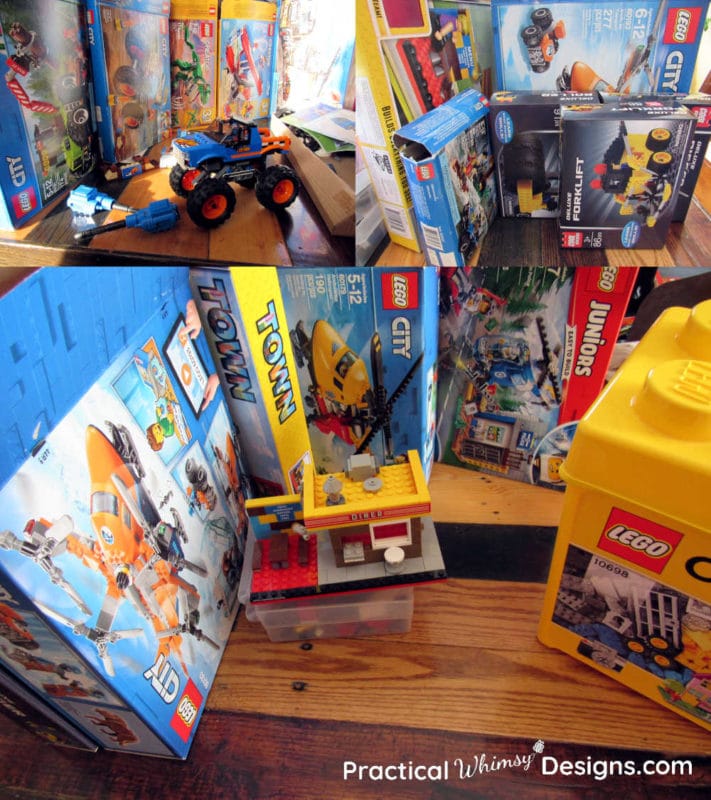 Below are the 3 Lego storage solution tips that have helped my kids keep their Lego collection organized and their Lego sets from getting mixed up.
3 Tips to Organize LEGO Sets:
Tip 1: Use Pictures to Organize Lego Sets
Now, this is the part that is the most time consuming, but it is the thing that has contributed the most to the success of this system. It is an easy way to help your kids stay organized.
Take pictures of each kit and download them to your computer. Print them off using whatever software you use to print documents.
Note: I cropped my pictures first to save on ink, using the image viewer that came pre-installed on my computer. I then resized them on Microsoft Word before printing them on regular printer paper.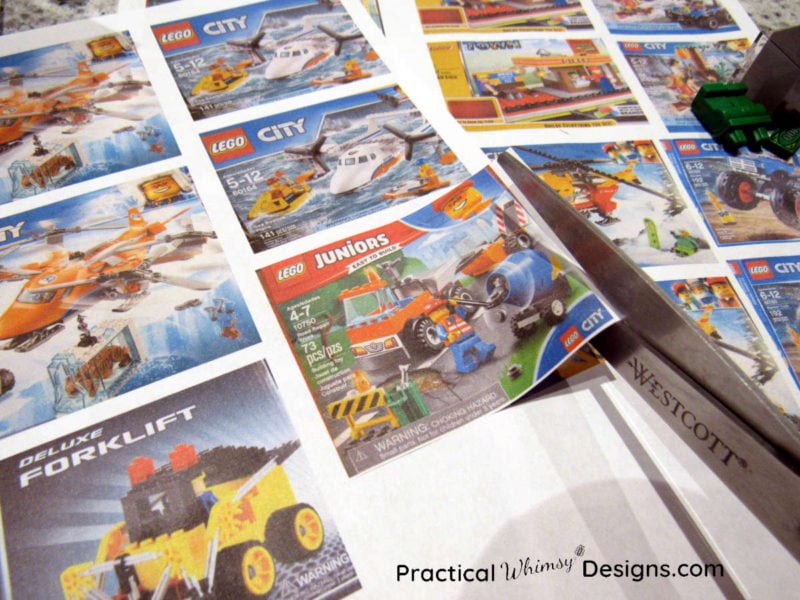 This post contains some affiliate links for your convenience (which means if you click a link and make a purchase I will earn a small commission at no extra cost to you). Please see my disclaimer page for more information.
Cut the pictures out and tape them on the front of your container with packing tape.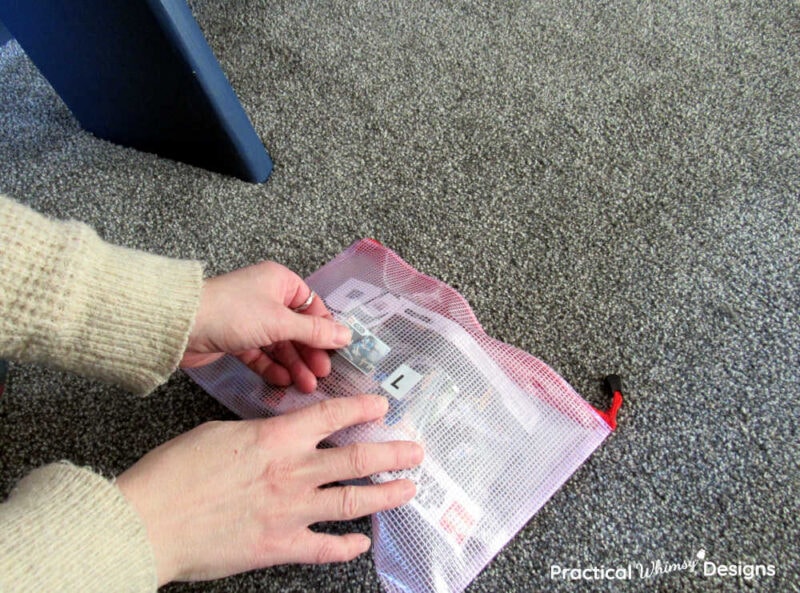 I took it one step further and printed the first letter of my kid's names. These I taped next to the image of the LEGO sets they own. That way it is easy to see which Lego sets belong to whom and put them in the correct storage drawers or shelves.
Tip 2: Use large enough containers for each kit
Using storage containers that fit a particular set after it is built is important to the success of this organizational system.
Kids are much more likely to put a Lego set away in tact if they don't have to pull it apart to store it.
The best storage solution will depend on your storage space.
If you have a larger area to store Legos, using plastic clear containers can be a great option for Lego storage. Using a clear box makes it easy to see what is inside.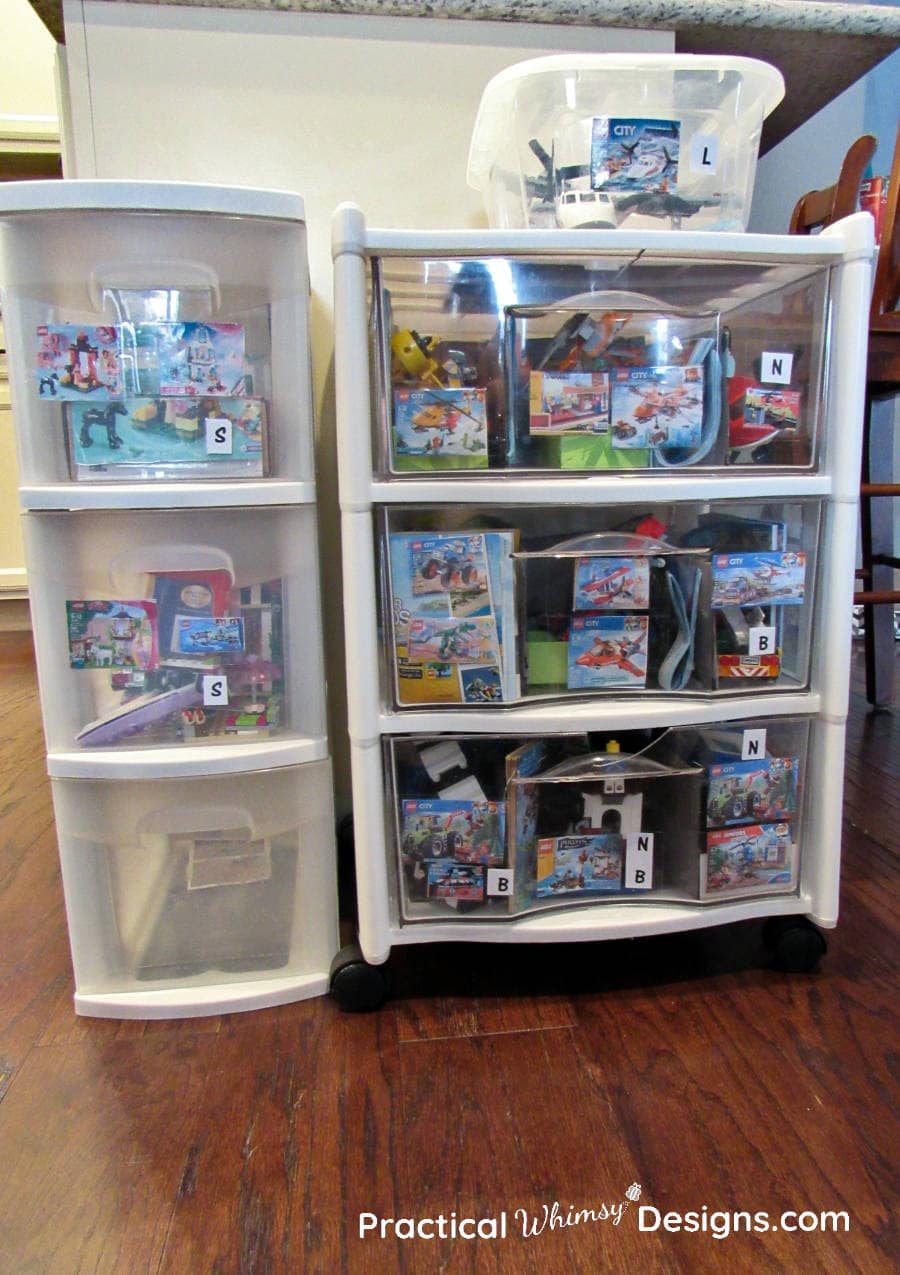 For example, in the kids' basement play area we had more wall space and a large open shelving unit to stack clear plastic shoe boxes and Lego boxes. This was a great idea for storing individual sets. Each set had its own box and the kids were able to keep everything together easily.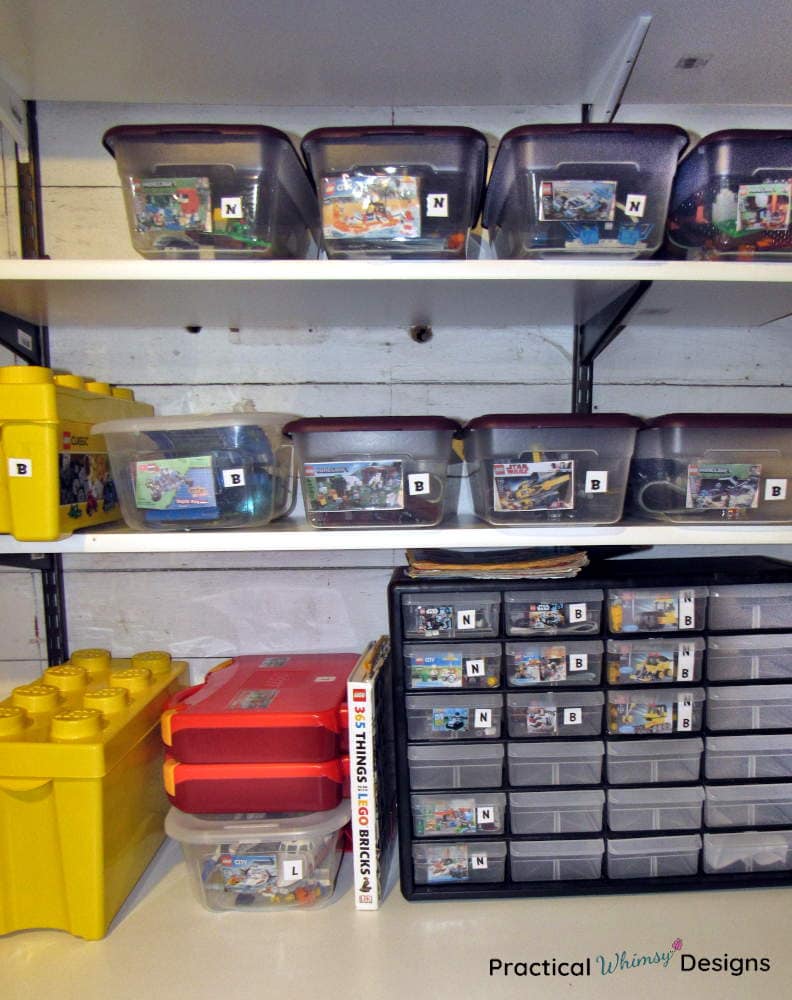 We also used a clear plastic drawer system with homemade paper dividers for large sets and a hardware organizer for smaller sets.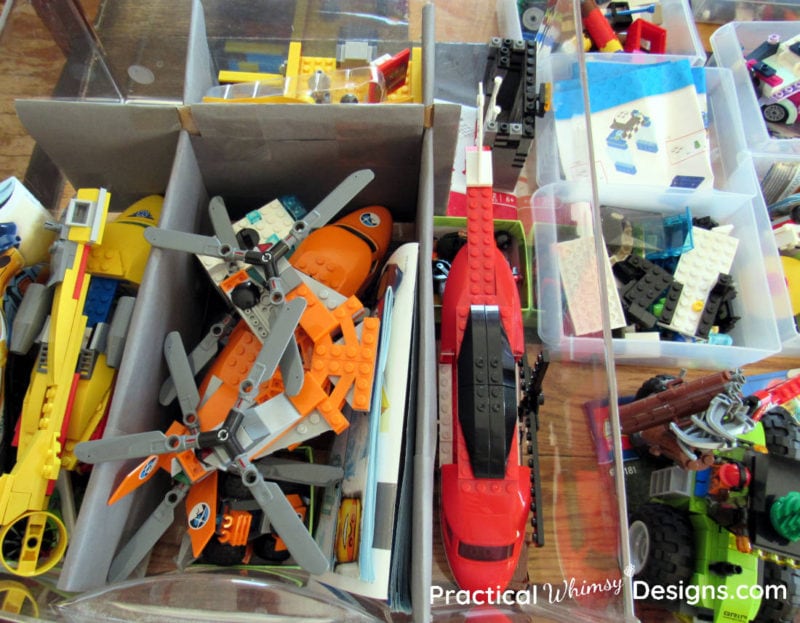 Click on the storage container images below to shop similar items.

Our newest method of storing Legos
Now that we moved the boys into their newly remodeled bedroom, there wasn't room for all of the clear plastic bins.
Instead, I purchased this storage bag option. It comes in different sizes and is the perfect solution for their smaller room space. I can fit all of the little pieces and Lego parts as well as the instruction booklet into each bag.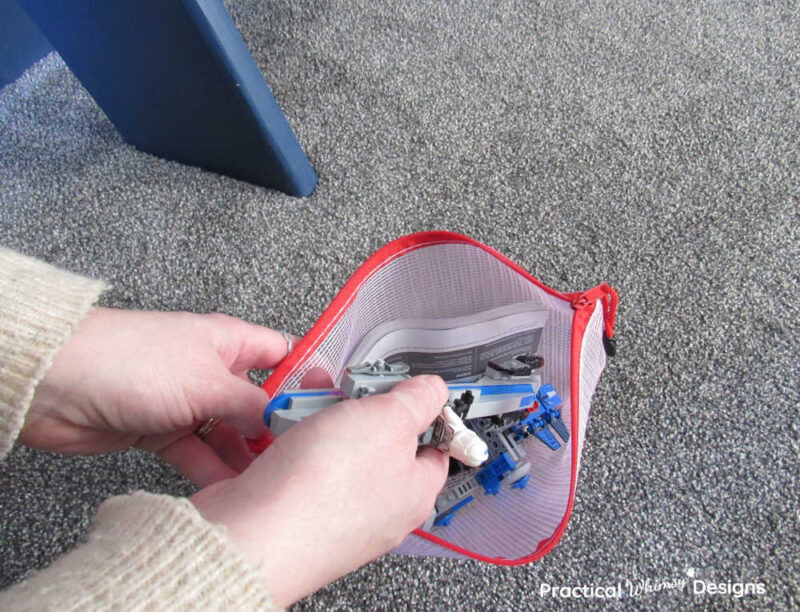 I then placed the bags in the fabric storage bins I repaired. Any fabric box or storage basket works well to keep these bags contained.
Tip 3: Use small bags to keep track of the tiny pieces inside each container.
If your Lego sets come with a lot of extra small pieces, using small ziploc plastic bags is a great solution for keeping track of any spare parts.
Throw any tiny bricks, extra mini figures, and replacement pieces into the ziploc bag to keep them from falling out of the container and getting lost.
Bonus Tip: Start right away when you have a smaller collection of Legos
The first time you organize the Lego kits can be pretty time consuming, depending on how many you have to sort. Make sure you give yourself enough time to make a mess and clean it back up.
If you can start this system early on, it will save a ton of time!
What We Do With New Lego Sets
The best part about this method is that it is fairly easy to add on to it. I like to keep extra bins and storage bags on hand in various sizes. When my kids receive new Lego sets, I take a picture of the box, print it out, and tape it to the bag right away.
Now that we have the system in place, it doesn't take a lot of time to keep things in their proper place and this method is a fun way for the kids to be able to keep track of their Lego creations and sets without help.
The important thing is to stay on top of the new Lego sets so they don't add up.
If you have a Lego enthusiast and want a few fun Lego gift ideas, take a look at this Lego gift guide I put together.
Click on the images below to shop for some great Lego storage options.

Want to remember this for later? Save it to your favorite organization board on Pinterest.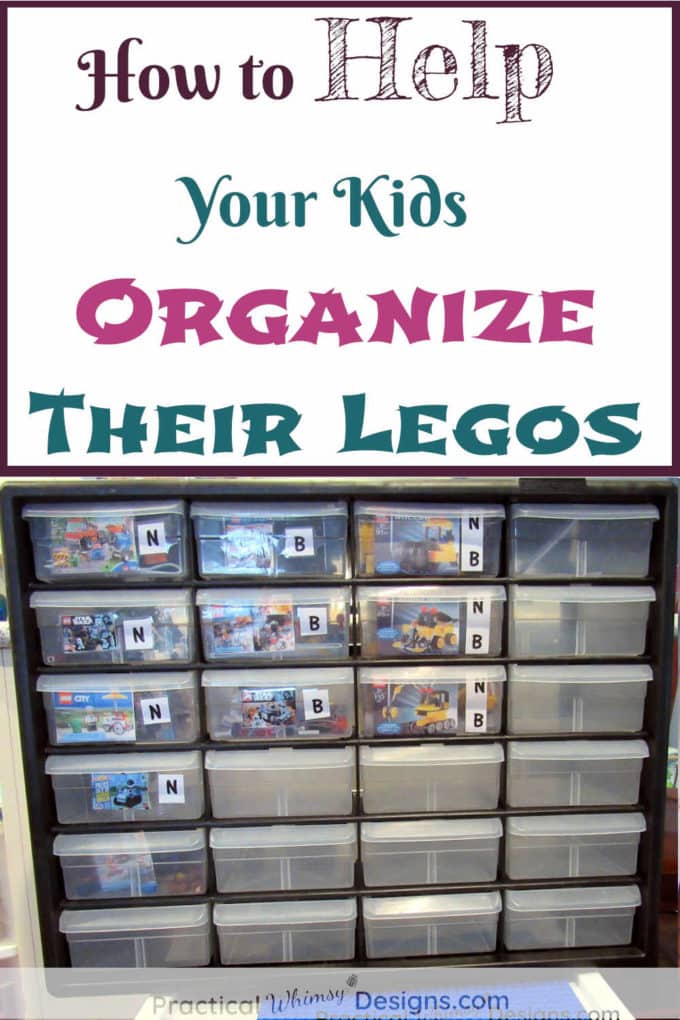 Want More Great Ideas? You Might Like These..