Not sure how to organize LEGO kits? Use these 3 tips to help your kids keep their plastic kits in one piece and keep things organized for you.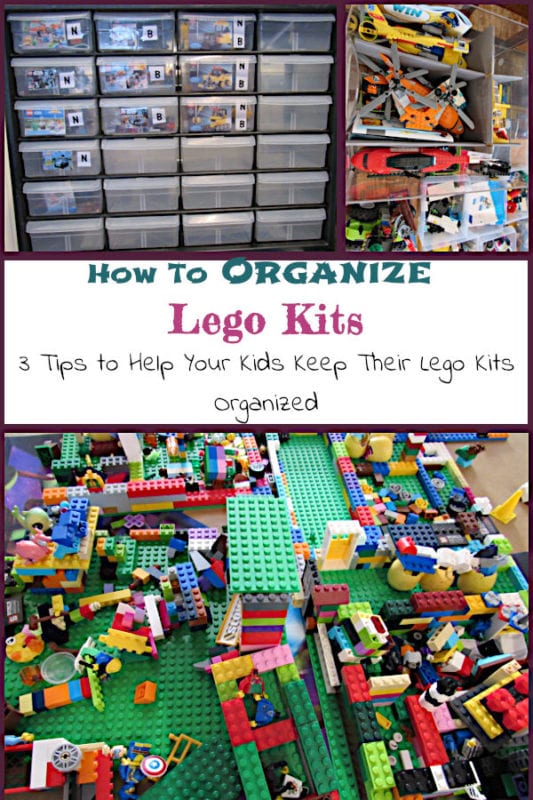 Updated, Original post Jan. 24, 2019.
LEGO kits are expensive.
It boggles my mind how little plastic squares can be so pricey! Yet every year we somehow manage to accumulate more of them.
And the more LEGO kits we get, the more mixed up they become. As a result, the task of keeping the kits organized becomes more daunting.
There is this part of me that cringes every time I see my kids mix all of the kits together. If they are going to do that, then I'll just buy them the box of miscellaneous LEGOs at the store and not spend extra on the cool helicopter rescue vehicle, if you know what I'm saying?
This Christmas, our kids made a LEGO haul! (Among other brands) When there are 4 kids in the family, the boxes of LEGOs and other building blocks accumulate quickly.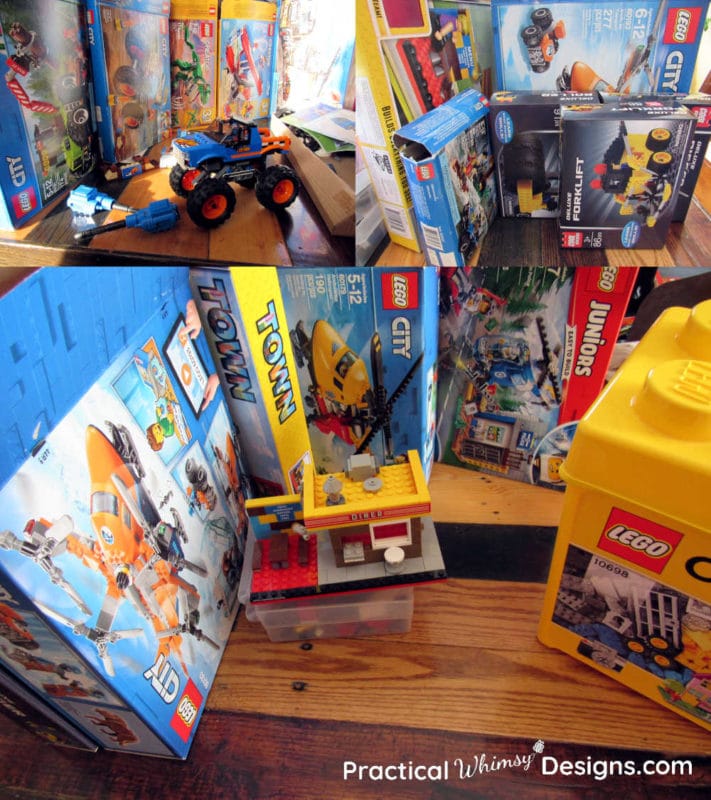 I figured it was time to step in and organize their new blocks before they became hopelessly intermixed.
My goal: to create a framework to allow the kids to keep track of their LEGO kits without my help.
This post contains some affiliate links for your convenience (which means if you click a link and make a purchase I will earn a small commission at no extra cost to you). Please see my disclaimer page for more information.
What you will need:
Lots of containers

(I used a large tool organizer like this one for the smaller LEGO sets, shoe box organizers (I usually get these at the dollar store) and drawer organizers similar to this and this for the larger sets, though any drawers can work. You could also use larger totes)

Small boxes and plastic sandwich bags to organize pieces within the larger boxes
A camera, a printer, scissors and tape (I like to use clear packing tape like this) to make labels
3 Tips to Organize LEGO Kits:
Tip 1: Use Large enough containers for each kit
Using containers that fit a LEGO kit after it is built is important to the success of this project.
I had attempted to organize my kids' LEGOs in the past, but had used containers that were too small. The kids had to break apart their kits every time they needed to put the blocks away. This was time consuming and hard to do, so my kids eventually gave up keeping them separated.
Now, this doesn't mean that you have to go out and spend a ton of time measuring each kit and buying expensive containers. Any plastic containers can be used to create LEGO storage. I had a few larger drawer containers that I had picked up at a garage sale.
Using cardboard pieces as dividers, I was able to fit multiple kits in each drawer. I cut the cardboard and wrapped it in construction paper (totally optional, but it gave it a more uniform look). Then I placed the cardboard in between my kits to keep the pieces from getting mixed up.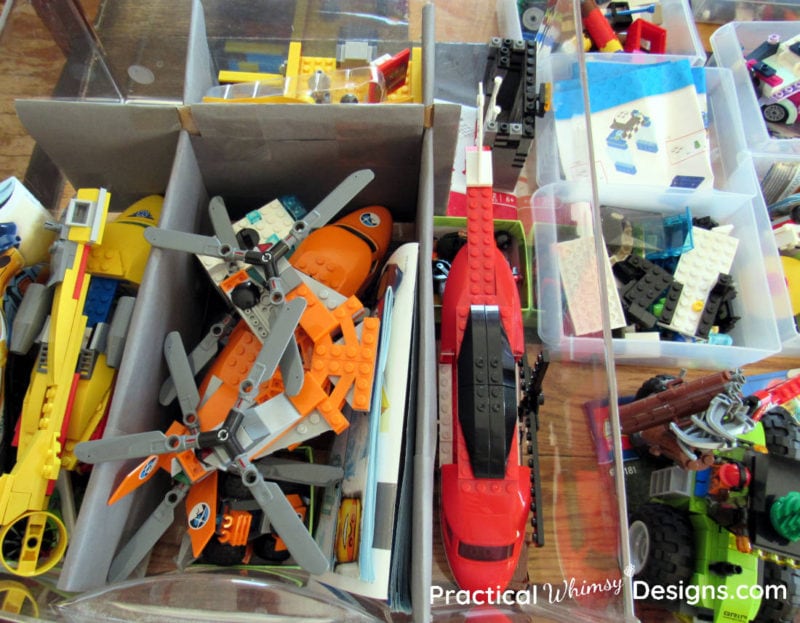 Note: You can cut slits in the cardboard pieces where each piece meets. Slide the slits over the other cardboard piece to create a stronger cardboard frame.
This was a cheap way to create a custom space for each LEGO kit.
Tip 2: Use small boxes and bags to keep track of the small pieces inside each container.
It is very helpful to keep a small box and a bag inside the bigger boxes, especially if you are using dividers to separate your larger drawers or totes. I used the small boxes to put any people or accessories in to keep them from sliding around.
Update: I added a plastic sandwich bag in each container after I discovered that as the kids played with the LEGOS, they weren't always putting everything back together. The plastic bags gave my kids an area to put any sets they disassembled. This kept all of the kit pieces together and prevented them from sliding around in the larger containers. This is especially important if you are using dividers and putting more than one kit in a container.
Tip 3: Pictures are the key to organize Lego kits
Now, this was the part that was the most time consuming, but it is the thing that I think will contribute the most to the success of this system.
Take pictures of each kit and download them to your computer. Print them off using whatever software you use to print documents.
Note: I cropped my pictures first to save on ink, using the image viewer that came pre-installed on my computer. I then resized them on Microsoft Word before printing them on regular printer paper.
Cut the pictures out and tape them on the front of your container.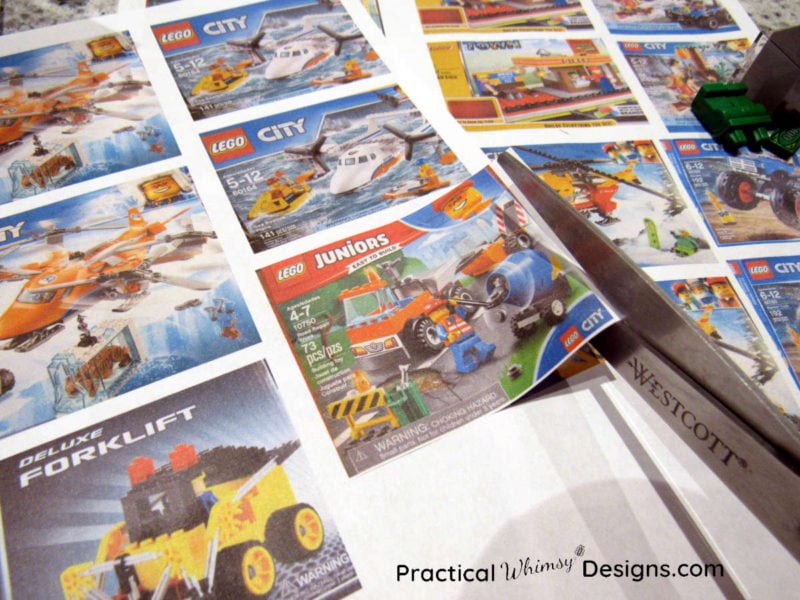 I took it one step further and printed the first letter of my kid's names. These I taped next to the image of the LEGO sets they own. (Hopefully this will limit fighting over kits, or at the very least it will help ME remember which kit belongs to whom.)
Organizing LEGO kits can be pretty time consuming, depending on how many you have to sort, so make sure you give yourself enough time to make a mess and clean it back up.
Now, I know kids are kids, and the LEGOs may still get mixed together, but I wanted to give them a framework to keep them organized. Hopefully with these tips to help you organize Lego kits, your kids will be just as excited as you to keep things clean. (Hey! One can dream!!!)
And I love the way it turned out!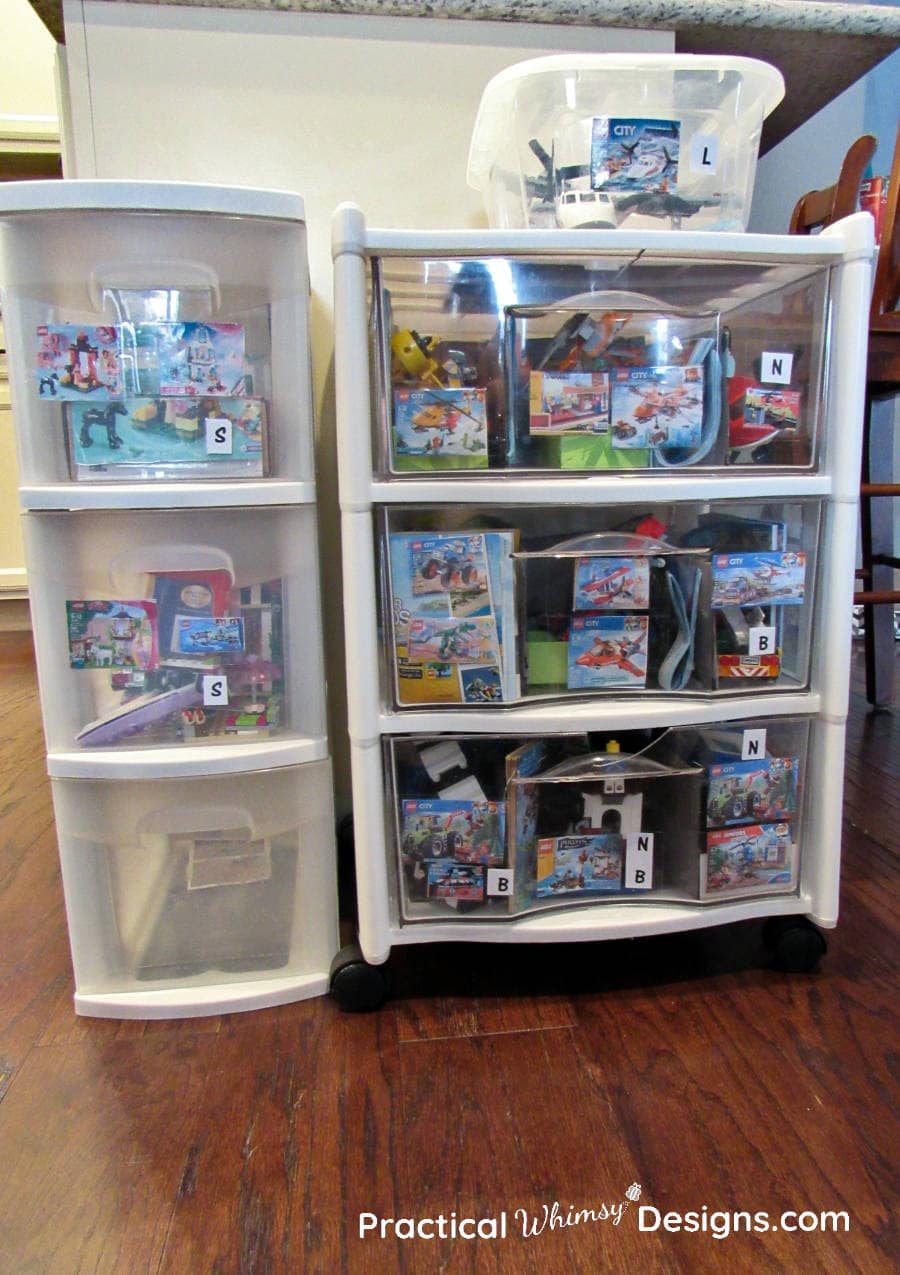 How We Like this Organization Method
Update: We recently organized more new Legos and moved them downstairs on shelves. After a year of trying out this system, the kits were almost entirely in tact. We did have to hunt for a few pieces that were mixed up with other kits, but over all I am happy with this system. The kids are able to put everything away where it needs to go on their own, without my help and only the occasional reminder to keep their sets in the correct boxes.
I still use the drawers and also use shoe boxes and empty Lego boxes to organize everything.
It feels so good to keep things organized and the pictures do allow the kids the ability to put everything away where they belong.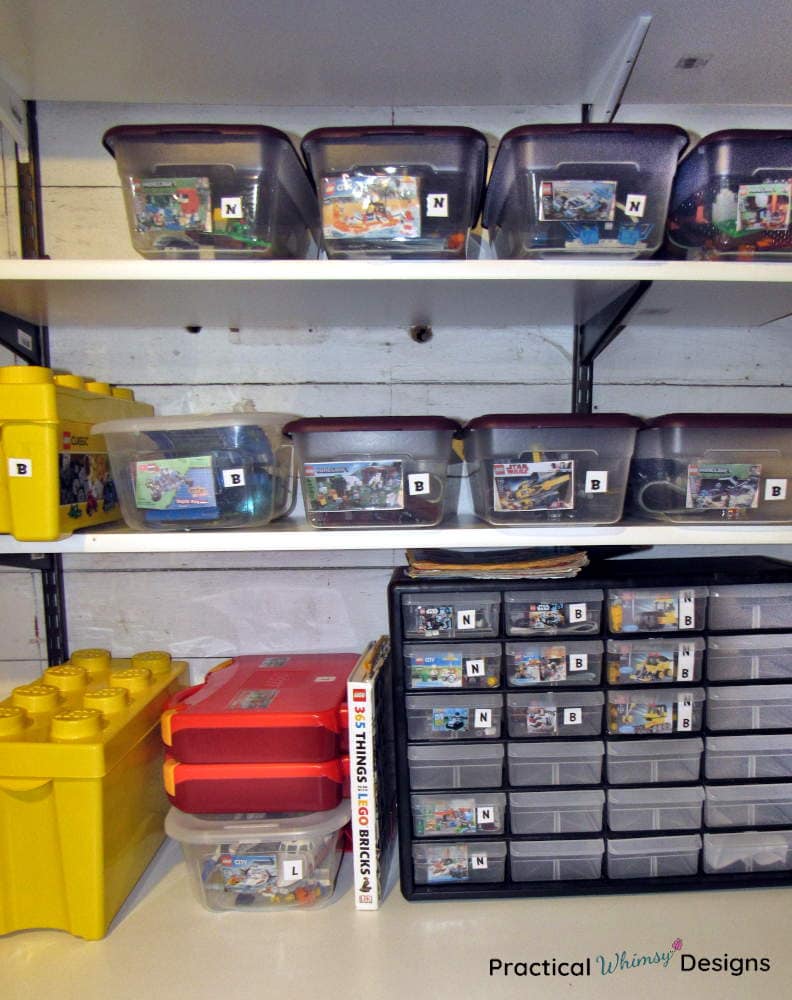 Do you need a few more ideas to help get your home organized? Try this system of folding your clothes that allows you to see everything in your drawer. Or find ways to tackle the infamous junk drawer and get a handle on it.
Want to remember this for later? Save it to your favorite organization board on Pinterest.