This pretty Peppermint Sugar Scrub makes great gifts for the holidays or to give as a host gift. Make sure to make enough for yourself too!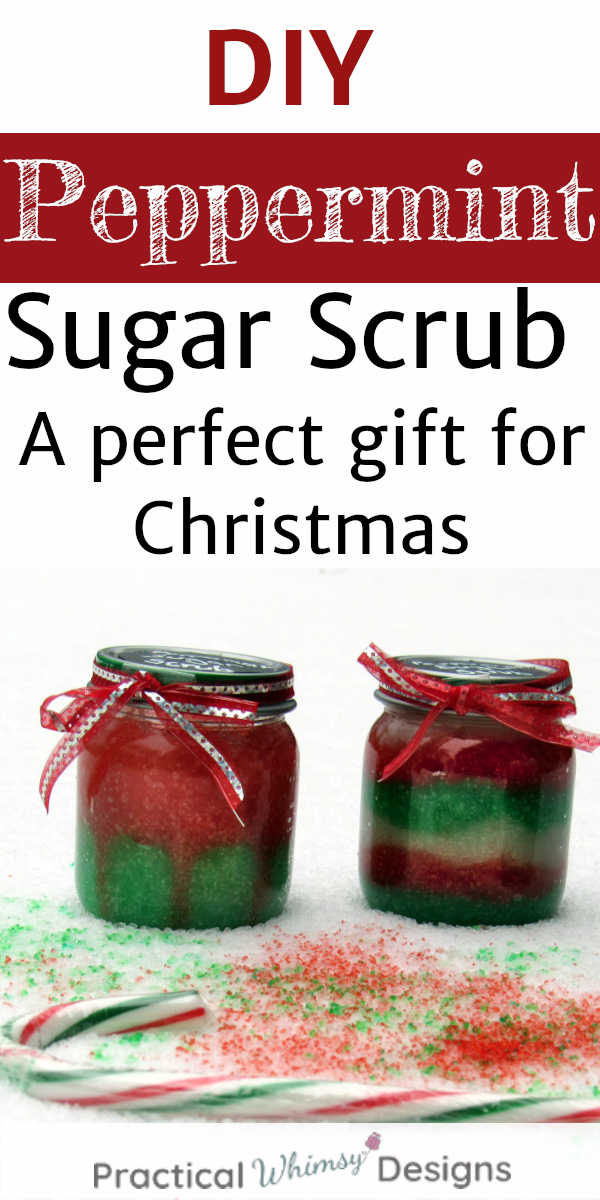 A friend of mine introduced me to sugar scrubs this year and They. Are. AMAZING!
Who knew that sugar makes such a good exfoliate? Add coconut oil and essential oil and wah-lah… a moisturizer fit for heaven! Or any shower or bath, at least.
This post contains some affiliate links for your convenience (which means if you click a link and make a purchase I will earn a small commission at no extra cost to you). Please see my disclaimer page for more information.
Materials You Need:
Steps for making Peppermint Sugar Scrub
Step 1: Mix ingredients
Measure out the sugar into a bowl. Add the fractionated coconut oil. Add the peppermint essential oil.  Mix everything until incorporated.
I recommend using this scrub as a body wash, since peppermint oil can make the eyes burn.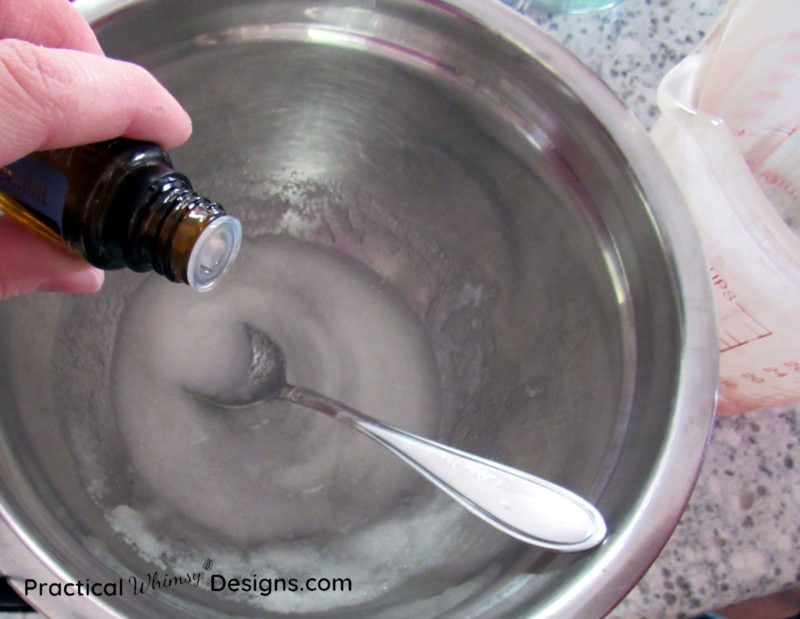 Step 2: Add the color.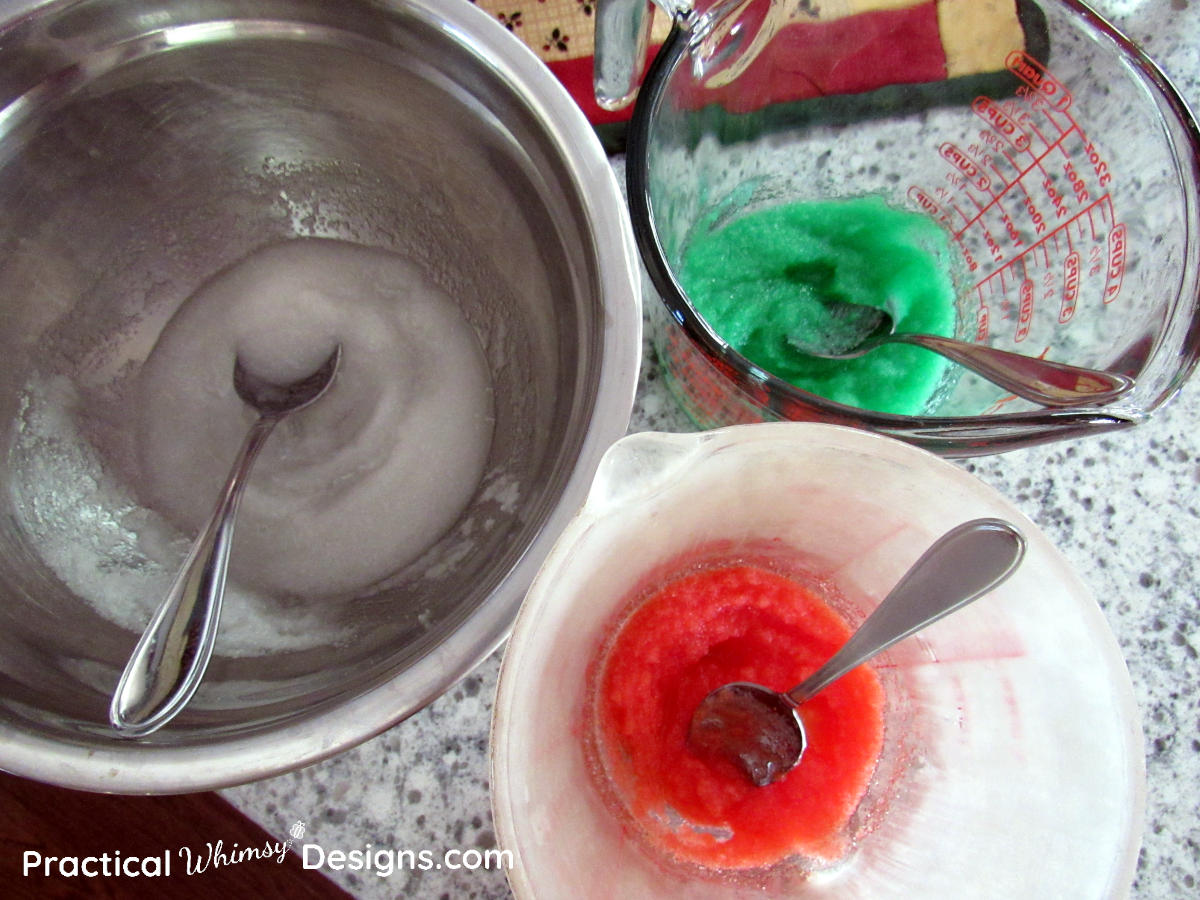 You can either leave the sugar white, or add a couple of drops of food coloring. Separate the sugar into equal portions in bowls. I separated mine into thirds, leaving one white, and added 2-3 drops of red or green food coloring to the other 2 bowls.
Step 3: Put the sugar scrub in jars.
Here is the fun part. Use a spoon to layer the sugar colors alternating between the red, white, and green colors to make a striped candy cane. Push the sugar down with the spoon as you layer to keep the layers as even as possible. Repeat.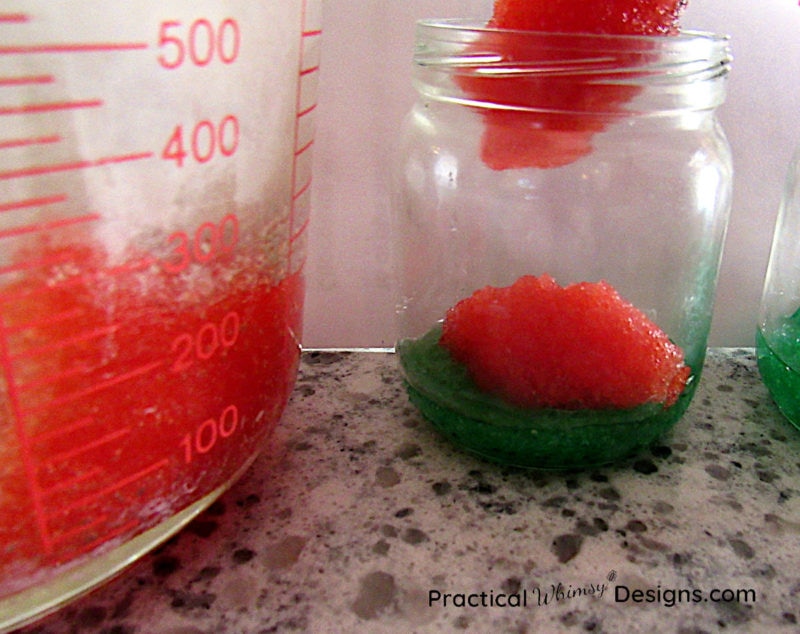 Another fun variation: Use only green and red peppermint sugar scrub. Fill the jar half way with one color. Then fill the jar the rest of the way with the other color. Use the end of a paint brush or pencil and push the top color down into the bottom color in various places around the jar to give the effect of a dripping candle.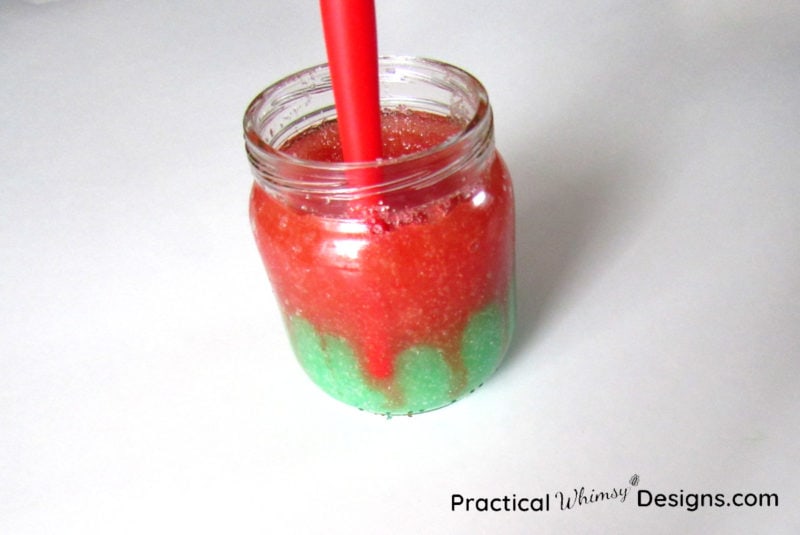 Step 4: Decorate the jars (opt.)
Cut ribbons to tie around the top of your jar cover. Tip: Use a small piece of tape or glue to adhere the ribbon to the cover and keep it from slipping off.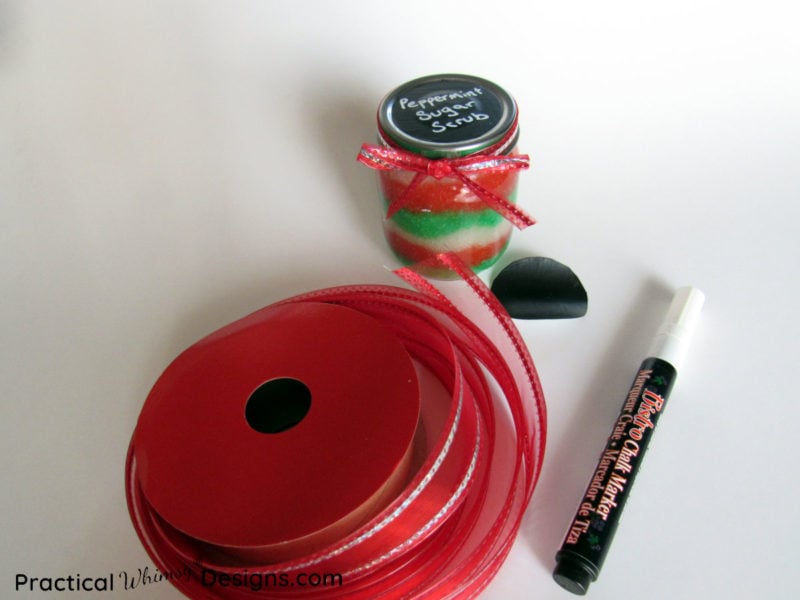 Place a blackboard sticker on the top of the cover and label with a chalkboard marker. You can go here to learn to make your own removable blackboard stickers that are super easy to make and a fun way to label your peppermint sugar scrub jars when/if you gift them.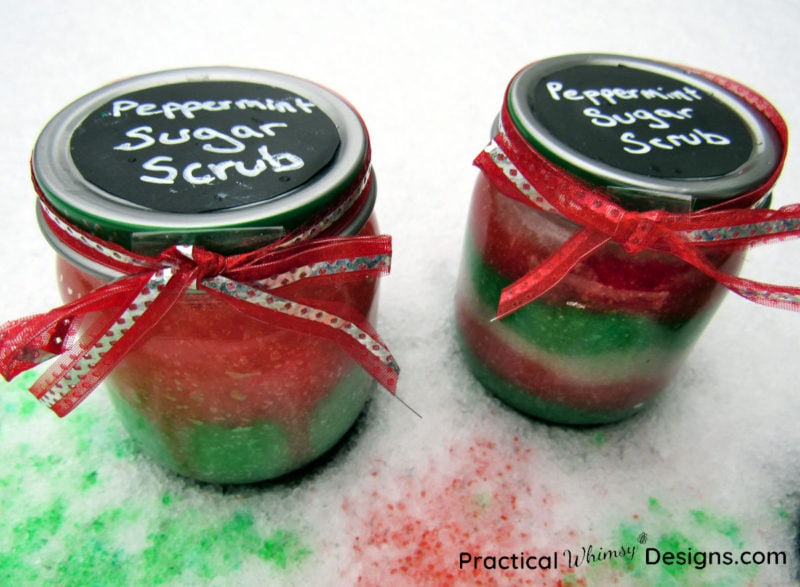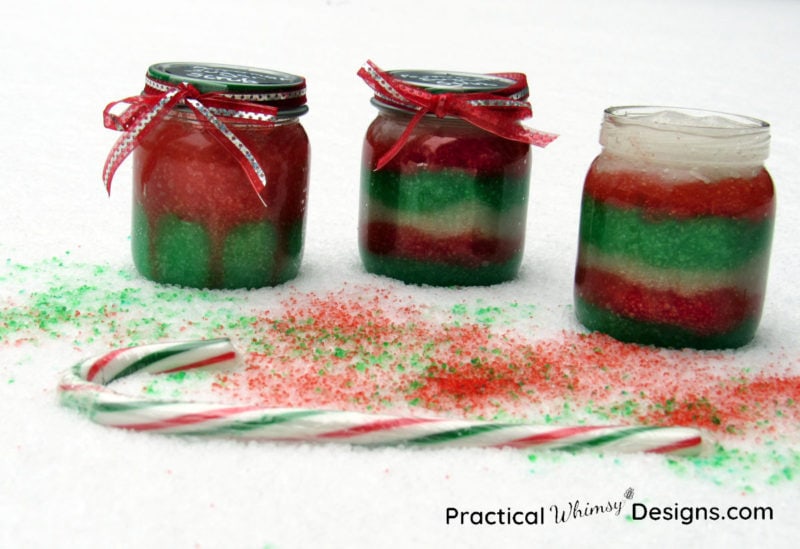 I hope you have as much fun making this peppermint sugar scrub as I did!
A Couple of Notes on Making Peppermint Sugar Scrubs.
Note: Here is an abreviated scoop on coconut oil. There are two common types of liquid coconut oil. One is not edible and it is frequently used in beauty products. This is often called fractionated coconut oil on the bottle and does not contain nutrient labels. The other kind is often called MCT oil or coconut cooking oil. Either of these work for your sugar scrub, but if you are worried about small children "sampling" your sugar scrub, the edible oil would be the safest. (Though, I'm pretty sure you would NOT want your small children to eat a whole bottle of oil and sugar.)
Second Note: Again, if you are afraid of children getting into your product, there are essential oils that are safe for consumption. Use pure therapeutic-grade essential oils from a trusted company that say they are safe.
You can also use 3/4 tsp. of peppermint extract in place of the essential oil, but it tends to have more of an alcohol scent and isn't quite as good in my opinion. However, if it is a choice between using extract or not making the scrub at all, go with the extract!
This recipe is for informational purposes and you are responsible for any products made by this recipe. Always test products in a small area and discontinue use if there is any reaction.
Want to save this Peppermint Sugar Scrub tutorial for later? Save it to your favorite DIY Pinterest Board.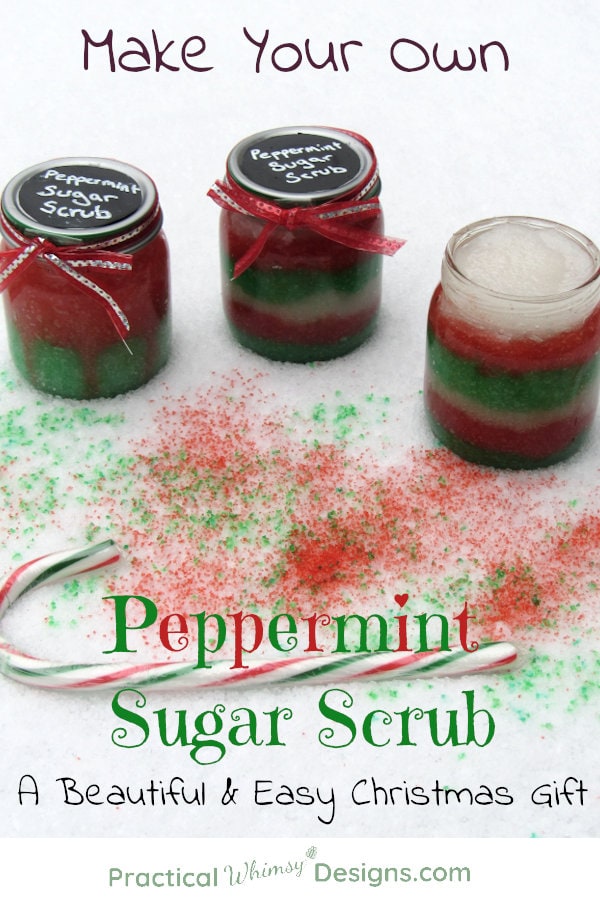 Before you head out, I'd love for you to sign up for my newsletter. Stay updated on my most recent posts and DIYs and gain access to my free printables library which includes some fun Christmas art printables as well as other printables to help you design and organize your home.
The form you have selected does not exist.
Want More Great Ideas? You Might Like These..