Home decor can be expensive, but it doesn't have to break the bank. Here are 6 unexpected places to get cheap home decor and still love what you buy.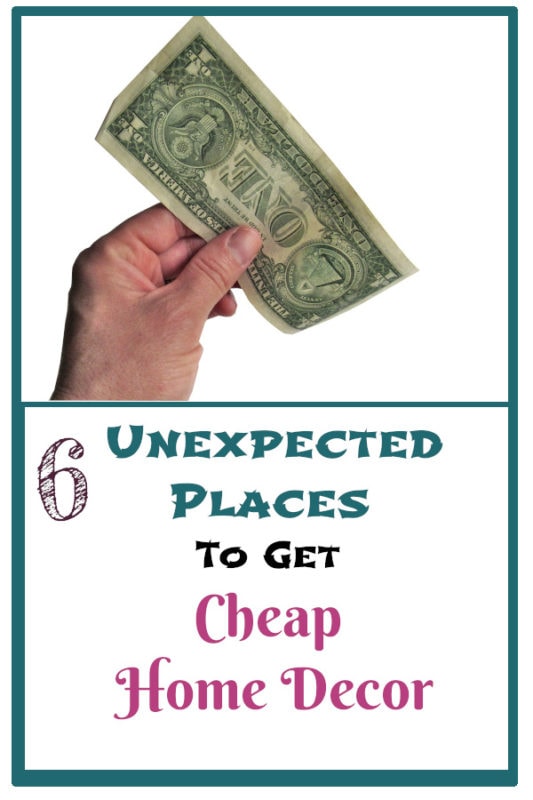 So.
You have this AMAZING decorating idea that you can't wait to implement, but when you look in your wallet, it's almost empty.
Or, you just finished remodeling a new space, and the cost of the remodel was a little more expensive than you had hoped. The money left over to buy new home decor is seriously depleted.
Maybe you just don't have much money to spare. Home decorating is way down low on your budget priorities, yet you really wish you could freshen up your space.
No matter what your circumstances are, everyone loves a good deal. Here are a few places to get cheap home decor that may not be your first go to, but can really help stretch your decorating budget.
6 Unexpected Places to Get Cheap Home Decor
1. Clearance Aisles
I love wandering down the clearance aisles at home decor stores. Even a few big-box store (like Target) or furniture stores (like Ikea) can have pretty amazing items on sale.
I often get ideas from the decor I see for sale. I do believe that if you have the money, buying one signature piece that is a little more expensive, can be worth it. However, that doesn't mean that that piece can't be on sale or clearance.
If you have a little more money to burn on home decor, but are still trying to fit a fairly tight budget, this is a great place to look.
2. Online Clearance
This kind of goes hand in hand with #1. So many online stores have great clearance options now. The only problem with shopping online is that it is a little harder to get a complete sense of color, size, and feel on a computer screen.
However, usually online items have reviews that you can read. This can help you determine if the decor is right for you.
The fun thing about buying something online, is that you are not limited to the decor selection in nearby stores. Shopping online can provide more unique decor and if you shop for items on clearance, you can stay in your budget.
3. Garage Sales/Second Hand Stores
Ok.
I know some of you are cringing at the thought of buying old decorations that someone else didn't want, but seriously this is a gold mine of home decor. I would say that over half of the items I decorate with have come from garage sales. Most of the items I pick up are versatile and can be used in a lot of different locations. And since home decor really doesn't get a lot of wear and tear, it looks brand new.
Now, I know that it is sometimes a little trickier to plan out your decor when buying stuff at a garage sale or second hand store. When I pick up an item, I don't always know exactly where I am going to use it in my house. However, when the decoration only costs $2, it is easier to take that risk and purchase it, knowing I can sell it at my own garage sale and get my money back if I decide I can't use it.
Side note:  Make sure you aren't buying decorations that are just going to sit in storage. If you don't know exactly where you will use the item, try to only buy something if you absolutely LOVE it. Another criteria is whether it is something that you could see being versatile enough to be used in multiple locations.
4. Dollar Stores
Oh, the dollar store! How I do love thee!
This seriously is a gold mine of home decor treasures. I have found that the items at the dollar store are often what is trendy in other home decor stores, but the cost is only a dollar! Who can beat that price?
This is where I always buy fake flowers and greenery.
If I have a theme for my decor, like my green, brown, and white Spring decorations, I almost always start at the dollar store if I need to buy anything. I see what is available there and then fill in the gaps with more expensive items if I can't find everything I want.
(The brown vase I picked up at a garage sale and the green bottle and flowers I found at the dollar store.)
(Again, the vase I found at a garage sale and the Flower tin and fake flowers I bought at the dollar store.)
Be aware that some things may be of lesser quality, but overall, I have been very impressed with the decorations I have found at these types of stores.
5. Make it Yourself
Making your own decor can often be a cheaper solution than buying it. There are so many fun tutorials available to make your own decorations. Not only will this decor be unique. It also will be a piece of your personality infused in your house. This is one of my favorite options for cheap home decor.
I have used DIY decor throughout my house and the pieces I have made are still some of my favorite decorations.
These cute DIY mushrooms cost less than a dollar to make and utilized coconut shells from our family's dinner that we were just going to throw in the trash anyway.
I had wanted a birch tree canvas painting in our bathroom, but didn't want to pay the big bucks to buy one. Painting my own was fairly simple and way cheaper.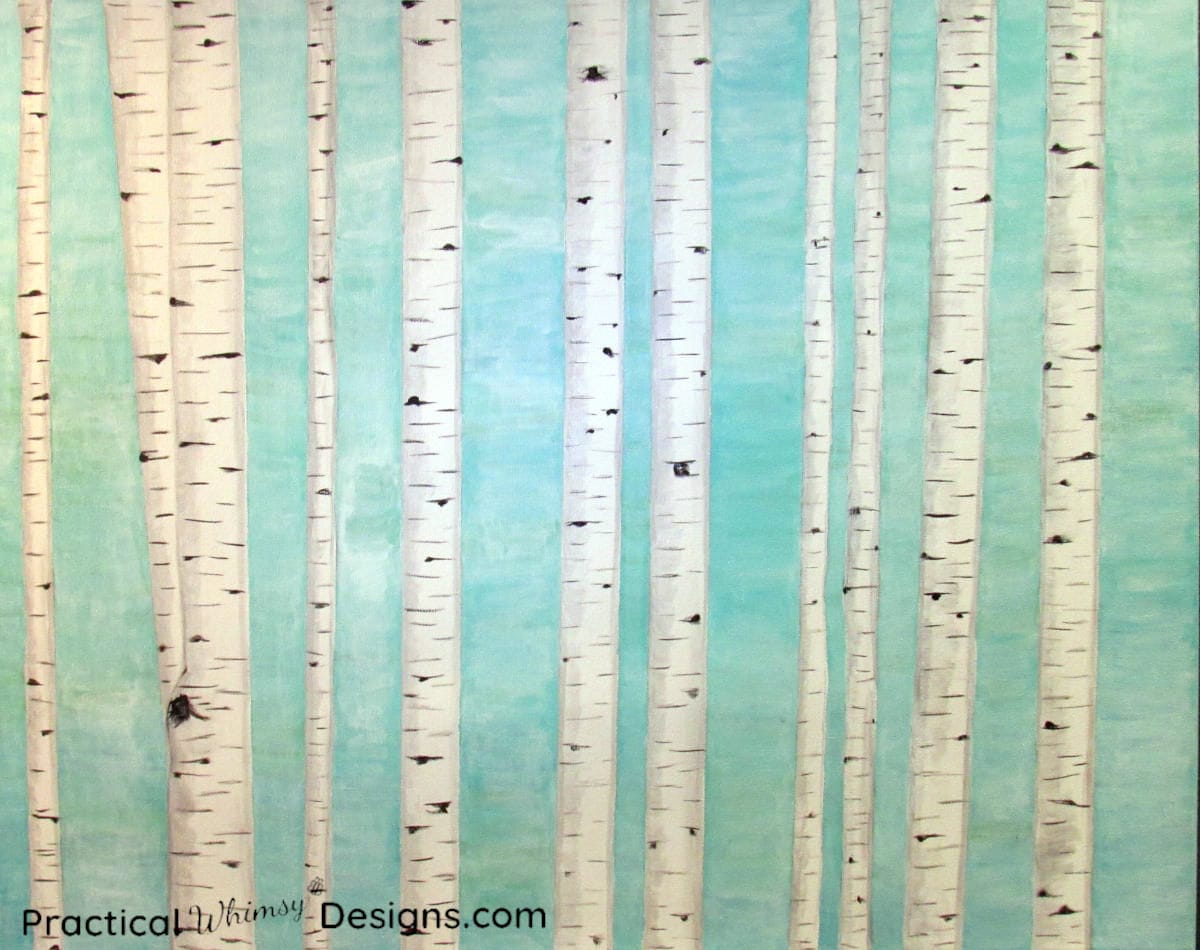 My husband brought home a couple of windows that were going to be thrown out after he had replaced them at a job site. I used a simple technique with glue and acrylic paint to create a stained glass silhouette painting for over our couch. I absolutely love this piece!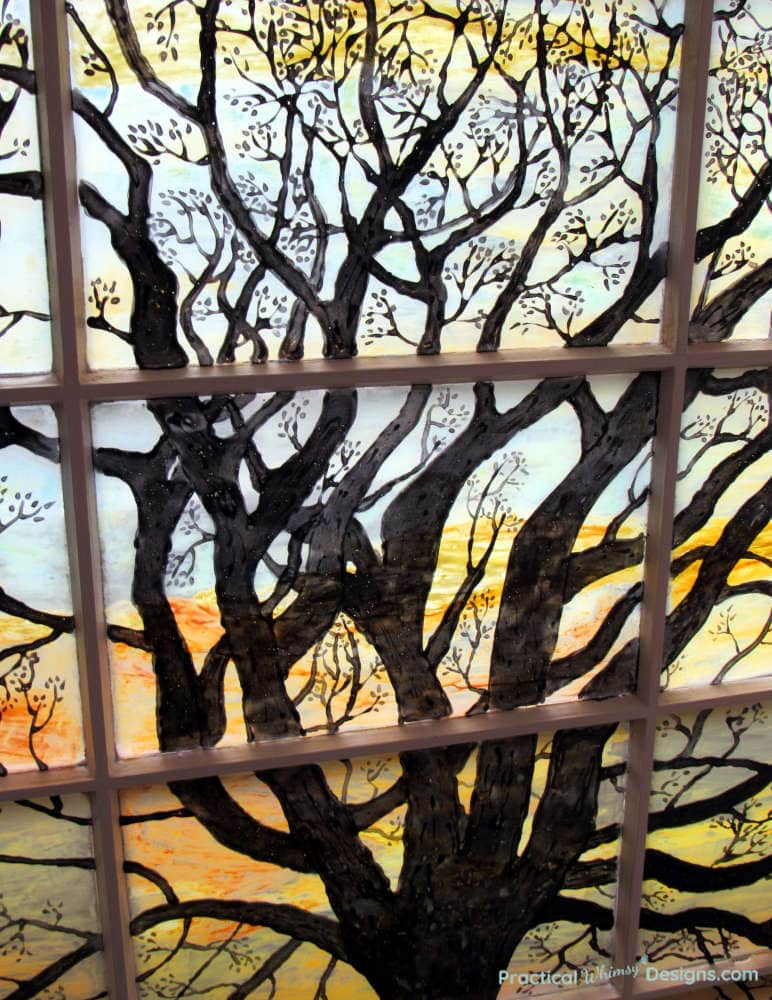 When you DIY your decor, the possibilities are endless and your bank account will almost always say thank you.
6. Raid Your House
You would be surprised at what you can find for home decor if you look around your house. Kitchen dishes, vases, and canning jars can be rearranged to create fun holders for flowers, candles, and lights.
Wine glasses can be tipped upside down and used as candle holders.
Serving trays can group your decor into an organized and pleasing table display.
Old windows can be used to decorate mantels or be hung on a wall as rustic art.
Try to look at the things in your house with a decorative eye. What items could you use in new ways to add beauty and decorative elements to your displays?
Finding Places to Get Cheap Home Decor Requires Creativity
Getting cheap home decor to work well in your house does require a little more work. You have to spend extra time hunting down the items that go well together. You may have to go to more than one store to find the items that fit together. Or you might have to frequent multiple garage sales or second hand stores. You also have to be flexible and be able to incorporate your finds into your design.
This method of getting home decor may not be the textbook way of decorating, but if you are dealing with a tight budget, this is one way to get a great deal on your decor and it can get you some pretty amazing results.