This Silent Night Christmas Mantel is a simple, yet elegant way to enhance your Christmas decor. It is an easy display that would look great on a small table as well.
It seems like every Christmas I get to this point where I am craving a little silence. And it seems to allude me most of the time. Between concerts, making cookies, buying presents, and general mayhem, I often forget to slow down enough to breath.
But there is a magical moment each night, after the kids go to bed. I sit next to the fireplace wrapped in a blanket, my dog on my lap, (because he has to snuggle each night) and gaze around at the Christmas decorations adorning my living room.
And, for just a few moments, I am able to truly grasp a sense of silence and calm.
Maybe you need to create a space in your home this Christmas that reminds you to take a moment in the chaos to rest.
This Silent Night Christmas mantel is an easy and quick decoration that is a good reminder to keep ones focus on what is important.
This post contains some affiliate links for your convenience (which means if you click a link and make a purchase I will earn a small commission at no extra cost to you). Please see my disclaimer page for more information.
Materials You Need:
A push pin or nail to poke holes in paper
A glass window or large picture frame with a glass front
Double Sided Poster Tape (removeable so you can take it off later when you are done with this decoration)
Clear fishing line
Star ornaments (I received mine as a gift and couldn't find them again, but I like these star ornaments or these ornaments.
These Silent Night Printables available in my free Resource Library (The free resource library is a benefit to those who are subscribed to my newsletter. Not a subscriber, but want to be? Sign up below)
The form you have selected does not exist.
Steps to Make a Silent Night Christmas Mantel Display
Step 1: Poke Holes in Paper
Take the pin or nail and poke holes in your construction paper. Make sure to vary the size of the holes so that some of your stars appear bigger than others. I made a twisted paper star as the center focus of my display, so I concentrated a lot of my holes behind this star. I wanted it to appear as if it was glowing.
Step 2: Tape paper onto back of glass
Use double sided poster tape to tape your construction paper onto the back of your glass window or picture. (You may have to tape multiple pieces of paper together to cover your window if it is larger than your construction paper.)
Shameless plug: (a complete side note) if you ever get a chance to invest in a small decorative window for your displays, DO IT. I think it is one of the most versatile decorations I own and it is the staple centerpiece for all of my mantel displays for all seasons this year. Ex. Easy Winter decorations, Spring Decorating Ideas, Easy Fall Decorations, Faux winter chalkboard art, etc.
Ok. Back to the directions. Make sure that the edges of your paper are stuck tight so that you only see light coming through the holes you created.
Step 3: Add Lights, Stars and Printables
Stick a string of white lights behind your picture.
Then hang star ornaments on the front of your window. I stuck push pins in the top of my window and hung the ornaments with clear fishing line.
Finally, print off the Silent Night Printables from my free resource library. (See the boxes above or at the bottom of this page to subscribe to my newsletter and gain access to my resource library)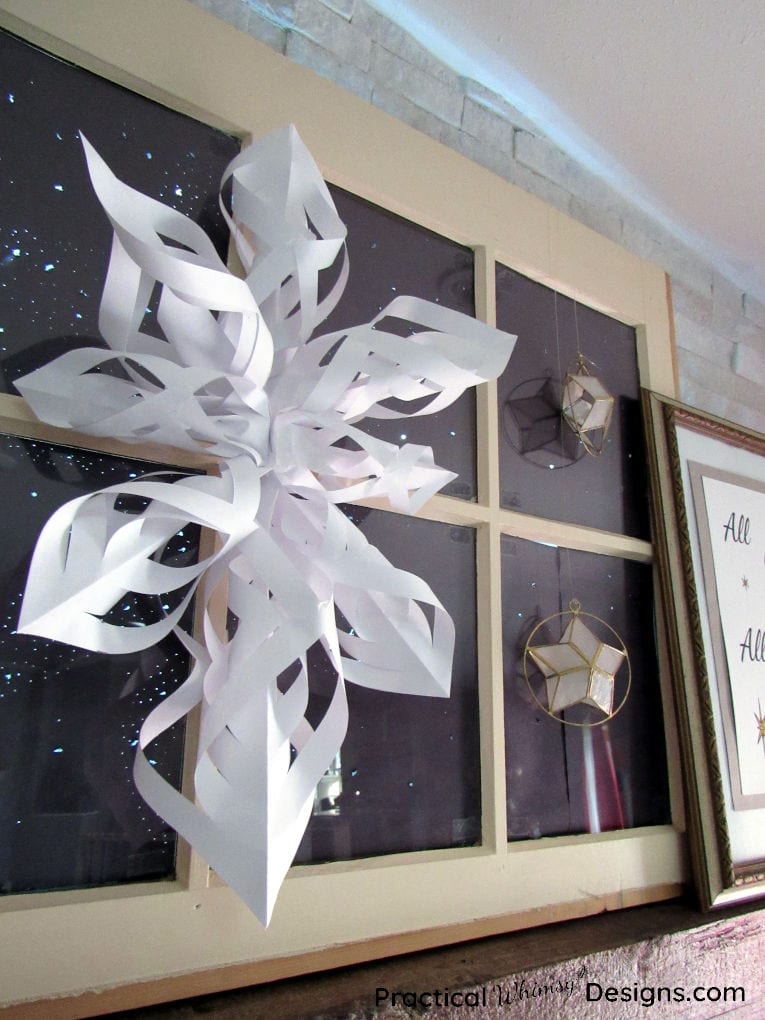 If you want to achieve a similar matted look on your printables, you can learn how to mat a print here, using an upcycled gift box.
I hope that this display will help be a reminder to take moments during this Christmas season to rest and enjoy. Don't forget the true reason we celebrate Christmas.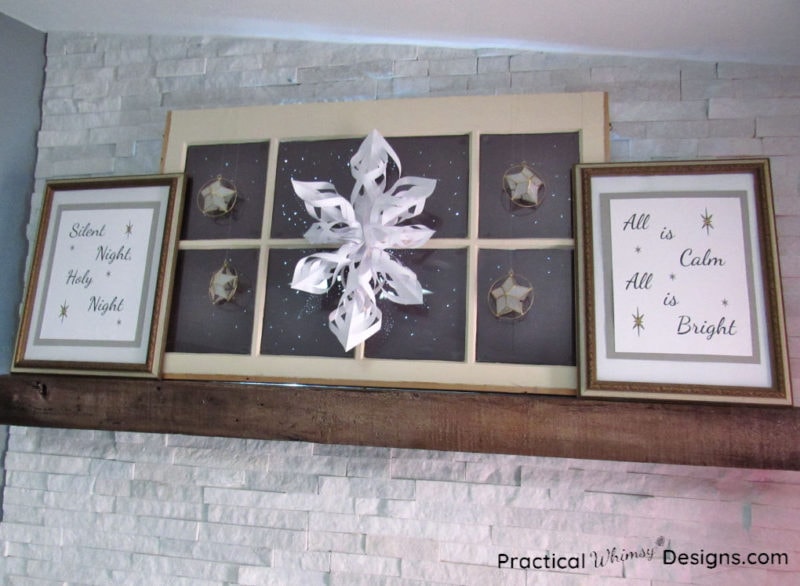 I would love to know. What are your favorite ways to find moments of rest during the holiday season?
Want to remember this Silent Night Christmas Mantel for later? Save it to your Christmas Decor Pinterest Board.