Make this simple branch decoration with a few items from the dollar store. Making beautiful Dollar Tree Decor is rewarding and easy.
I have been all about simple decor lately.
Easy and quick decorations seem to fit the bill with all that is happening around us.
It's even better when the decoration is cheap! I purchased everything for this project at the Dollar Tree except for the glue gun and branches.
Where did I get the branches? I'm glad you asked.
My father-in-law cut some Forsythia branches for us to put in a vase this spring. They have little yellow flowers when they bloom and I loved how they brightened up a little corner of my family room. I loved the look of them so much, I decided to save the branches and try to recreate it for a permanent decoration.
It ended up being a super simple and cheap diy decoration and I am excited to share it with you. This is part of the Thrifty Thursday Collaboration, where a group of other bloggers join me to re-purpose thrift store items, things from the dollar store, or other old stuff lying around the house into something useful. Check out the end of the post for thrifty makeover ideas from other talented bloggers in our group.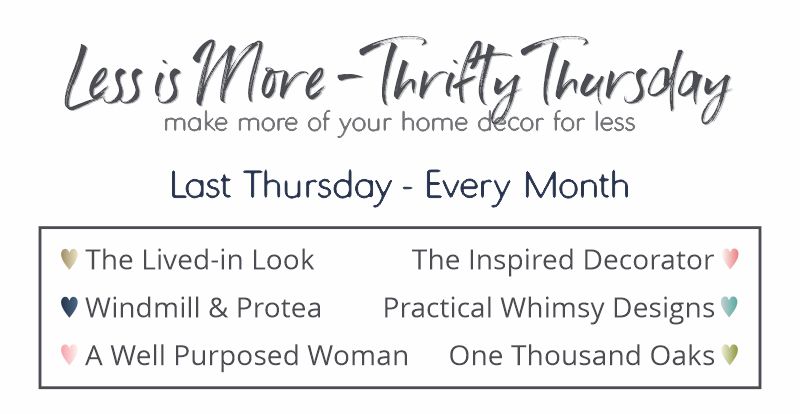 This post contains some affiliate links for your convenience (which means if you click a link and make a purchase I will earn a small commission at no extra cost to you). Please see my disclaimer page for more information.
Steps to Make Simple Branch Dollar Tree Decor
Step 1: Find, cut, and dry branches.
I used Forsythia branches, but you can use any branches that are whip like and somewhat thin. Pull off any green vegetation and hang them upside down for a week or so to dry them out.
My clump of branches consists of 22, however you can use as many or few as you want. It all depends on the size of your vase and the look you are trying to create.
Step 2: Glue on the flowers
Pull all of the fake flowers off of their stems. I ended up pulling most of the plastic middles out of my cloth flowers as well so that they would stay flat when I glued them on to my branches.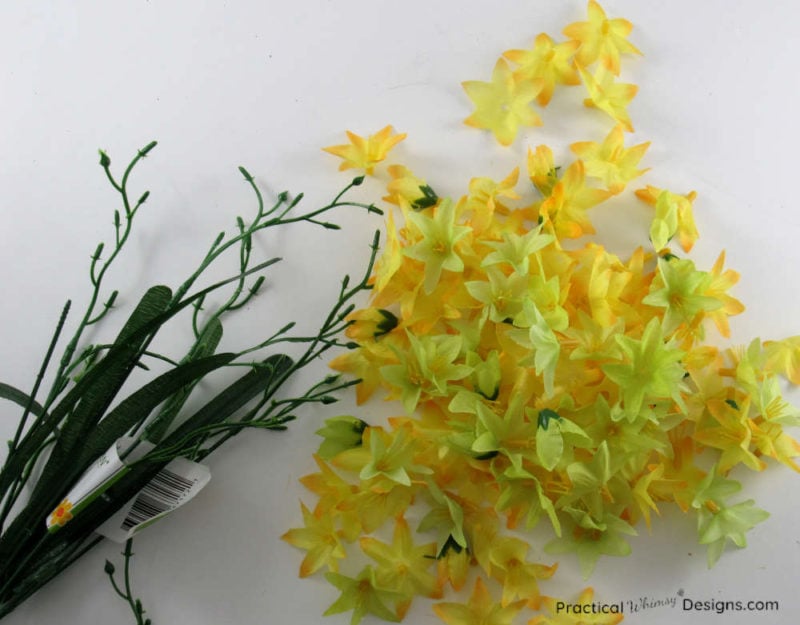 Count your branches and divide your flowers between them so that you don't end up with flowerless branches at the end.
Take your hot glue gun and glue the flowers onto your branches.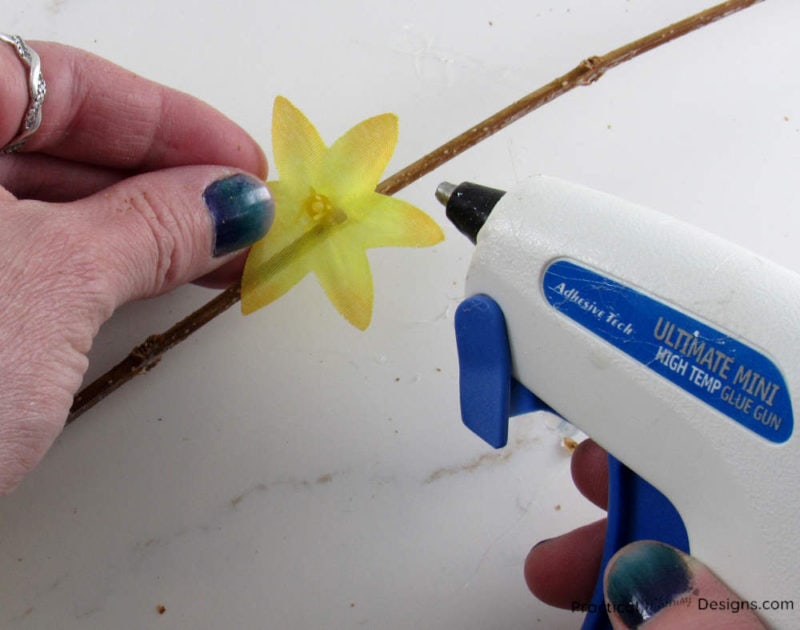 Step 3: Assemble your new Dollar Tree decor
Grab your vase, branches, and rock and get ready to put everything together.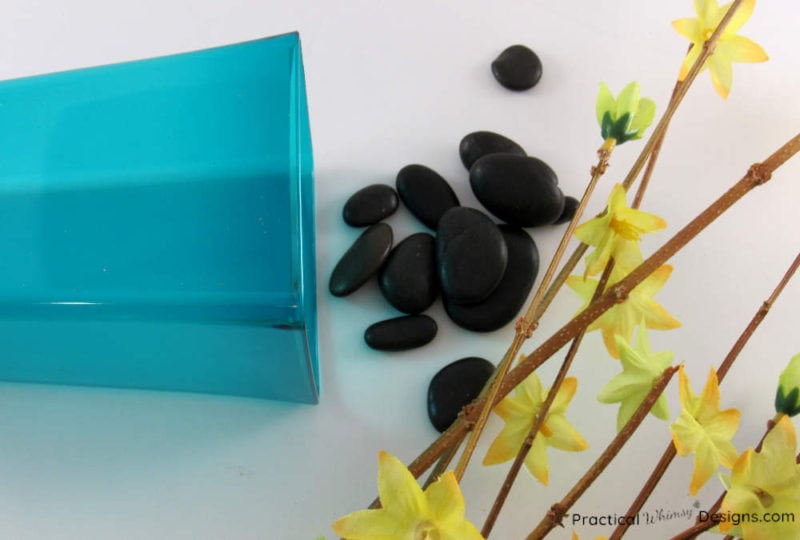 Tie the clump of branches into a bunch. This makes them more manageable and keeps them from flopping around. Make sure that the string is low enough on the stems so that the rocks will hide the string when you put it in the vase.
Place the branches in the center of the vase and add the river rocks around it to support the branches and keep them straight.
Display Your New Decor
And that is it, my friends. It is now time to find the perfect spot for your new dollar tree decoration.
It just goes to show that something doesn't have to cost an arm and a leg to be beautiful.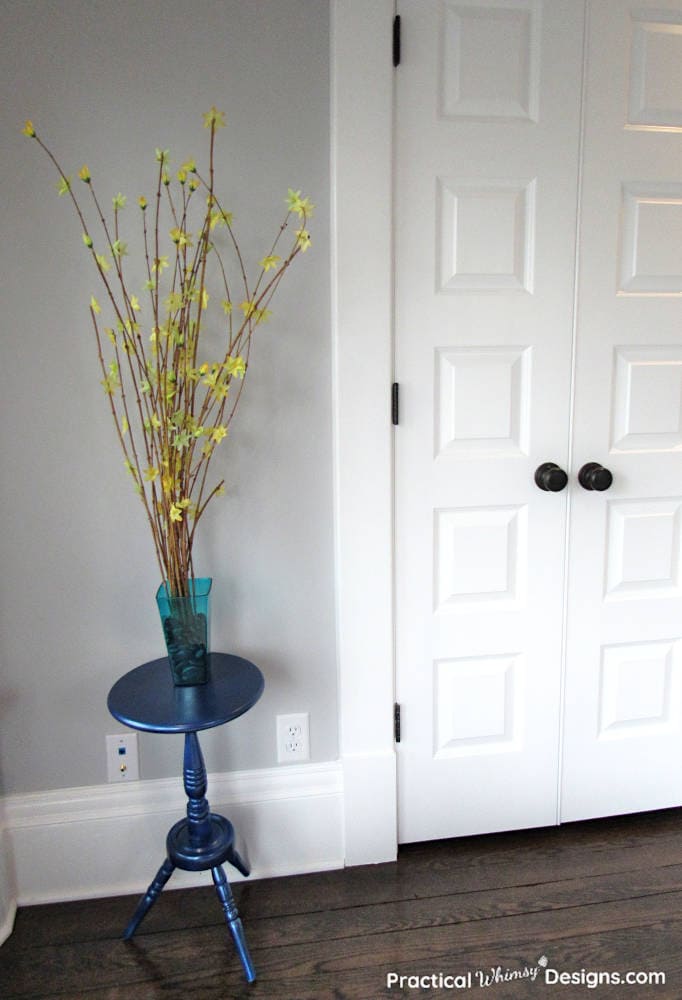 I plan on using this in our family room right by our coffee bar, but I am also really starting to like it in our newly remodeled master bedroom. Hmmmmm. Decisions, decision.
What about you? What areas of your home could use a new and simple decoration?
Needing more inspiration? Take a look at these other great projects from the other bloggers from the group. Martina at The Lived in Look made a diy restoration hardware stone vase, Sara at The Inspired Decorator made this beautiful upcycled night light, Junette from Windmill & Protea created fun marble frames , Jaclyn at One Thousand Oaks made these gorgeous candlesticks, and Elizabeth at A Well Purposed Woman re-did a grape vine wreath.
Want to remember this simple branch Dollar Tree decor? Save it to your favorite DIY Pinterest board.