We flipped our queen sleigh bed and gave it a face lift to match our new bedroom's style. Check out our queen sleigh bed makeover.
Struggling with finding the perfect paint color for your home? My design guides are available for free to my newsletter subscribers. Grab my Free Paint Guide and FINALLY pick a wall color that you love!
We have been frantically remodeling our bedroom for what seems like a long time. Yes. We are making progress. A lot of progress! I can't wait to show you the final product!
We have finished all of the construction and painting portions of our project. The only thing we have left is the furniture/decor creation. (My favorite part!)
Update: Our Master Bedroom is finished and you can check out the reveal pictures here.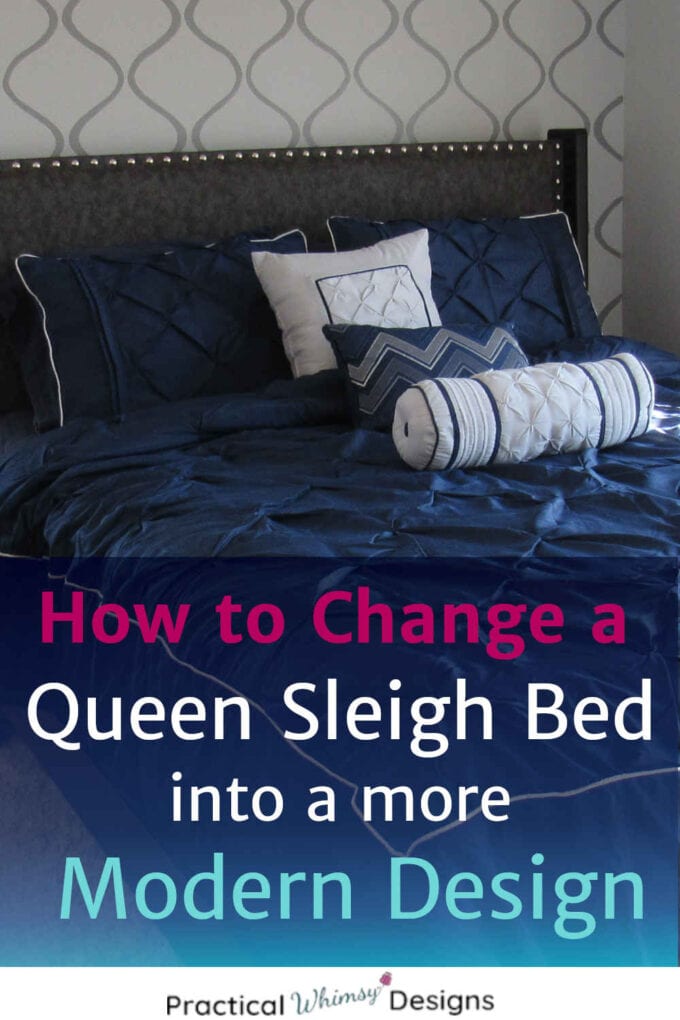 We have had our current bedroom furniture for around 15 years and our tastes have changed. Also, as we have remodeled our master bedroom and bathroom, we have worked hard to mix modern elements with the old character of our house. Furniture and decorations are a great way to change the look of a room. Plus, our color palate has changed a lot. We have moved from cherry wood, red, gold and greens to bronze, blue, and grey.
With all of these factors coming into play we were left with a challenge: How to up-cycle our old bed to make it work in our new room.
Queen Sleigh Bed: Before
Here are a few pictures of what our bed looked like in the master bedroom of our first house. That bedroom was large and we had a different color scheme. Our current house has a much smaller master bedroom.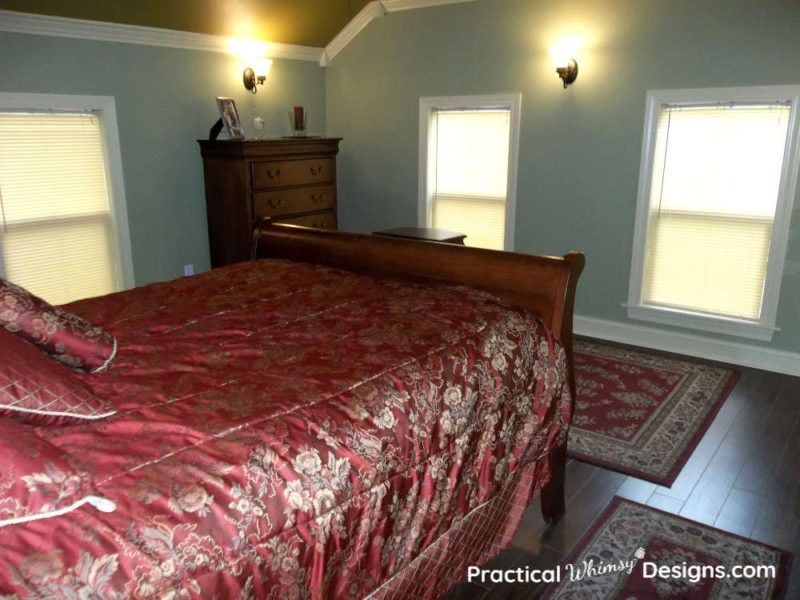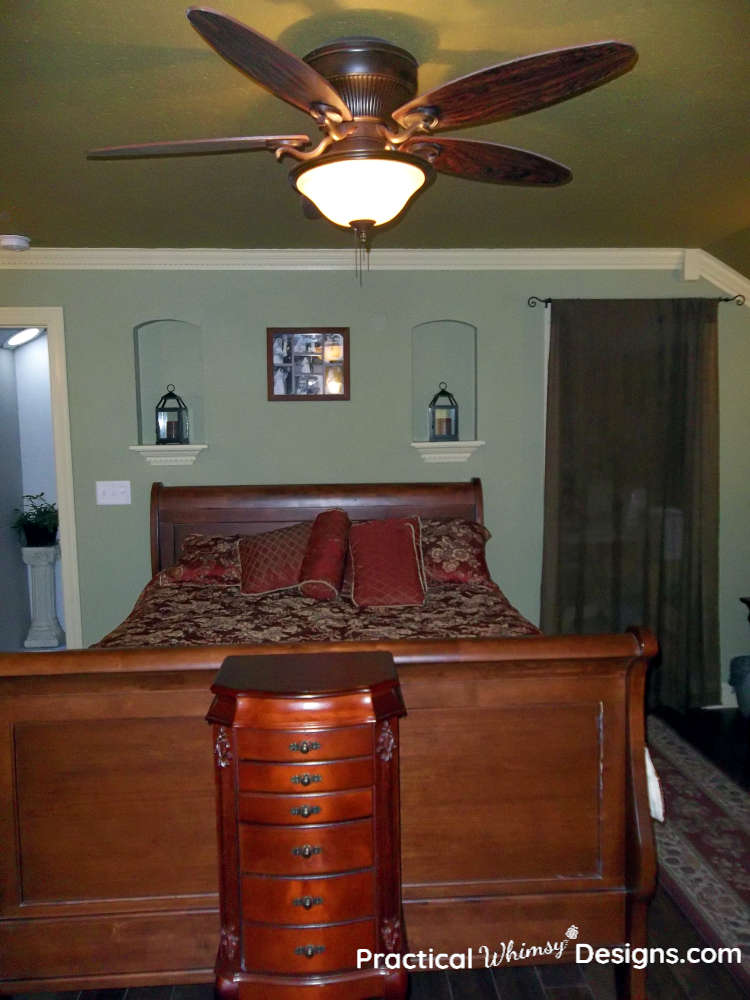 Queen Sleigh Bed Makeover Challenge
There were three things that needed to change about our bed in order for us to use it in our new space.
Design/Style
Size
Color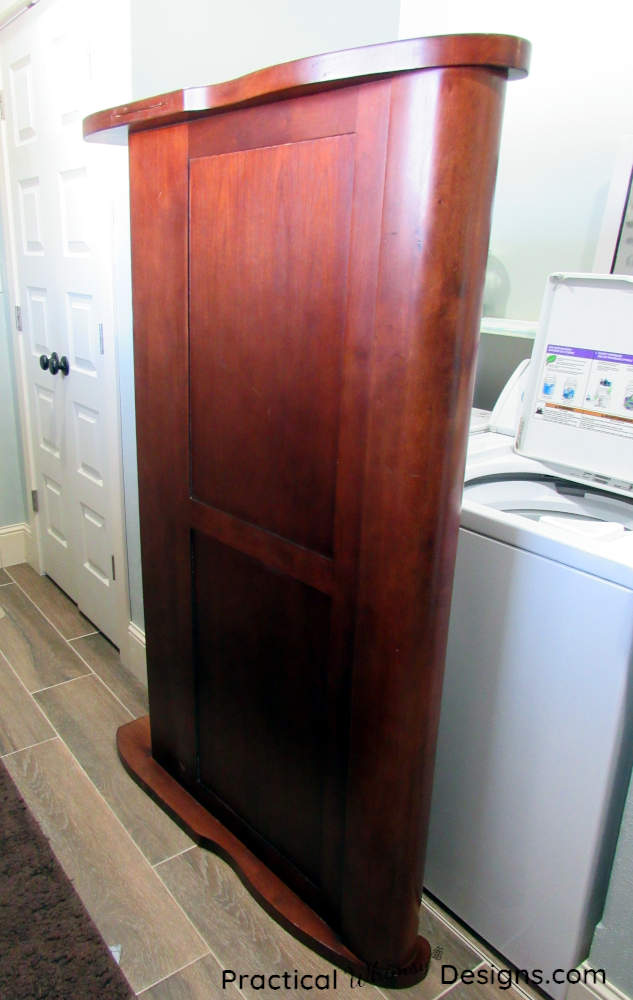 Changing the Design/Style
We knew we needed to take the sleigh portion of our bed off. Our master bedroom is not very big, so gaining back that extra foot or so lost by the swoop of the sleigh shape on our footboard and headboard was essential.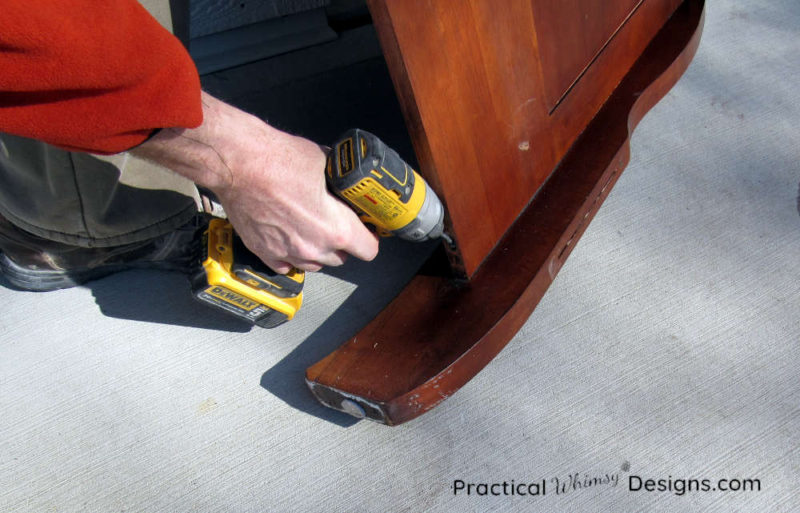 Our bed had several screws and dowels that attached the legs to the headboard and footboard. After we removed the screws we used a hammer to loosen the dowels from the headboard by lightly tapping the two pieces apart. This gave us flat pieces to work with.
We cut the sleigh portion off with a circular saw after marking a straight line.
Changing the Size
Our next step was to change the size of our bed. Since or bedroom doesn't have very much square footage, we wanted our bed to feel smaller too.
We cut the headboard and footboard down with a table saw to give the bed a smaller profile overall. Man, it was hard to give up my footboard. I hate it when my blankets fall off the end of my bed! However, I love the way it looks, so it was worth the sacrifice!
When we reassembled the bed, we were able to attach new straight boards to the sides at the height we wanted.
Changing the Color
Our final challenge was changing the color of the old bed.
We primed and painted the sides and footboard of the bed a bronze color to match the fixtures in our room. The paint we used was Pittsburgh Paints & Stains Fast Dry (The Color we used= Pittsburgh Black Magic) and I am loving it. We also used the same paint on the dresser from this set, which we installed in our master closet. This paint glides on beautifully and with the right painting technique you can apply it with a brush without leaving brush strokes on your furniture.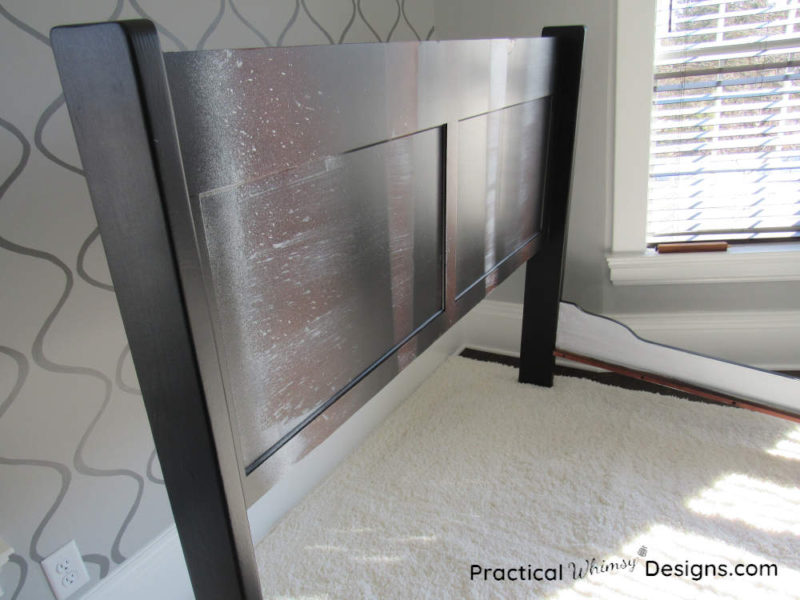 Then we upholstered the headboard. We were able to find fabric for the headboard that was almost identical to the chairs that we had purchased for our bedroom. (Check out our bedroom reveal to see what the chairs look like.) We used metal tacks to match the look of our chairs as well.
Queen Sleigh Bed Makeover Results
Here is what the bed looks like after the makeover.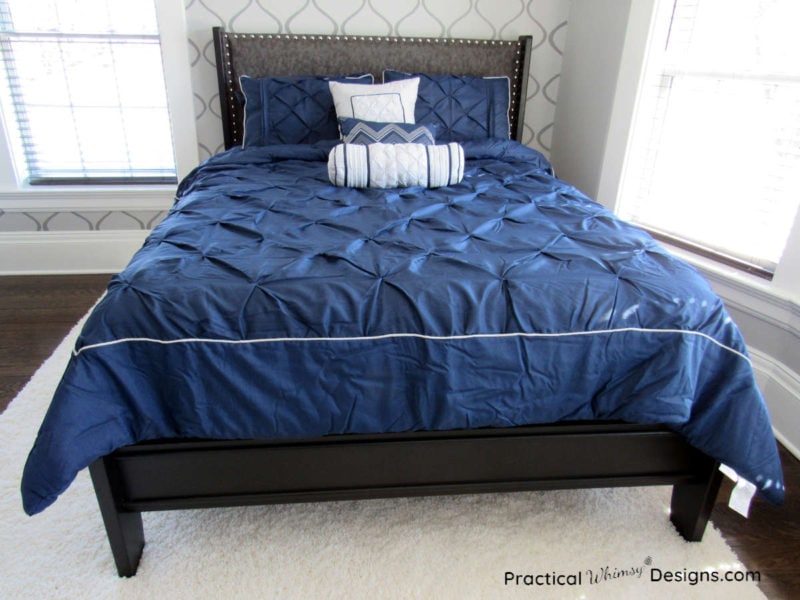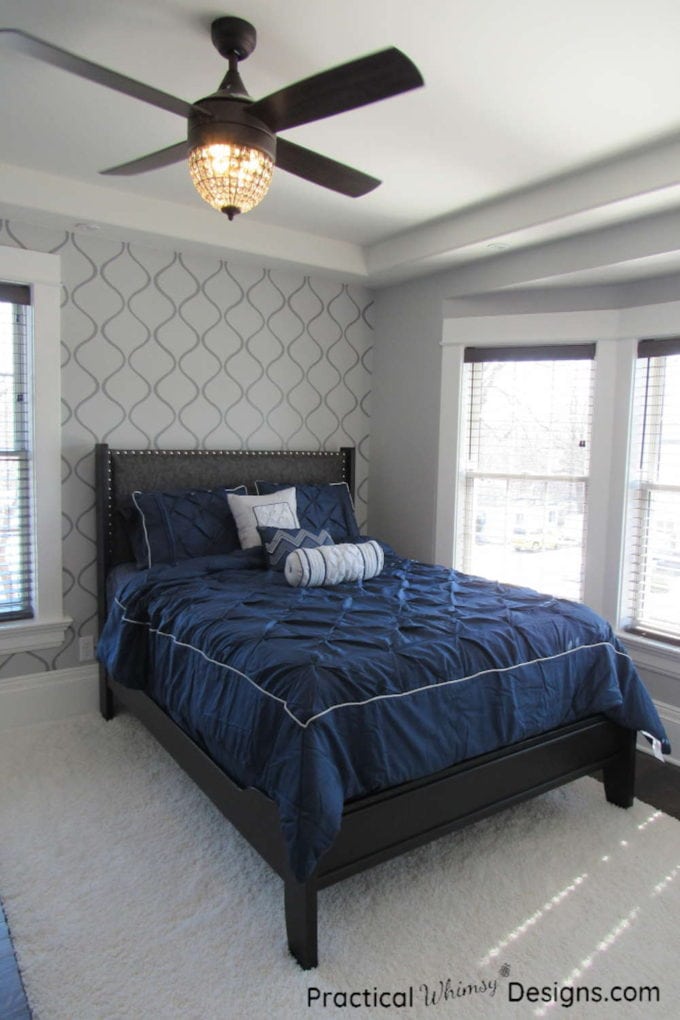 I am so happy with the results. It ties the room together perfectly and keeps a cohesive look to our furniture. We also didn't have to buy a new bed!
I love to be able to reuse pieces in our house.
Don't have time or desire to upgrade your existing bed? Click on the images below to find out more details about these other options with a similar look:

Want to remember this upcycled project? Save it to your favorite DIY Pinterest board.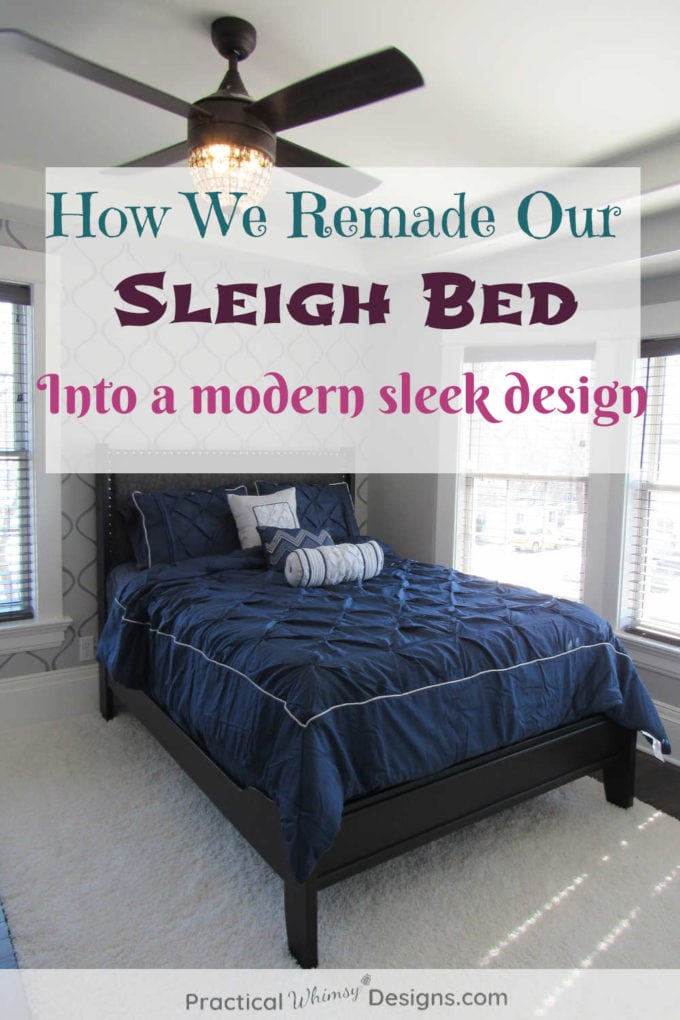 Click on the Images Below for More Ideas……