Need an easy outdoor decoration? Create this easy snowflake winter porch pot to give your home a little greenery until the arrival of spring.
There are so many different kinds of decorations out there.
Some of them are extensive and fancy, others are elegant without being a lot of work.
Porch pots fall into the second category.
Even though they are expensive when you look to buy them from the store, they are actually quite easy to make yourself for a fraction of the cost. You can use a variety of material and decorations that you already have on hand to create your masterpiece.
Having a pot full of evergreen foliage decorating the front porch gives the feel of a winter container garden, even if you live in cold climates that don't allow for live plants. And having a little greenery on the front porch can help brighten your home and get you through the long winter months.
This post contains some affiliate links for your convenience (which means if you click a link and make a purchase I will earn a small commission at no extra cost to you). Please see my disclaimer page for more information.
Materials You Need:
A Variety of Evergreen Boughs (White pine, fraser fir, spruce tips, etc.)
Some sort of winter pots or winter planters that can withstand cold temperatures (ex. window boxes, bushel basket, plastic outdoor pots, etc.)
Stone, brick, or dirt to weigh down the pot
Gardening gloves
Christmas decorations (I used snowflake ornaments and blue ornaments)
Garland or Ribbon
opt. Other hardy plants or natural decorations
Twisty ties
How to Make an Easy Snowflake Winter Porch Pot
Step 1: Gather your supplies
Gather your pine boughs, pots, gloves, and pruning shears together. Decide what materials are best for outdoor use and colder weather.
What kind of pots should you use for a porch pot?
You can use almost any pot for your decor. However, if you live in an area that freezes, I would not use a clay based or terra cotta pot as they often crack from the changes in temperature.
When I make winter porch decor, I try to re-use pots from my summer plantings. For example, this pine Christmas basket was made from a hanging plant I had decorating my home the previous summer.
For my snowflake winter porch pots I chose to use an old cedar planter box and a small plastic pot from my summer flowers.
If you don't have any pots for your decor, you can take a look at a few ideas for fun porch pots for sale below.

Where can you get pine boughs?
You can get real pine boughs for your planters in a number of places.
My favorite place to get free pine boughs is at my local city compost site. There usually is a variety of boughs from various evergreen plants available.
Your own bushes and evergreen trees can be a good resource if they need a trim.
If you purchase a real Christmas tree, you may be able to trim boughs off of the bottom of the tree for your pot.
If you can't find real boughs for your pots you can purchase fake ones like the examples below.

Step 2: Trim and Arrange Your Plant Materials
Many porch pots have evergreen foliage as the base of their display. It adds greenery and different textures to the pot.
You don't have to be an expert to arrange the boughs into a pleasing display. Just follow these helpful tips.
Wear gardening gloves when you are handling the evergreen boughs to protect your hands.
Trim any scraggly bits off with pruning shears. You can also trim boughs to fit your arrangement and pot. Use the smaller cuttings to fill in your pot, or decorate other items on your porch.
Group the evergreen boughs into different types and heights. For example, I used three types of evergreen boughs in my planter. I layered the fullest boughs in the back, added some boughs from an evergreen bush in the middle, and finished it off with cedar boughs. How you display your boughs will depend on where you are setting your pot.
Use pictures for inspiration if you are stuck.
If your pot is plastic, use soil or a heavy rock inside it to weigh it down before you place your boughs inside. That way the wind doesn't blow everything over.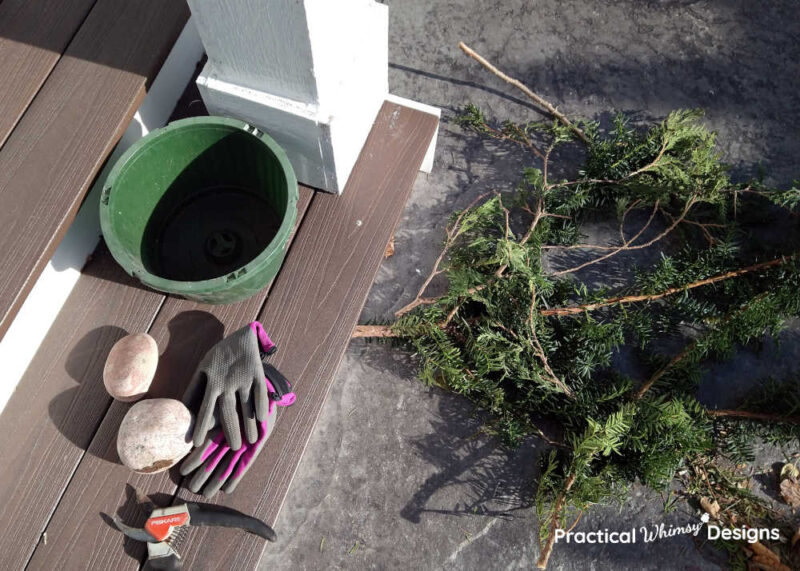 The form you have selected does not exist.
Step 3: Decorate Your Porch Pot
Once you have your evergreen boughs in your pots you can add decorations.
I kept my pots simple, adding a few blue ornaments and snowflakes to the boughs. I wanted the greenery of the pine boughs to be the focal point of my container display. To add a little sparkle I wrapped the pots with silver garland, securing it with twisty ties to the edge.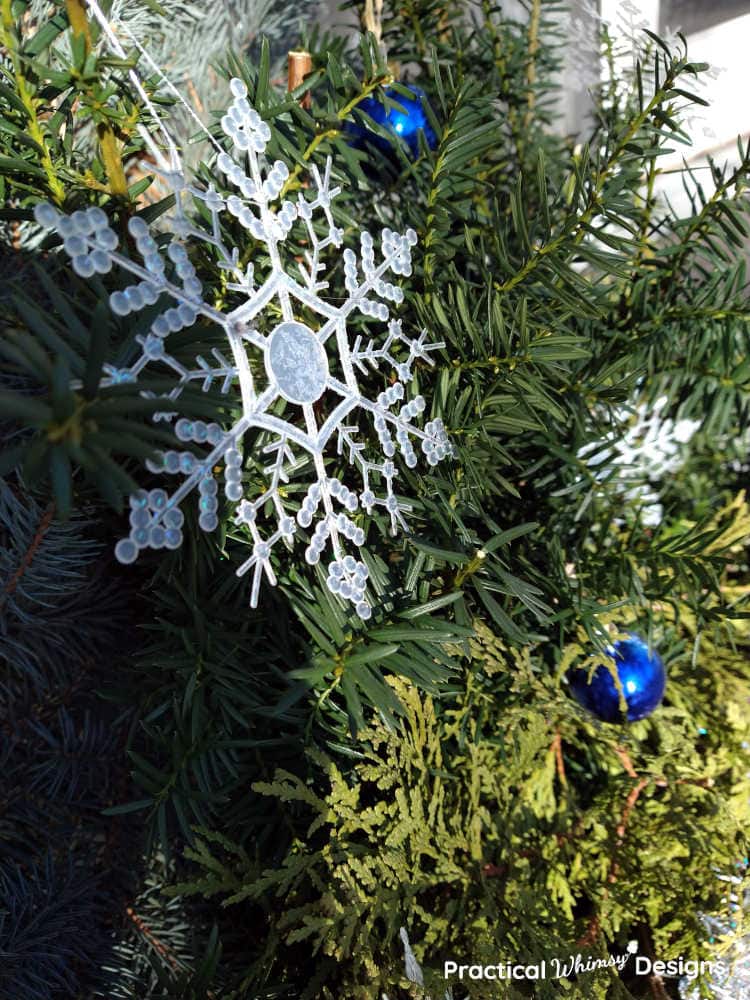 You can also add other plant materials such as birch logs, pine cones, colorful berries, white flowers, ornamental grasses, seed pods, rose hips, etc. The beauty of DIY decorating is that you can create exactly what makes you happy.
Easy Decor for Your Front Porch
Porch pots are an easy way to decorate your home, especially in cold climates.
What's even better is that you can display them for the entire winter season. I created my porch pot as part of my Christmas decor and plan to keep it up until early spring.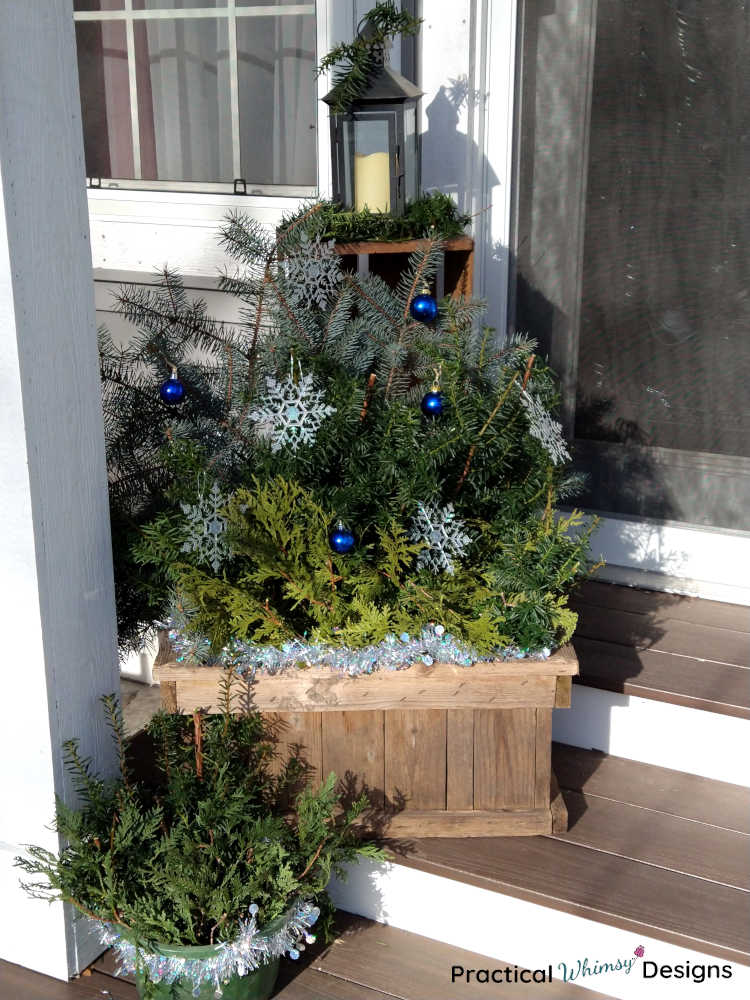 Porch pots are a great way to create the feel of a winter garden outside your home and add a little greenery to your outdoor decor.
This simple winter arrangement is a beautiful way to get you through until next spring arrives with plants and sunshine.
Want to remember this idea for later? Save it to your favorite decor board on Pinterest.
Want More Great Ideas? You Might Like These..