Wanting something different in your spring decorations than traditional pastel colors? Try these green, brown, and white spring decorating ideas.
Spring!
New life.
Growth.
Flowers.
Pastel colors. Pinks, blues, purples, yellows……..
There are certain things that you see, that just scream spring.
Though I usually love the multiple colors and pastel shades of flowers and decor, this year I just wasn't feeling it when it came to decorating. I wanted something different. I still wanted life infused into my rooms, but I wanted to embrace the more earthy side of spring.
Maybe it was all of the mud my kids were tracking into my house. Ha ha!
Whatever it was, I found myself drawn to the subtle colors; the browns, greens, and whites of early springs.
There is something magical about walking across a bright green field dotted with white flowers, the smell of wet dirt flooding your nostrils. Something about this imagery that transports me to a place of joy and carefree adventure.
Maybe you are feeling the same way this year. If so, here are a few spring decorating ideas to capture some of the earthy and whimsical sides of spring.
Assess Your Supplies
You don't have to go crazy buying a ton of new decorating paraphernalia. Start by laying out the things you already have. You could be surprised by the amount of green, brown, and white items you may already own that could be used in new and fun ways for your spring decorating.
This is also a great time to pack away decorations that don't fit with your theme. Clear away all of your old decor and work with a clean slate.
Figure out what areas you want to decorate and begin to move your existing items around. See how they fit in your room and whether there are any spaces that are lacking in decor.
After you have figured out what you are still missing in supplies, go shopping for them. My favorite places to look for decorating items are the Dollar Tree, Clearance aisles at stores, and thrift shops or garage sales. You can find so many fun and cheap decorations that look amazing!
Play Around With Lighting
There is something about decorating for spring that feels freeing. Maybe because so many fairy tales take place in spring and summer amidst gardens and forests. Or maybe it is that sense that new growth can happen, even when everything looks dead.
There is something hopeful about spring.
Lighting can be a way to capture some of these feelings. Evenings in spring are still dark, but using the right lighting in your decorations can capture elements of the coming warmth of summer: starry nights, lit garden paths, fireflies, etc.
I love using fairy lights in my decorating because they remind me of some of my favorite summer memories. Also, mixing in candles (either fake LED lights or real candles) can give you other lighting opportunities.
This post contains some affiliate links for your convenience (which means if you click a link and make a purchase I will earn a small commission at no extra cost to you). Please see my disclaimer page for more information.

Decorate With the Unexpected
Who says spring is only about flowers?
Think about other things that grow in the spring and add something unexpected to your room. Something that makes you smile.
I chose to add some fun with the DIY Mushroom decor I made out of a coconut our family ate.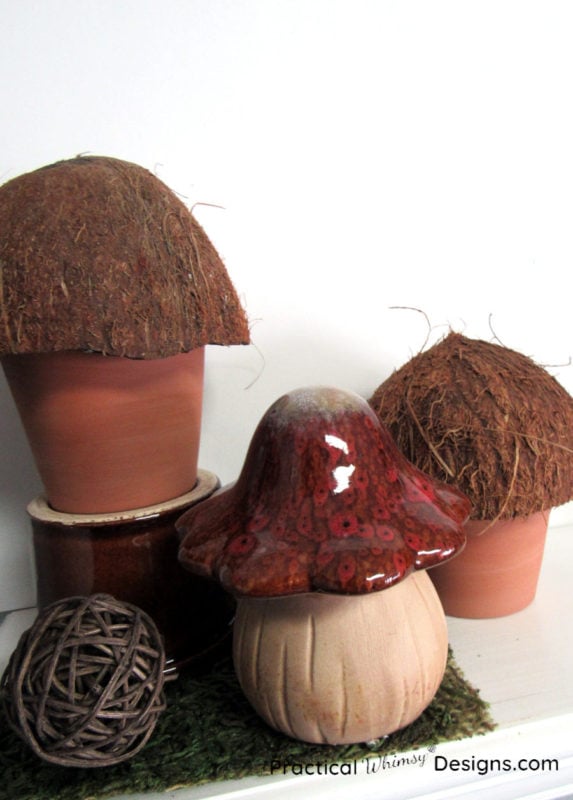 Keep Life In Spring
The most important element in spring decorating is to add some form of life to your house. That is why it is crucial to mix plants into your decorating. I chose white and green flowers and fake grass, but if you are't feeling the flowers find other elements to add green into your decor such as moss or vines.
The biggest thing that makes spring decorating different than other seasons is the idea of new growth. Life after the cold, dark days of winter. Adding this element into your spring decor is so essential.
Tip: If you are using flowers or fake plants in larger vases, stuff the bottom of the vase with newspaper and layer tissue paper on the top to hold the flowers at the height you want them to stay at. I used a moss fabric sheet on top of crumpled paper to hold my grass plants in the center of the small clay pots I planted them in.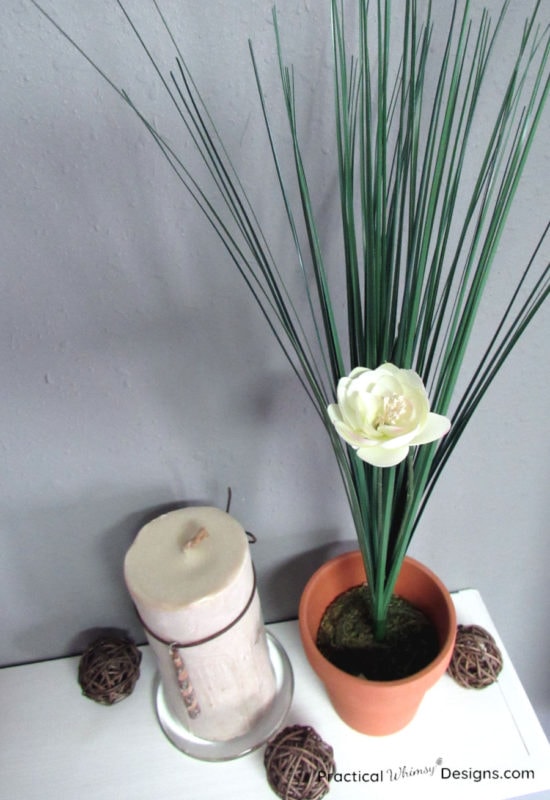 Make Your Spring Decorating Ideas Your Own
Spring decorating is not about a bunch of rules, (though there are some things that can help your decorations appear symmetrical and pleasing to the eye).
It's about being willing to try things and experiment until you find what you like. Don't be afraid to put something together that is unexpected. Move things around. Try them in more than one location.
When in doubt, less is more. You don't have to pack your shelves and tables. Allow space for your eyes to rest as they explore. Give room for your imagination to express itself.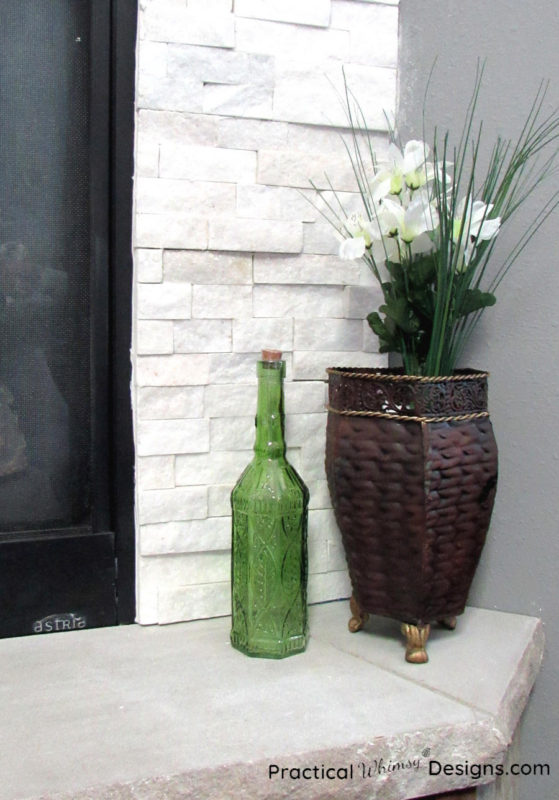 I hope that you will try something new and daring in your decor, but the most important thing is for you to find your voice.
This is your home. Find what makes you happy, rested and rejuvenated.
Happy Decorating!
Need a few decorations to help you with your green, brown, and white spring decorating? Scroll through the pictures below and click for details to look at similar items to some of the things I decorated with.
Shop Similar Items

Need more spring decorating ideas? Check out this post on how to stencil chalkboards for some great spring designs for your chalkboard art.
Want to remember these spring decorations for later? Save this to your favorite DIY board on Pinterest.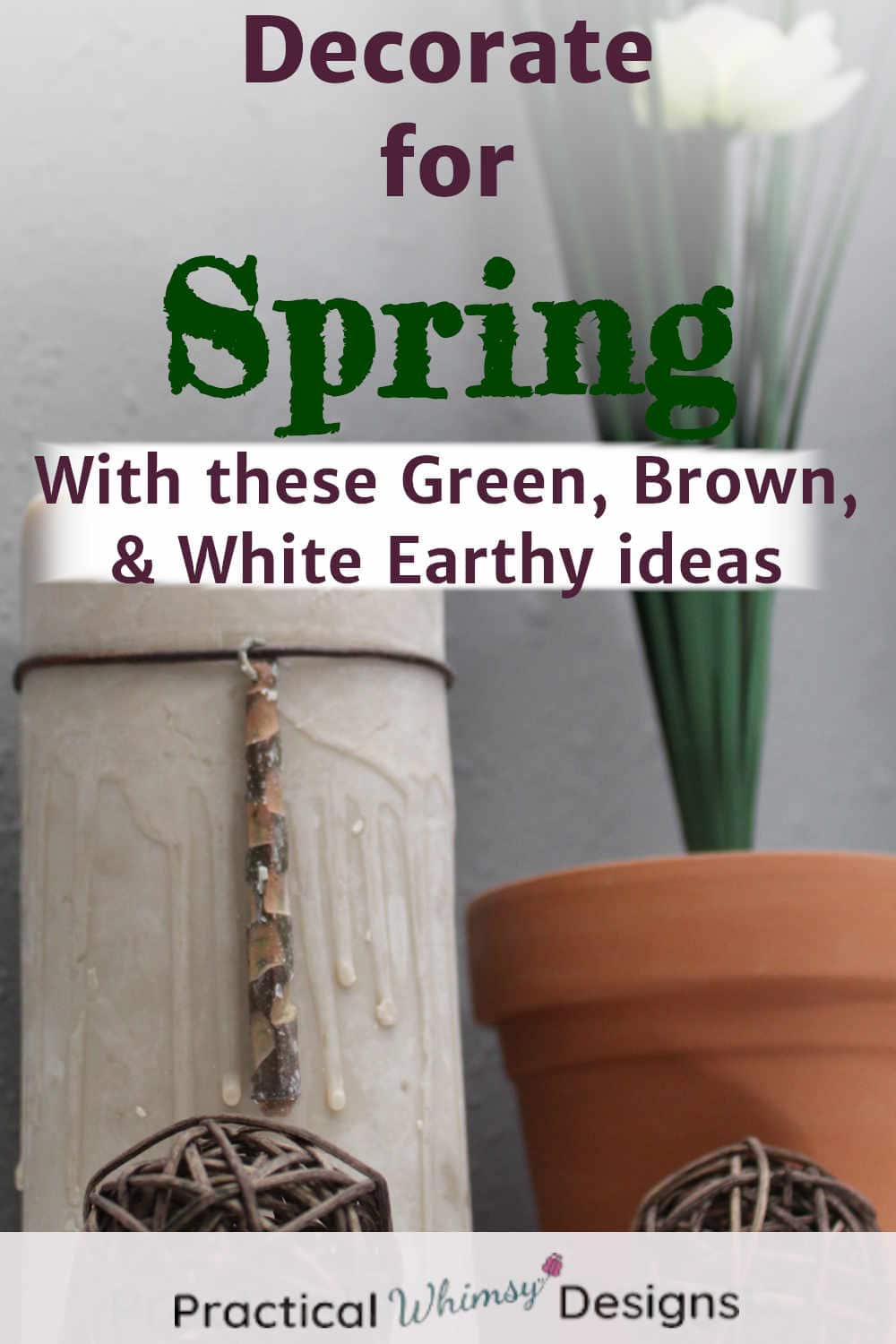 Want More Great Ideas? You Might Like These..