Want a simple and elegant way to decorate for spring? Check out this vintage centerpiece idea perfect for home decor or weddings.
Spring!
It is such a beautiful and welcoming time of year. It's a celebration of new growth and life, of beautiful flowers and greenery.
Yet it can take a while in some places for the weather to cooperate and really act like the season.
The good news is that it isn't too difficult to bring a taste of spring into your home.
An easy way to do this is with a spring tablescape for your dining table.
Adding a little greenery inside your home can create the perfect decorative accent to help you celebrate spring as you wait for the season to finally make up its mind to stick around.
Check out more spring table decorations from other talented bloggers at the end of this post.
Spring Vintage Centerpiece with Flowers & Moss
This vintage centerpiece is a stylish nod to the nostalgic past with simple neutral colors and classic pieces. Coupled with a floral arrangement and fake moss, it is an easy and elegant arrangement for your table.
Add these elements to your centerpiece to create a unique spring vintage centerpiece of your own.
Elements of a Spring Vintage Centerpiece
Tablecloth or runner
Add a table cloth or runner to add color to your bare wood tables. I used a filmy green tablecloth under my centerpiece, but boho or burlap table runners would also make for a pretty and neutral table covering to go in the center of your table.
Flower Centerpiece Arrangement
Using flowers as the centerpiece of your table arrangement is the perfect way to make your home feel like spring. It doesn't matter if you use fresh flowers or fake. The key to creating a vintage feel to your table centerpieces is using a vintage vase or bottle as the main focal point of your centerpiece. Fill it with neutral flowers or add a spring color palette to your floral arrangements to brighten up your table.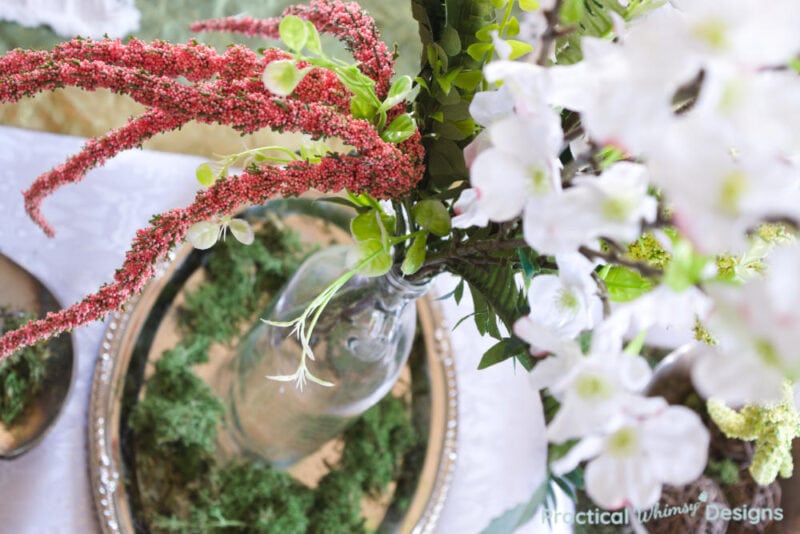 Using taller flowers, like these faux dog wood branches, add height and variety to your centerpiece and draw your eye to the spring blossoms.
The vintage style bottle I used in my spring tablescape I found in the woods behind an old cabin, but you can look for bottles like these at an antique store, thrift store, or garage sales too.
I used faux reindeer moss and sprinkled it in my dishes to add more greenery and create a spring feel.
Vintage pieces
Use various vintage pieces of different shapes and different heights to complete the centerpiece.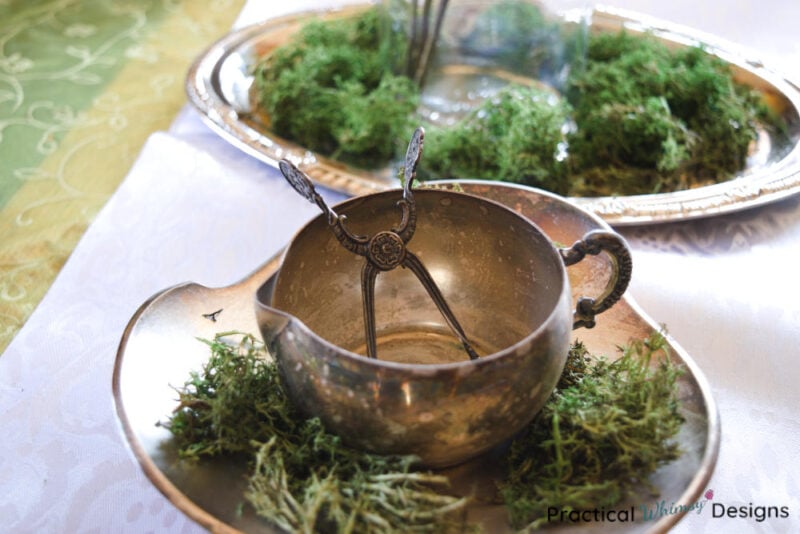 A brass vessel or silver vessel is a beautiful addition to a vintage table centerpiece and provides a rustic elegance to your table decor.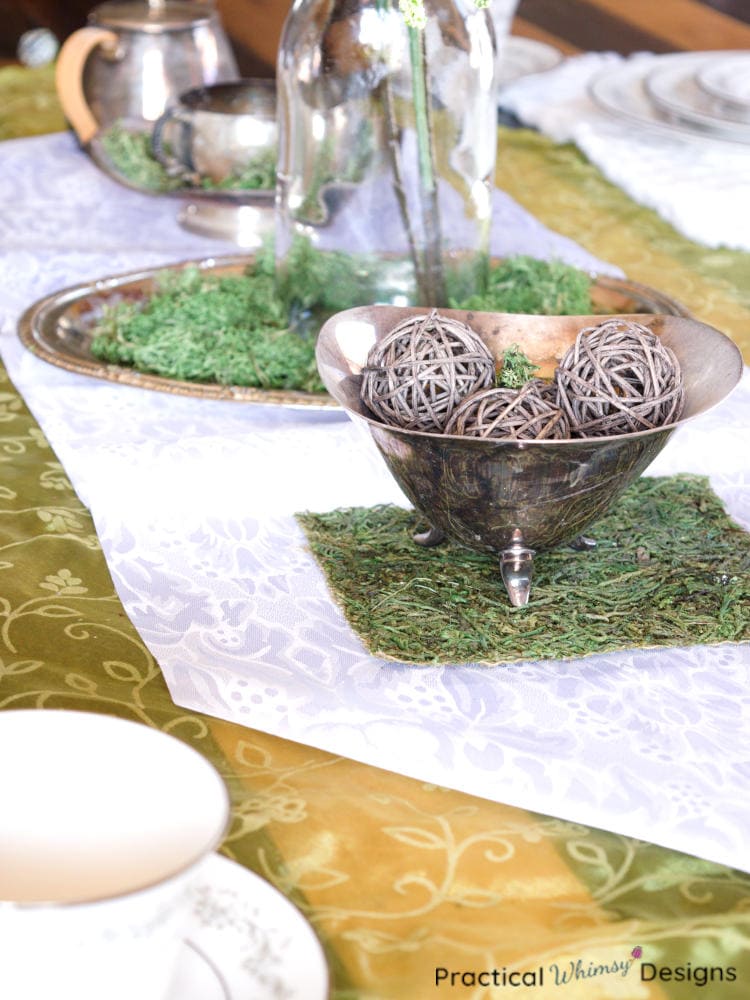 Place Settings
Create a simple place setting with vintage tea cups and china to complete your spring tablescape.
This wonderful vintage centerpiece is the perfect way to add a little spring inside your home this season. Let it inspire you to create your own unique masterpiece with nostalgic pieces and family heirlooms and celebrate a spring full of memories.
Great Rustic Wedding Centerpiece Idea
Vintage centerpiece ideas like these would also work great as cheap wedding centerpieces.
You can make them as elaborate or simple as you would like. Just add flowers that match your wedding colors and keep the vintage pieces neutral.
You can make unique and awesome vintage wedding centerpieces by visiting your local thrift store and combining nostalgic antiques with your wedding colors.
Where can you find vintage pieces for your centerpiece?
All of the metal dishes I used in this photo were left in our fixer upper home when we purchased it.
However, you can find a lot of fun pieces at local thrift stores, antique stores, or garage sales.
If you are looking for more tips on decorating with faux flowers in your home, take a look at this post.
Want more spring tablescape inspiration? Check out these other great ideas from the Home Bloggers Spring Blog Hop.
Want to remember this idea? Save it to your favorite decor board on Pinterest.
Want More Great Ideas? You Might Like These..