Turn a window or glass framed picture into a beautiful faux stained glass window art silhouette. This window art uses glue and acrylic paint to achieve breathtaking colors for a fun art project.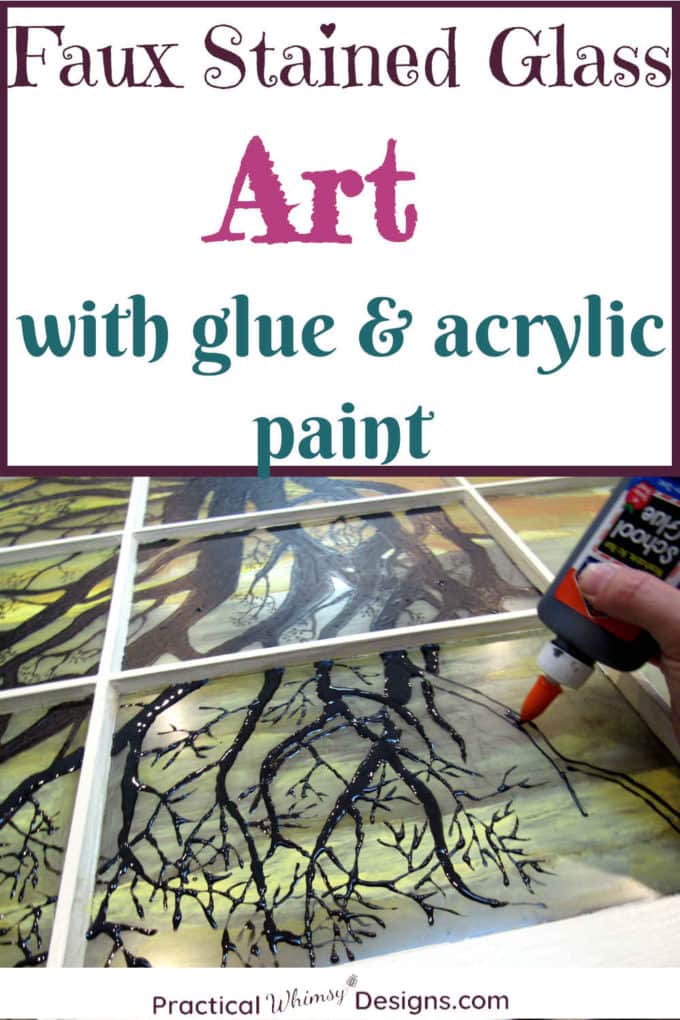 Have you ever found yourself with an old window or glass framed picture and you didn't know what to do with it? How about a blank wall that needs some art? Here is a fun project that uses school glue and acrylic paint to make a beautiful faux stained glass window art silhouette that is sure to enhance any room.
This post contains some affiliate links for your convenience (which means if you click a link and make a purchase I will earn a small commission at no extra cost to you). Please see my disclaimer page for more information.

Materials You Need:
Acrylic paint in the colors you want to use (these will be used for the background) I used 2 different brands including this brand of acrylic paint.
Black acrylic paint (you need black for your silhouette) it doesn't matter what finish you use (matte vs. satin) because it is getting mixed into the glue.
Toothpicks (for popping paint bubbles)
Paint brushes (Any soft bristle brushes will do like these paint brushes)
Coloring page or black and white print out used for template (opt.) (this should be the same size as your picture)
Dry Erase Marker (opt.)
Paint markers (opt.)
5 Steps for Painting a Stained Glass Window Art Silhouette
Step 1: Prepare your picture
Take the clear acrylic sealer and spray the glass. (Note:  You will need to set up an area that is safe from the over spray of the acrylic sealer). The acrylic sealer will give the glue paint something to adhere to. You can let the glass dry while you mix up the colors you will need for your picture.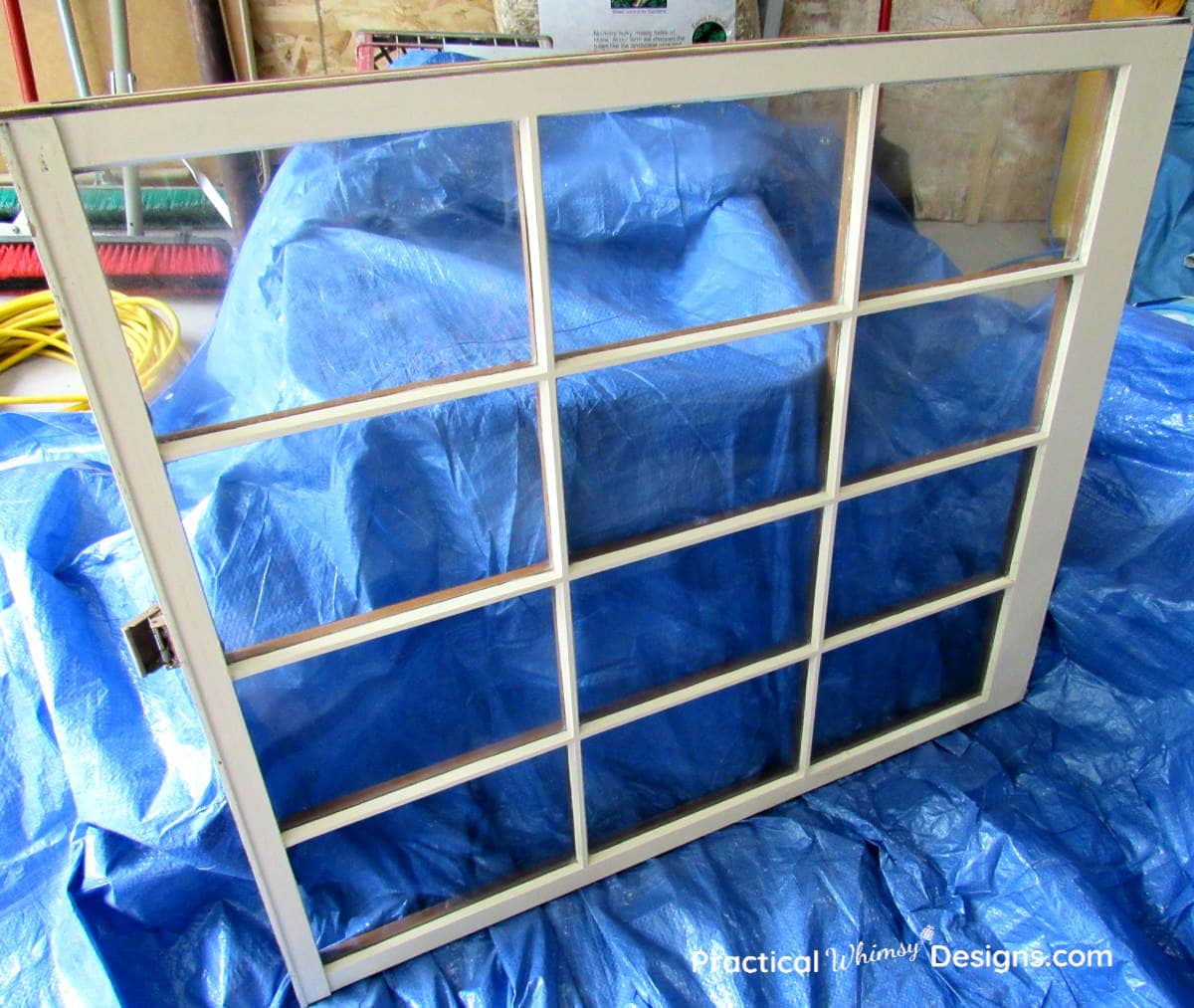 Decide which colors you want to use and mix 1-2 drops of acrylic paint in about a Tbsp. of clear school glue. You don't want to mix too much ahead because glue dries quickly and you don't want to waste your colors. I mixed mine in small paper cups.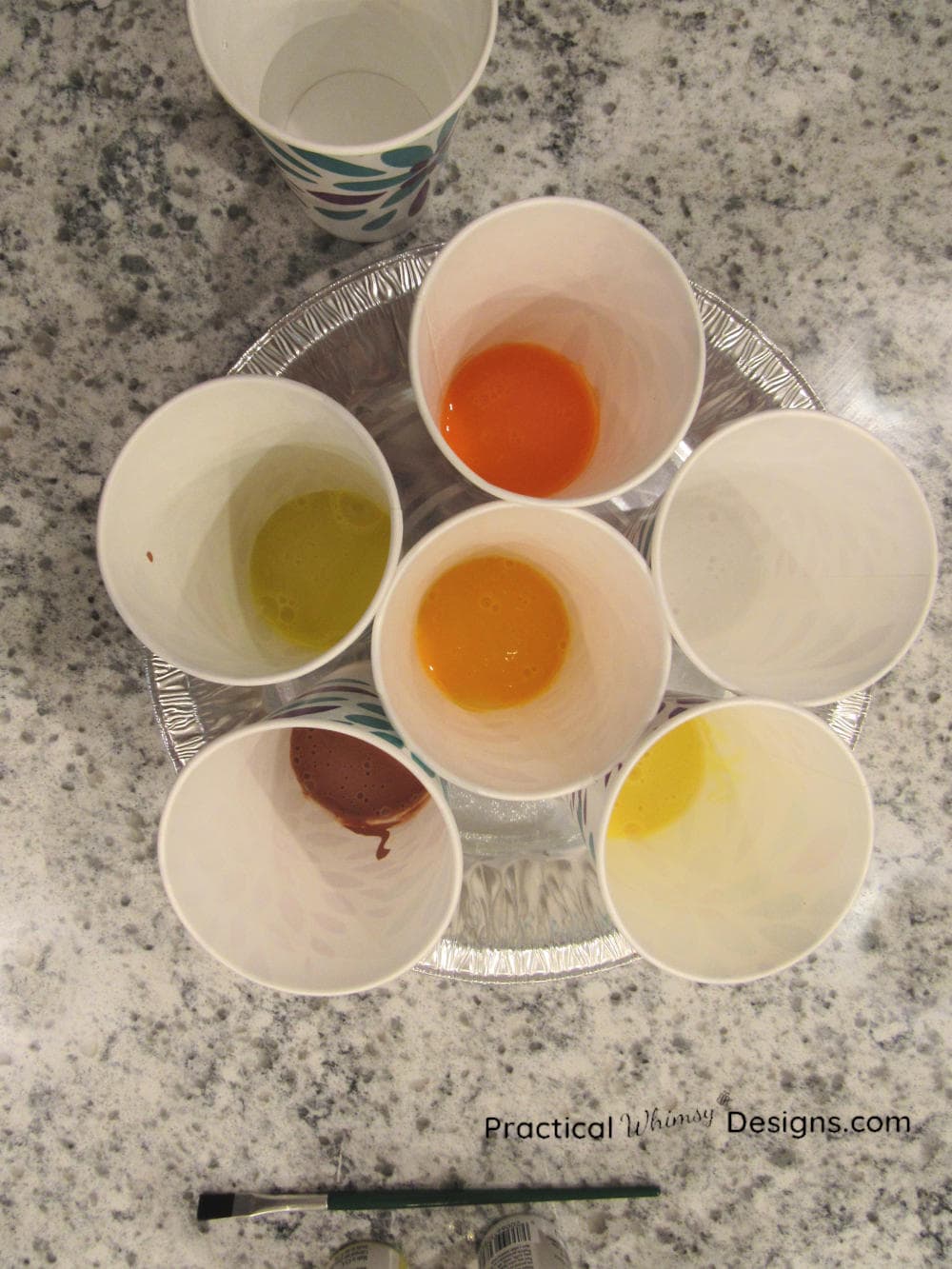 Step 2: Paint the stained glass window art background
Use the different colors you have mixed up to paint the glass of your picture. Play around with blending colors or paint everything one color. This part is up to you and your creativity so have fun with it!
Tip: If you want a more intense color in a certain area, first paint a layer of glue paint on the glass. Then use straight acrylic paint and paint over the area you want to darken. Note: The colors will separate a little because of the glue, so you will have to go back over it with your brush a few times to mix it into the glue.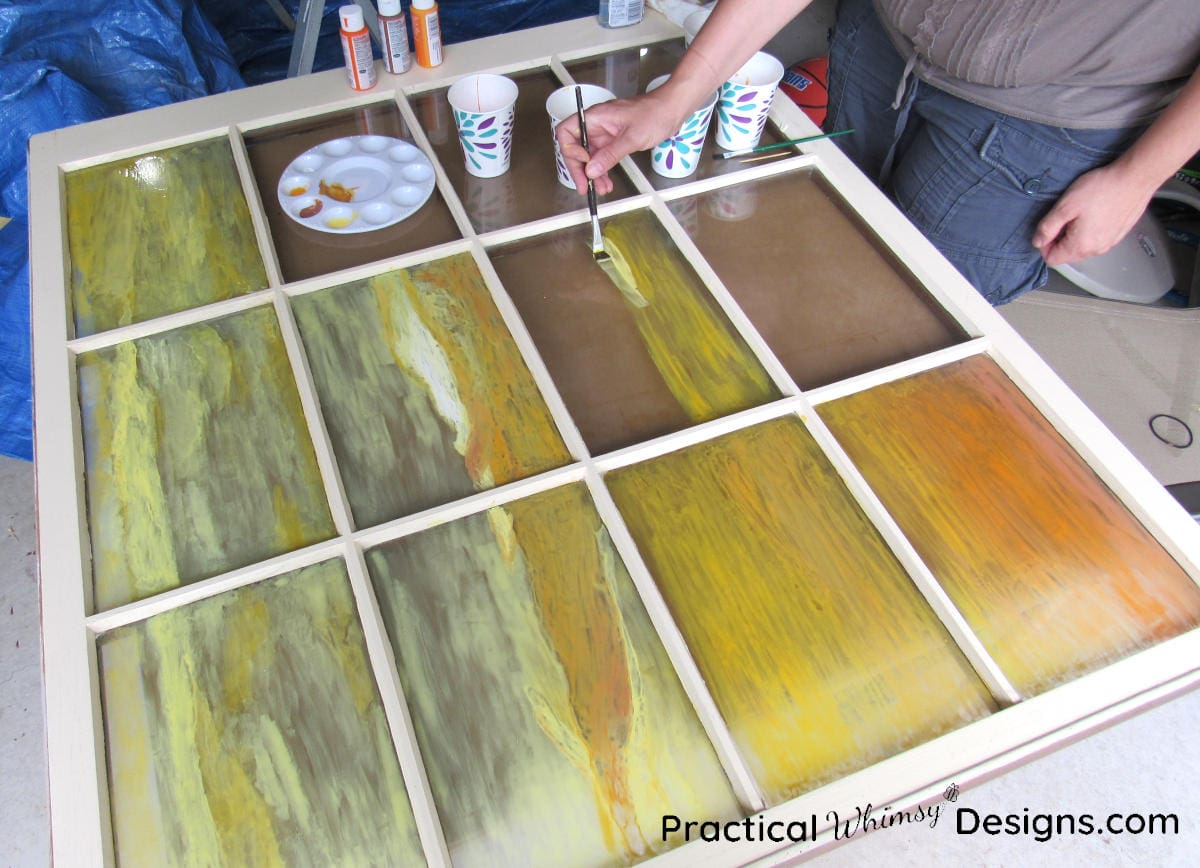 I used the above method for the sun on my sunrise picture as well as the white and yellow areas on the clouds where I wanted the colors to seem more intense.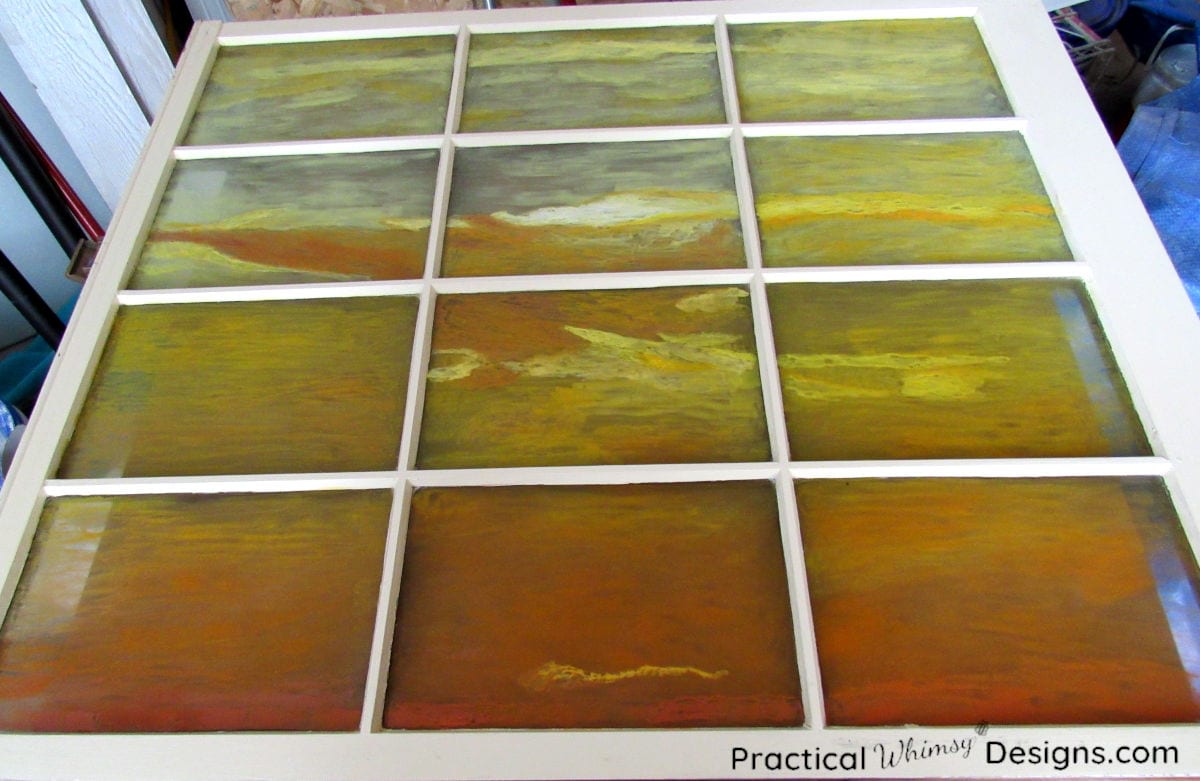 Let it dry!
I allowed mine to dry overnight and it was ready to go the next day.
Need to pick the perfect paint color to go along with your style and decor? Learn how to pick the best paint color for your home and style by signing up for the pdf below.
Step 3: Prep the painting for the silhouette
Grab your white school glue and take the lid off. Add black acrylic paint to the bottle, put the lid back on, and shake, shake, shake until it is well blended. (This does require a bit of shaking, so you might as well turn on some music and really get into it.) 🙂
Start with 15-20 drops. You can always add more if it is not black enough. Note: The glue will look grey when it is wet, but dry black.
There are several methods you can use to apply your silhouette template. The easiest one is to use a printed picture or coloring book page and tape it to the back side of your picture. It should be fairly easy to see since the glue paint gives the effect of a see-through stained glass.
If you have a bigger piece of glass (like me) then you can either free hand trace a picture on the back of your glass with a dry erase marker, or look at a smaller picture for inspiration and just go for it. It all depends on your comfort level and the size of your glass.
I combined a little of all three methods: I drew a basic outline of my tree on the back of my glass to get an idea of the sizing. (Make sure you draw on the BACK of your glass, not on your paint! Then you can wipe it off easily after you have completed your painting.) Then I looked at the picture that was my inspiration and free handed the rest.
I used the paper template method to get my words straight.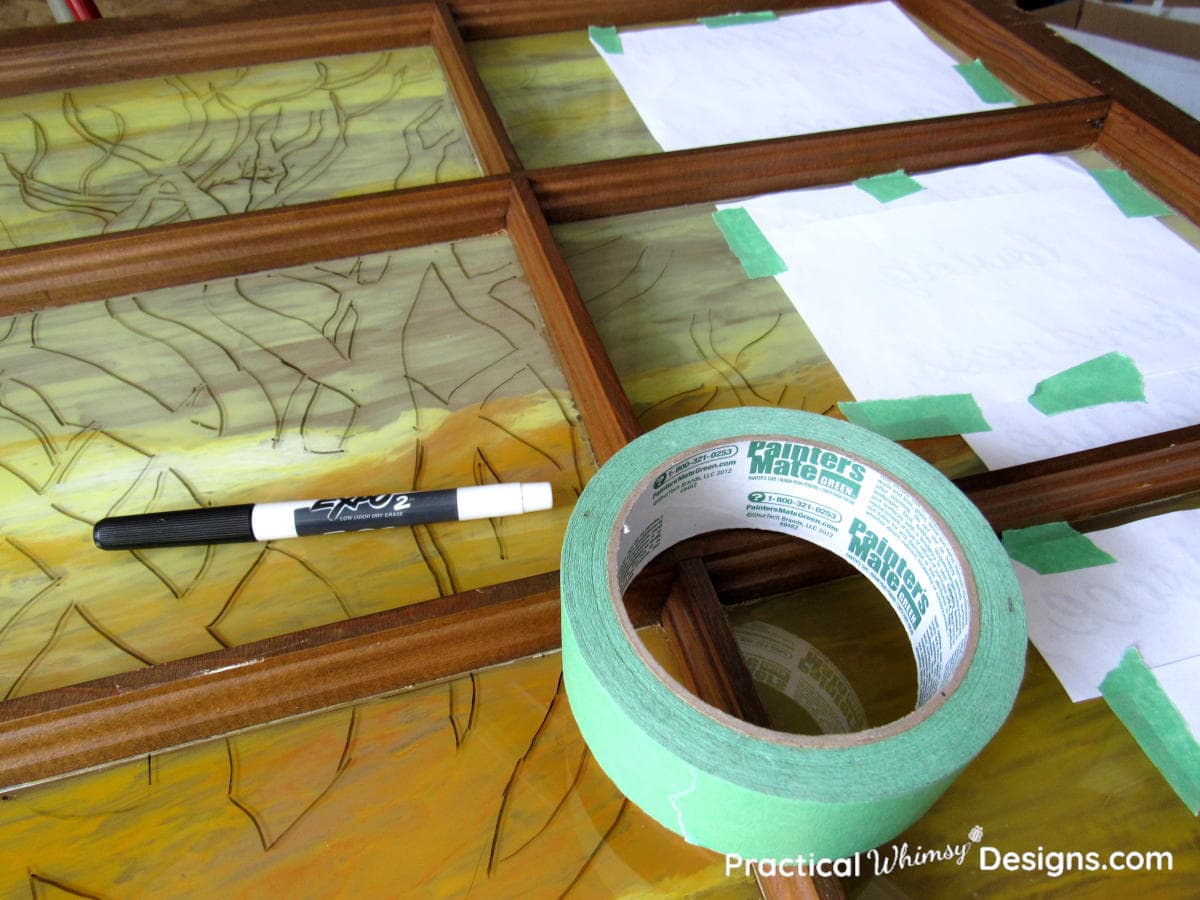 Step 4: Paint the silhouette.
Use the black glue and squeeze your design out onto the side of your glass that you previously painted with the colored glue. Note: This area will dry raised.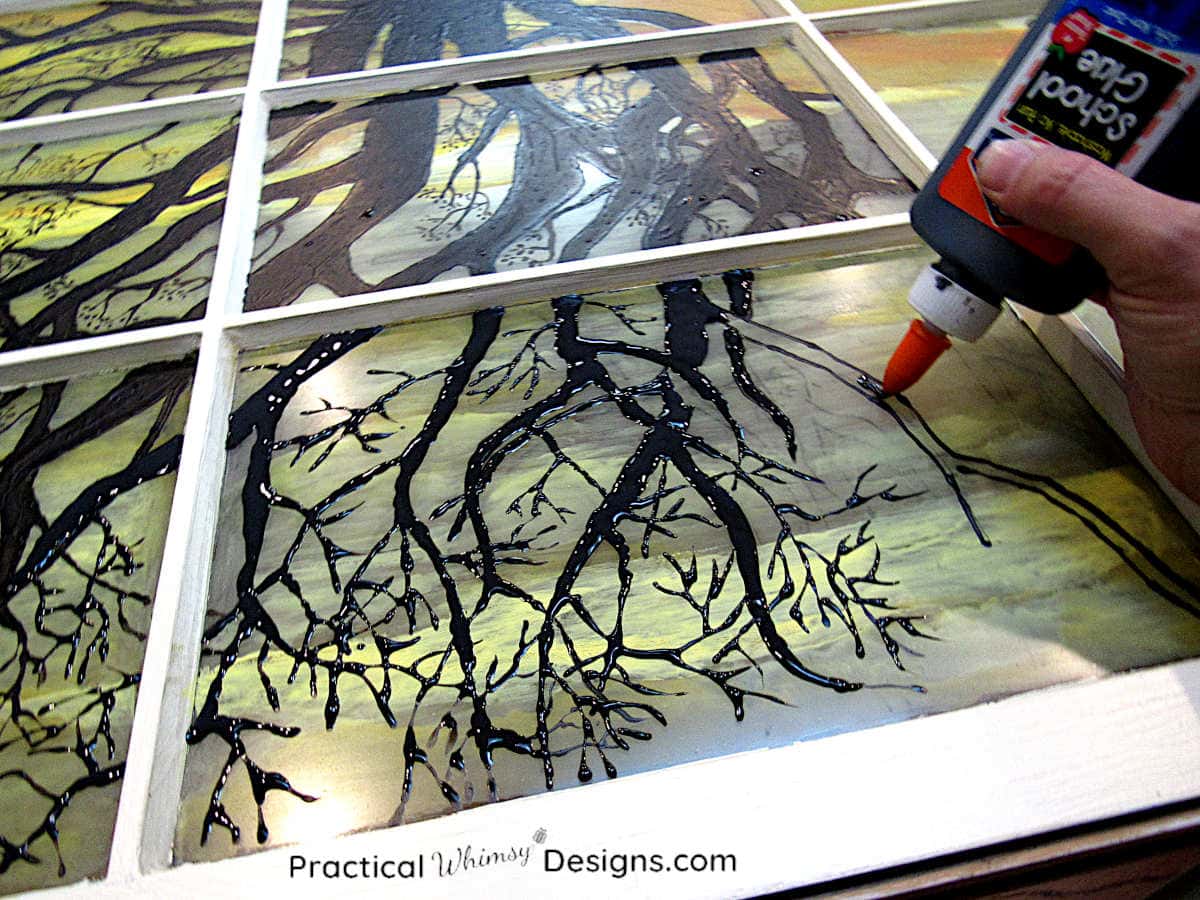 Work from top to bottom or side to side, whatever is comfortable. You just don't want to rub off all of your hard work with your hand.
Pop any bubbles with a toothpick or the bubbles will dry into little crevices on your painting. Don't worry, if this does happen (it happened to me), you can come back with a little extra glue paint and try to blend it in.
As the glue dries, IT WILL SHRINK. Don't worry if you see some color bleeding through. You can go back over it with more black paint. This has the added bonus of increasing the texture of your silhouette.
If you do make mistakes, you can use a craft blade to fix the edges. Just don't get too carried away because you might scratch the paint off your background.
Step 5: Stained glass window art final steps
If you want to add anything to your picture that isn't raised, you can use paint markers. I used black paint markers to write the words on my picture and used a print out taped on the back so I could trace it and keep everything straight.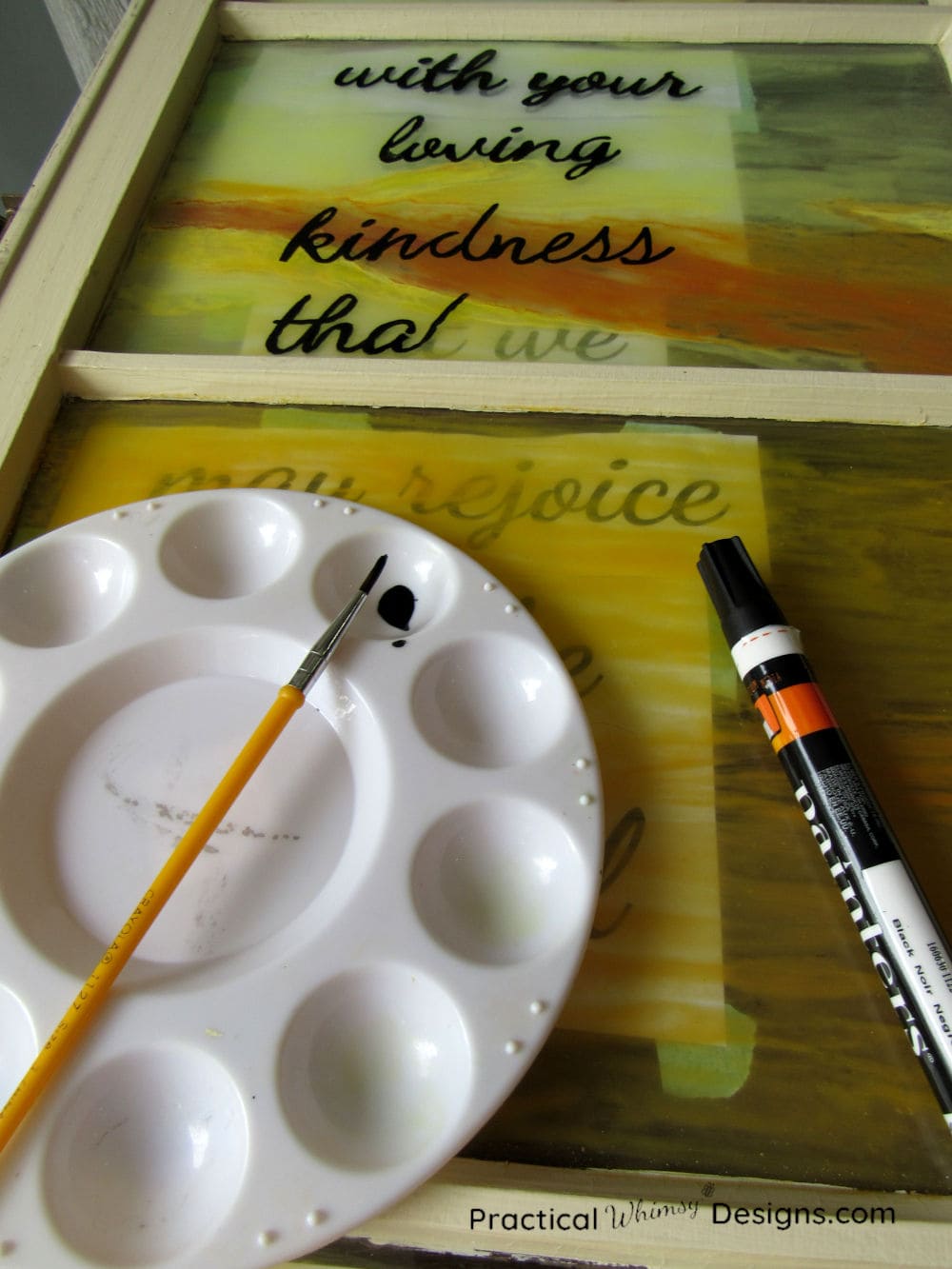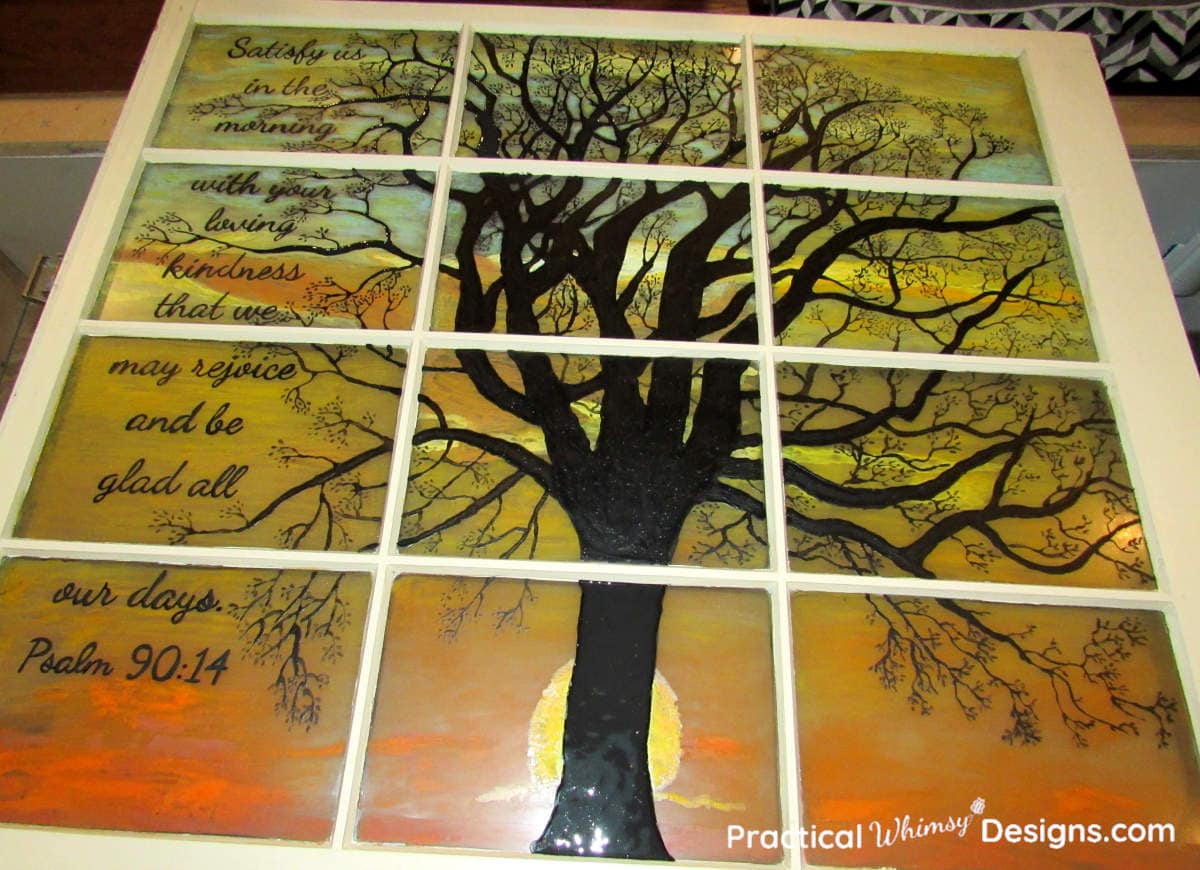 Note: After I had added the silhouette to my tree, I realized that I wanted to add a little blue to my painting. I was able to paint the blue glue paint over the existing dried glue paint, though I noticed it did pull up the paint underneath if I wasn't careful. So, if you want to add another color, it can be done. Just proceed with caution so you don't mess up the other colors on your painting.
Another note: This also came in handy when I accidentally scratched some paint off of a little section of glass. I was able to come in and blend in more paint to cover the exposed glass.
When you are satisfied with the way it looks, let everything dry for at least a day.
Spray it once again with clear acrylic sealer before hanging it on the wall to seal in all of your paint and prevent it from scratching off.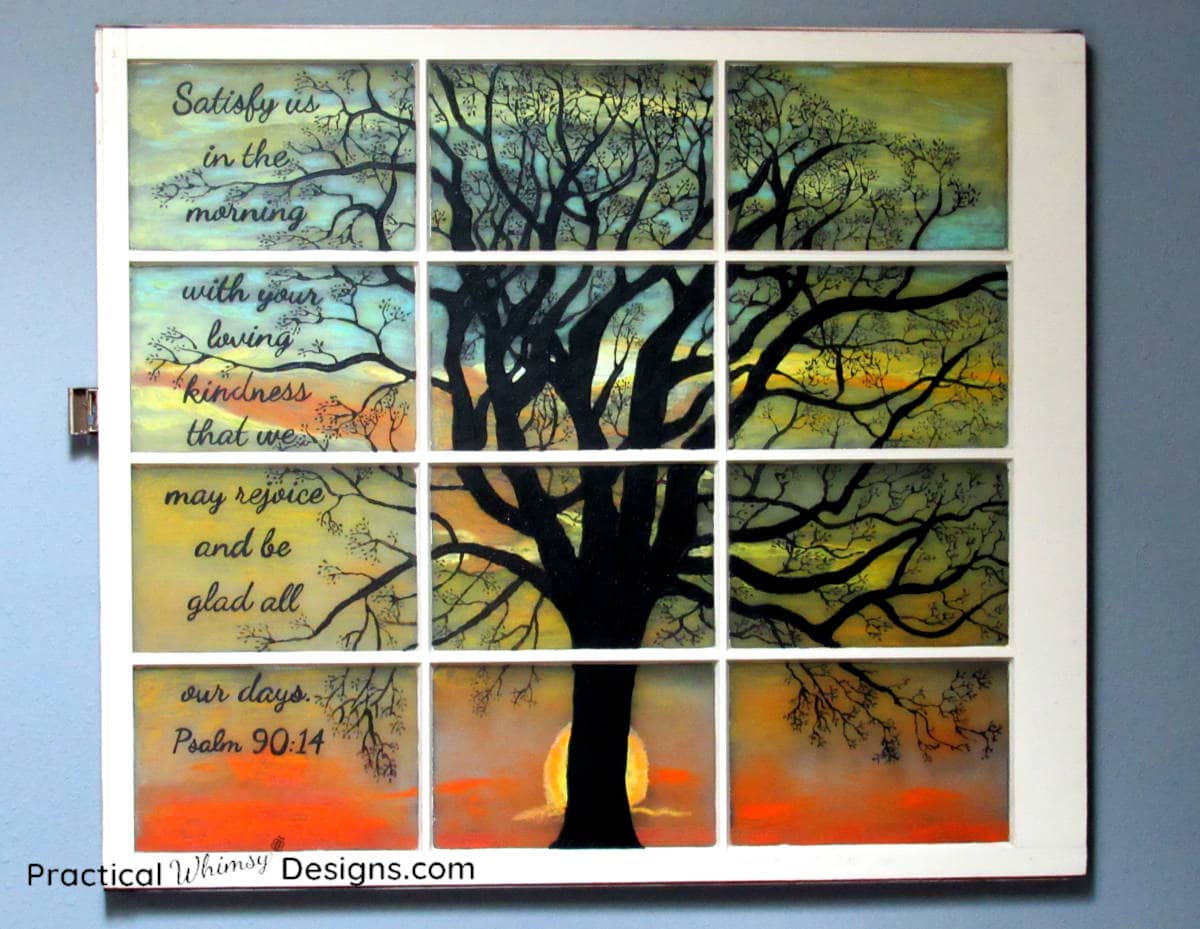 And this is what it looks like with light shining behind it.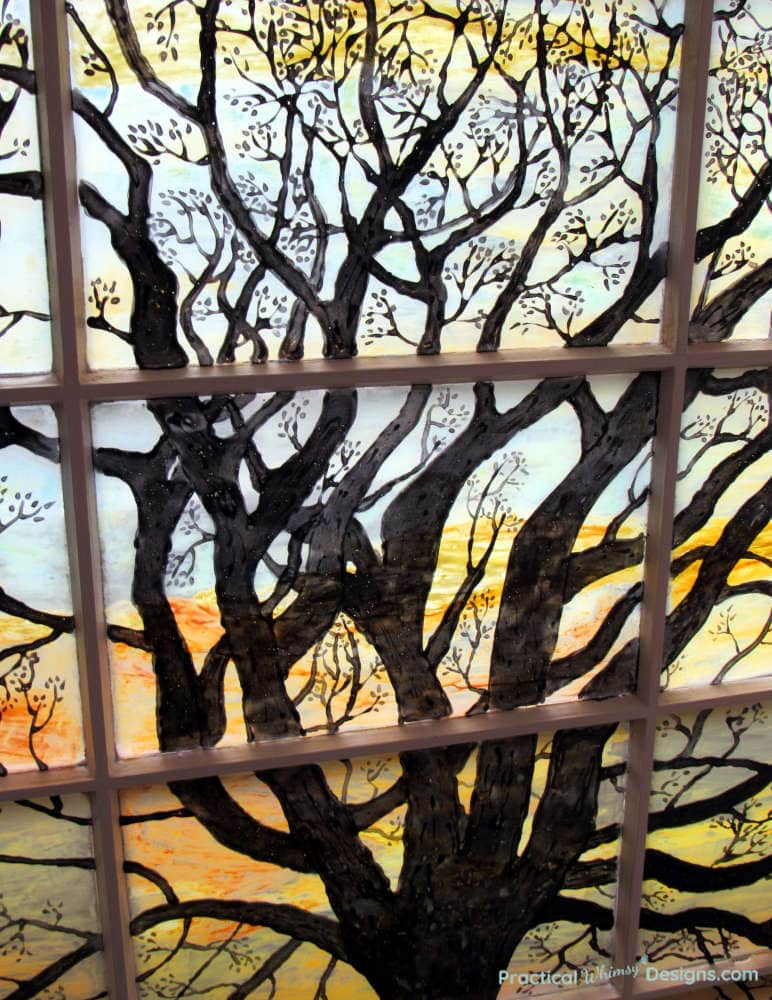 Another method:
If you are looking for more of a stained glass look, you can apply the black glue paint first, let it dry, and then paint with the colored clear glue inside the lines.
You would use the same mixing ratios and methods listed above, but the pictures would turn out more like a stained glass window. It is a little harder to blend your colors with this method, but you can still play around with it.
Want to remember this project for later? Save it to your favorite DIY Pinterest board.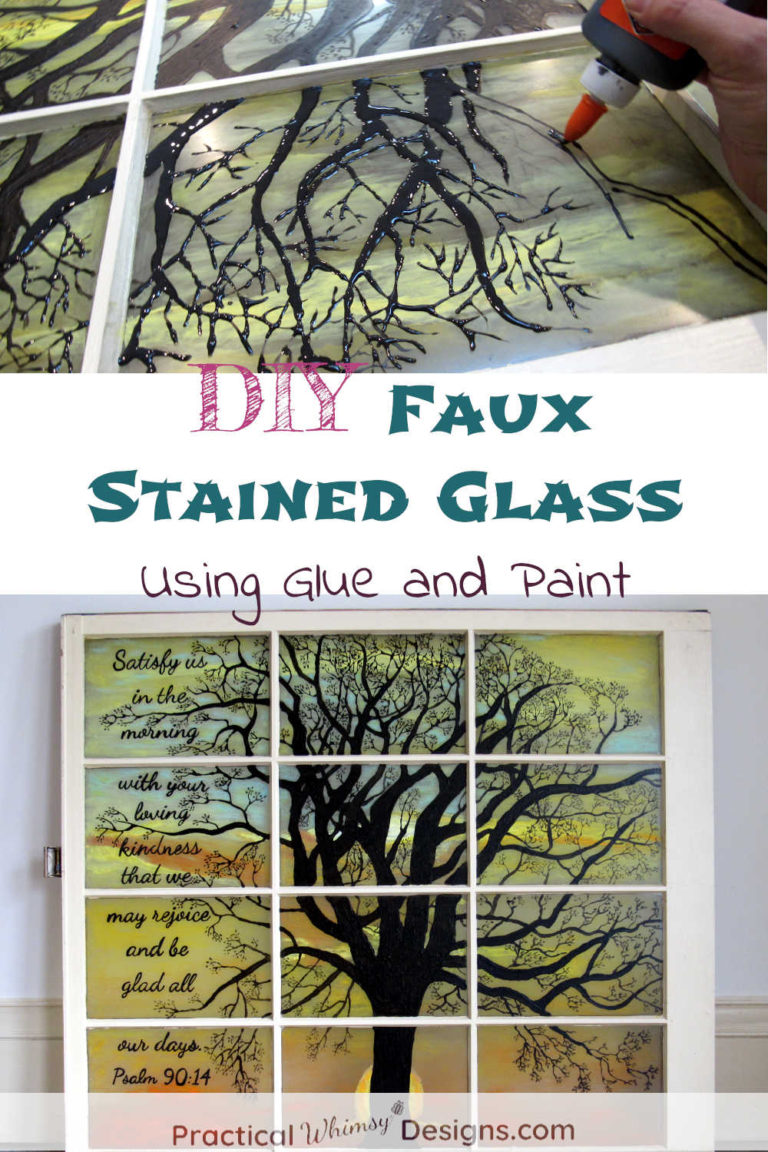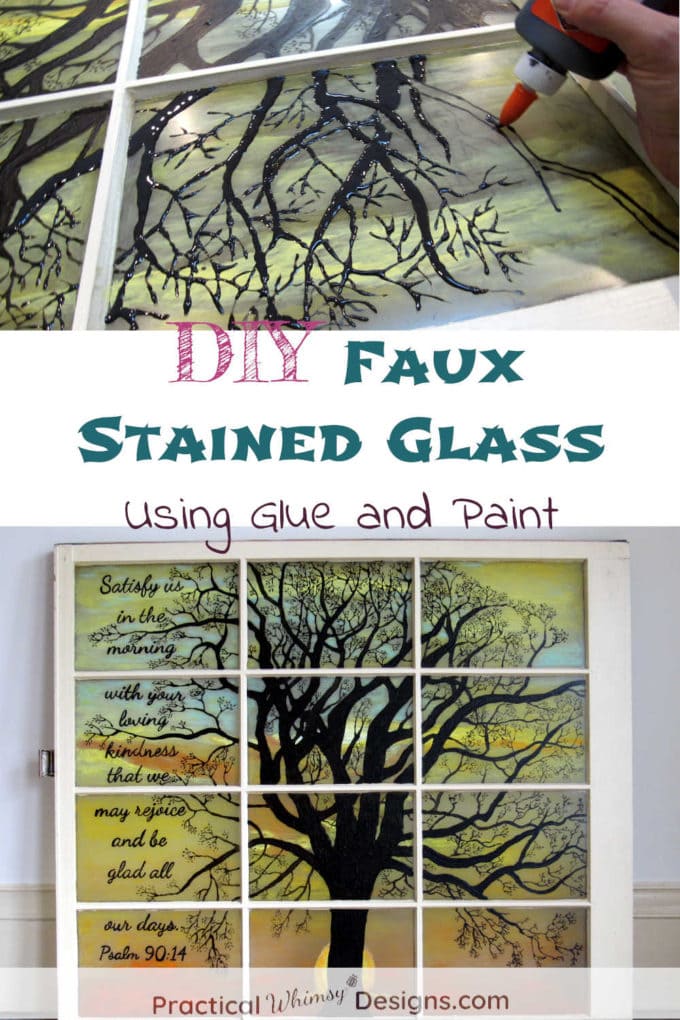 If you try this project, I would love to hear any tips or alternatives you found that work. What was your inspiration?
Looking for more art tutorials? Check out these posts on How to Make a Faux Chalkboard and how to make a DIY Snowman Lighted Canvas Picture.