Create this easy DIY succulent planter box for a cute succulent planter for your home. Use the SVG file to add customization to any succulent planter you own.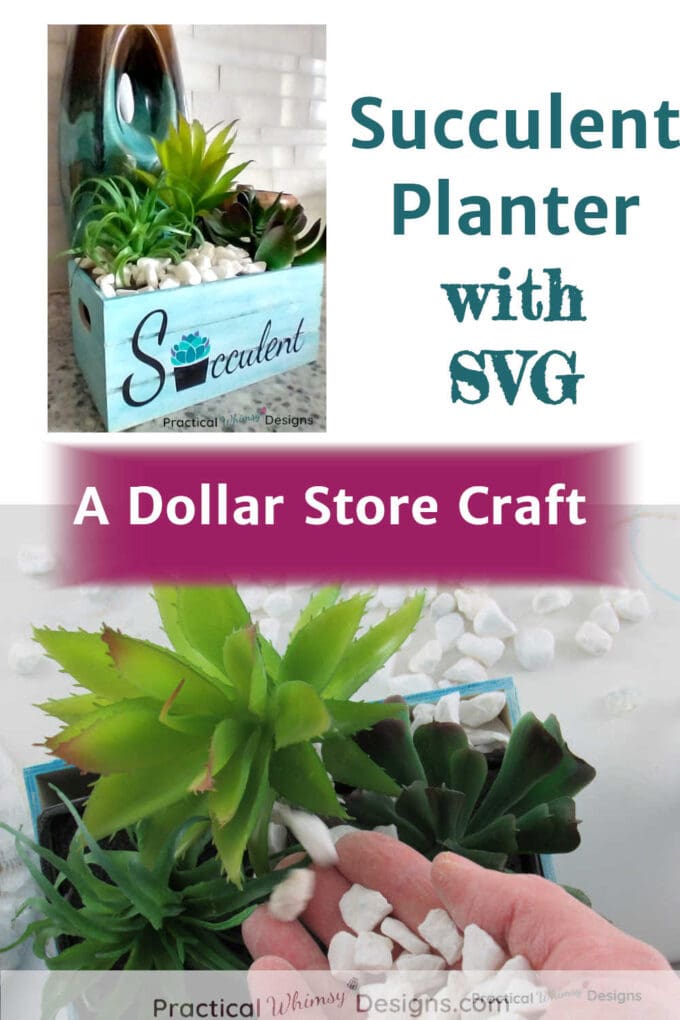 Adding greenery in your home can make your space feel alive and give it a pop of color and vibrancy. A beautifully styled plant on your coffee table or shelf can tie your space together and complete your design.
However, there are some spaces in a home that don't have enough light to keep plants alive. And keeping plants alive may not be on your list of priorities or talents.
If you are looking for unique and easy ways to add greenery and color to your home, artificial succulents are the perfect plant. Even if you don't have enough light or a green thumb, artificial succulents provide varying textures and many different colors and are a fun way to add visual interest to any space.
There are many different kinds of artificial succulent plants and cute succulent planters available for purchase or DIY.
If you enjoy the look of succulents, here is a cute succulent planter DIY you can make in an afternoon. It is the perfect diy project to add beauty to a small space, such as a mantel, shelf, or counter.
This is part of the Thrifty Thursday collaboration where a group of talented bloggers come up with thrifty ideas for decorating your home. Check out all of the other tutorials at the bottom of this post.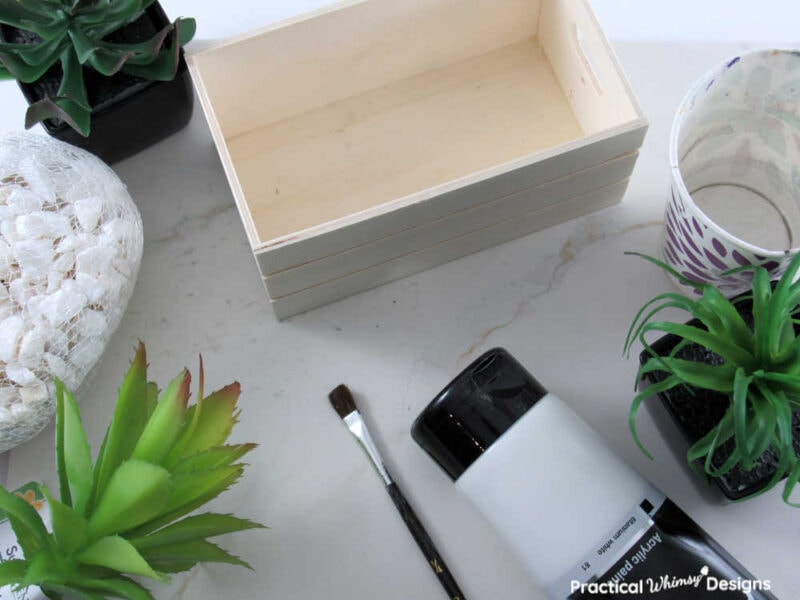 This post contains some affiliate links for your convenience (which means if you click a link and make a purchase I will earn a small commission at no extra cost to you). Please see my disclaimer page for more information.
Materials You Need:
Succulent Planter Materials:
Vinyl Lettering Materials
How To Make a DIY Succulent Planter Box Decoration
Step 1: Paint the box
The easiest way to paint a box is to spray paint it, but I wanted to create a more white washed look for my succulent planter.
To get this look, paint the wooden box with acrylic craft paint. If you want a more rustic, white washed look, water down the paint.
To do this, dip your paint brush in water.
Then dip it in the paint and mix the water around until the paint is fairly watery. Brush the paint onto your box.
Repeat this until the outside and top rim of the box is painted.
I started with the island breeze paint color.
Then I painted over the blue with watered down white paint. Of course, you can use any color that fits your decor.
I don't know how long this box would hold up if you used it for real succulents and dirt. However, if you wanted to give it a try, make sure to drill drainage holes through the bottom before adding the plants. Succulents need good drainage and the right kind of soil to stay healthy.
Using a terra cotta pot or a crate made from cedar boards might last longer for an indoor succulent garden. Just make sure that there are bottom pieces to catch any water that drains through.
Step 2: Add the Succulents
If you plan on only painting the planter box, and not adding the vinyl decal, then it is time to add the succulents.
Grab 2-3 small succulents that look well together. Using plants of different sizes and textures can add variety to your home decor and give it a fun texture. Since these are mini planters, you won't have too much room for a lot of succulents and you will need to use a small plant instead of larger plants. I was able to fit two artificial succulents with mini pots and one with a stem into the small wooden box I used.
For artificial succulents, assemble the planter like this:
Stuff a piece of tissue paper in the bottom to keep your succulent pots from tipping over.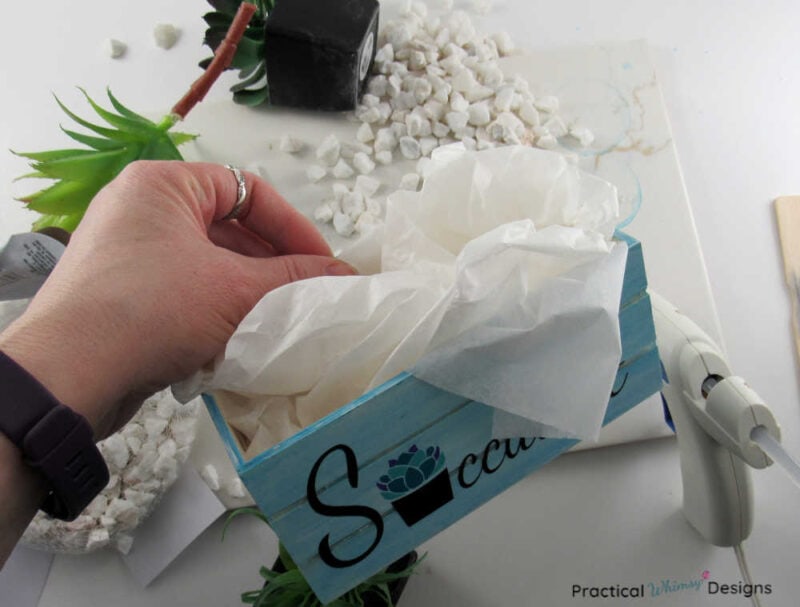 Set the succulents into the box and nest them into the tissue paper to secure them.
Pour rocks or place faux sphagnum moss over the top.
Note: If you are trying out real succulents in this planter, replace the tissue paper with a succulent soil mix.
And that is it for this easy DIY succulent planter idea. However, if you want to add the vinyl decal before placing your succulents in the planter, continue below for instructions.
Steps for Adding Vinyl Word to DIY Succulent Planter
Step 1: Upload the SVG file
First, download my free SVG file from my resource library. (This library is available as a bonus to my email subscribers. Not an email subscriber yet? Sign up below.)
Below is the tutorial if you are using a Cricut Maker or Cricut Explore Air.
Open up the file in Cricut Design space.
Resize it to fit your project. You can do this on the top center of your screen. For the box I made, I sized it to 5 inches wide and almost 2 inches high.
Ungroup the SVG file using the ungroup button on the right top of your screen.
Next, attach each color together. This keeps each color layer together the way it is currently laid out. Otherwise the machine will lay out the vinyl cuts next to each other to try to use the vinyl in the most effective manner. However, for our project, we want the vinyl to stay the way we have it on our mat.
To do this, click on the word (succulent) above each color layer. All of the cuts in that color should highlight. Click attach at the bottom right of the screen. There should be a total of 4 different color layers to attach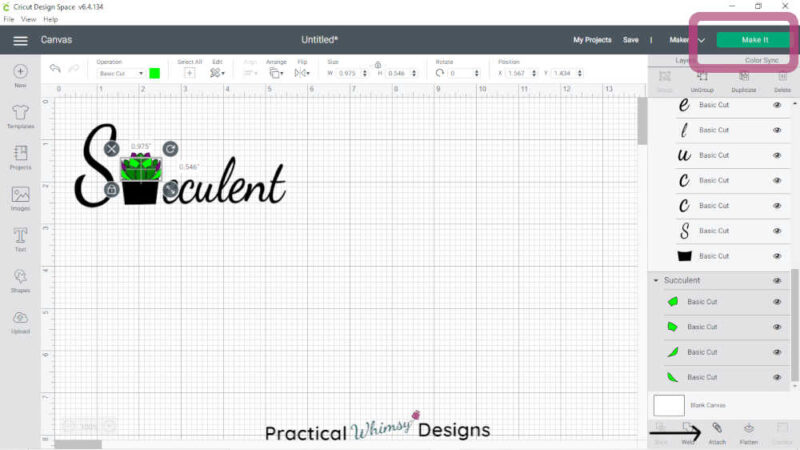 When you are done, click on the Make It button on the top right menu.
Step 2: Cut Out the Vinyl
You should have 4 mats with the different color layers on each. You can either load each mat and color individually, or save time by putting all of your vinyl colors on one mat and cutting them out in one cutting session.
To do this, you will need to move the color layers onto one mat.
On Cricut Design Space, click on the design on the mat.
Select the three dots on the left.
Click move object.
Select the mat you want to move the object to.
Line them up on the mat so that they match the color of vinyl you plan on using. Do this for each layer until they are all on one mat.
Note: They will all turn one color once you move them, so make sure you keep track of which color you are using and place it on the corresponding location on your mat.
Click continue.
On the next screen select Vinyl: Use a light grip or standard grip mat- Fine point blade (Cricut Design Space is pretty good at telling you what you need to cut out the different material)
Follow the instruction to cut out the design.
Step 3: Transfer the Vinyl to the Wooden Succulent Planter
Peel the outside of the vinyl off the backing, leaving the design and letters. Use the weeding tools to keep the small pieces in place so they don't shift.
You should only have the word and succulent layers left on the backing.
Note: The whole Succulent word can be together on one piece of backing. I had to re-do part of mine and so I had two separate pieces of vinyl I cut out.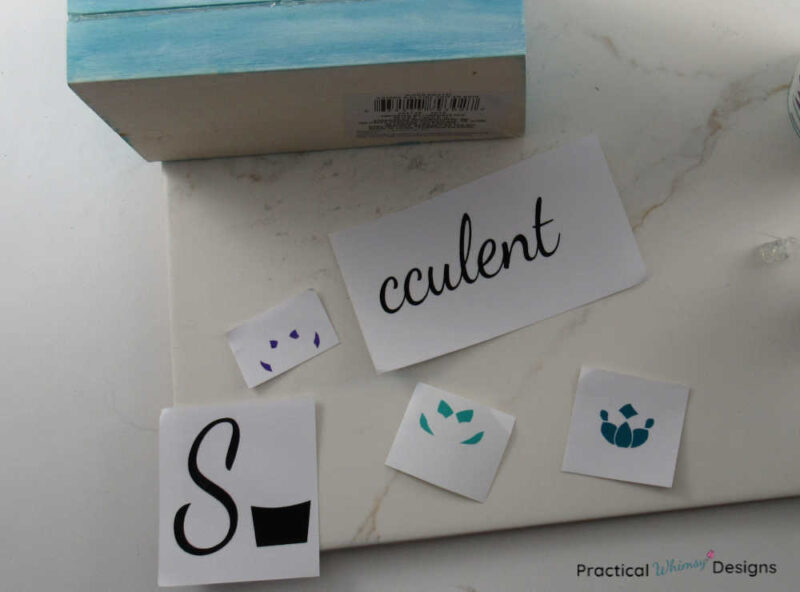 Use a piece of transfer tape and stick it onto the first layer of the succulent. (The dark green layer on the SVG.) I used a small piece that was just large enough to cover the succulent because it was easier to maneuver. Peel the backing off so that you just have the vinyl stuck to the transfer tape.
Leaving that green vinyl on the transfer tape, match it up with the light green layer and stick that to the same piece of transfer tape. Once you have it lined up, peel the backing off of the light green vinyl. Then add the purple layer the same way. Use the plastic scraper to smooth the vinyl onto the transfer tape if you need it.
You should have the succulent stuck to your transfer tape.
Using one piece of transfer tape and lining everything up before you attach it to your wooden box is a much easier way to transfer your vinyl layers.
Now stick the succulent over the top of the black pot vinyl piece.
Use a piece of transfer tape to cover the rest of the word and transfer the whole word onto the tape. Make sure it is level and placed where you want it and then stick it onto the wooden crate. Use the scraper to rub the vinyl letters onto the crate to help transfer them to the wooden succulent planter and off of your transfer tape.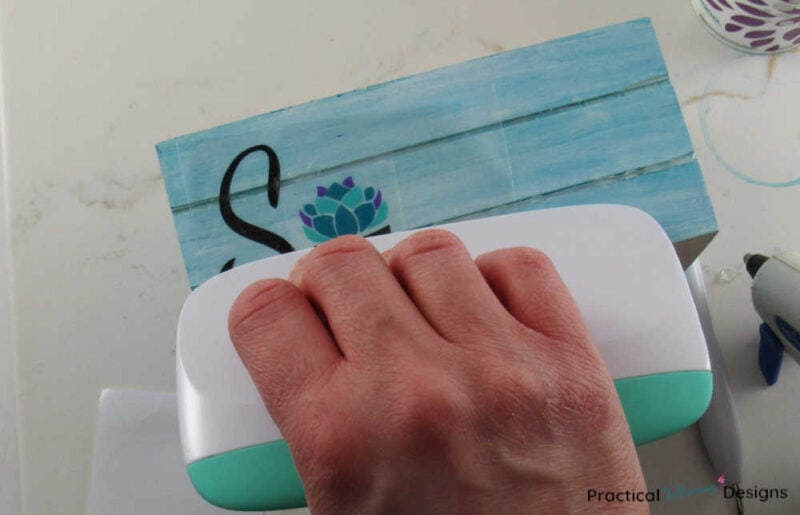 Note: If your crate has lines in the way, like mine, you can fill those lines with a hot glue gun so that your vinyl has a flat surface to adhere to.
Easy Succulent Planter DIY
You can add this vinyl decal to any succulent container garden you want to create to give it a more custom finished look. It is a great way to add your own personality to your DIY planters or purchased pots. You can change the colors on the vinyl succulent to match whatever decor and color scheme you need.
These fun little planters are great for a variety of spaces and they are such a simple DIY.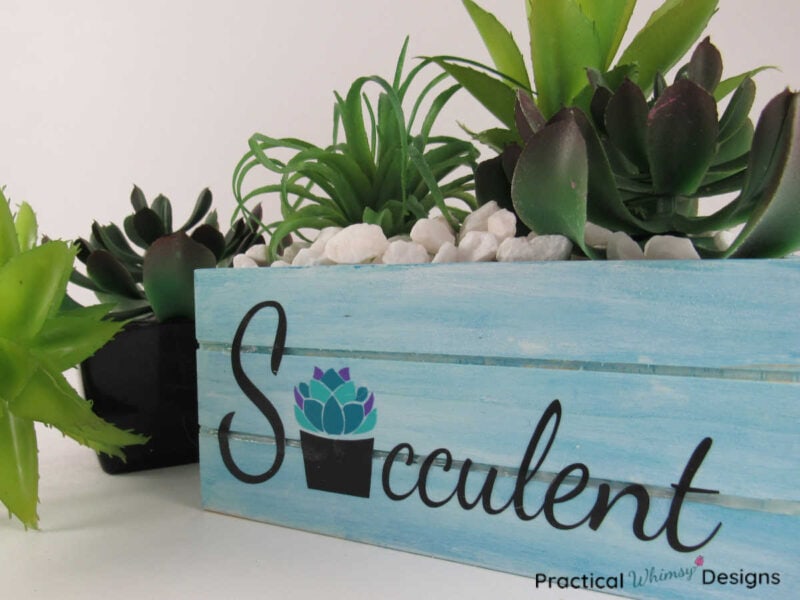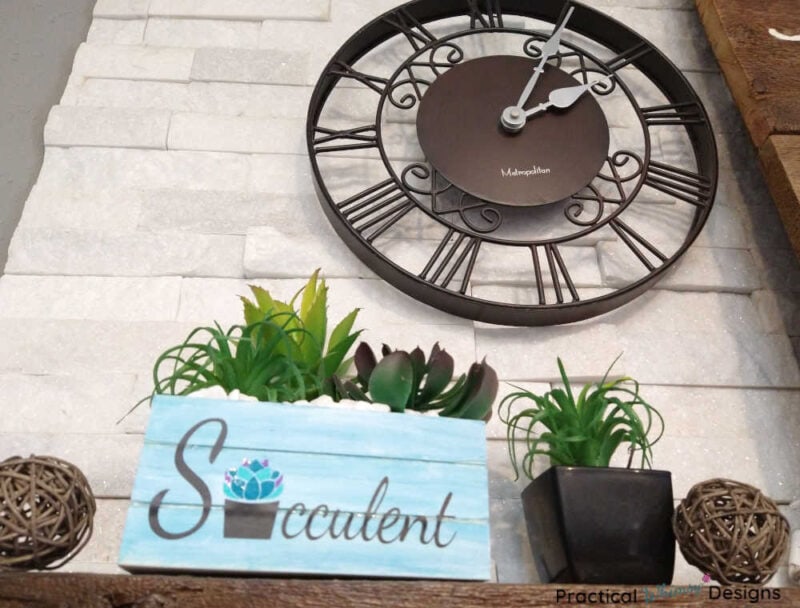 I have used them on my mantel and I especially like them in my kitchen. Since we often talk about food being succulent it is a great play on words and the vinyl lettering provides unique ways to customize my decor.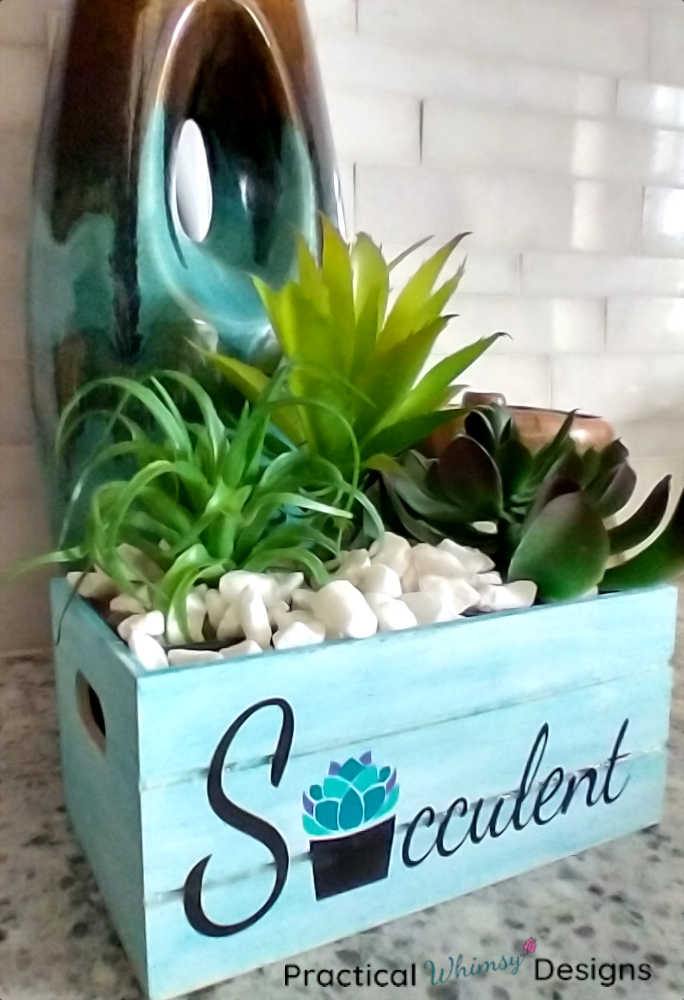 Where Can You Buy Artificial Succulent Plants?
There are a variety of fake succulent plants available for purchase in many different textures and colors. I purchased mine at the Dollar Tree. You can also buy them online from the Dollar Tree, but they do come in bulk.
Another option is to search for them at a craft store or I also found faux succulents with stems I liked here or faux succulents in pots here.
Want access to this SVG file plus all of the other files in my resource library? They are available for free to my email subscribers. Sign up below to gain access.
The form you have selected does not exist.
Looking for succulent planter ideas that are better for real plants? Take a look at these 30+ cute succulent planter ideas.
Want to remember this idea for later? Add it to your favorite DIY board on Pinterest.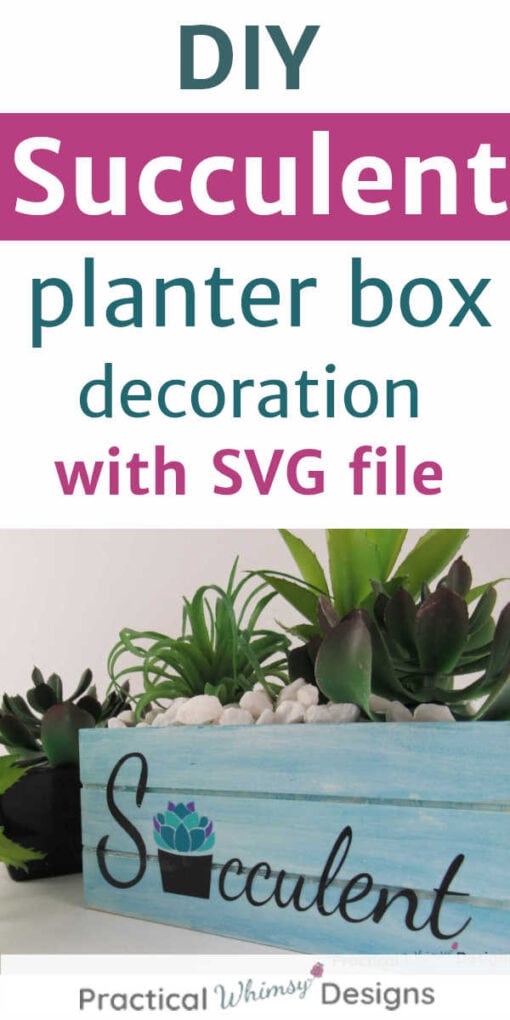 Want More Great Ideas? You Might Like These..
Check out these other thrifty ideas from the Thrifty Thursday Collaboration. Sara-Lynn from The Inspired Decorator gave this old filing cabinet a face lift and Emily from Domestic Deadline has a fun tutorial on crocheting a pillow cover.