Want to create the amazing cutting projects you find on the internet? Take advantage of the full potential of your Cricut cutting machine by learning how to upload SVG files to Cricut Design Space.
This post contains some affiliate links for your convenience (which means if you click a link and make a purchase I will earn a small commission at no extra cost to you). Please see my disclaimer page for more information.
More and more people are enjoying the benefits of cutting machines. They are a DIYers best tool when it comes to making fun and affordable decorations for their home.
Not too long ago, I joined the cutting machine craze and bought a Cricut Maker cutting machine. And I absolutely love it! This machine can cut so many things!
So far I have cut paper, cardstock, fabric, vinyl, and mylar and I am so excited to try even more projects.
One of the fun things about cutting machines is the fact that there are so many SVG (or Scalable Vector Graphic files) available to try. That type of file is the best for cutting machines because you can edit, change, or scale it to do what you want with it without losing quality. It gives you the flexibility to put your personality into the projects you are making.
Having so many free SVG files available for you to try means a lot of the hard work is done for you.
But how do you upload one to your Cricut Design Space to turn it into a fun project?
How to Upload SVG files to Cricut Design Space
To upload the SVG file to Cricut Design space:
After you have found the SVG file you want to use, save it to your computer in a place you can find it again.
Login to Cricut Design Space (if this is your first time using it, you will need to download it and make an account)
Once Design Space is open, click the New Project button in the top right of your screen.
Click Upload on the left menu bar (located at the bottom)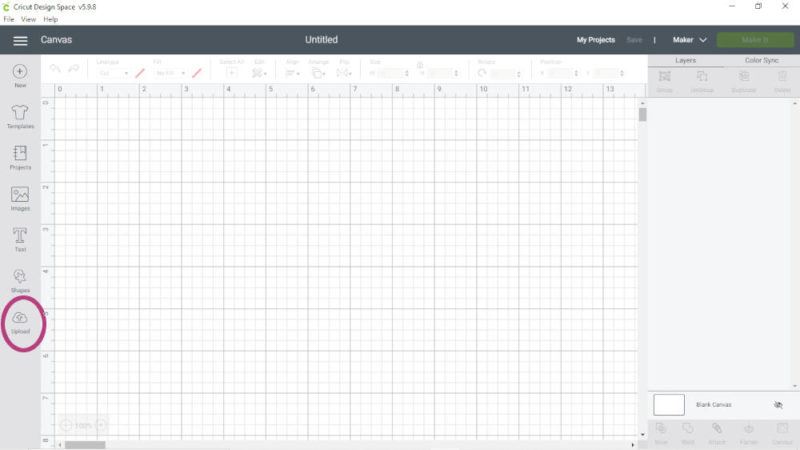 Click Upload Image and find the file on your computer to upload.
Make sure the name of the image makes sense to you and tag it with keywords. This is optional but can help you find things later when you have a lot of projects to sort through. Then hit Save.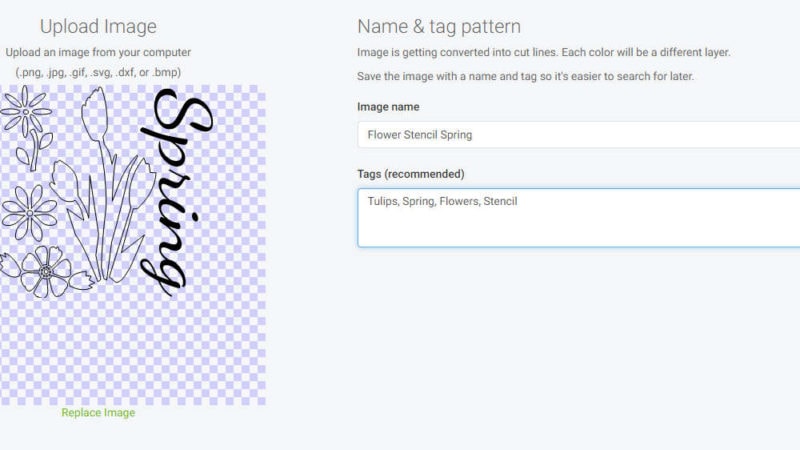 Select the newly uploaded file and hit Insert Images.
How to Adjust Size
If the file opens in a larger size than you want you will need to resize it to fit the size of the material you are cutting. To do this, maximize the Cricut Design Space screen to fill your computer screen (small square on top right bar).
On the top menu bar of the Cricut Canvas screen, adjust the width or height to match your material. Make sure the size matches the material you are cutting and the size you need for your project. You can also adjust the position of your stencil left to right and up and down using the x and y position on the menu bar.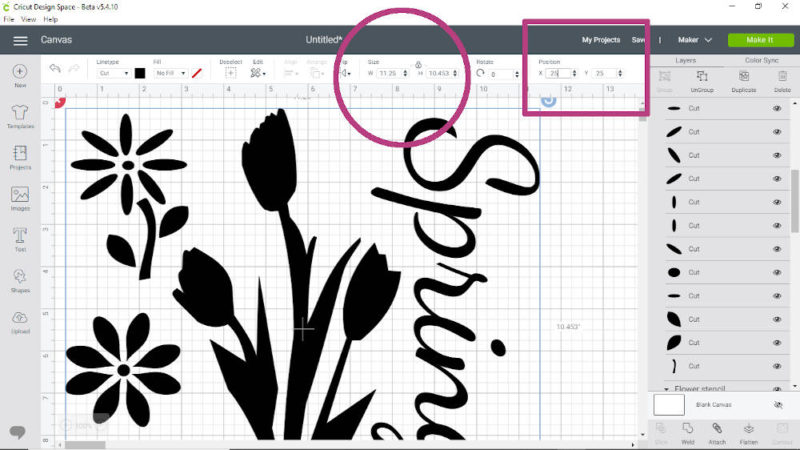 More on SVGs
If you like the spring file I used in this tutorial you can go here to find out how to get the SVG for yourself.
I hope this tutorial helps you start to take advantage of the amazing SVG files and projects available.
You can check out all of the projects I have used my Cricut Maker for here, many of which have SVG files that you can download and use as well.