Check out the amazing before and after transformation of this video game bedroom makeover. Learn the design elements you need to make your own themed room.
Struggling with finding the perfect paint color for your home? My design guides are available for free to my newsletter subscribers. Grab my Free Paint Guide and FINALLY pick a wall color that you love!
Our boys' bedroom reveal is finally ready!
We took their small space and made it into an awesome themed room based on one of their favorite games.
I am so excited to share this fun gaming room theme with you because it was a blast to create the design for the entire room.
Before Our Remodeling
Before we jump into the updated room, I want to post a few pictures to show you what this room used to look like.
I affectionately called it the bamboo room because of the wall paper and the yellow green stained trim.
As part of our agreement when we bought our fixer upper house, we had to remove any items left behind. As you can see, this room was full of things we had to get rid of when we first purchased the home.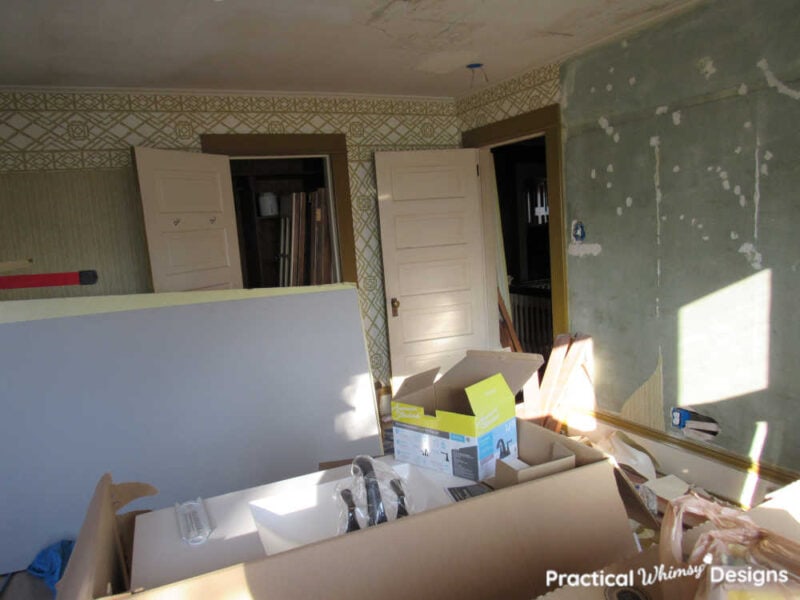 Our first step in the remodeling process was to remove the old wall paper, which luckily pulled off easily.
We did a lot of work to create the boy's themed room, including adding in a built-in stairs platform with a bookshelf, dresser, and bed space.
It was important to use what we could for storage, since we had such a small room to work with and needed to fit 3 boys in the space. We had to get creative with how we utilized the room. If you want to read about some of our projects on the boys bedroom, you can do so here.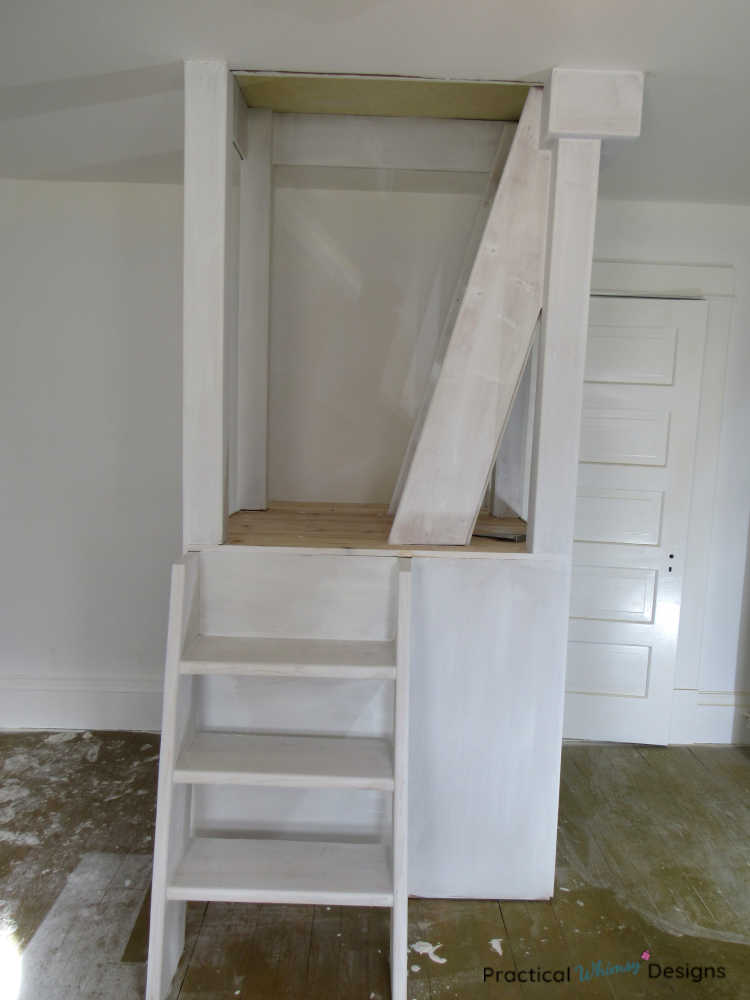 We did a lot of painting, added carpeting, and completely changed the feel and look of the room.
Here are pictures of the finished video game bedroom design.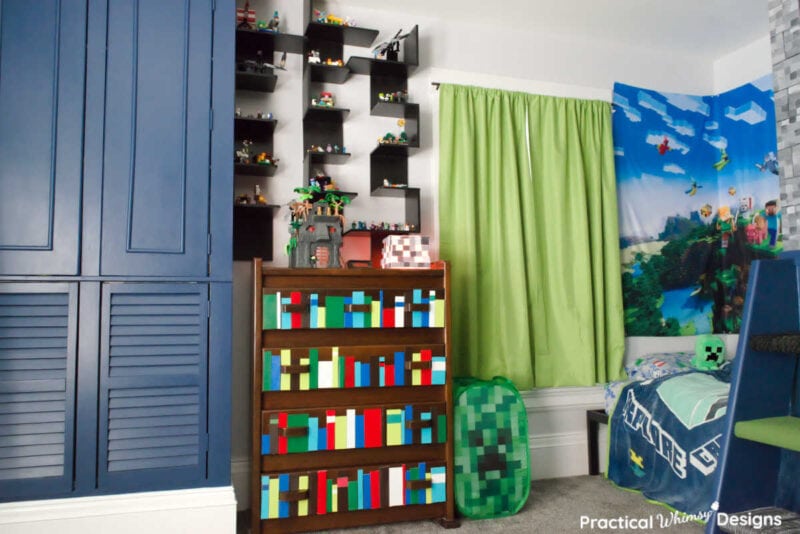 What Should You Include In a Gamer's Bedroom?
Our boys are young still so we didn't want to include an extravagant gaming setup with a gaming desk, tv stand, and big screen tv. Plus our house doesn't have super large rooms and there really wasn't space for a big gaming room setup and sound system. (This may be different for you, depending on the age of your child.)
However, we did want to provide a feeling of a gaming experience, a sense that they enter into a small piece of their favorite video gaming world when they step into their room.
The best ways to accomplish this is through their decor, lighting, and design choices. If you are looking for gaming room ideas, these are some of the elements you need to pay attention to when designing your space.
This post contains some affiliate links for your convenience (which means if you click a link and make a purchase I will earn a small commission at no extra cost to you). Please see my disclaimer page for more information.
Design Elements of a Video Game Bedroom Theme
Paint Colors
We wanted to have lighter, but neutral walls in the space. We didn't need a dark room because we aren't actually letting them game in their bedroom.
A light grey color and white painted trim were perfect for this bedroom design. They brightened up the room so we could play with color in their decor and accessories, like the lime green curtains and bright mural tapestry.
We also painted the built-ins a dark color to contrast with the lighter walls.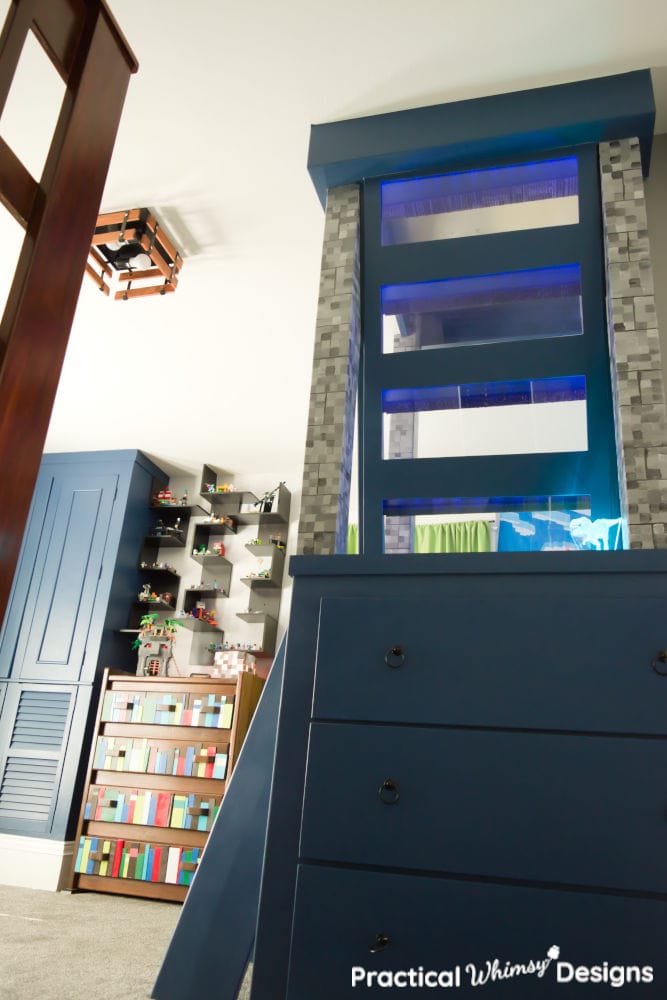 Using paint to create the mood in your room is a great idea and an easy way to change the feel of a room.
Wall Decor and Murals
One of the most notable aspects of our boys' bedroom and a big focal point of the space is the giant wall mural tapestry above the bed. This mural gives the room an instant video game feel and adds more bright colors to the space.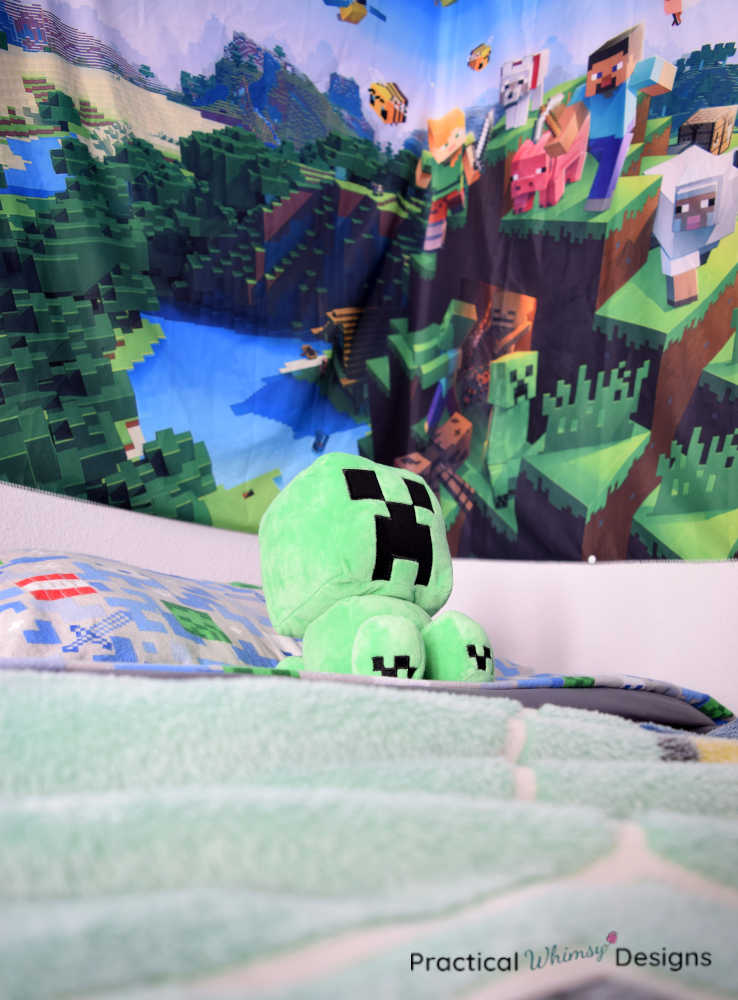 I also created these backpack holders out of old towel hangers as a type of useful wall art. They create fun storage and look like a video game block with their pixilated squares.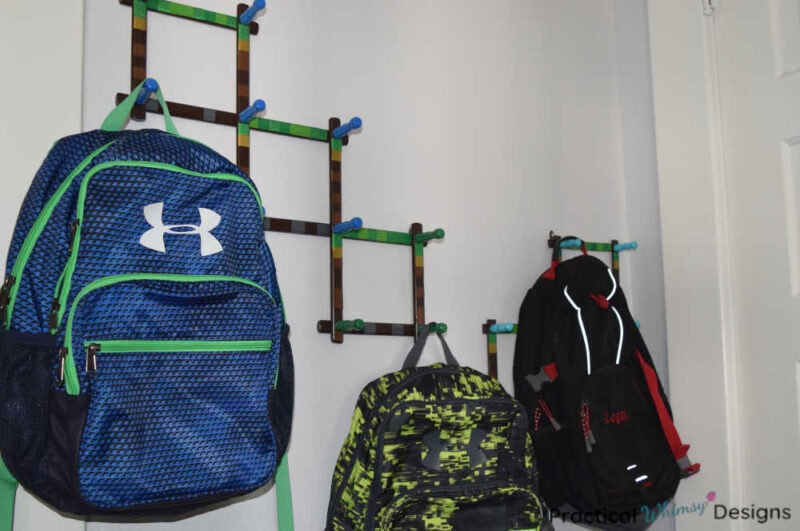 Adding wall hangings and art based on popular games, video game consoles, or controllers to a room can instantly create a video game feel and is another easy way to theme your bedroom.
Furniture & Bedding
We didn't have room to add a comfortable chair or desk, but we did try to create a gaming feel with the furniture and bedding we chose.
The built in stairs were created to look like a tower. I spent a lot of time painting the pixilated brick squares and it finally feels a little more worth it now that everything in the room is finished.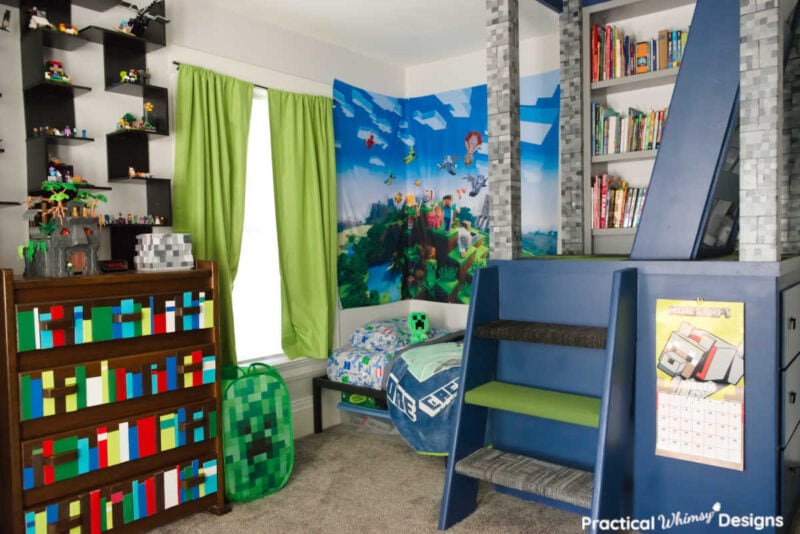 The checkered carpet squares we installed on the built in platform continues the game room design.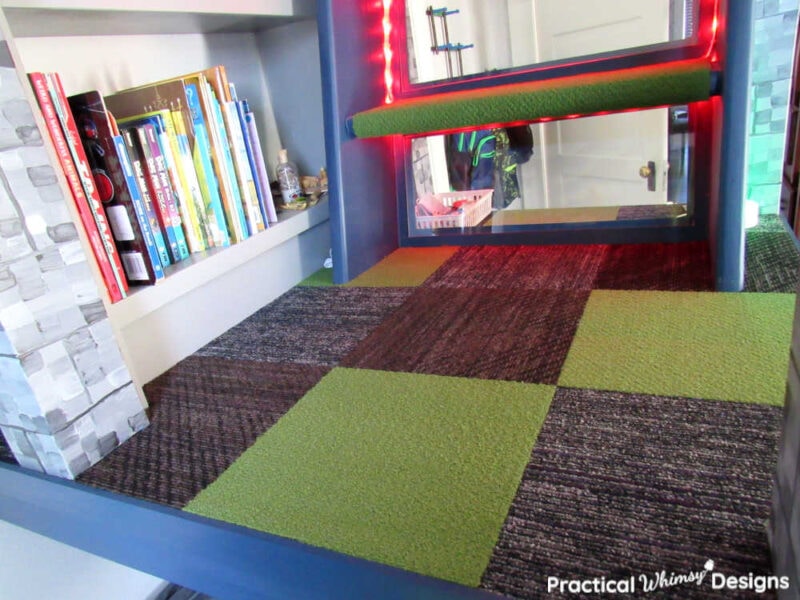 I also created a faux book shelf out of an old dresser with bright colored books to match the rest of their bedroom.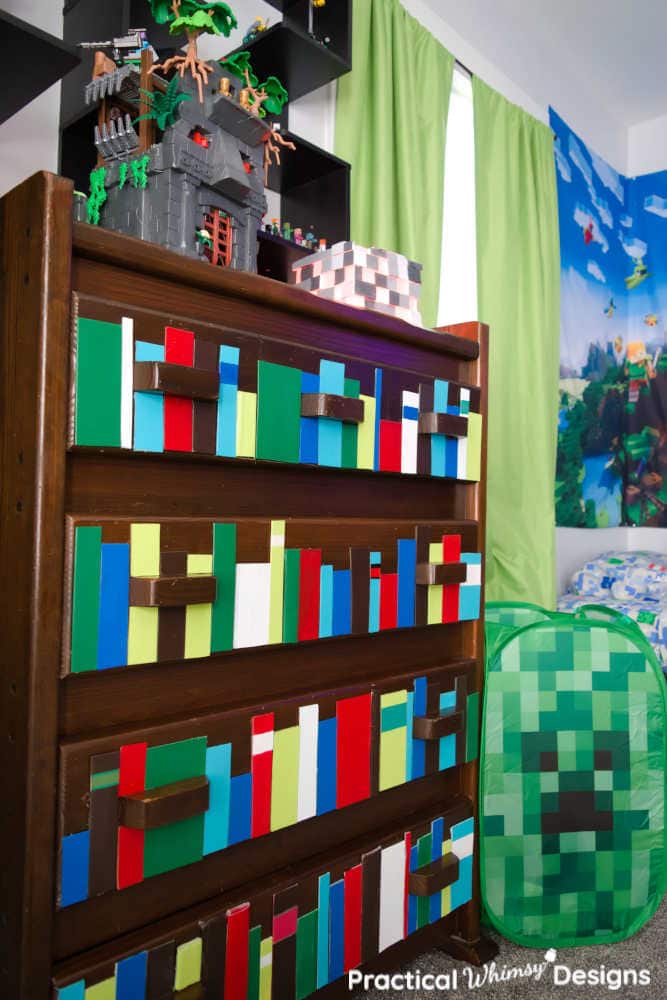 We chose neutral comforters so we could have fun bed sheets and blankets on the beds.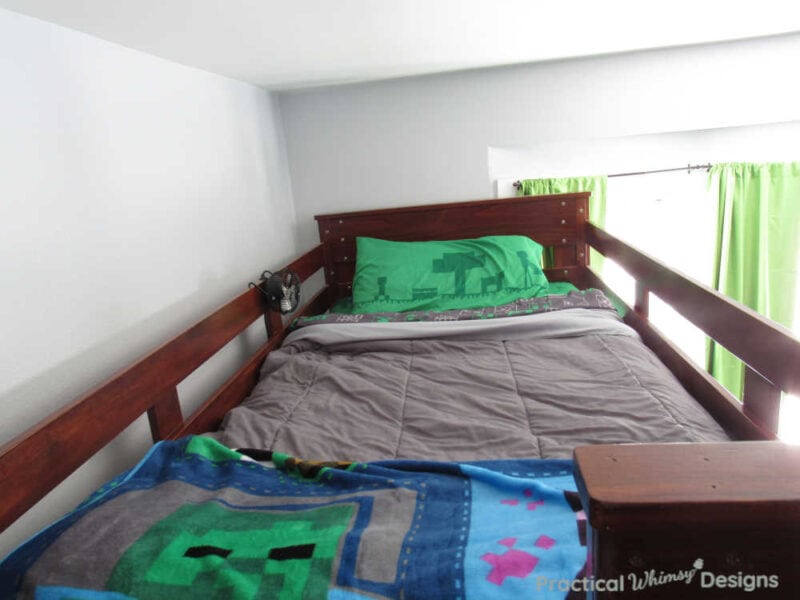 Using furniture and bedding that enhance the gamer room feel is a must if you want to create an awesome video game room design.
Lighting
Whenever we decorate a room, lighting is always something that is important to us. Having multiple ways to light a space provides options to completely change the feel of the room.
We added in fun lighting throughout the room to further enhance the video gaming room feel.
As we designed this room, we tried to pay attention to both the natural light in the room coming from the four windows, but also the ambient lighting we needed to add into the space. The center light was chosen for its video game ladder look.
In the stairs going up to the future attic bonus room, we cut out rectangles in the wood and inserted plexiglass panels into the open space. We then added LED lights around the stairs to create a glow in the room.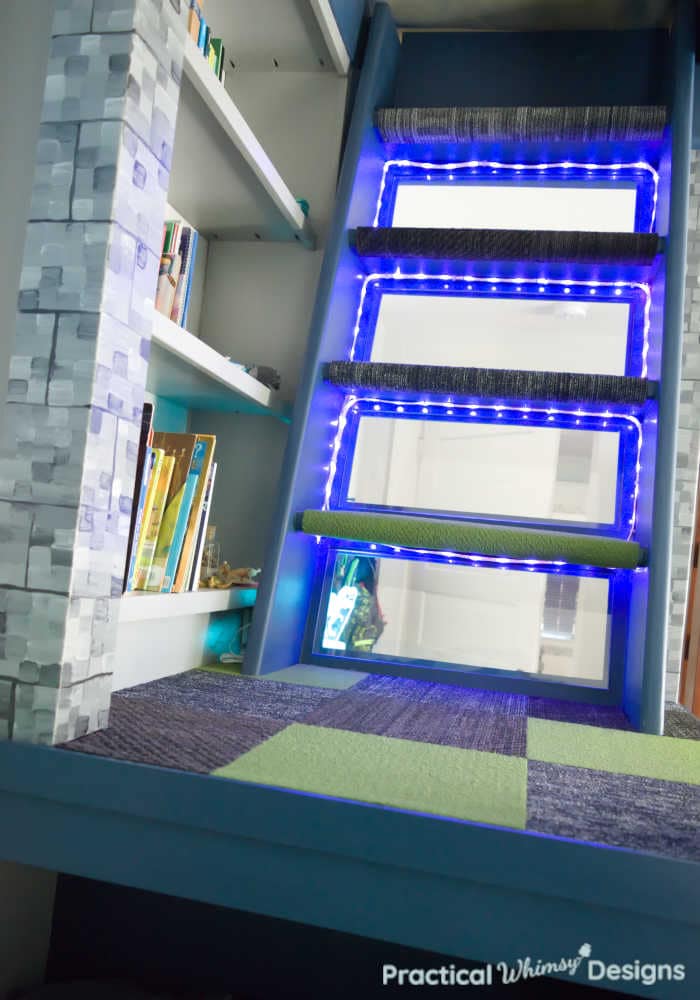 I also created this DIY pixilated brick light out of an ice cream bucket and color changing LED lights to add more fun lighting into their space.
Though most of our decor is related to Minecraft, we didn't feel like we had to completely stick with the theme. We added this hologram dinosaur light as a night light for the boys' room as well.
Lighting is one of the most important aspects of room design. Adding the right mood lighting in a bedroom can make a design feel incredible and give it that creative edge.
Cool Decorations
One of the best things about adding game room decor to this bedroom, is that my kids provided most of the decorations.
A great way to decorate a video game themed room, is with their toys.
All we needed was a fun way to display them.
I purchased three of these corner shelves and added them to the walls above their dresser to create fun shelving for their Legos and action figures. Since these were technically corner shelves, I did have to paint some of the shelving backs since I did not have all of them in a corner to hide the unfinished spots.
I love how they turned out. They are the perfect way to display their toys and I didn't have to buy more decorations for the room.
I also love this Playmobil fortress. Even though it isn't Minecraft themed, it fits in perfectly with their bedroom colors and look.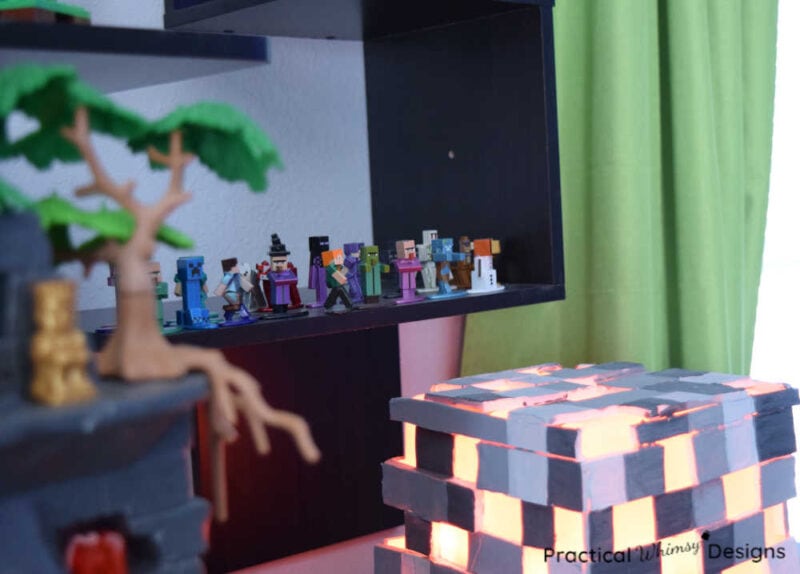 Decorating with the kids' toys or gaming collectables is the best option for video game room decor.
Storage Space
Every bedroom needs as much storage as possible to keep things organized and clutter free.
It was important for us to add as much storage into the boys' small bedroom as we could.
That is why we installed the built in book shelf on the stairs.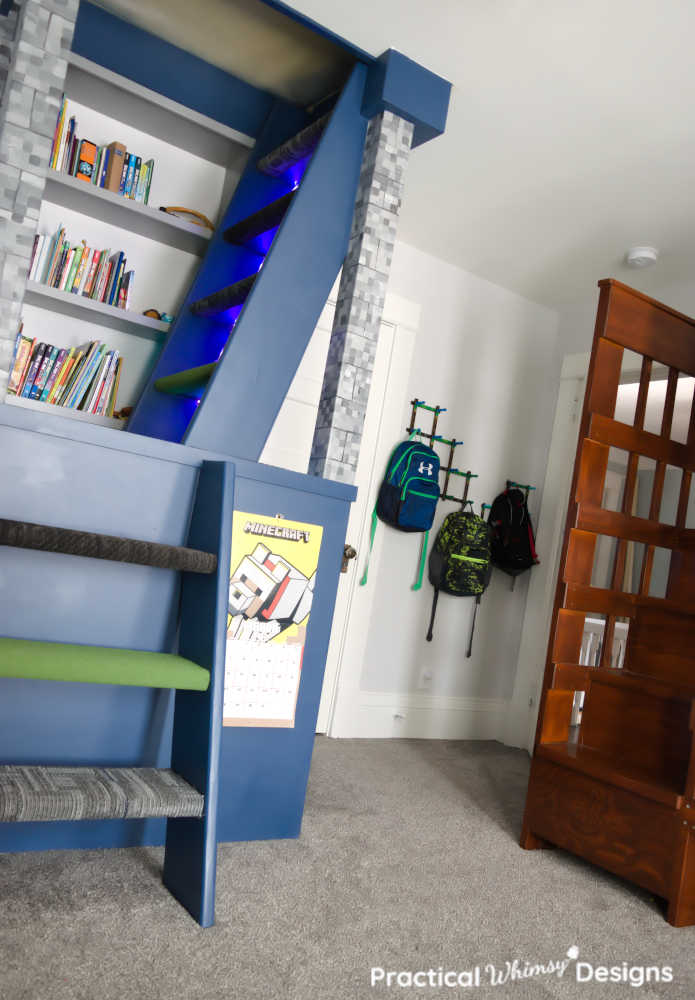 We also have a built in dresser under the stairs platform and one built into the bunk bed.
We used totes under their beds for storage as well.
There never seems to be enough space for toys so we used any extra room we could to keep everything organized.
Each of the boys have a shelf in the built in cabinet above the radiator as well, which provides enough room for them to keep their Lego kits, card games, and board games.
Ways to Create Your Own Video Game Bedroom
Paying attention to these design elements can help you create your own video game bedroom.
Of course decorating a room is based on personal preference, age, and interests, but adding these elements into your room design can help you create the perfect room for your kids.
Video Game Bedroom Source List
Paint Colors: Walls- Vapor by Dutch Boy | Built-ins Paint Color – Inkstain by Dutch Boy | Ceiling- Brightened Cream by Dutch Boy
Ceiling Light: Industrial Flush Mount Light
Shelving: Furino Rossi Wall Mounted Shelf
Curtains: Eclipse Kendall modern black out lime green curtains
Click on the pictures below to shop the products we used in our video game bedroom design.

Love this home design? Check out my home tour page to see all of the before and after pictures of our home remodel.
Want to remember this post for later? Save it to your favorite design board on Pinterest.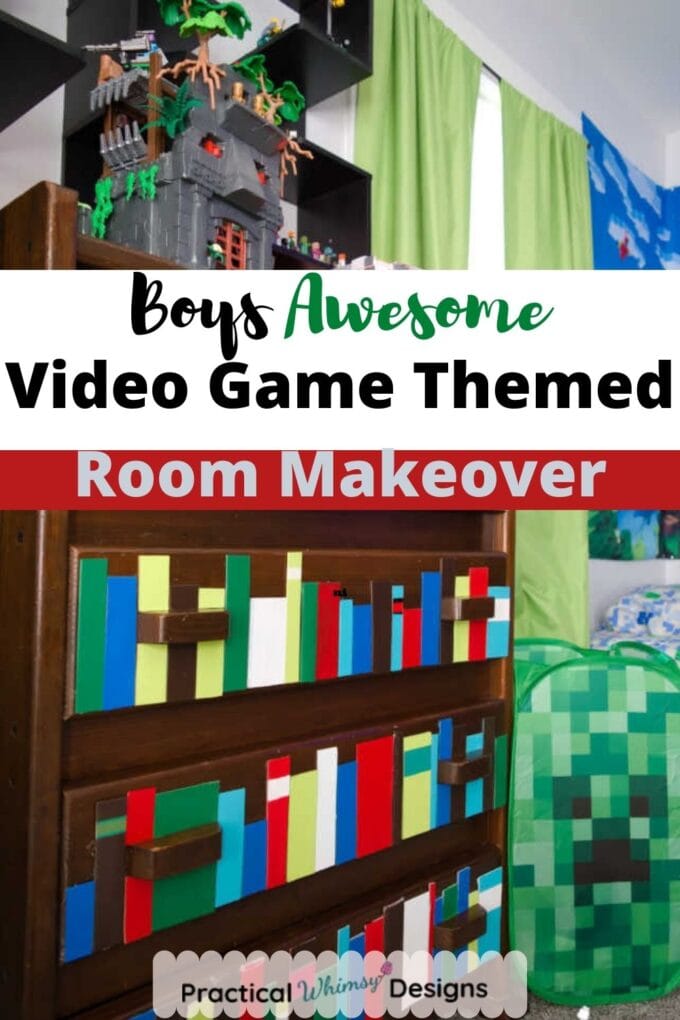 Want More Great Ideas? You Might Like These..