Learn how to give your wooden crate or caddy a face lift. Then check out these amazing ways to use a wooden caddy in your home.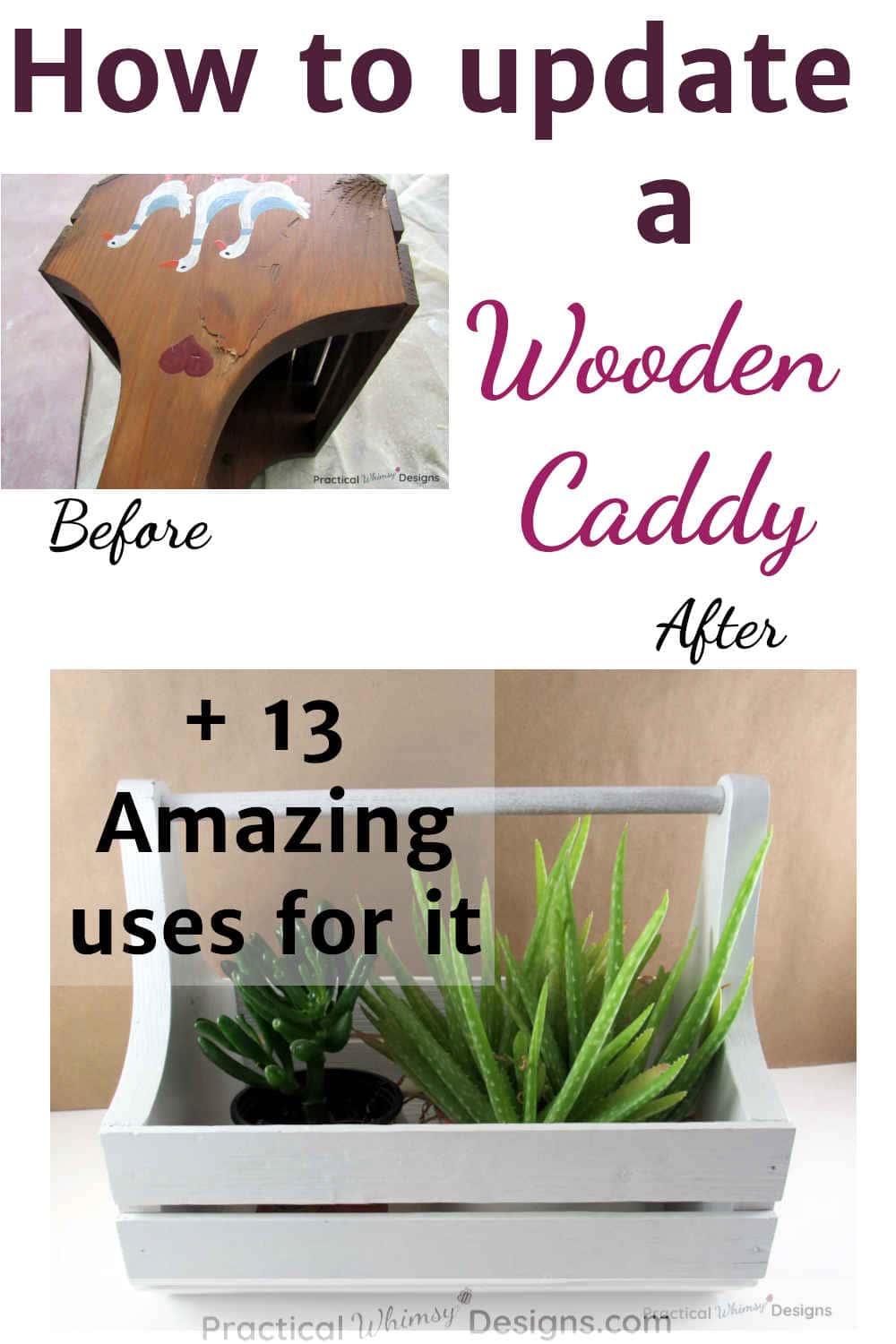 Do you have a list?
You know….. THE LIST.
The one you keep with you.
The list that reminds you of those things you are hunting for, those second hand treasures you hope to find when you go out shopping.
I have a list like that. Most of my list is composed of kids clothes since my kids seem to be constantly growing out of their wardrobe.
But I do have a few other items on that list.
When it comes to decorations, there are a few items that remain permanently on that list. Any time I see one of these for a good price I snatch it up, because there are so many ways to use them.
Top on my decoration hunting list are: Wooden crates and caddies!
Wooden caddies are so versatile. Plus you can easily update them with a little paint. Take a look at this wooden caddy I found for $2.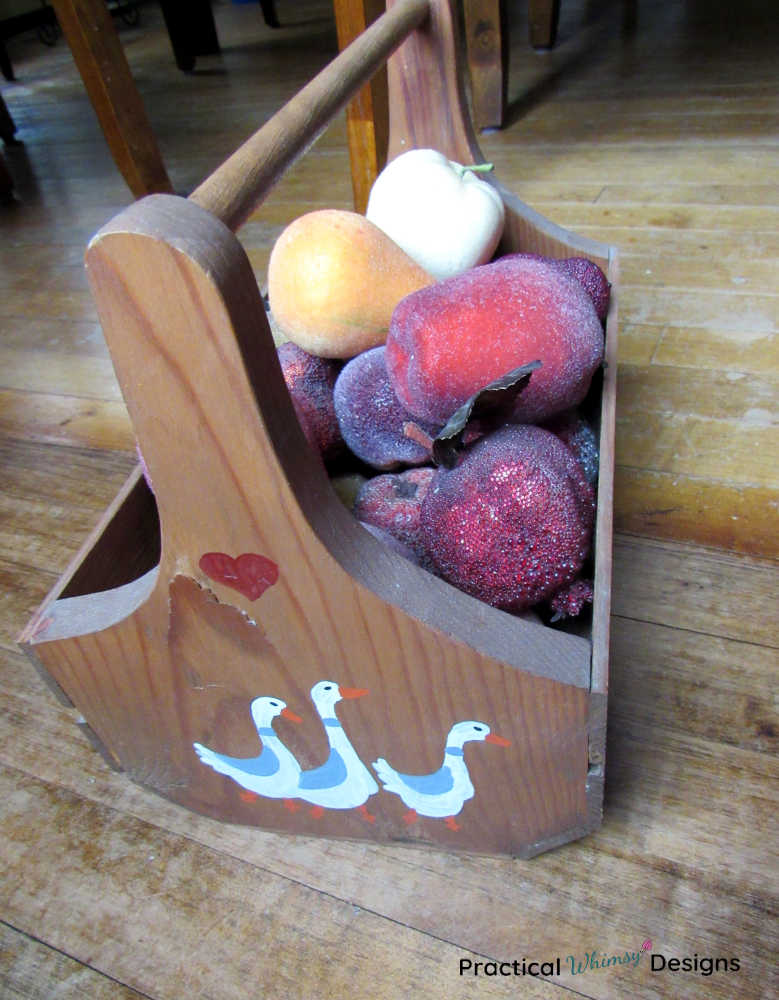 This was definitely a little retro in it's look (Hello 90s, I'm looking at you.)
But, with a little paint, this wooden caddy came back to life.
Below is a step by step of what I did to paint my caddy. I also put together 13 amazing ideas for styling or using your wooden caddy.
This post is part of the the Less is More-Thrifty Thursday collaboration where a group of talented bloggers create posts from thrifted or thrifty items for your home. Check out the other ideas at the bottom of this post.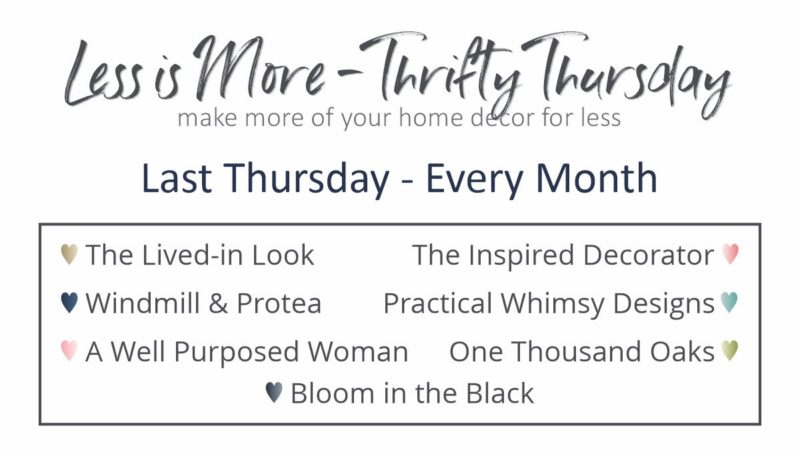 This post contains some affiliate links for your convenience (which means if you click a link and make a purchase I will earn a small commission at no extra cost to you). Please see my disclaimer page for more information.
Materials You Need:
Caddy or crate
Primer (I used spray paint primer)
Paint (You can use any of the fun spray paints out there. I used a white gloss paint and paint sprayer since I was already spraying the trim in my boy's bedroom. Or you can paint some paint on with a paint brush using this technique.)
Circular sander (opt.) to sand any blemishes off of your caddy
Sand paper for sanding in between coats of paint (I used 220 grit)
Damp cloth
Steps to Update a Wooden Caddy or Crate
Step 1: Sand and clean your caddy
Use sand paper to smooth out any blemishes in your wooden crate. In my case, part of the wood was flaking up on the crate so I wanted to make sure that it was smoothed out. Otherwise it would cause the newly painted surface of my caddy to flake off.
I used a circular sander to smooth out the side and also sanded off the painted stencils and some sticker residue off the edge.
Next, I wiped the crate down with a slightly damp cloth to get rid of any dust and dirt.
Step 2: Prime your wooden caddy
I used spray paint to prime my caddy because it dries quickly. I was able to sand it and add a coat of paint on the same day I primed, saving me some time.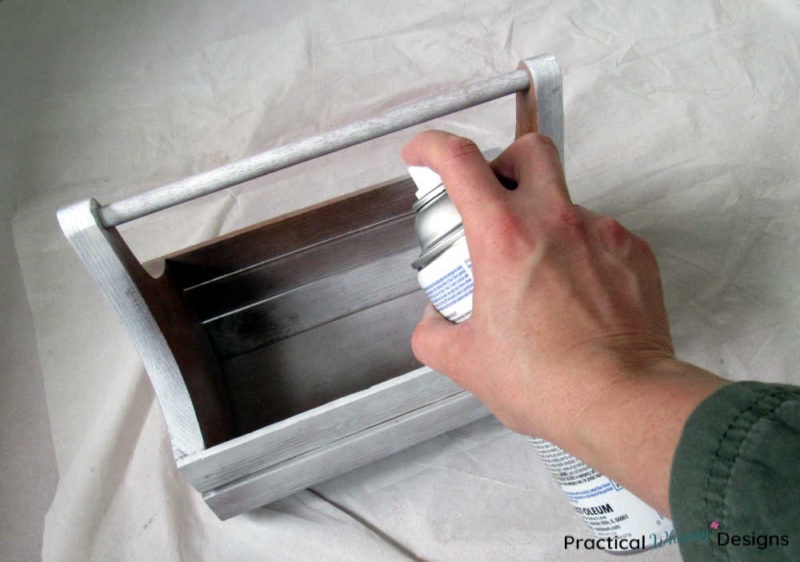 It is always a good idea to sand lightly in between primer and paint with a fine grit sand paper. I used 220 grit to knock down any rough spots before painting.
Step 3: Paint the wooden caddy
Paint the caddy with spray paint or a paint sprayer. Or you can paint it with a brush using this technique.
For the smoothest coat, sand lightly in between layers of paint.
Love DIY ideas and tips on how to make your home creatively yours? Sign up for our newsletter below and get access to our free resource library full of tools to help inspire you to make your home a place you love.
The form you have selected does not exist.
13 Ways to Use a Wooden Caddy
So, now that you see how easy it is to update or change the look of your wooden caddy or crate, here are 13 ideas for ways you can use your newly spiffed up decor.
Note: If upcycling a wooden caddy isn't in the cards for you, here are a few options I found that I think are fun. Click on the pictures to find out more details.

1) Add Succulents to Create a Beautiful Decoration
Add plants or succulents into your wooden caddy and use it to add a little green into your decor. Styling your caddy with plants can create a pop of color in your room and can match with a lot of decor, depending on what plants you use.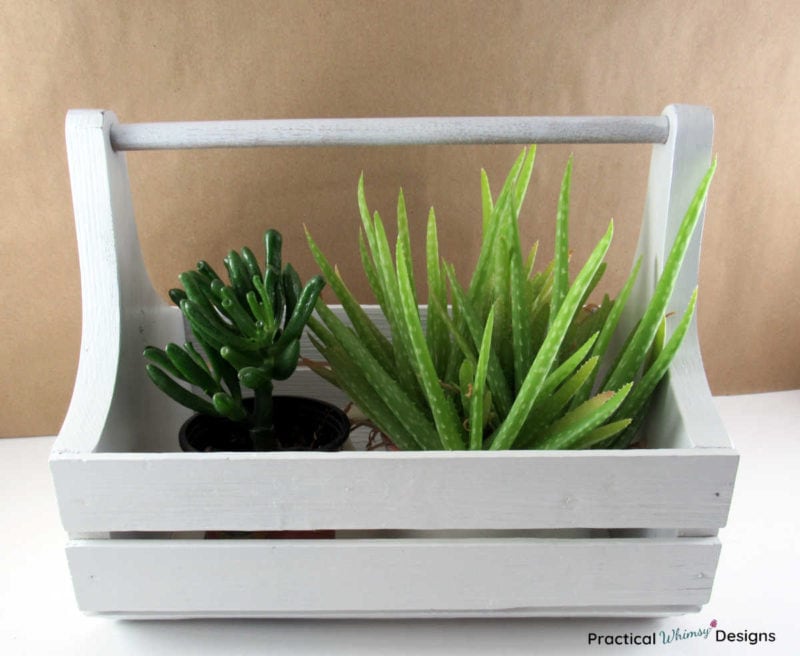 2) Create a Hot Drink Basket
Use your newly updated caddy to house hot drinks and spoons for the cooler temperatures. Place it on your kitchen counter for a cute and fun beverage making station.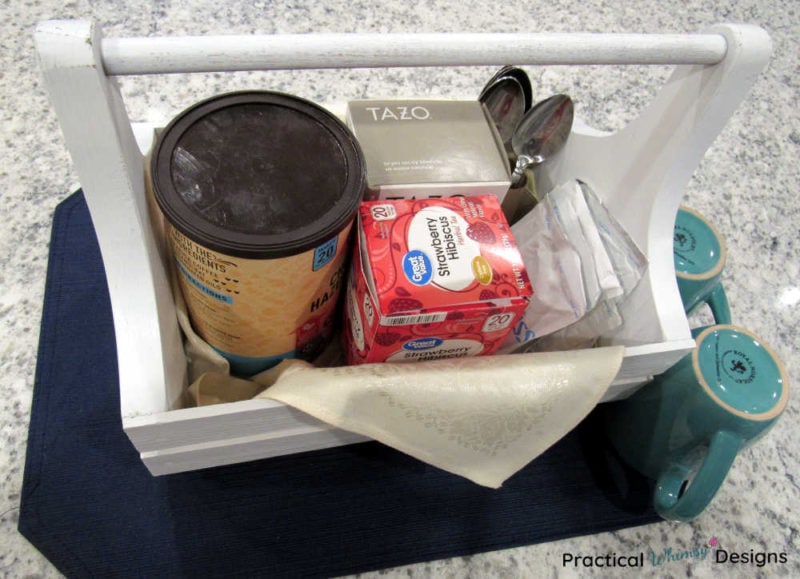 3) Condiments for Grilling
Hauling condiments or seasonings back and forth from the patio in the summer can be annoying. Use a wooden caddy to store all of those condiments and make your summer grilling that much easier.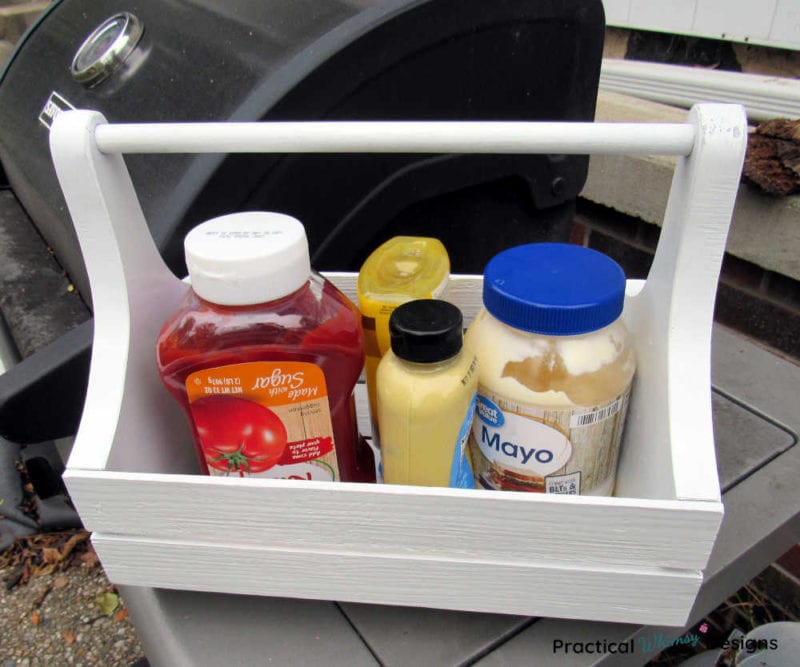 4) Summer Utensil Storage
Along the same line, you can use a caddy for hauling utensils and napkins out to your patio for summer eating. Or use the caddy for group gatherings or potlucks. Having a handy place for your utensils and napkins makes it easier to set up and clean up those fun events.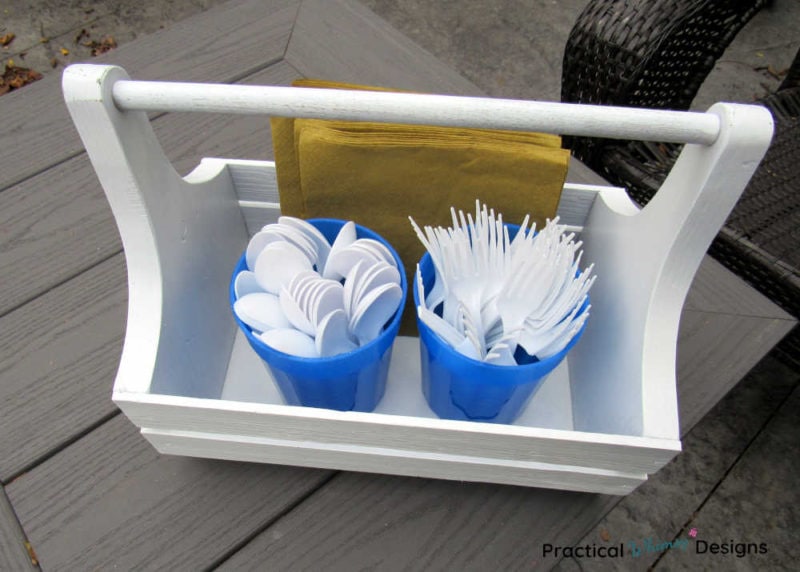 5) Chocolate and Cheese Gift Basket
Fill a caddy with chocolate, cheese, sausage, and crackers and use it as a gift. Or take it along on a romantic picnic.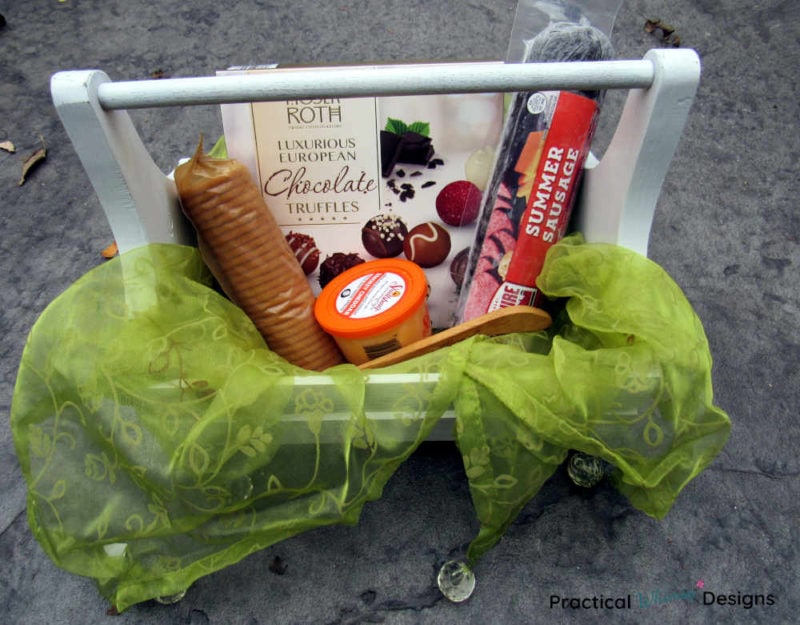 6) Wine Gift Basket
Need a hostess or Christmas gift idea? Look no further than your wooden caddy. Stick in a bottle of wine and a couple of glasses, or fill it with wine, cheese and chocolate and you have the perfect gift.
7) Office Supply Storage
Use it to house office supplies or kids' school supplies for a portable homework station solution.
8) Create a Portable Crafting Station
Place craft or sewing supplies in your caddy for a portable crafting station. Or use it as part of your craft room organization.
9) Cosmetic Storage
Fill your caddy with lotions and perfumes for a cute way to store your cosmetics in your bathroom. Or use it as make up storage, hair supply storage, etc. The bathroom organizational options are endless.
10) Fall Decorations
Pile fall decorations, like these diy copper dripped pumpkins and fall leaves, in your caddy and use it as part of your fall decor.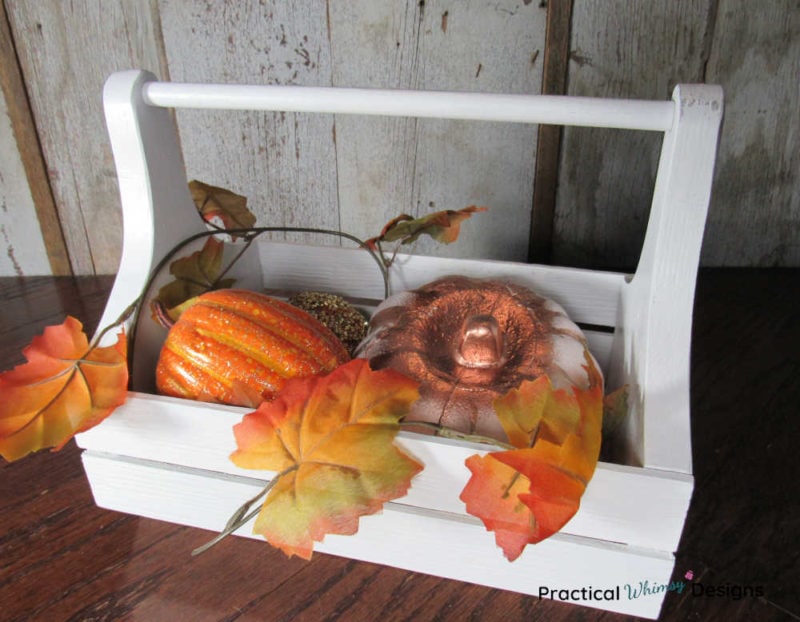 11) Spring Decorations
Fill your wooden caddy with beautiful flowers, fake or real, for a simple yet elegant spring decoration. Place it in your home to brighten up your room.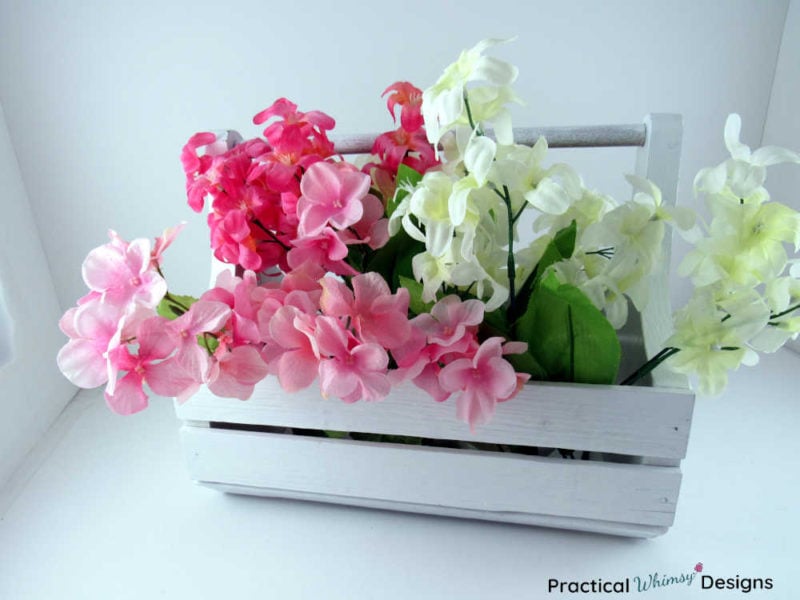 12) Winter Decorations
Filling a caddy with Christmas bulbs is another simple decoration featuring your wooden caddy or crate. What could be easier than plopping a few bulbs in a wooden box and allowing it to grace your home with its festive shine?
13) Storing Books In It
Sometimes you need a space for that book you are reading. Somewhere no one will kick it or step on it. Somewhere that looks nice. Enter in your handy wooden caddy. It makes for a great way to store your books in between your reading.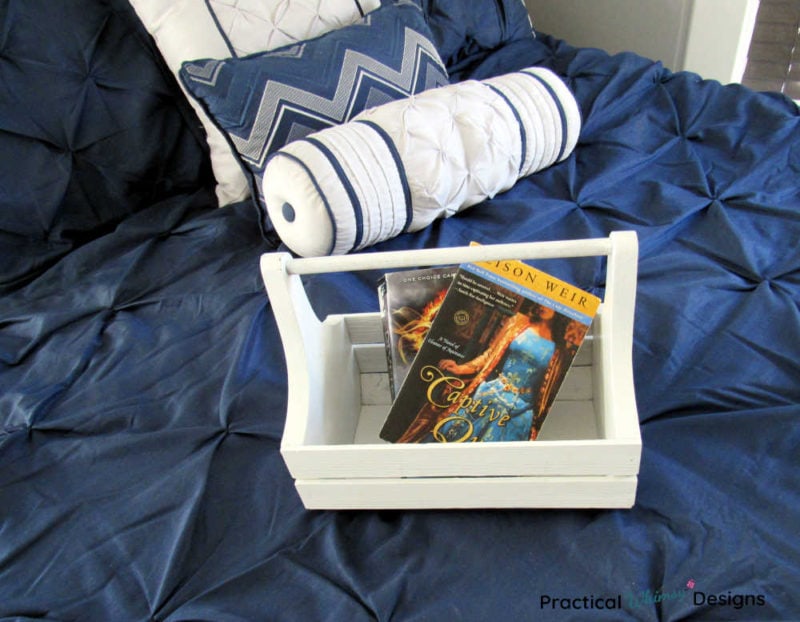 As you can see there are so many ways to use a wooden caddy, though now that I shared these with you, I might have a harder time finding these treasures at the thrift store. Lol.
If you are sold on wooden caddies, but haven't been able to find any while thrifting, or maybe you don't have time to remake a wooden caddy yourself, here are a few I found that might be fun options for your home.

How about you? Are there decor items that you always keep an eye out for?
Want to remember these ideas for later? Save this to your favorite DIY board on Pinterest.
Check out the other posts from the Thrifty Thursday collab. Junette from Windmill & Protea re-made this hobnail lamp, Brianna from Bloom in the Black created these great leather coasters, Sara from The Inspired Decorator transformed this tray into a beautiful rope masterpiece. Elizabeth from A Well Purposed Woman has a tutorial on how to make an easy chalkboard, and Martina from The Lived in Look has a tutorial for a DIY plaster vase.
Love thrifty or upcycled projects? Click on the images below for more ideas.
Want More Great Ideas? You Might Like These..