Making your own mantel decor doesn't have to be overwhelming. Follow this tutorial for an easy DIY wooden home sign that is budget friendly too.
Struggling with finding the perfect paint color for your home? My design guides are available for free to my newsletter subscribers. Grab my Free Paint Guide and FINALLY pick a wall color that you love!
I have always liked them.
You know…those rustic wooden signs on mantels.
And, for some reason, I had it in my mind that they were difficult to make.
Well, I FINALLY made one for my mantel and I am happy to report that it was so easy! I am kind of kicking myself for not making one earlier.
The best part about making wooden signs, especially rustic ones, is that you can pretty much use any wood you want. This allows a lot of room for creativity and the ability to put your personality into your sign. It also gives you the flexibility to match your decor.
Let's just say: The possibilities are endless.
In my case, we have had a pile of barn wood boards in our garage forever. When we purchased our fixer upper home it contained a large, rundown pool room. That pool room was lined with these old barn wood boards which we tore off and have been holding onto ever since (because I know they are awesome for projects, even though my husband has had to move the things about 50 times! See honey. These boards are good for something. 😂 ).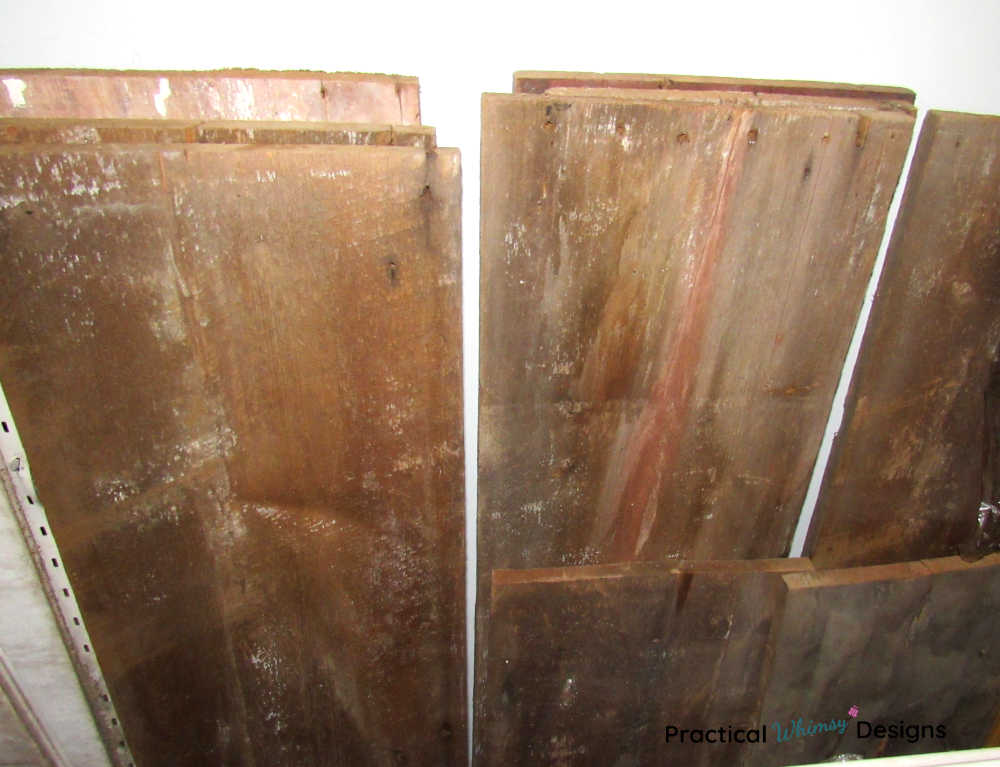 I'm probably not the only DIYer who has scrap wood lying around, right?
So here is a tutorial for a simple, rustic wooden sign, large enough for most mantels.
This is part of the Thrifty Thursday collaboration where a group of talented bloggers come up with DIY projects you can do on a budget. Check out the other fun projects from this group at the bottom of this post.
This post contains some affiliate links for your convenience (which means if you click a link and make a purchase I will earn a small commission at no extra cost to you). Please see my disclaimer page for more information.
Materials You Need:
A board, or plywood, or any scrap wood. (I used a 1″x12″ that I cut in two 2 foot sections so my sign is 22 1/2″ x 24″. I had a little bit of cutoff board that I used on the back of the picture to hold the pieces together. )
Tape Measure
Pencil
Handheld Circular Saw or Table Saw
Screws (I used 1 1/4 inch screws because my board was 3/4″ thick)
Printed letters or stencils
Chalk
Acrylic paint (I used white acrylic paint and turquoise acrylic paint )
Small craft paint brush
Steps to Make a DIY Wooden Home Sign
Step 1: Measure and Cut
Figure out how large you want your sign to be and measure and cut your boards to create that size of sign.
My barn wood board was a 1″ x 12″ so we needed two of them to create a square sign.
We measured and cut the board into two 2 foot sections with a hand held circular saw.
Step 2: Attach the Boards
If you are using plywood (which you can do if you want that look for your sign) you can skip this step.
If you are using boards, the easiest way to attach them is by using a couple of cut off scraps to screw onto the back. This does make the sign a little bulky, but it works great if you are planning on using the sign on a mantel or leaning against a wall.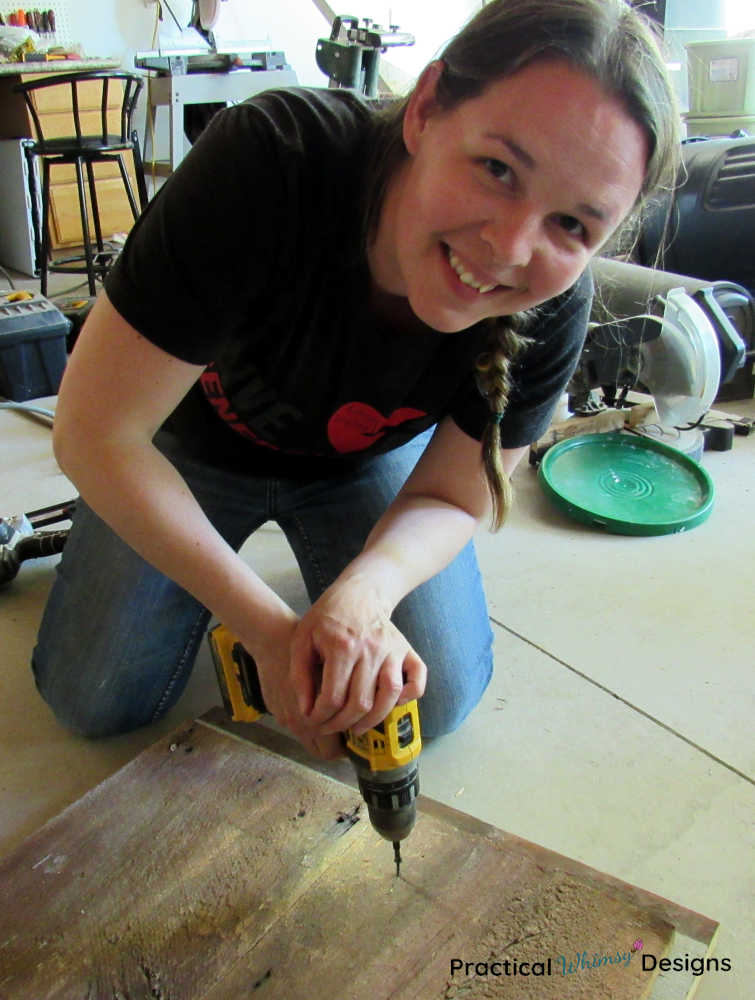 Step 3: Prep Your Sign
If you are using raw wood and want a stained or painted look, now is the time to do this.
Because I love the look of the barn wood, I wanted to keep it as natural as possible and didn't want to lacquer it or change it in any way.
So, instead I sprayed the front with an acrylic sealer to help the paint not soak into the wood.
Now is the fun part: Deciding what to say on your sign!
I wanted it to be simple and fit for multiple seasons so I settled on the word HOME.
I know! It's not super original, but I love the simplicity of it.
There are multiple ways you can transfer letters onto wood. You can use a stencil, use a Cricut to cut out vinyl lettering, do a chalk transfer, etc.
Because my board was rough, I decided against using vinyl because I was afraid it wouldn't stick.
So I settled on a chalk transfer because of its versatility.
I used a word program on my computer to print off each letter in the font and size I wanted.
Font I used: Berkshire Swash in font size 400 on my word program.
The form you have selected does not exist.
Step 4: Paint Your Sign
The first thing you need to do is lay out your letters to see where you want them on your board. I cut the extra white paper off around them and then set them in a diagonal on my sign.
When I was satisfied with the layout I used painter's tape to attach them to the board so they wouldn't shift.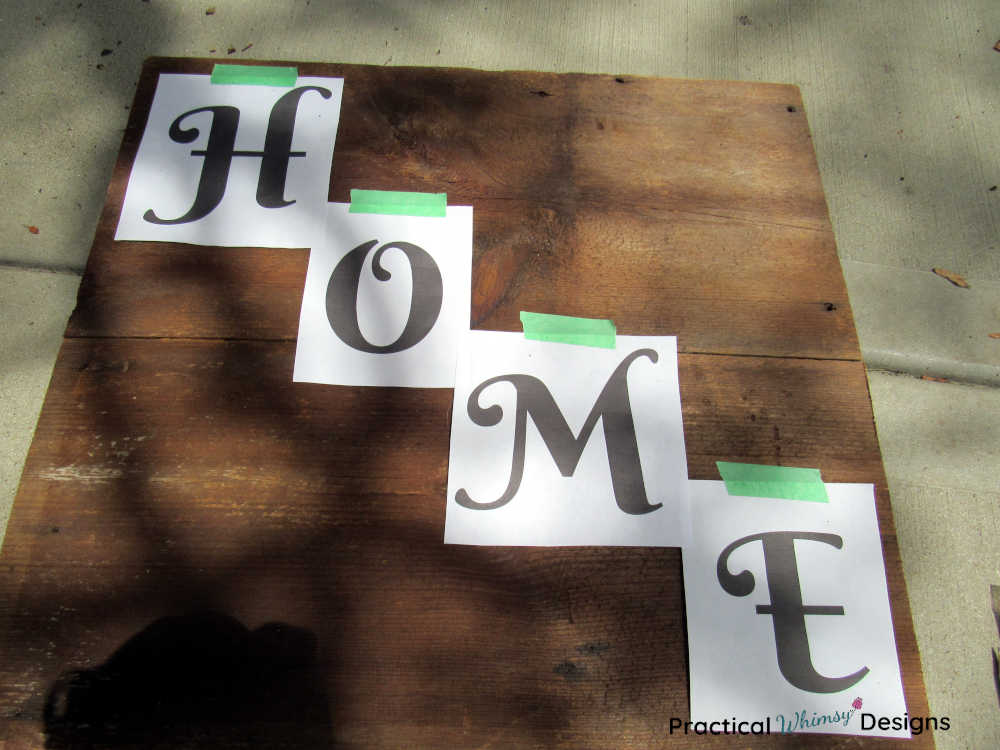 To do a chalk transfer: color the back of your letter with chalk. (This is where the tape comes in handy to help keep it where it needs to be). I used white chalk because I knew it would stand out on the dark board.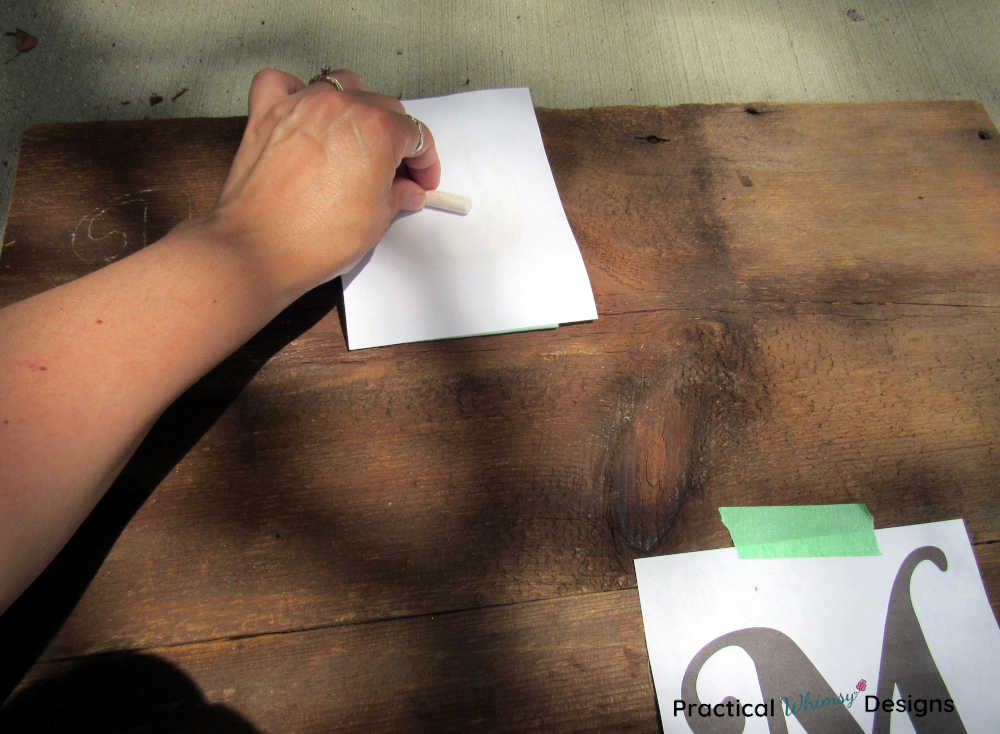 Then flip the letter back down so you can see it and trace around the whole letter. Do this with each letter you plan to paint.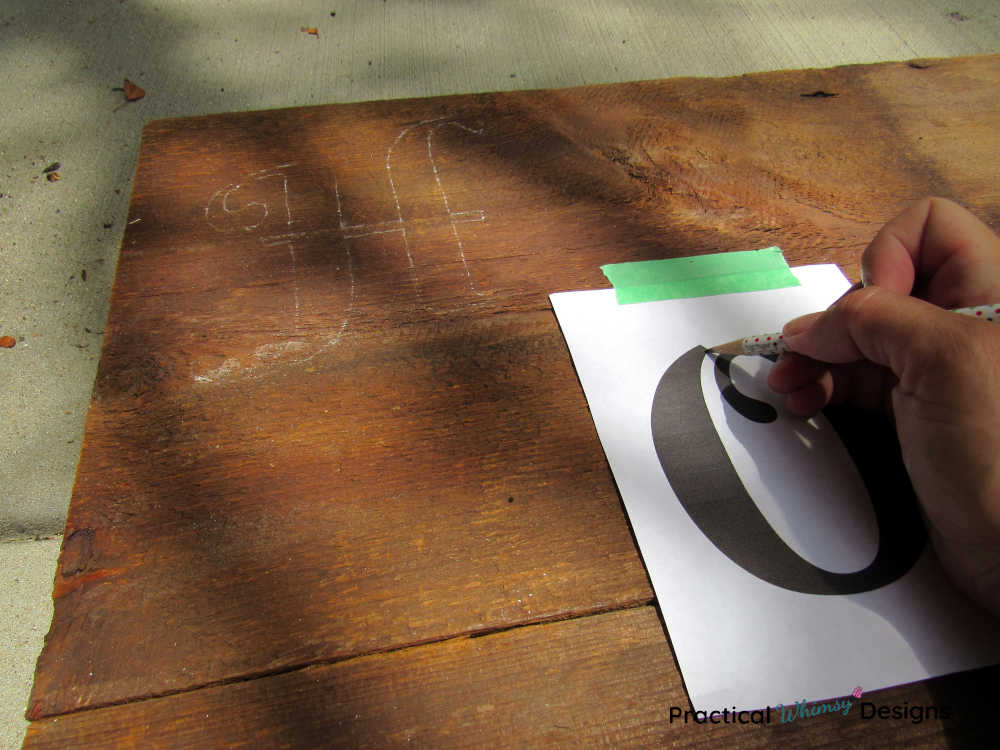 If everything worked as planned, you should have a faint white outline of your word.
Use acrylic paint to paint the letters onto your board. I used white acrylic paint and then decided to be adventurous and add a turquoise "o."
I finished off my sign by spraying acrylic sealer over the painted letters one more time after I had allowed the paint to dry.
Display Your Wooden Home Sign
See. That really wasn't too hard.
I think this sign could look really cute on a front porch.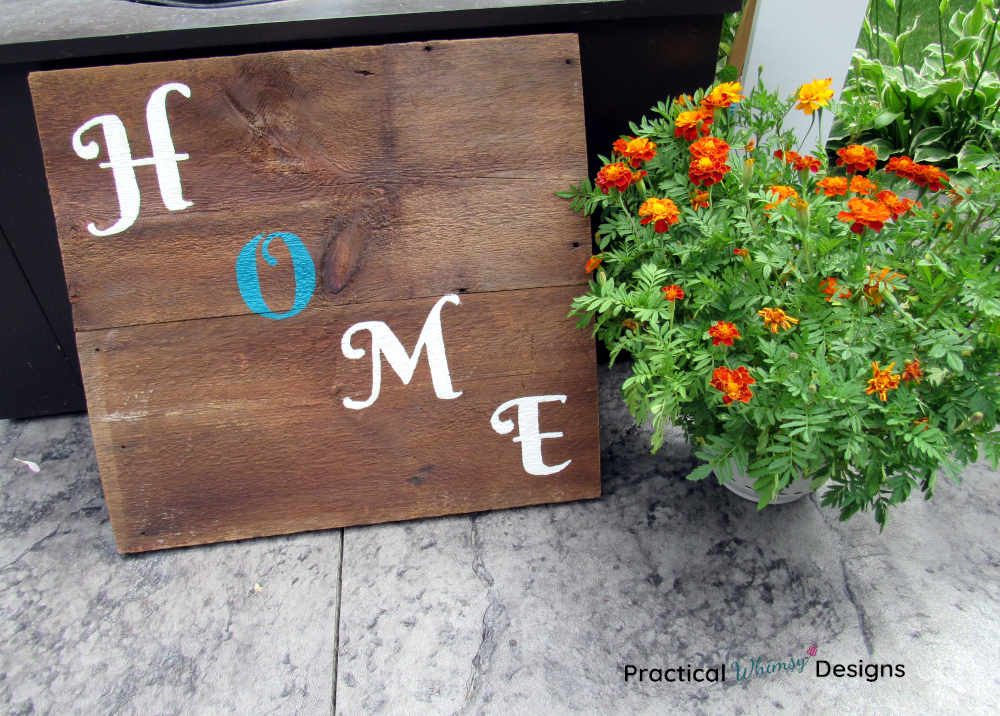 And here is what the wooden home sign looks like on my mantel.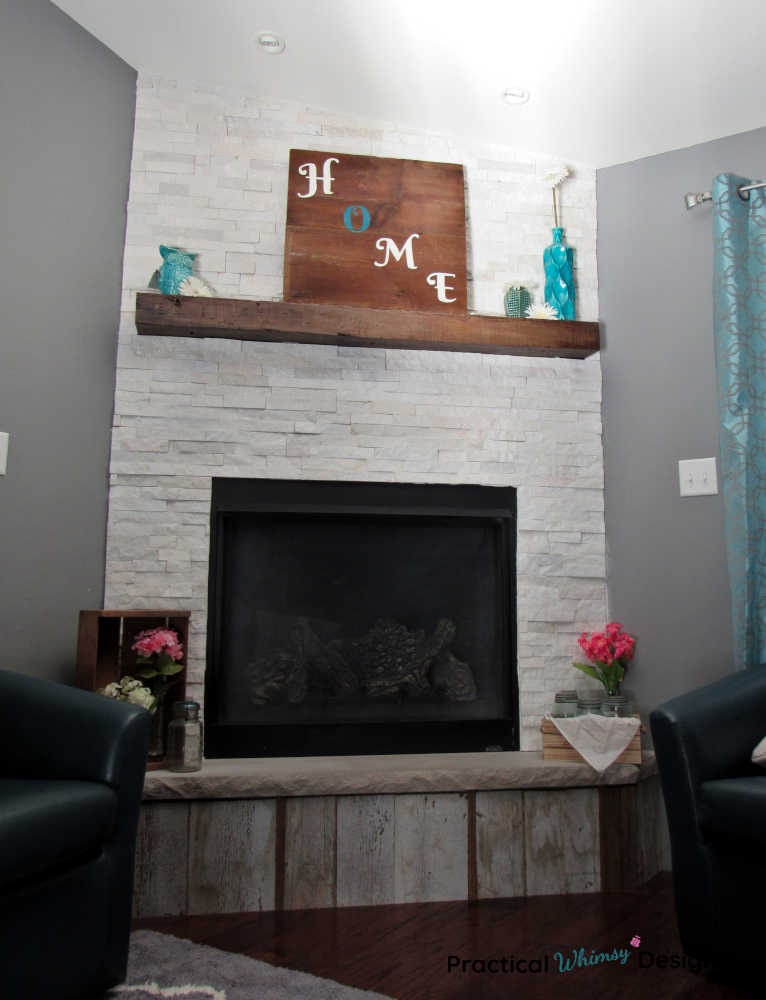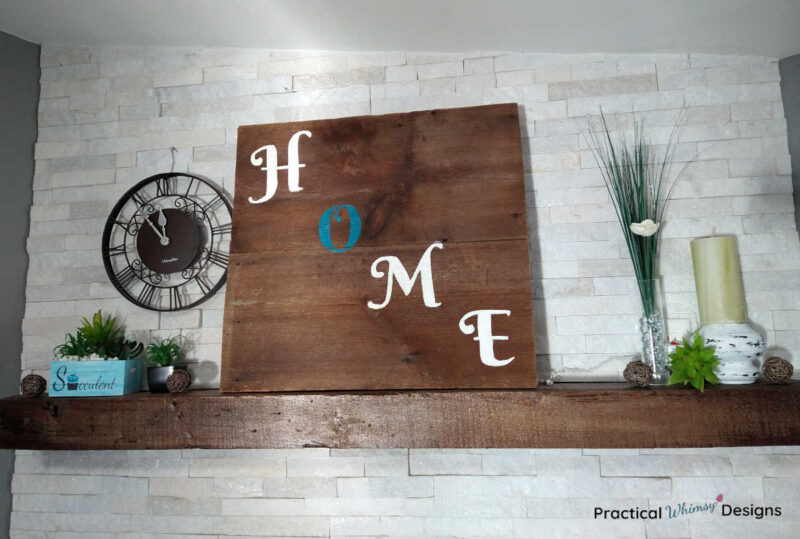 I did stretch this project across two days, but it probably took less than three hours to make and paint. And I already had all of the supplies so it was a free project.
Even if you have to buy a few things it can be a relatively inexpensive project and it is so fun to be able to make something that is your own.
Check out this winter mantel decor post for an easy way to spruce up your HOME sign for winter decor and take a look at the easy diy I made to add a little fall feel to my sign for fall decorating.
I hope you will try a DIY wooden sign of your own in the near future.
If you want to remember this wooden sign project for later, save it to your favorite DIY Pinterest board.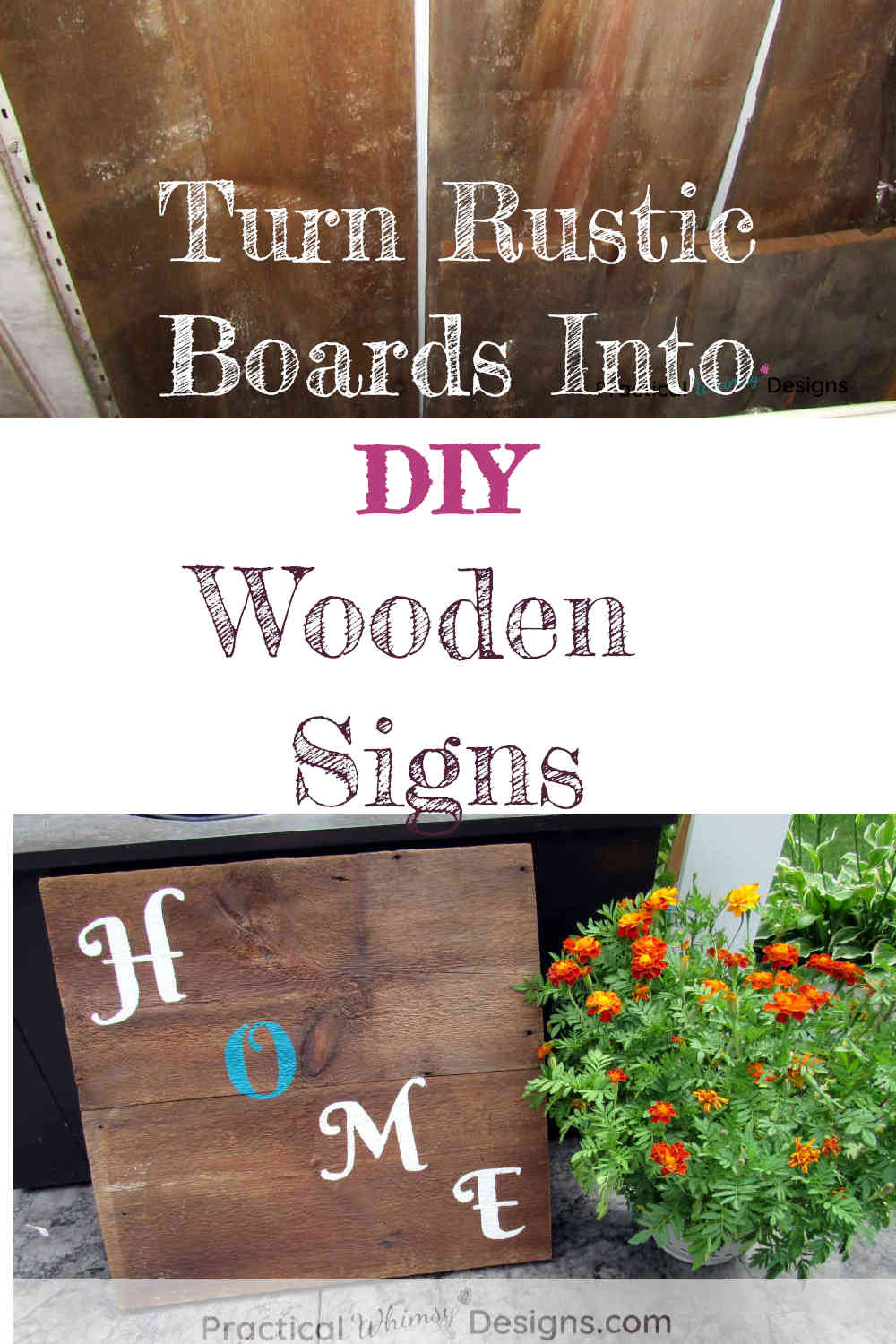 If you are in need of some more inspiration, check out these other projects from the Thrifty Thursday group. Junette from Windmills & Protea completely transformed her wooden chest with this beautiful bone stenciling project, Elizabeth from A Well Purposed Woman demonstrates how a little paint can totally change the look of an every day item, Sara from The Inspired Decorator gives a simple lamp a rainbow makeover, and Martina from The Lived In Look updates a dresser for her daughter's room.
Want More Great Ideas? You Might Like These..