Need a last minute tablescape for Christmas hosting? Make this customizable and easy Christmas pinecone dining table centerpiece.
It's that time of year.
A time for family gatherings around the dinner table, friends coming over for a dinner party, possibly a special occasion or two where you are hosting.
The last thing you want to do, is stress out about your Christmas table decorations.
Luckily, it doesn't have to be complicated to decorate your dining table for Christmas.
Here is a simple centerpiece idea you can put together for this holiday season. And the best part about this centerpiece is that it can be customized for many color schemes as well as the winter and fall holiday season.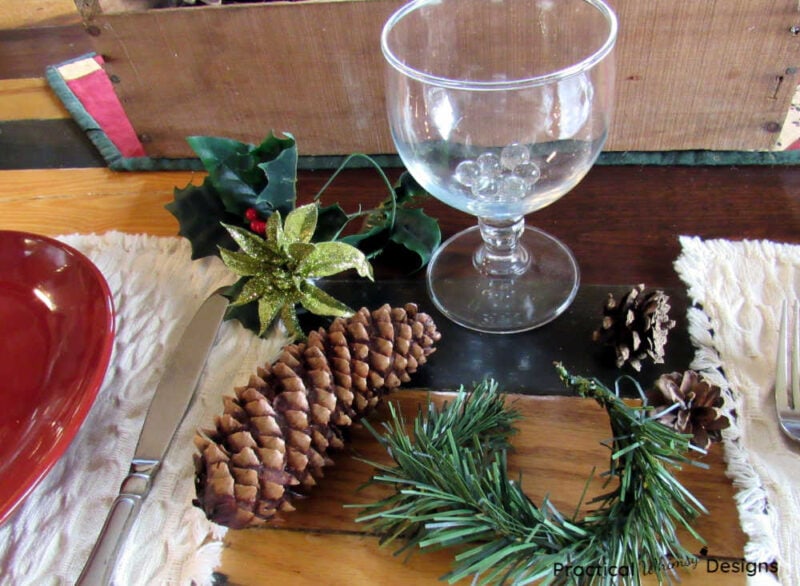 This post contains some affiliate links for your convenience (which means if you click a link and make a purchase I will earn a small commission at no extra cost to you). Please see my disclaimer page for more information.
Materials You Need:
How to Make an Easy Christmas Pinecone Dining Table Centerpiece
Step 1: Choose a Container
The first step is to decide what type of container you will use to hold your centerpiece. If you want a more rustic look, grab a wooden crate. Or use a metal tray for a more elegant look.
Step 2: Place the Jars
Grab 3 clear glass jars or glasses.
You can use any clear glass container, including mason jars, glass vases, or wine glasses. It is up to you and your creative style to decide what you want in your centerpiece.
Fill the glasses with seasonal decorations.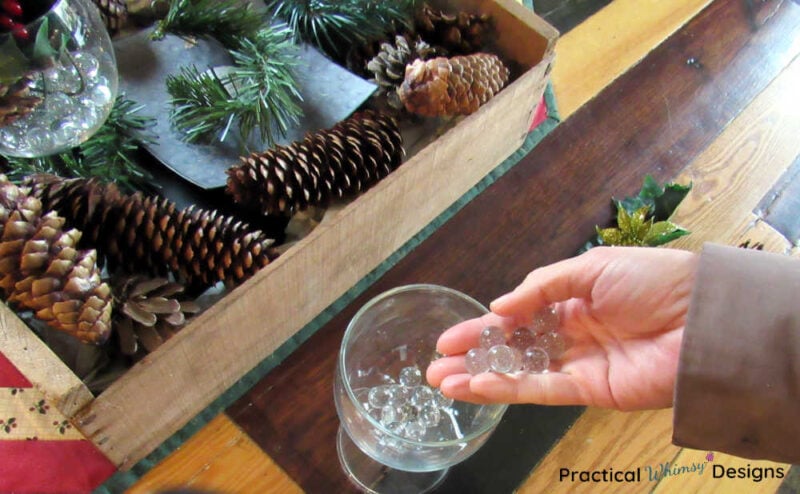 I used clear glass marbles, mini pinecones, fake Christmas ivy, and a gold flower.
Other ideas include: fresh flowers, votive candles, tea lights, or fairy lights, candy canes, tinsel, tiny Christmas trees, jingle bells, Christmas lights, Christmas ornaments, or other Christmas decorations that are small enough to fit in the jar.
Tip: If you have jars or glasses that are the same height and you want to vary the height for your centerpiece, add a block of wood or blocky candle holders underneath one or two jars to change the look of your centerpiece.
Step 3: Fill the crate or tray
Fill the tray with real pinecones. Add fake or real evergreen branches or mini Christmas wreaths around the bottom of your glass containers. (I used pieces of greenery that fell off of my pine garland).
Tip: If you have a crate or tray with tall sides, use newspaper or white packing paper underneath the pinecones to add height so you can see the pinecones easier. Just crumple up the paper, tuck it into the crate, and set the pinecones on top.
Your holiday centerpiece is ready for display.
Just add place settings and this Christmas table centerpiece. If you want to be fancy, set out linen napkins and place cards.
If you have a long table you may want to add a table runner as well. This gives your centerpiece a larger impact and creates a focal point for your dining room table decor.
You can also lay ever green branches and pinecones along the center of the table on either side of the crate if you need a larger centerpiece.
Ways to Customize this Centerpiece
The best part of this centerpiece is that you can so easily customize it to your liking. Make it fancier, change the color scheme, use different natural materials to change the look to fit your home and decor. The possibilities are endless.
Also, you can easily create a fall centerpiece or Thanksgiving centerpiece by adding fall colors, pumpkins, and leaves to the pinecones.
Easy Christmas Pinecone Centerpiece
This beautiful Christmas centerpiece is an easy way to make your dining area feel ready for the holidays.
Looking for another way to use pinecones in your Christmas decor? Check out these DIY pinecone curtains for a fun holiday feel.
Want to remember this idea? Save it to your favorite Christmas board on Pinterest.
Want More Great Ideas? You Might Like These..
We would love for you to join our newsletter community! As a thank you for signing up for our weekly newsletter, you will gain access to our free printables and resource library, including great art for Christmas. Sign up below.
The form you have selected does not exist.