Looking for a simple craft tutorial for this Valentines day? Try your hand at 3D conversation heart chalkboard art for an easy Valentine's decoration.
If you are wanting an easy Valentine's Day craft to spruce up your home decor why not try your hand at chalk board art?
This simple Valentine's Day decor is a fun way to add some holiday art to your home and it is easily changeable when a new season or holiday arrives.
Don't have a chalkboard? Make a DIY chalkboard with this tutorial.
This post contains some affiliate links for your convenience (which means if you click a link and make a purchase I will earn a small commission at no extra cost to you). Please see my disclaimer page for more information.
Or click on the images to shop the chalkboard ideas below.

Ready to make some 3D art?
Follow this easy step-by-step tutorial and learn how to draw 3D conversation hearts to fill your empty spaces with a little Valentine's Day cheer.
Materials You Need:
Chalkboard
Damp cloth or paper towel
How to Draw 3D Conversation Heart Chalkboard Art
Step 1: Draw the heart
Pick a place on your chalkboard and draw a heart shape.
Shade it in.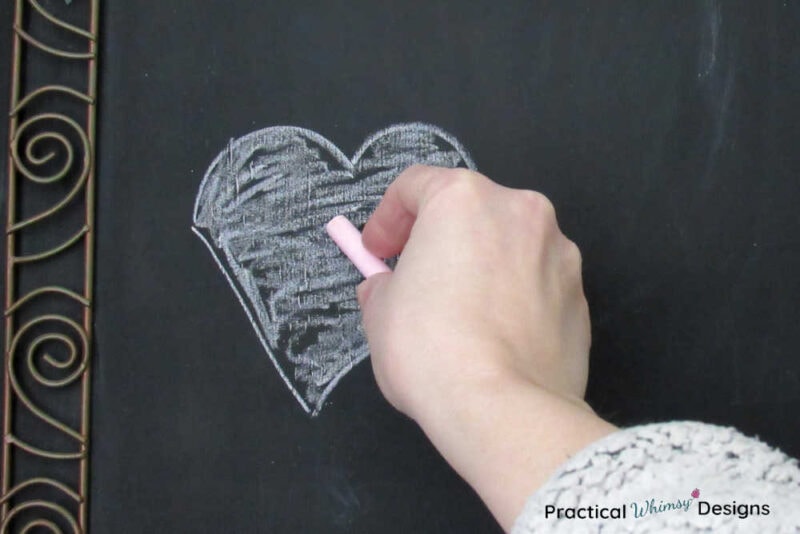 I like to use regular chalk for this because it is easier to erase if I make a mistake.
If you don't want to free hand your heart, you can use a stencil or cookie cutter and trace around it.
Step 2: Create the 3D elements
Flip your piece of chalk so that you are drawing with the rounded long side of the chalk piece. Line one tip of the chalk up with the pointed end of the heart and lay it on the edge of your heart.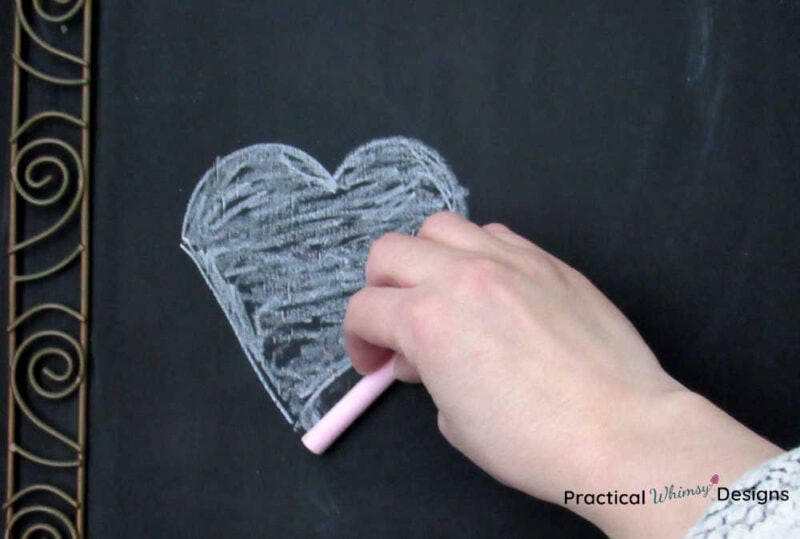 Pull the chalk down away from the heart about a half inch, drawing a shaded line on one side of your heart.
Now, connect the shaded half inch line to where your heart starts to curve up with a tapered line and fill that space in with chalk.
You should have a 'shadow' below your heart on one side.
Rub the chalk with your finger or a tissue until it is blended in.
Step 3: Use a Chalk Marker to Shade
Use a chalk marker that is the same color as the chalk you used to draw your heart to outline your heart.
Color in the shadow you just drew on one side of your heart.
If you don't want your chalk marker to be as bright on your shadow, blend it in with a tissue.
You can also use a piece of regular chalk and draw over the chalk marker if you don't want the line to be quite as defined. Blend it with your finger or tissue.
Step 4: Add a Message to Your Conversation Hearts
Grab a pink or white chalk board marker and write a sweet message on your chalkboard candy hearts.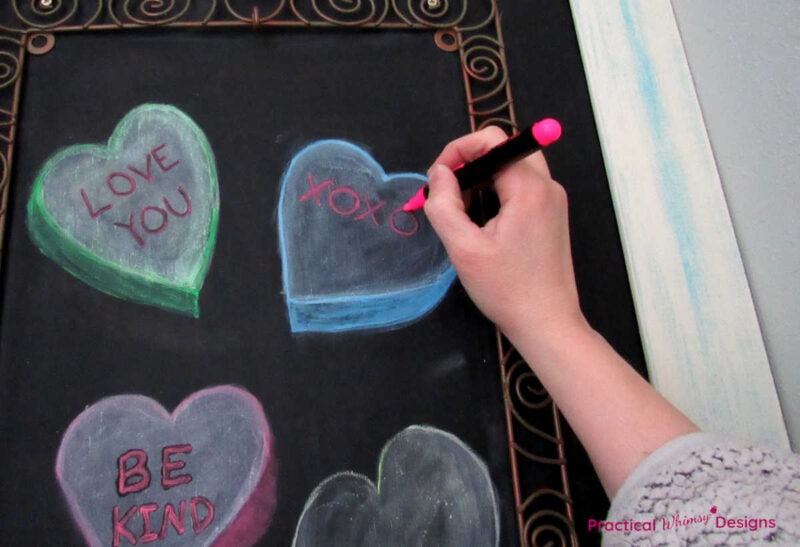 Set the chalkboard in your living or dinning room or anywhere you need a little Valentine's Day art in your home. I keep mine in my mud room as a fun way to welcome everyone home.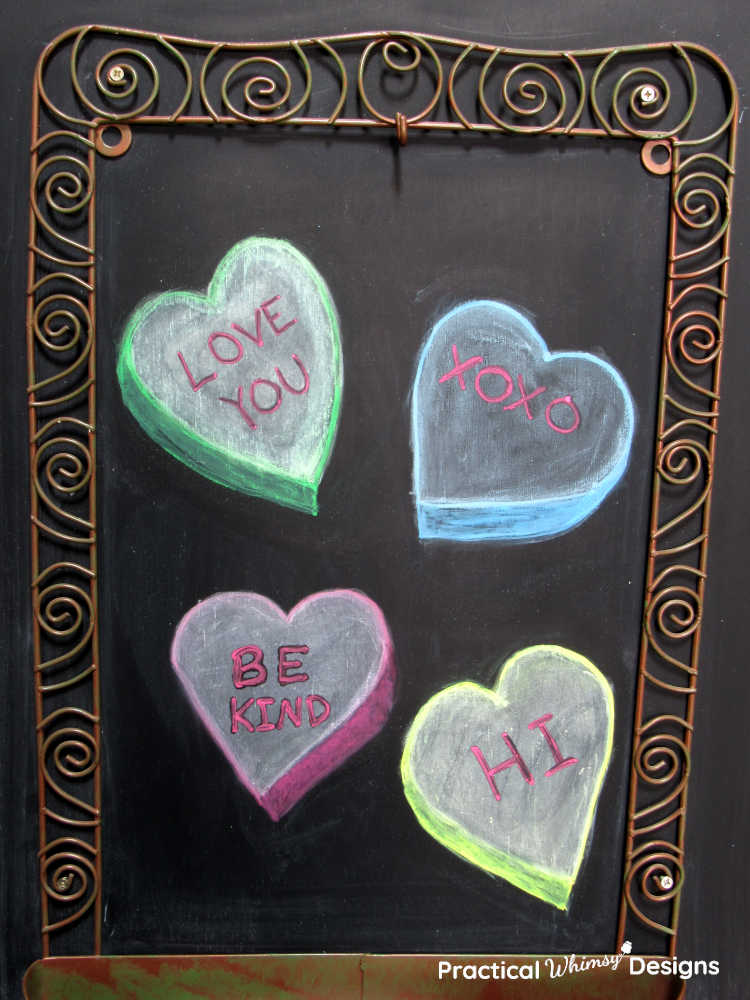 What kind of chalk should you use to make chalkboard art?
I love mixing both regular stick chalk and chalk markers.
Combining the two provides a better way to blend colors and add depth to the art.
If you only want to use one or the other, don't color the top of the heart. Only draw the outline and shade in the side shadow on the heart. That way your heart's message will be easier to see.
How do you get chalk marker off your chalkboard?
If you make a mistake, use a piece of damp paper towel or cloth to carefully wipe it away. Chalk markers are easily cleaned with water if you wipe them up immediately.
However, if your chalk marker art has sat on your chalkboard for a while, it is a lot harder to remove.
The best method I have found to clean a chalkboard is with a magic eraser. Just add a little water and it washes your chalkboard marker art right off.
Want more chalkboard ideas? Learn how to create spring themed chalkboard art and get a free svg file for a stencil here.
Or, if you are interested in more Valentine's art, click on the images below for more ideas.
Want to remember this conversation heart chalkboard art idea for later? Save it to your favorite decor board on Pinterest.