Sometimes winter can seem like it lasts forever. These winter poem printables are a beautiful reminder of what is good about this season.
I know winter can be long. Really long. And cold!
After the 25th time shoveling snow off the sidewalk or scraping ice off your windshield it can be hard to find any joy in this time of year.
Sometimes we need a reminder of the good things about this season. (Unless you are one of those crazy people who actually LIKE winter 😜!!!)
During our last snowfall I was struck with that moment of appreciation. As the snowflakes were drifting down outside my window, I was in awe of how beautiful they were. (Ok. Being inside my warm house while watching them may have enhanced my appreciation.)
Snowflakes truly are amazing and incredibly beautiful and watching them drift down lifted my spirits.
These printables were created with the memory of that moment fresh in my mind and I wanted to share that feeling of joy with you.
These winter poem printables are available as a free download in my Resource Library which is a bonus for being an email newsletter subscriber to my blog.
Not a newsletter subscriber yet? Sign up with the form below.
The form you have selected does not exist.
Note: You can print them on regular paper, but I prefer cardstock when printing printables because it is a little more solid. These printables were designed to be printed on an 8 1/2 x 11 sheet of paper.
Winter Poem Printables
Here is a closer picture of the Snowflake Haiku.
Note: A Haiku is a Japanese poem consisting of three lines. The first and last line have 5 syllables and the middle line has 7.
And here is a picture of the snowflake acrostic word poem.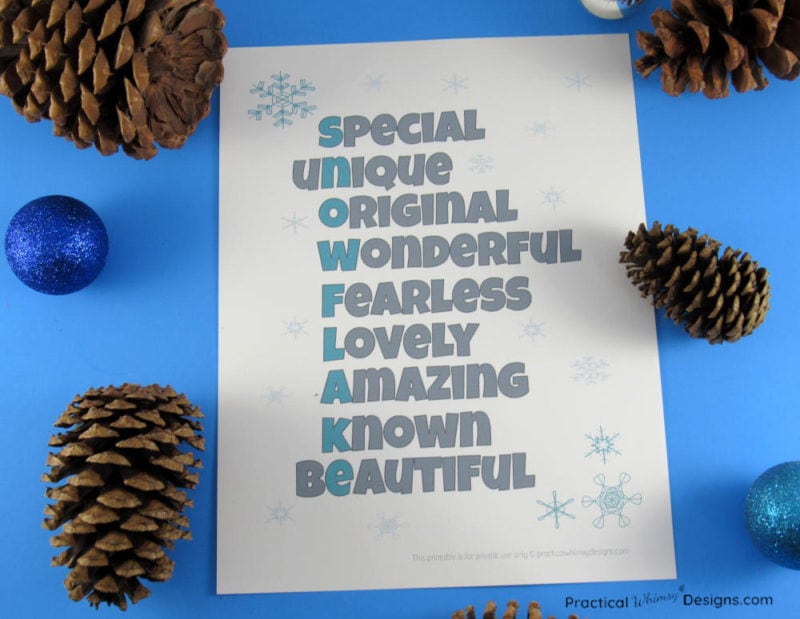 Words have incredible meaning and power to heal and uplift. That is another reason I wrote these poems. I want them to be a positive impact in your life today.
May they remind you of the beauty of winter and the strength you have in yourself. Remember to stop and appreciate the beauty around you and inside you.
Want to save these prints for later? Save this image to your favorite diy Pinterest board.
If you are wanting to mat these prints check out my post on how to mat a print with an upcycled gift box.