Not everyone is blessed with a lot of storage in their bathroom. Use these small bathroom organization hacks to make the most of your bathroom storage.
Do you ever procrastinate?
We all do it, especially when we feel like the task is overwhelming or it's something we just don't really like to do.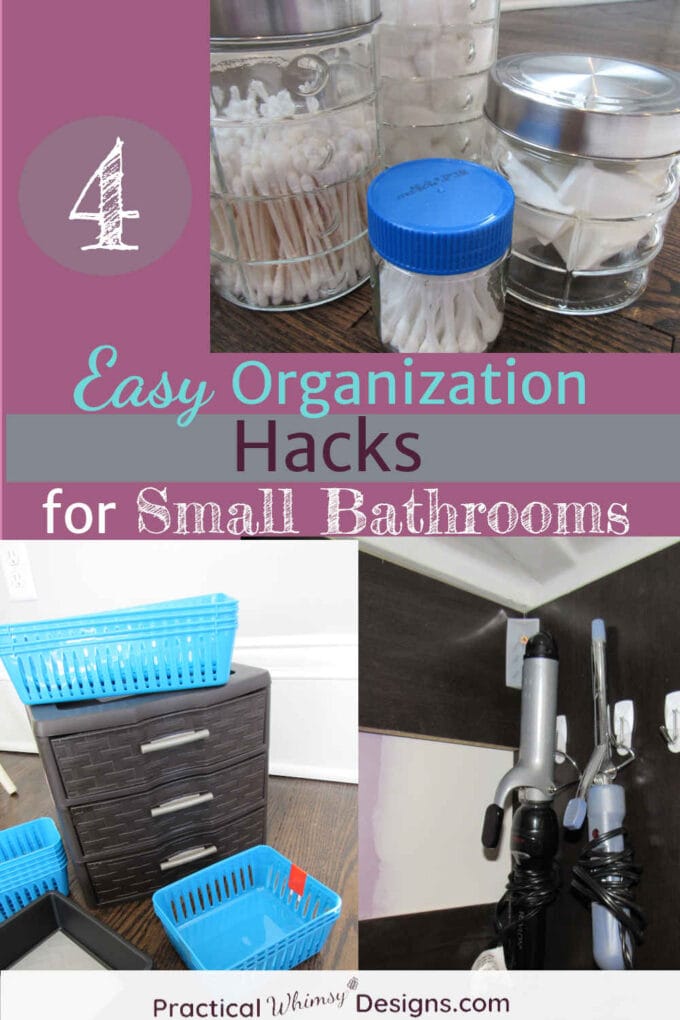 That is how I felt about organizing our master bathroom after we remodeled it. My husband and I started using it as soon as it was done. We brought in our toothbrushes, and other bare essentials, but we still left most of our cosmetics scattered around the house.
Do you know what was keeping me from organizing my bathroom?
A lack of space.
There is no closet space in our master bathroom, only the two sink cabinets.
It seemed overwhelming to think of fitting all of my bathroom items into such a small space!
I finally came up with a few small bathroom organization hacks that will hopefully help you tackle the problem of how to organize a small bathroom with little space.
Before we start organizing:
Declutter Your Small Bathroom to Prepare for Organizing
The first step to any organizational job is to empty your space.
Then gather everything you want to fit in that space and put it into categories. (Ex. Hair supplies, makeup, nail polish, shampoo, etc.)
Finally, weed it down and get rid of things. Go through your items and ask these questions:

Is it expired or broken? (If yes, throw it out.)
Do I use this enough to keep it? (If no, donate or sell it.)
Is this the best place for this item? Can I store it somewhere else? (Decide if there is a better place for the item and keep or move it accordingly)
Decluttering a small bathroom is essential when it comes to having an organized space! Going through your space yearly can be a great way to stay on top of the clutter. (I'm ashamed to admit that I found lip gloss in one container from when I was in grade school!!! 😳)
Once you have pared down your supplies, move onto the organizational hacks.
This post contains some affiliate links for your convenience (which means if you click a link and make a purchase I will earn a small commission at no extra cost to you). Please see my disclaimer page for more information.
Hack #1: Utilize Containers
Our vanities had one drawer and a large cabinet with no shelves. That was all I had to work with and I knew I had to figure out a better way to use the large open area of the cabinet.
I purchased a 3 drawer storage box to utilize a little more of the space and bought these grip trays at the dollar store. You can find a ton of storage containers at the Dollar Tree for a decent price.
There are a couple of reasons why it is important to use containers to organize.
Containers keep like items together and make it easy to take them in and out.
A good example is my husband's shaving supplies. I stuck them all in one tray container, even though his trimmer already had a small tray. I was able to put all of his supplies in the container so he can easily pull it out and use it.
2. It keeps everything from scattering in your space. Having your items 'trapped' in a container makes it easier to keep things organized.
Note: When it comes to storage containers, think outside the box: I found this office organizer at a garage sale and it works beautifully to display my makeup.
Hack #2: Use the Cabinet Walls
The walls of your sink cabinet are often the most underutilized real estate in your bathroom. Even if your bathroom is large there is no reason not to use this space.
Just grab some command hooks (if you want flexibility to change your organization easily) or screw some hooks in. A whole new world of storage possibilities has opened up!
Example: These curling irons would have taken up one side of my precious drawer space.
I used the sides of the cabinet to hang my curling irons up. They look nice and I was able to use the drawer for other things.
Hack #3: Use Clear Containers for Better Storage
When you are dealing with open cabinets or large shelving, it is nice to be able to easily see what you are searching for. It is also helpful to eliminate any bulky packaging that is hard to stack and store.
Using clear containers can make a small space seem larger and it can make it so much easier to see items you need easily. Remove any bathroom supplies (i.e. cotton balls, makeup sponges, etc.) from their original packaging and store them in clear containers and now you know what you have with just a glance.
Note: Once again, you can think outside the box. I used kitchen glass storage containers and an upcycled glass bullion cube jar to store my applicators in.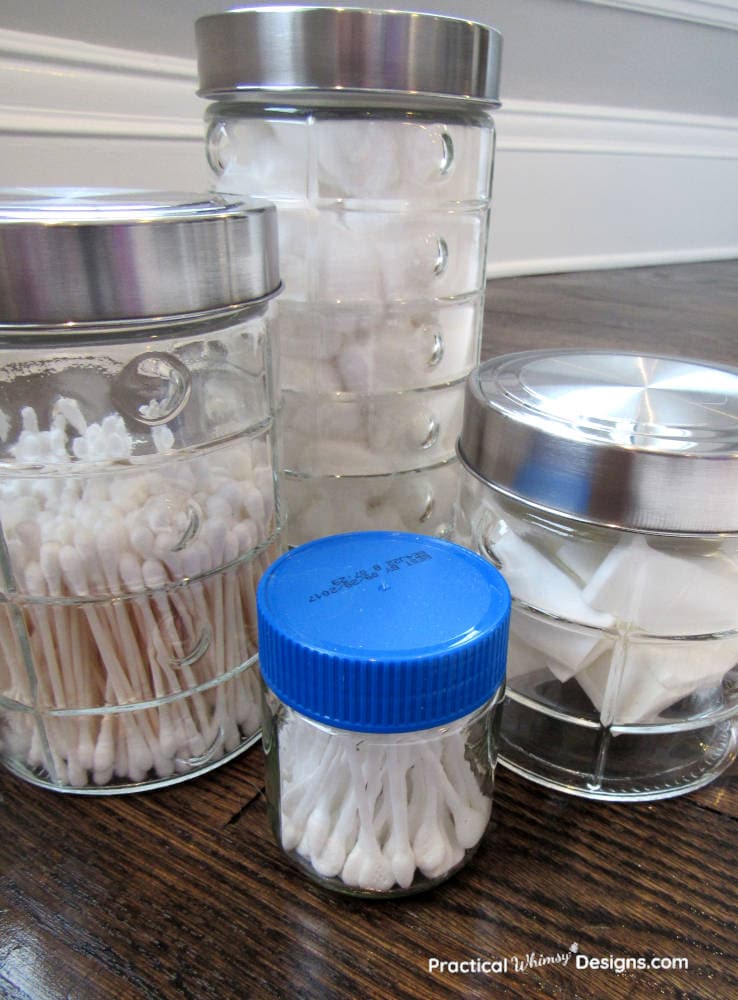 Hack #4: Use Your Extra Toilet Paper As Decorations
Instead of having your toilet paper take up valuable storage space, use them as part of your bathroom decorations.
My grandmother has a doll with a knit dress next to her toilet. The doll's legs fit inside the toilet paper and the dress balloons around the roll, giving the illusion of a big hoop skirt. As a kid, I always thought this was the coolest decoration in her house.
Though the doll toilet paper decoration is not my style now that I am older, there are many cute ways to implement toilet paper in your decor.
You can put them on a shelf with a cute saying next to them or place them on a bathroom tic tac toe sign.
If you lack wall space, place toilet paper inside a decorative basket and stick fake flowers around them. (You can use tape on the flowers to keep them in the basket when you remove the toilet paper.) Place the basket on the back of the toilet.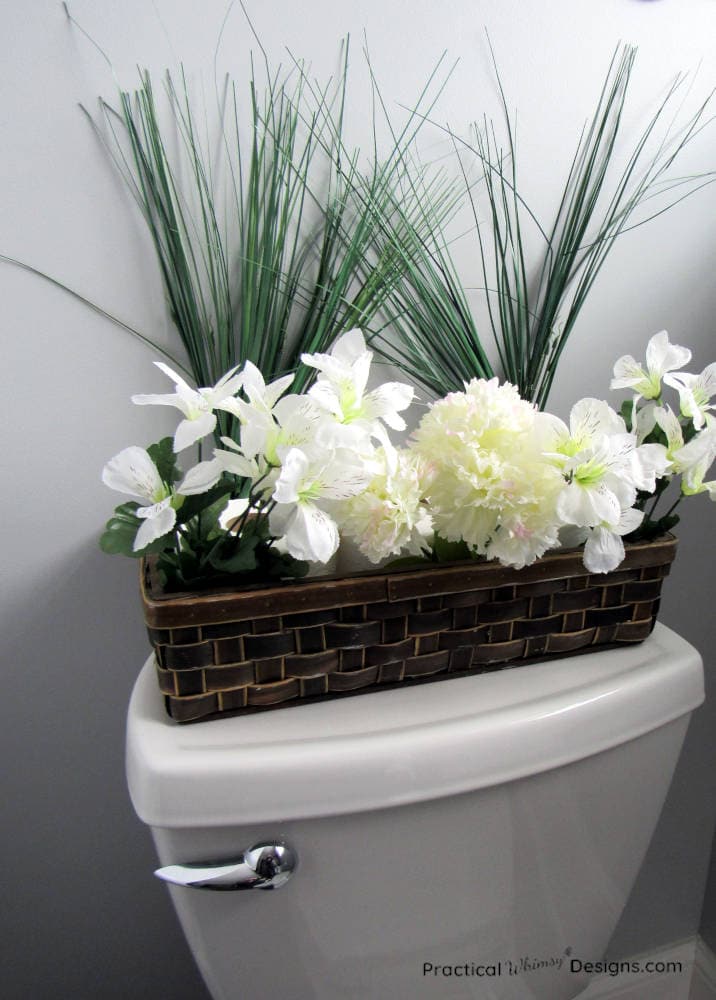 Results of Our Bathroom Organization
Here are the before and afters of our master bathroom cabinets.
His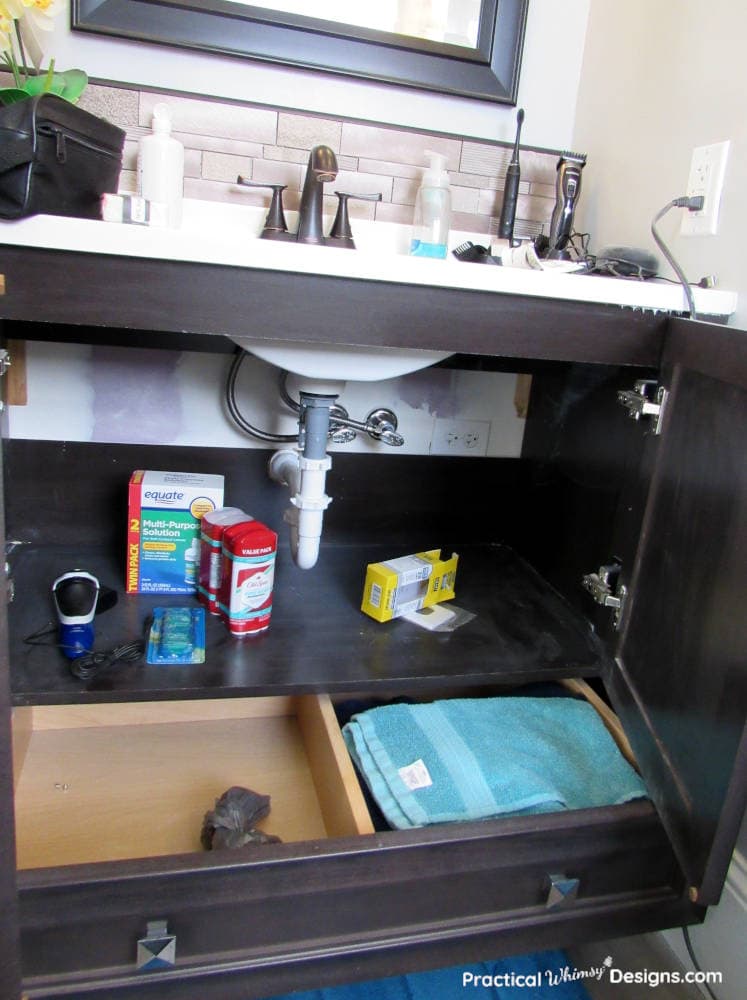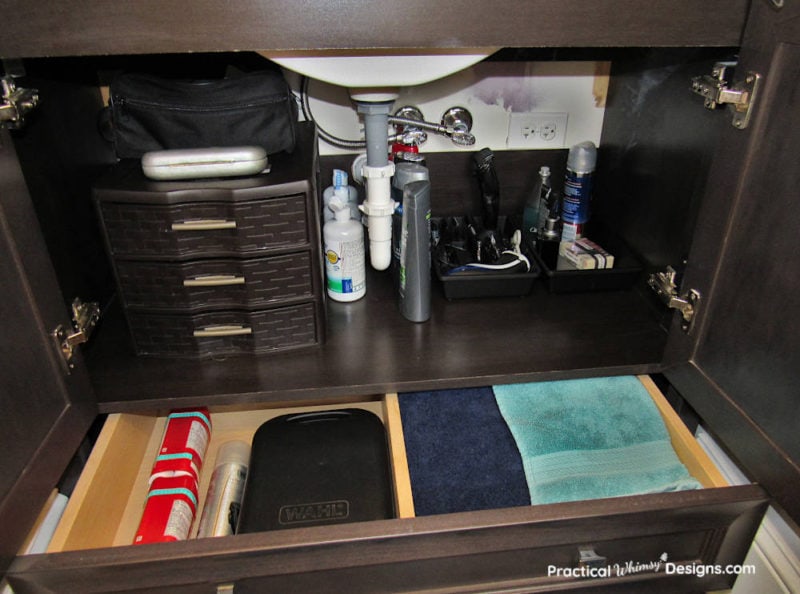 Hers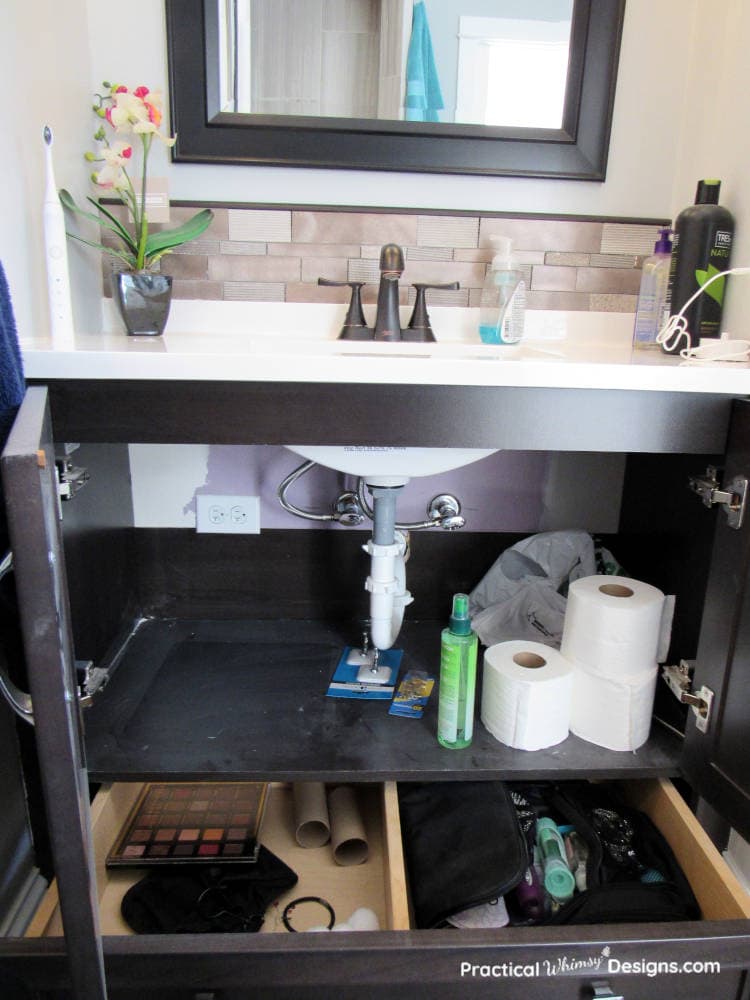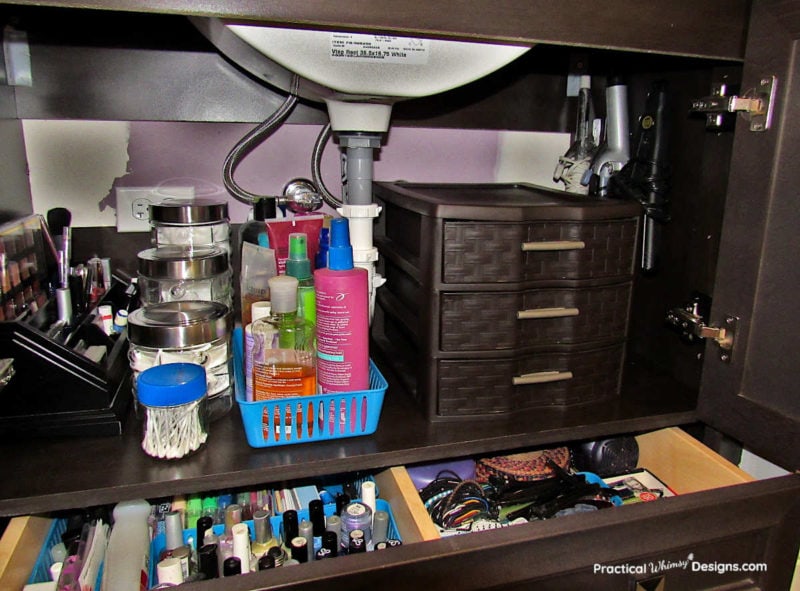 I hope that these small bathroom organization hacks give you some tools to make the most of your bathroom and allow you to get organized.
Want to remember these organization hacks? Save this to your favorite organization board on Pinterest.
Need more help getting organized? Check out this post on how to organize clothes drawers or follow these 5 steps to organize the junk drawer in your life.
Want More Great Ideas? You Might Like These..
What about you? What other hacks have you found that work great to organize small spaces? I would love to hear about them.