Is the junk in your kitchen drawer taking over? Use these 5 steps to organize your junk drawer and keep it organized for the long run.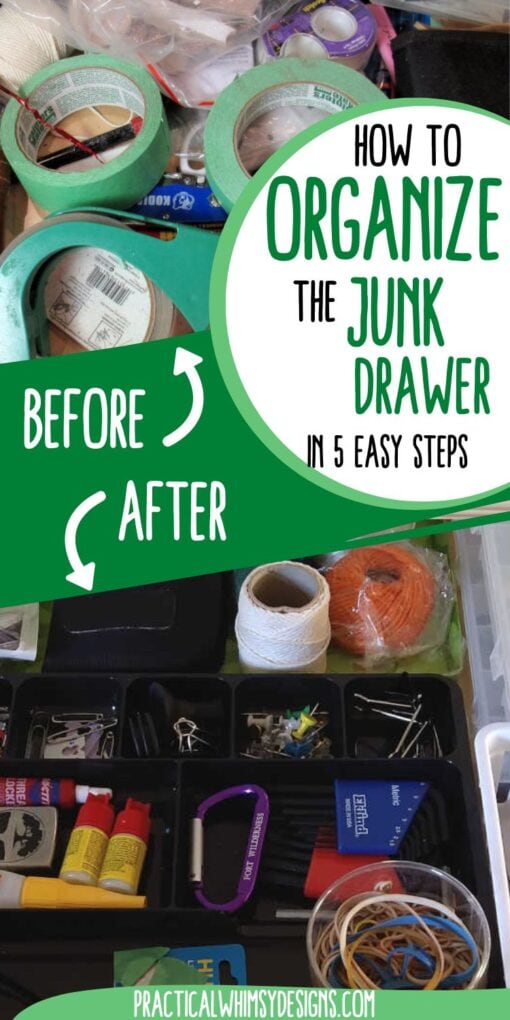 Most of us have at least one of them. They conveniently lurk in your kitchen, home office, or other random desk drawer or closet space, waiting to devour anything and everything you throw in them.
You know what I'm talking about. That drawer or box that you throw all of the random items you don't know where else to put.
Otherwise known as the junk drawer.
Company coming over? Quick! Throw all of the random junk sitting on your counter into the junk drawer!
Win a random key chain from your favorite store? Toss it in the junk drawer!
Finished with the scotch tape roll? Stash it in the drawer (even though there are already 2 in there)!
Glue sticks, sticky notes, spare change in case of emergencies…..all of it gets thrown into this great place known as the junk drawer.
For most of us, (myself included), this drawer can sometimes get a little out of hand. It is the catch-all of clutter and can be one of the toughest organizing challenges with all of its miscellaneous items.
I know I am not the only one that uses this space for random things as well as important items I want quick access to.
Not too long ago I was guilty of allowing this space to become the most messy drawer in my home. In fact, before I took the time to organize it, my kitchen junk drawer had gotten so bad that I couldn't even close it without a good deal of effort.
Note: I recently updated this post because we finally finished remodeling our kitchen and I am going back through some of my cabinets to reorganize them. I am happy to say that this system has kept my messy junk drawer organized for a couple of years now.
If you have a lot of junk in your junk drawer and need help keeping it organized, follow these 5 easy steps.
5 Easy Steps to Organize Your Junk Drawer
Step 1: Take Everything Out
It always seems counter productive, but an important first step when starting any cleaning project is to start with a clean slate. In order to make a space cleaner, the first thing you need to do is make a mess.
So start your task by removing all of the junk drawer items. Place them on the kitchen counter or floor until you have an empty drawer.
Since you should have nothing left in your drawer, take the time to wipe out the inside with a damp cloth, making sure to remove any dust and dirt accumulation.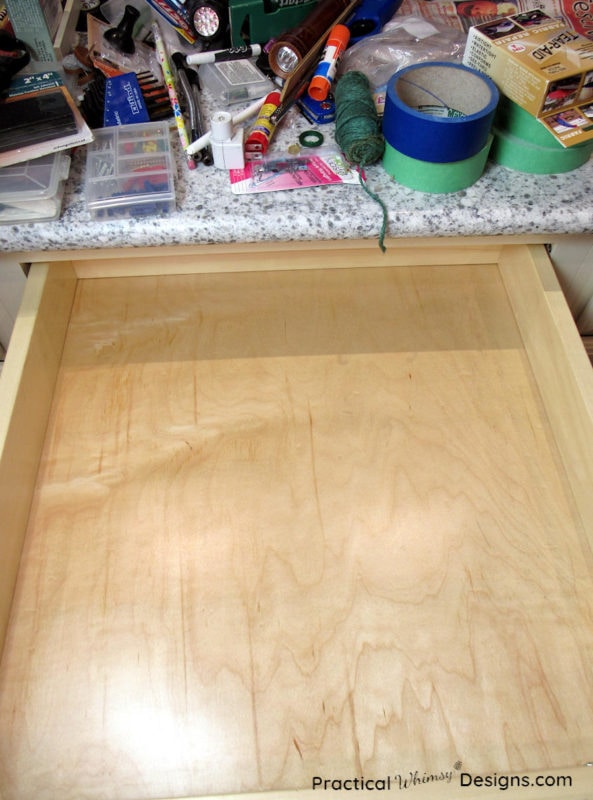 Step 2: Group Items Into Similar Categories
Organize the items you have into piles of similar items. My junk had kind of morphed into a mixed up mess and it took a little while to sort out the rubber bands from the three containers they were stashed in.
Taking the time to sort your items will help you assess what you have in your drawer.
So pile up that loose change, random office supplies, safety pins, and paper clips so you can really get a feel for what items you have in your drawer.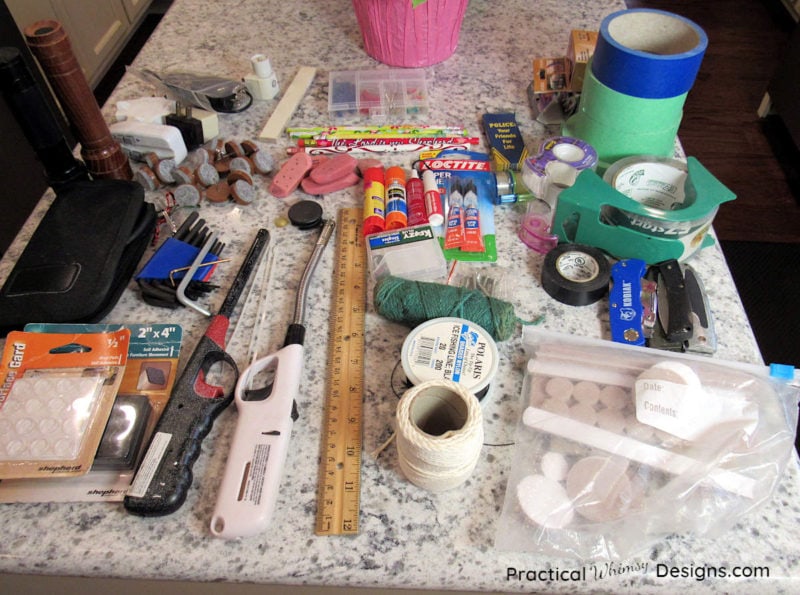 Remember, we want the items left in your junk drawer to be useful.
You can also take this time to throw out any obvious trash.
Step 3: Reduce
Now that everything is out of the drawer and organized into categories, take a good look at all of the items that have accumulated.
Think about what you have in front of you and ask yourself a few questions about them.
Are these items used frequently?
Should they have been placed in the junk drawer in the first place?
Do you really need duplicate items in your drawer? (Seriously! How did I get 4 rolls of painter's tape in mine!!!?)
If you don't use the items a lot, is there a different place in your house to store them?
Are there any unwanted items in your drawer that you don't use at all and can get rid of?
The next step is to weed out anything that doesn't belong in your drawer and see if there is a better place for it.
For example, kitchen utensils and chip clips might be better stored in different kitchen cabinets. Instruction booklets, random receipts, and other paper items can be stored elsewhere. (If you are looking for a great way to organize and store paper manuals, take a look at this idea.)
What you weed out of your drawer space will be your personal preference, but make sure that the remaining items are the kinds of things that will be useful to you and used on a regular basis.
Step 4: Organize the Junk Drawer with Containers
Now that you have your items laying out and weeded down, it's time to find the perfect container for every single thing you are planning on keeping in your drawer. The right sized containers will depend on if you have a large drawer or small drawers to organize.
This post contains some affiliate links for your convenience (which means if you click a link and make a purchase I will earn a small commission at no extra cost to you). Please see my disclaimer page for more information.
A great option for organizing the tiny objects in the bottom of the drawer is a drawer organizer like this one.
I like how you can put smaller items like, paper clips, push pins, and twisty ties, in it, as well as larger things like note pads or a pair of scissors and still have easy access to everything.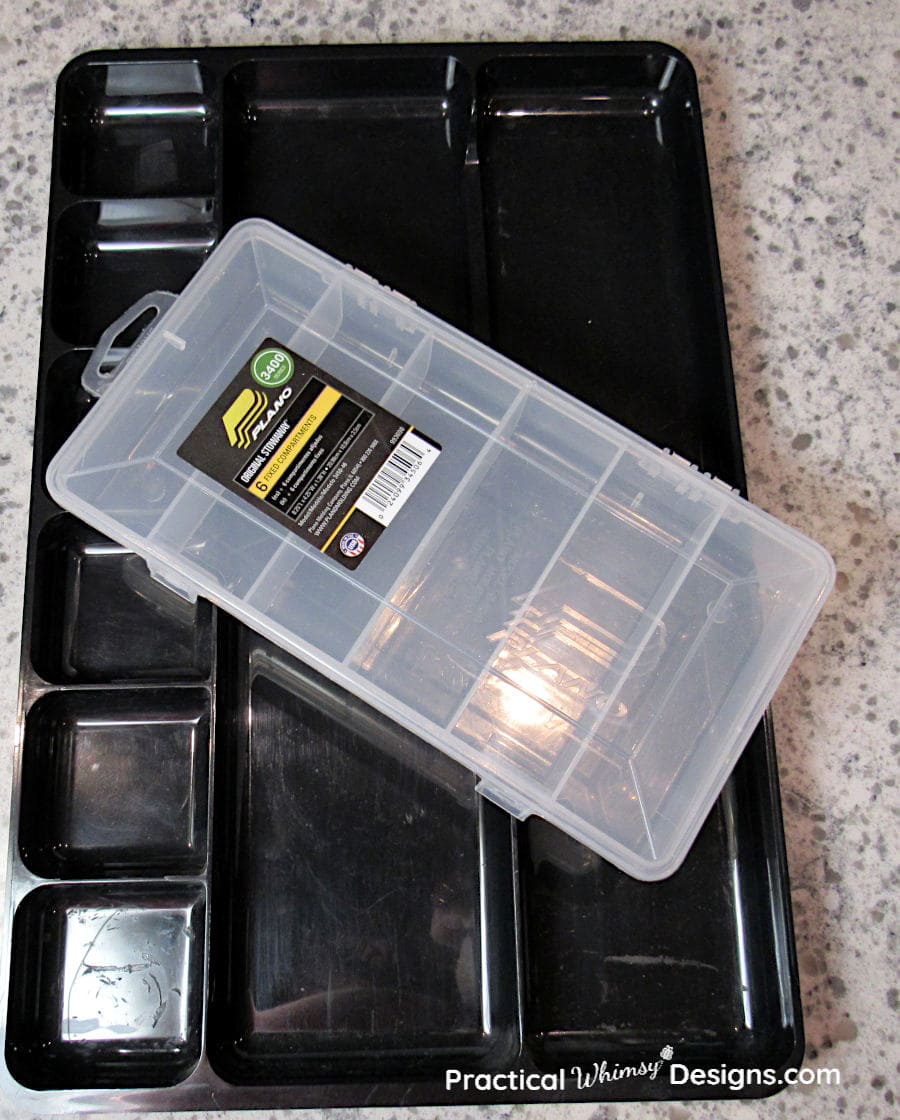 Other storage options include
Cardboard boxes. (I used the lid off of a gift box, turned it inside out, and re-taped it so that the pattern was inside my box to add a little color to my storage)
Small plastic bins like these. (You can also pick them up at the dollar store.)
Clear plastic utility boxes. (Another great way to store small items and little things.)
It is a good idea to use a container for everything you can. That way the things in your drawer don't roll around when it is opened or shut.
Shop Similar Items

You may have to use a tape measure to measure your drawer to find the perfect fit for your items and containers.
If you can't find containers that fit your space, making your own cardboard drawer dividers can be a cost friendly way to create custom drawer organizers.
Step 5: Maintain Your Junk Drawer Organization
Finally, now that your drawer is organized, don't go back to the old ways!!!!
Before adding ANYTHING new to your drawer, evaluate it.
Is it useful?
Will you use it frequently?
Is there somewhere else you can put this item?
Keeping something clean requires you to stick to the organization systems you started with.
And at the end of the day, going through the drawer occasionally can't hurt either. Re-visiting and rearranging items can help the drawer adjust to your needs.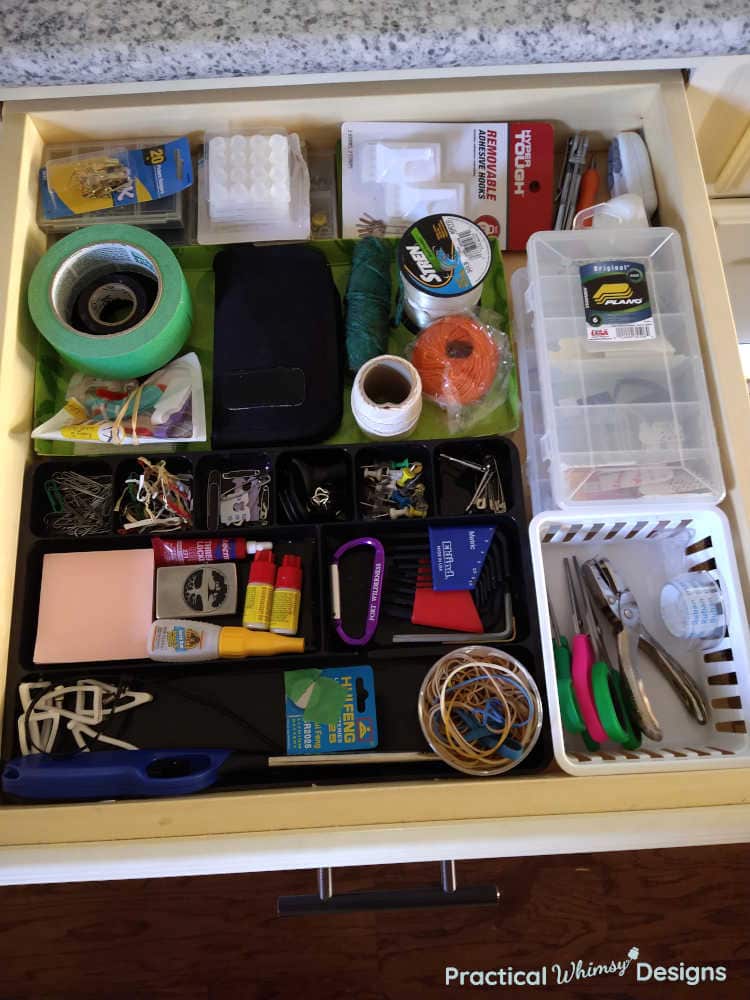 Remember to not fall into the temptation to use your junk drawer as the catch-all drawer. Then you can really utilize the full potential and usefulness of this space in your house.
These 5 steps are an easy way to organize your junk drawer and hopefully keep it that way for a long time.
Need to organize more drawers in your home? Check out this post on how to organize your clothes drawers for some great tips.
Want to remember this idea for later? Save it to your favorite organizing board on Pinterest.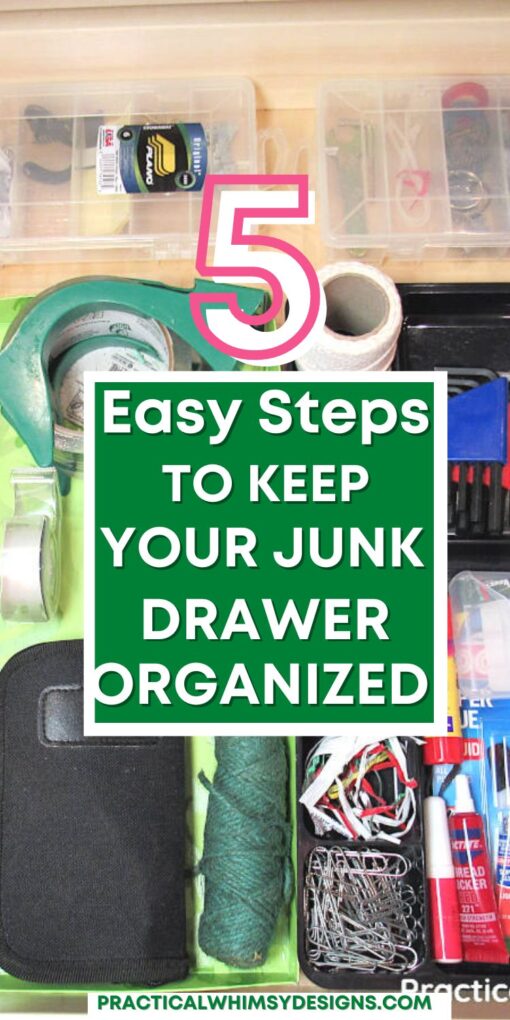 Want More Great Ideas? You Might Like These..