Adding lighted curtains into your home decorating can create a magical addition to your winter decor. Check out this tutorial to make your own.
Who says lighted curtains are only for weddings or church events?
If you love them, why not incorporate them into your home decorating?
This year, I was determined to do just that. I really love the soft glow of lighted curtains and I wanted to add that whimsical sense of lights and mystery into my home this Christmas to accompany my winter wonderland themed decor.
And the best part?
This curtain can stay up all winter as part of my winter decorating.
If you love lighted curtains too you can learn how to create your own with these simple steps.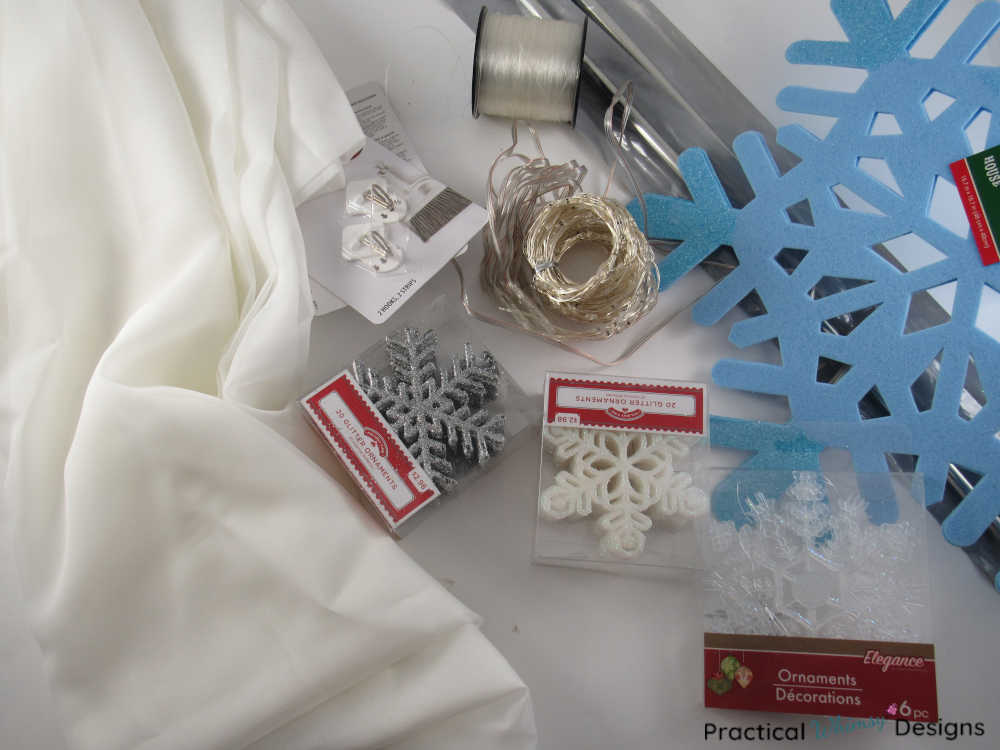 This post contains some affiliate links for your convenience (which means if you click a link and make a purchase I will earn a small commission at no extra cost to you). Please see my disclaimer page for more information.
Materials You Need:
LED curtain lights (These are the lights we used. Note: they plug into a usb port so you will need an adapter to plug them into your outlet.)
Curtain rods (They don't have to be fancy as you won't see them. Make sure they are small enough to fit in your command hooks)
Safety pins
Pine garland, tinsel, or fabric for top of curtain
Clear fishing line
Ornament hooks or paper clips
Level to keep our curtain rod straight while hanging
Steps to Make A Lighted Curtain in Your Home
Step 1: Hang Your Rods
When we first had the idea of a lighted curtain for Christmas, we weren't exactly sure if we wanted to hang it on both sides of the TV in our family room, or just on the left.
After holding up the curtains in various different ways, we decided on keeping our lighted curtain snow wall on just one side of our TV.
If you aren't entirely sure where you want to hang your lighted curtain, take the time to try it in a few areas to see how it looks. Is there room for it to flow? Does it add to your decor and compliment your space?
Note: If you are planning on creating lighted curtains over your existing windows (which is an excellent option) you can skip this next step.
When you know where you want your curtains, use reusable hooks to hold up either end of your curtain rods. We used a small level to make sure that our curtains were straight when placing our hooks on the wall.
Our lighted curtain consists of two curtain rods and curtains hung next to each other. We liked the hang of the fabric and the space the curtain covered with this amount. You may need to use more rods and curtains if you want your lighted curtain to cover a larger space.
Make sure that your reusable hooks are strong enough to hold the weight of your lights and fabric. If you need more strength, add a reusable hook to the middle of your rod.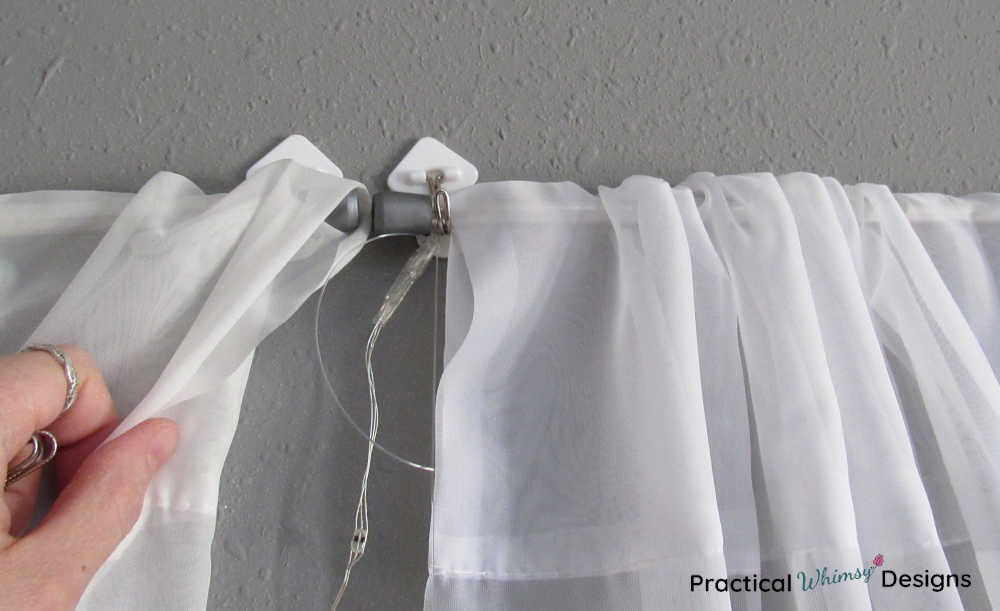 Step 2: Create Your Lighted Curtain
Hang your sheer curtain on your rod and place the rod on your reusable hooks. Pin your LED curtain lights on the back side with safety pins. (Loop the safety pin around the light strand and then pin it into the fabric.)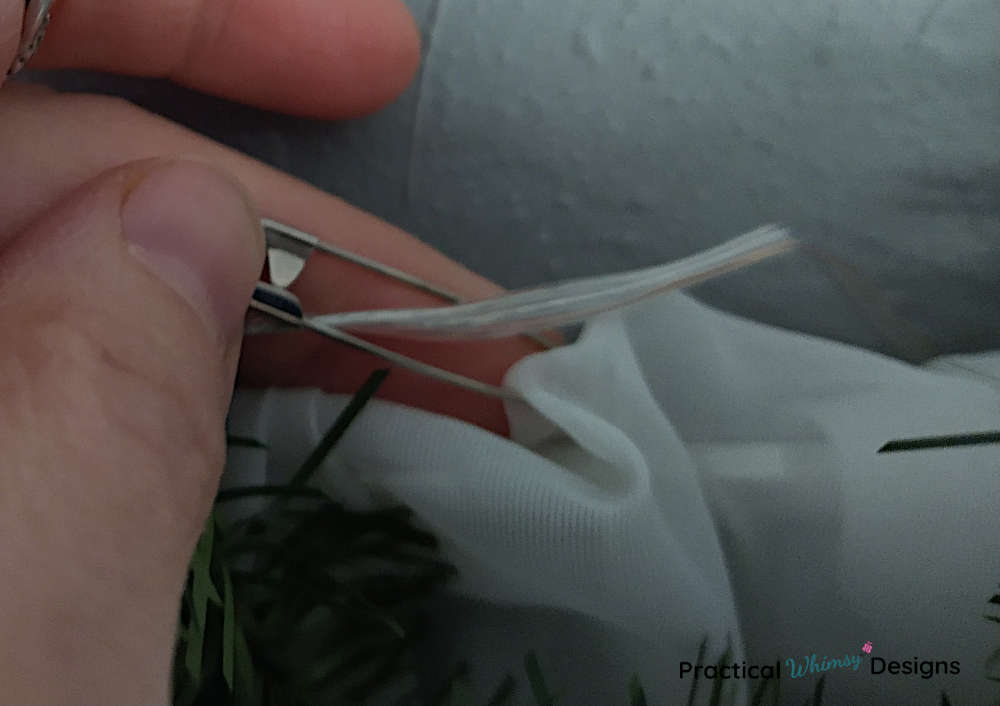 Step 3: Decorate
Since we were doing a winter wonderland themed Christmas I wanted to make our lighted curtain feel like a snowy, winter sky.
To create a similar look, hang snowflake ornaments on clear fishing line, tying them at intervals on the line so that they are evenly spaced. Hook them onto your curtain rod with ornament hooks so that your curtain has snowflakes spread across it.
Next, use pine garland, tinsel, or fabric along the top of the lighted curtain to hide the rod. You can bend a paper clip to create two hooks. Hook one end onto the green vine and the other end onto your curtain rod to hold up the garland.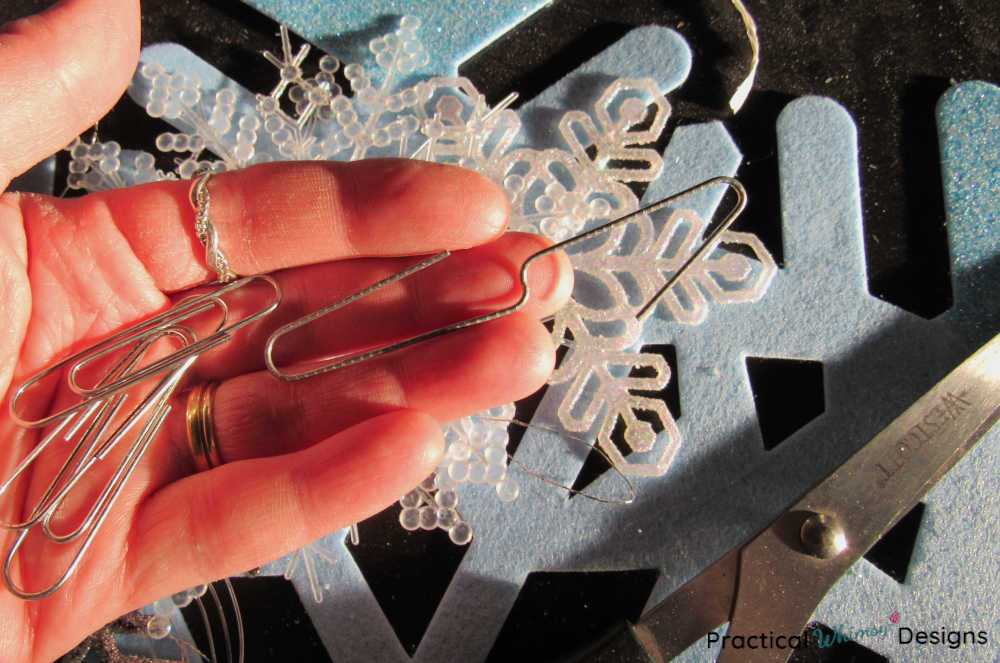 Finally, hang more snowflakes on your evergreen bough or garland to create a beautiful winter feel to your lighted curtain.
DIY Lighted Curtain
I love the fact that the lights we chose can change colors. We turned the blue lights on to create that wintery feel.
Here is our curtain hanging in our family room.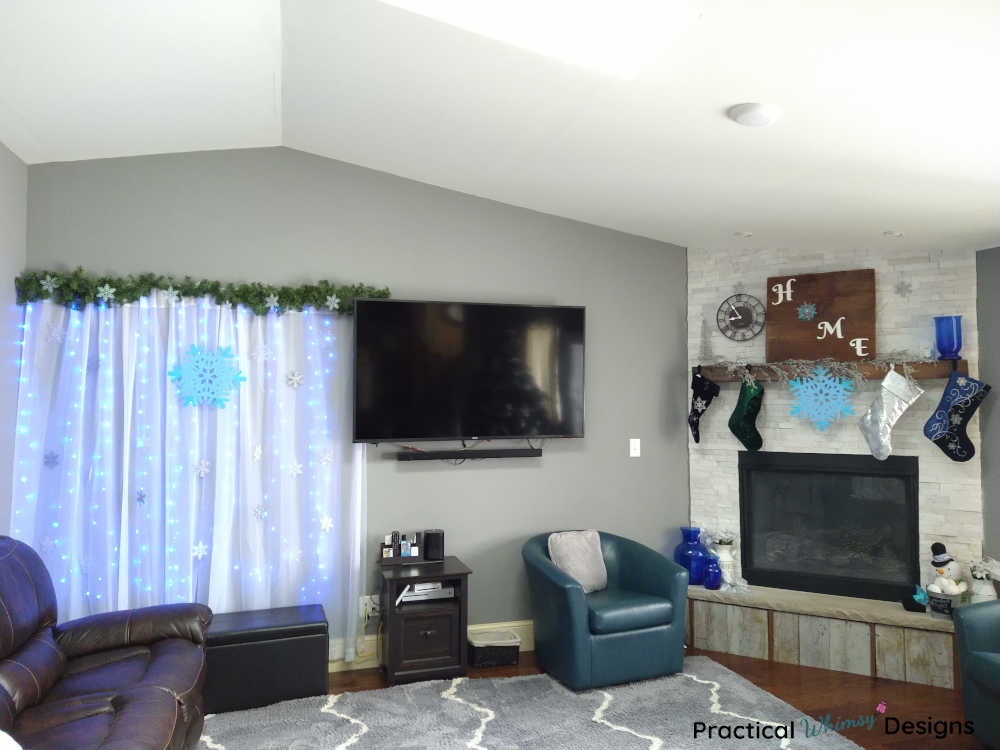 And here is what it looks like with our Christmas tree.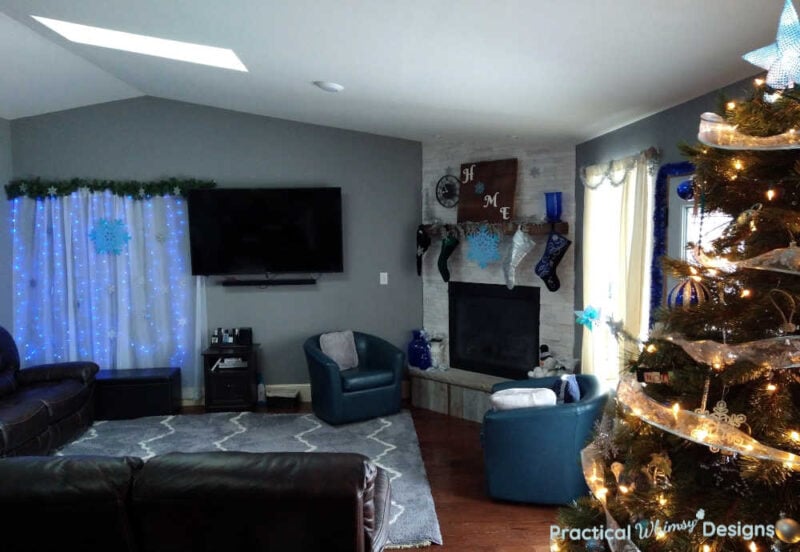 Soon we will remove the stockings and Christmas decorations, but the snowflakes and lighted curtain can stay up all winter. If you want some more ideas of ways to use your Christmas decorations as winter decor, check out this easy winter decorating post.
Want to remember this idea for later? Save it to your favorite DIY Pinterest Board.