You can still decorate your house like a winter wonderland with kids. Check out these 5 tips and ideas to transform your home.
I have seen some amazing and beautiful homes decorated for Christmas. I love to browse the web looking at all of the festive Christmas decor. Some of the displays draw you in and make you feel like you have stepped into another world. The beauty is magical, breathtaking, and very, very fragile.
So how in the world can you turn your living room into a magical winter wonderland when you have kids who insist on wrestling, playing catch, and, well….. being kids amidst all of your Christmas decorations?
This post contains some affiliate links for your convenience (which means if you click a link and make a purchase I will earn a small commission at no extra cost to you). Please see my disclaimer page for more information.
1. Start with the Tree
The easiest way to decorate your house like a winter wonderland is by creating a winter wonderland themed tree. Use blue or white lights instead of colored lights to create a wintery feel.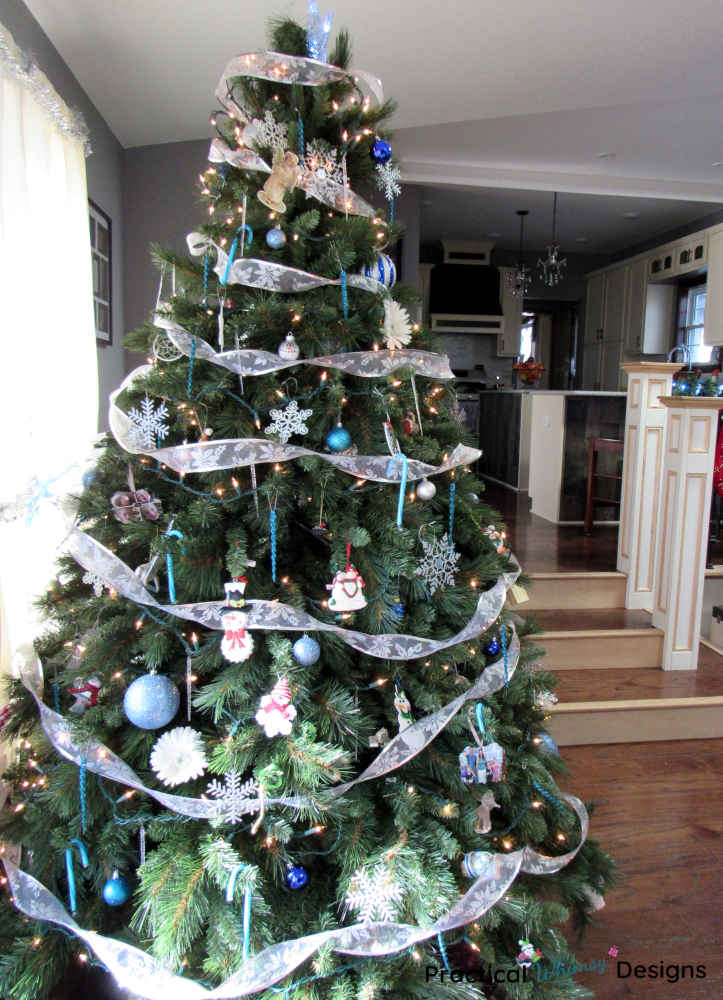 Adorn your tree with a silver or white ribbon and use winter themed ornaments.
Some ideas include:
Snowflakes
Icicles
Snowmen
Winter Animals (Penguins, polar bears, etc.)
Pinecones with Silver or white glitter
White or blue fake flowers
White, silver, and blue ball ornaments in different shades.
We have a tradition in our family that each year our kids receive a new ornament. Even a neutral ornament like these diy blackboard stars can be used on a winter tree as long as there is enough other snowy elements. I bought snowflakes similar to these at Walmart and bought a few items from the dollar store, which is a great place to look for decor.
I had fun scrolling the internet and looking for ideas for winter wonderland ornaments. If you are in need of a few ideas for your tree, scroll through and click on the pictures below.

2. Use Their Toys
Ever wonder if you could have a snowball fight inside?
Well, you can. These fake snowball fight kits are super fun for kids (and adults) to play with because they are soft enough that they don't hurt or destroy things.
They are a great gift idea.
Plus, if you add them to a tin with your daughter's borrowed stuffed snowman, they make a great addition to your winter wonderland decor. (Don't worry. She volunteered her snowman for my decorations.)
3. Change Up You Curtains
If you have a room with windows, changing up the curtains is one of the fastest ways to change up the look of the room.
We normally hang blue curtains with a pattern in the room, but we switched out the curtains for these ivory ones and added blue and silver fake poinsettias and tinsel to create a winter look. The ones I purchased aren't available online, but I love these poinsettia clips.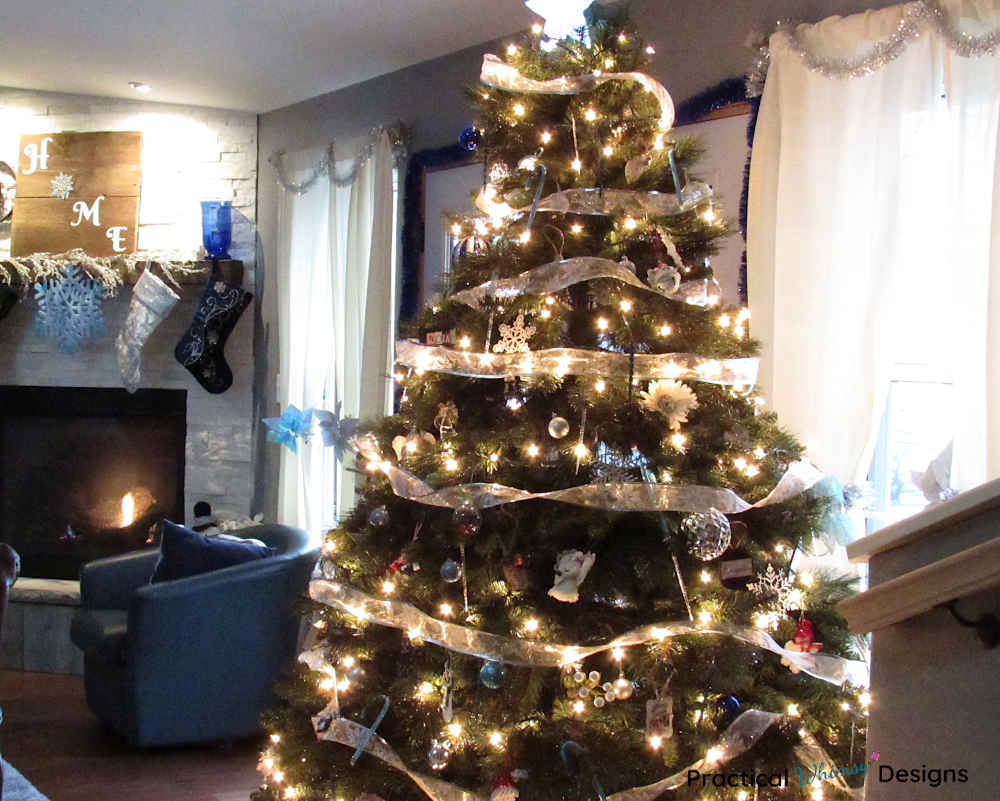 Even if you don't have windows in your room you can create a snow effect with a curtain and blue lights. I created this beautiful snowflake lighted curtain for our winter wonderland scene this year and I love the glowing cozy feel it gave the room.
4. Try to Keep Fragile Things In One Place
Even though I tried to use a lot of hardy decorations and add a wintery feel to them (like this DIY Home sign I updated with a snowflake ornament nailed over the 'o'), I still wanted to have some fragile pieces out on display.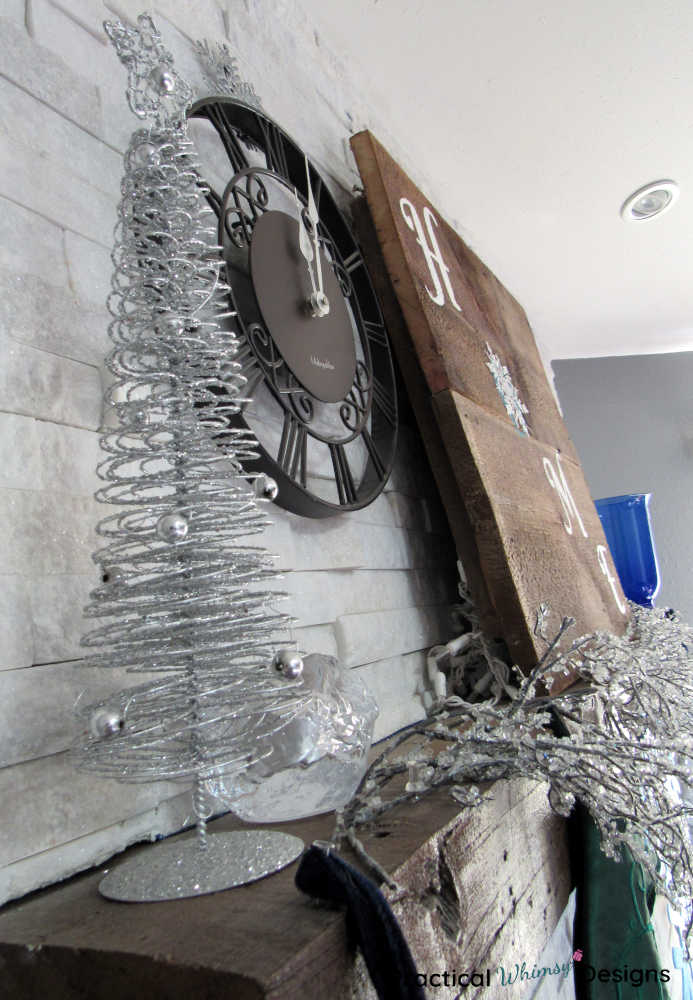 So, my kids know the hearth and mantel are off-limits to their rough housing and ball throwing escapades. If you are able to have a no throw zone, that is a great place to display your more fragile winter decor.
If you have younger kids, displaying your fragile items up high is a great option.
5. Add Winter Wonderland Decorations Where You Can
Use fake snowflakes, wintery trees, snowmen, etc. wherever you can in your room to create a magical wintery feel.
I found these felt snowflakes at the dollar store, but you could make some out of felt or cardstock if you can't find any.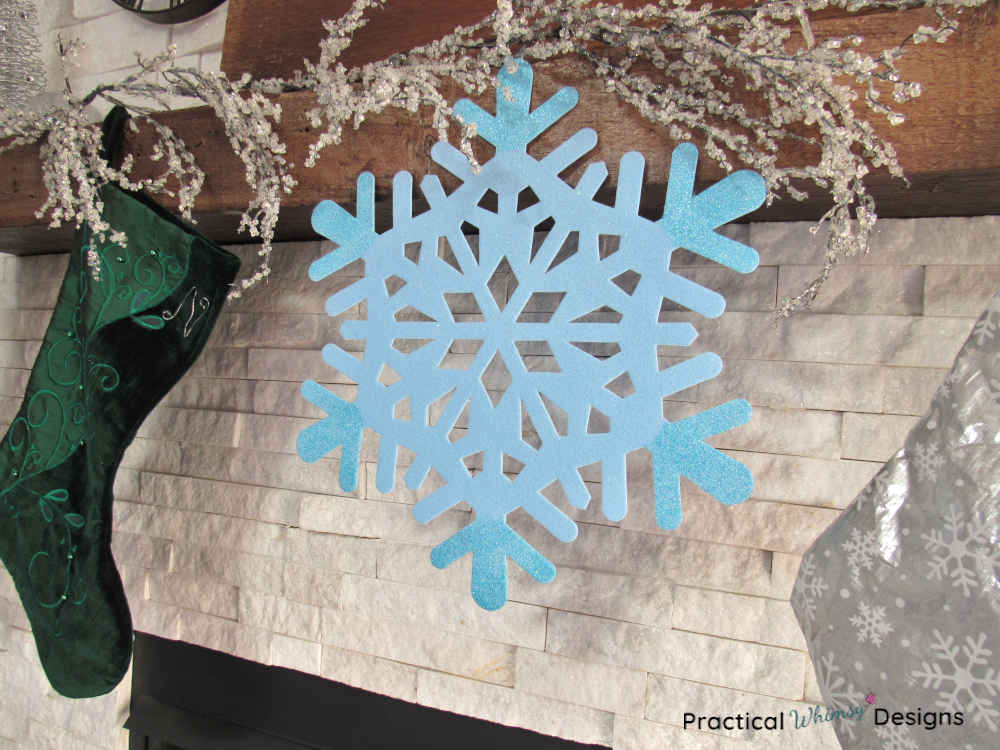 Mix blue and white vases, jugs, etc. and embellish with fake flowers or pinecones
A lot of winter decor doesn't have to be fragile to make a room beautiful.

Decorate Your House like a Winter Wonderland
Creating a winter wonderland in your home doesn't have to be impossible.
And changing your decor can be a fun way to try something new this Christmas. Plus the winter wonderland theme has the added benefit of being an easy decorating transition for your winter decor which you can view in this winter mantel post. If you need a few other ideas for ways you can reuse your Christmas decor as your winter decorations you can read this post.
Want to remember these decor ideas for later? Save them to your favorite Christmas board on Pinterest.
Shop Similar Items

Want More Great Ideas? You Might Like These..