It doesn't have to be complicated to transition to winter mantel decor after Christmas. Follow these easy tips to create a simple winter look.
Christmas is done.
The tree and stockings have been packed away.
All of the red and green, the santas, the reindeer are housed safely back in their bins for next Christmas.
And now you have a bare mantel and hearth, staring back at you.
So how do you easily transition from Christmas decorations to winter mantel decor with the least amount of work?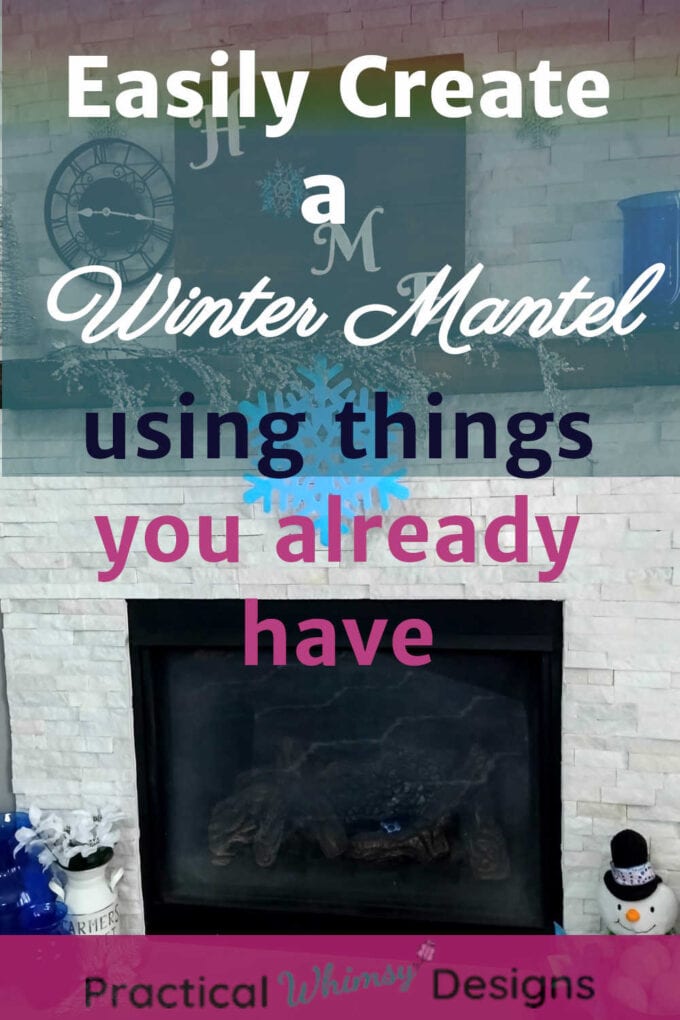 1. Use Your Christmas Decorations
Before you pack all of your Christmas decorations away, look through them and see if there are any decorations that can stay out all winter.
Depending on how you decorate for Christmas it can be very easy to re-use a lot of your decor for winter mantel decorations. My Winter Wonderland Themed Christmas decor provided the least amount of work to transition to winter of any of my Christmas decorating themes. All I had to do was take down the stockings and everything else could stay.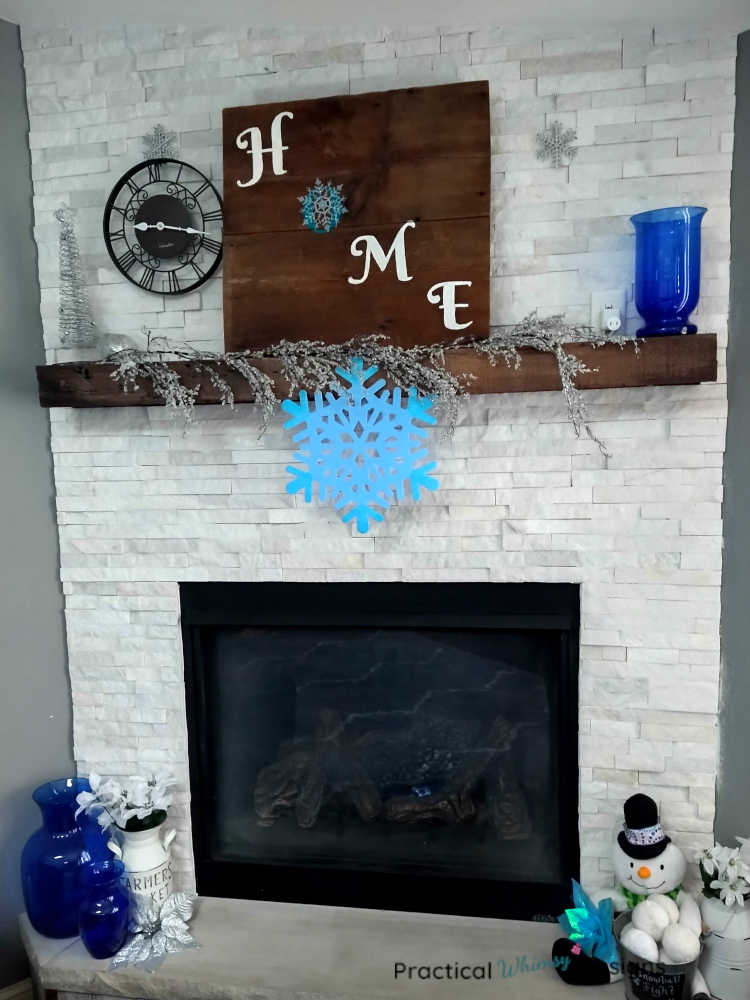 This post contains some affiliate links for your convenience (which means if you click a link and make a purchase I will earn a small commission at no extra cost to you). Please see my disclaimer page for more information.
However, even when you don't use a winter theme in your Christmas decorating, you can still re-use a lot of your decor.
White or blue lights
Snowmen, snowflakes, icicles
White or blue flowers
Cozy flannels or plaid
White, blue, clear, or silver vases, candlesticks, crates, etc.
White, blue, or silver ornaments
Pinecones and evergreens
If you need ideas for more than your Christmas mantel, check out this post on easy winter decorations based mostly off of the decor I normally use at Christmas time.
2. Deck out a Window, Picture Frame, or Sign
If you have your tv over your mantel, then this suggestion may not work. If that is the case, your tv acts as your large piece of art work.
However, if you aren't settled on the art on your mantel, try changing it up with a DIY home sign or an old window.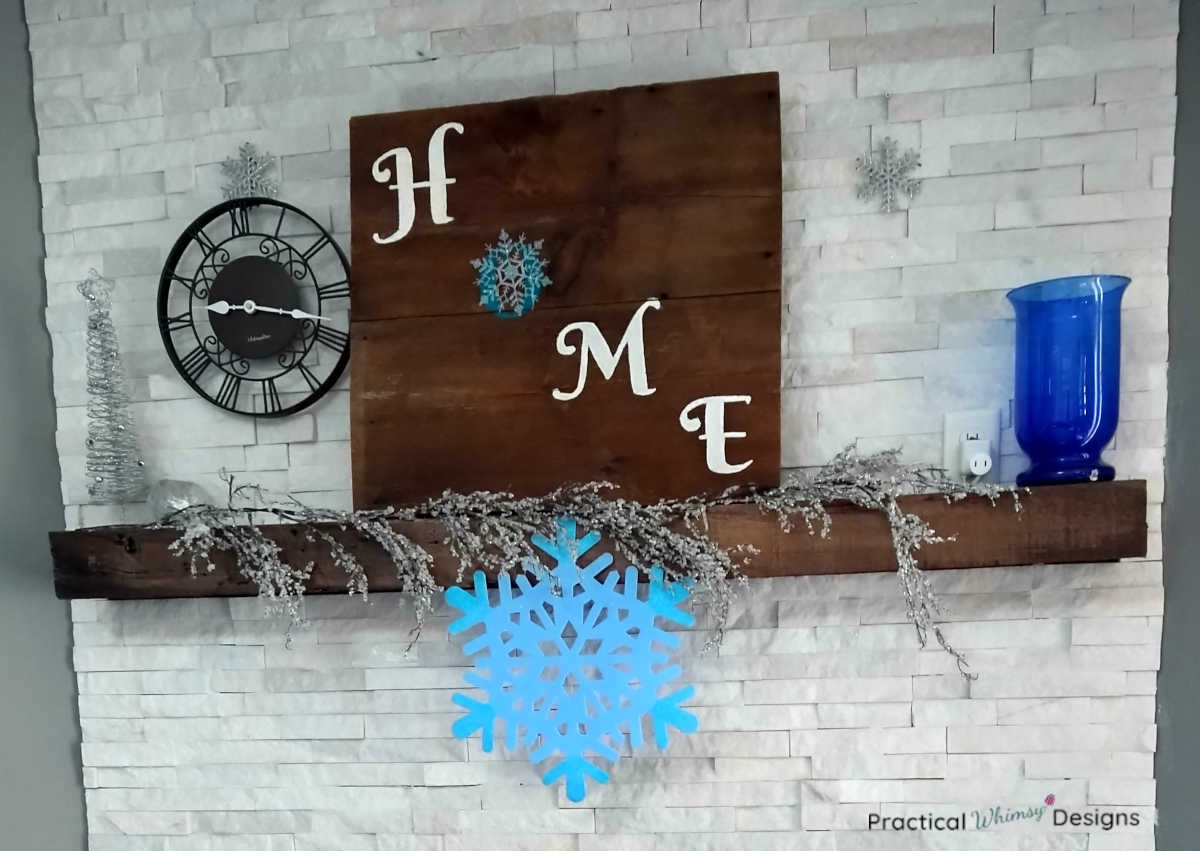 Both of these art pieces can ground your mantel while providing the freedom to leave them neutral or change them up for the season.
If you are looking for a fun way to create some chalkboard art for your mantel, create a faux chalkboard with a window or glass fronted picture frame and some black construction paper for a fun, changeable winter scene.
Having some sort of large neutral art on your mantel can give you an easy way to change up your decor for the season.
3. Invest in Versatile Pieces
When you look for your larger decorative pieces, try to find ones that are neutral and can be used in many different seasons.
Building up a variety of larger, neutral pieces can help make decorating easier.
My favorite neutral decorations consist of:
Crates
Vases
Jars
and Buckets
I use all of these items in my mantel decorating at various times. I can move them around, fill them with different decorations for the season, etc. They may not always appear in my decor each season, but having a variety gives me the freedom to play around with how and when I use them in my decorating.
If I don't use them on my mantel, then I can move them to other areas of the home.
Changing your existing decorations around can give your room a brand new look.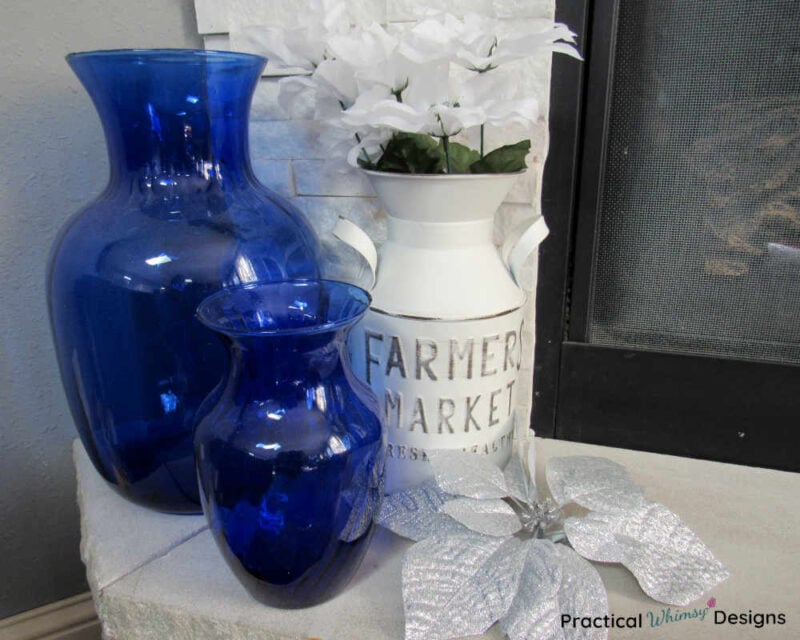 If you don't have many neutral decorations, you can find a lot of great pieces at thrift stores and garage sales. They may take a little work and paint to update them to your style, but it is pretty easy to create some fun decor out of thrifted items. You can check out this post on how to upcycle a thrifted wooden caddy here for some great seasonal ideas.
Transitioning to Winter Mantel Decorations Doesn't Have to Be Hard
Decorating for winter doesn't have to be complicated.
Though I tend to be drawn to the cooler blues and whites of snow and ice, creating a cozy plaid and flannel theme can warm up your space as well. You can also pull your ideas from nature and add pinecones and winter greenery.
Or, if you aren't into the winter theme at all, use seasonally neutral items to make your space feel new after Christmas.
That is the fun about decorating!
Everyone gets to add a little piece of their creativity, tastes, and design into their home and that makes decorating a space exciting.
Want to find these ideas later? Save this to your favorite decor board on Pinterest.
Like what you see? I found a few similar items to the ones I decorated with in winter. Click the pictures to check out the details.
Shop Similar Items

Want some more winter decor ideas? Click below for more fun printables, art, and decor.