Pillows can be a great addition to your home decor, but they are expensive! Learn how to make a pillow out of a place mat in this easy tutorial.
Doesn't it seem like it is impossible to catch up sometimes, let alone come up with fun and cute home decorations?
There are so many responsibilities, tasks, etc. and that to-do list never seems to get smaller. Anyone else feel this way too?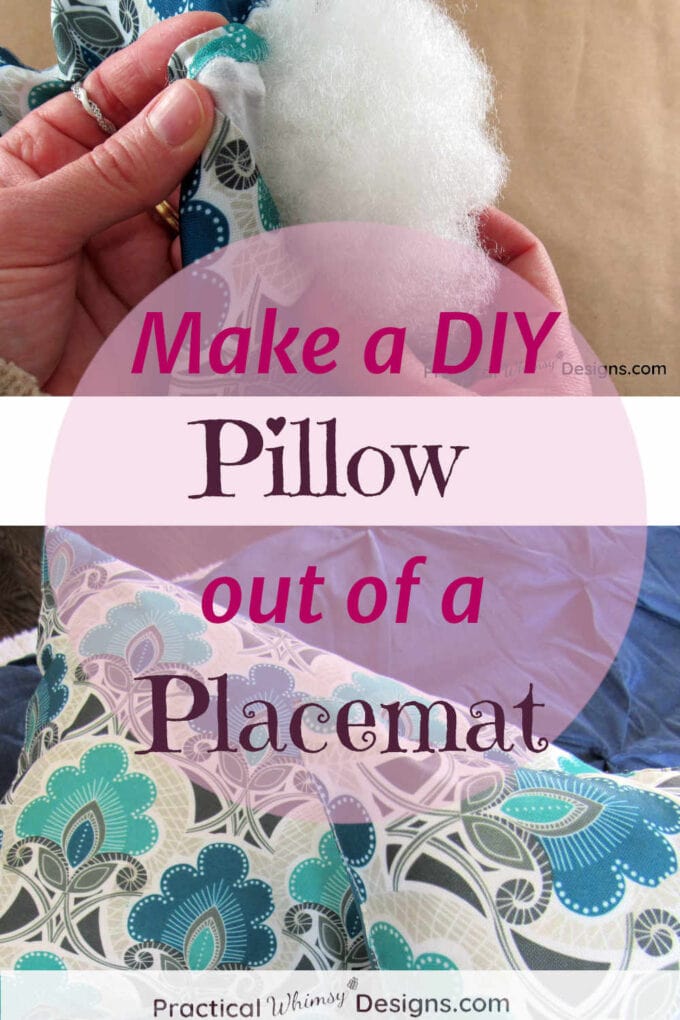 You want to spend time crafting, creating, and making your home yours, but how are you going to fit it into your schedule? Well, guess what? Decorating and making diy decorations does not have to be complicated and time consuming!
For example, these pillows made out of place mats, are super easy to make and take less than a half an hour to put together. Plus, as an added bonus, if you buy your place mat at the dollar store, they cost less than $5.
This post contains some affiliate links for your convenience (which means if you click a link and make a purchase I will earn a small commission at no extra cost to you). Please see my disclaimer page for more information.
Materials You Need:
How to Make a Pillow Out of a Place Mat
Step 1: Rip Open the Seams on the Place Mat
Use the seam ripper to rip the seam along one of the short ends of your place mat. Rip enough thread to be able to get your hand in between the two layers of fabric.
Word of warning: Don't go crazy with the seam ripper.
I know it's fun. But remember this wise and ancient saying, "Whatever you rip apart, you must put back together again."
Ok. I made the ancient saying part up, but after you spend extra time putting things back together, you will definitely think it is wise.
Step 2: Stuff Your Pillow
Now that you have that opening, it is time to stuff your pillow. Grab that fiber fill and fill that place mat pillow up. Make sure that you use your fingers or a wooden dowel to get the stuffing into all four corners of the pillow.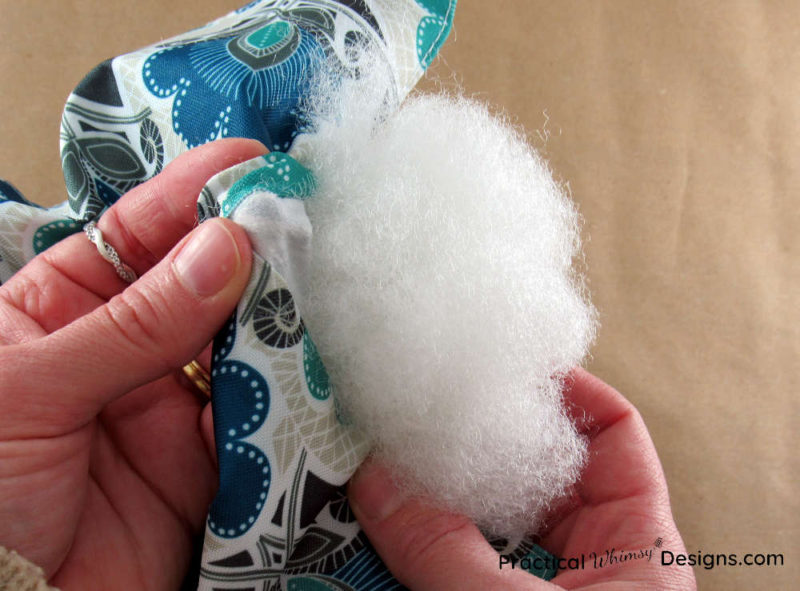 The easiest way to fit the stuffing into the pillow is by grabbing small fist sized chunks of fiber fill and thrusting them into the pillow until it is nice and plump.
Step 3: Seal That Seam
Now that your pillow is filled, it's time to close up that seam.
If you want the super easy, no sew option, use double sided fabric tape to close up your pillow seam. And that is all there is to it.
However, if you are like me, and don't have double sided fabric tape lying around, grab a thread and needle and hand sew your pillow together. I recommend pinning the seam together to keep your fabric in place as you sew.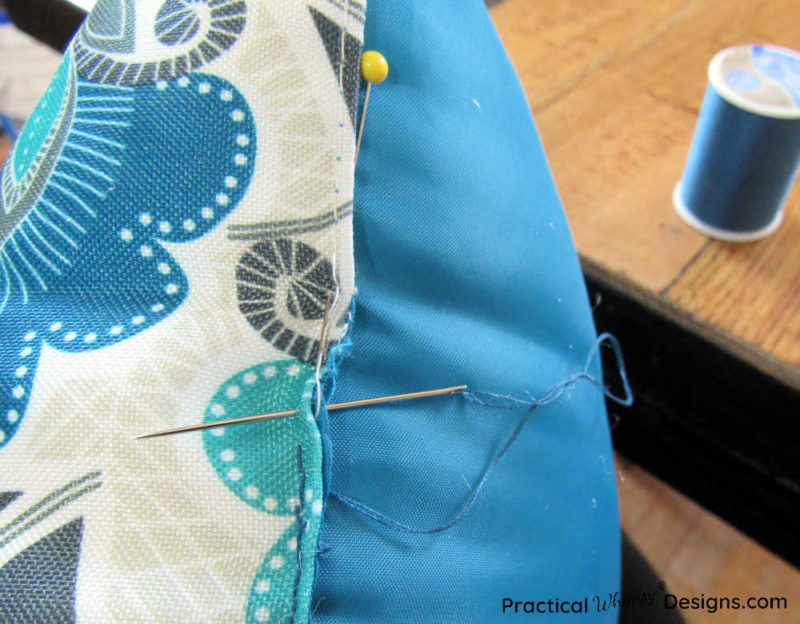 Decorate Your Room
Now, the only thing left to do with your pillows is use them in your decor.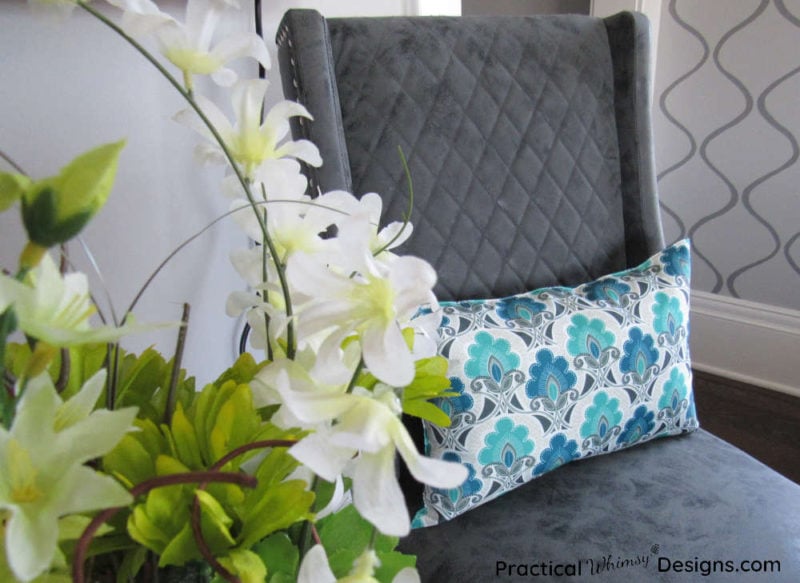 You never know when you might find something unexpected for your home. For example, I fell in love with the color and pattern of these place mats a while ago. I knew I had to somehow use them in our master bedroom. Our color scheme for our master suite is grey, navy blue, and teal so these place mats were perfect pops of color for our room. Turning them into pillows was a great solution. (Check out the before and after pictures of the finished master bathroom here.)
And finding them for a dollar at the Dollar Tree was even better!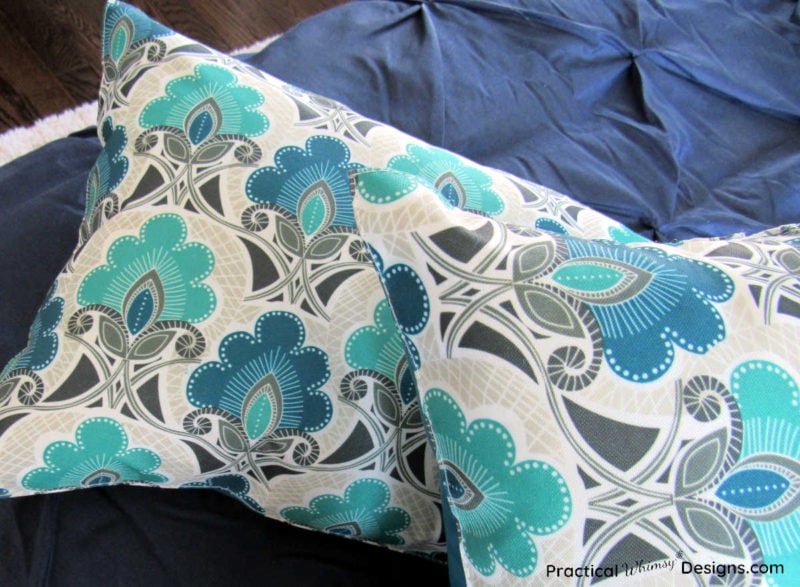 It does not have to be expensive or hard to make your own decorations if you are willing to think outside of the box and keep your eyes open for unique opportunities for diy decor transformations.
The form you have selected does not exist.
Want to remember this idea for later? Save it to your favorite DIY Pinterest board?
What about you? What easy DIY decorations have you created?
Want another home decor sewing project idea? Check out how to make a fleece blanket here.
Want More Great Ideas? You Might Like These..